Steve Nash is a retired South African-born Canadian professional basketball player. The athlete, who is an eight-time NBA All-Star and a two-time recipient of the NBA Most Valuable Player Award, has become a household name in both Canada and the United States with the basketball world at his feet.
Considered to be one of the greatest point guards in NBA history, Nash began playing basketball in high school before turning pro after being selected by the Phoenix Suns in the 1996 NBA Draft. He would then go on to play for other teams like the Dallas Mavericks and the Los Angeles Lakers. Through it all, he never failed to set himself apart from other members of his team.
Steve Nash Hails From a Sporting Family
Stephen John Nash was born on February 7, 1974, in Johannesburg, South Africa to Jean and John Nash. His father was an English man who played professional soccer while his Welsh mother was a big fan of sporting activities.
John and Jean Nash raised exceptional athletes as Steve's younger brother Martin carved out a successful career for himself as a professional soccer player while his sister Joann was also a standout college soccer player.
The Nash family had a globetrotting lifestyle. When Steve was only 18 months old, they first relocated to Regina, Saskatchewan, before moving to Vancouver and then later settling in Victoria, British Columbia. Following in his father's footsteps, Steve played soccer and ice hockey as a child but after discovering basketball and playing in an organized league for the first time in eighth grade, he became passionate about the sport. Steve's dreams were now geared towards becoming an accomplished professional athlete and an NBA star, but his skinny build made that goal seem quite unrealistic.
The Beginning of His Journey to NBA Stardom
Steve Nash attended Mount Douglas Secondary School in Saanich, British Columbia, but later switched to a private boarding school, St. Michaels University School where he played basketball, soccer, and rugby. As a junior at St. Michaels, he was named British Columbia's most valuable player in soccer, and in his final year, he led his school team to victory in the British Columbia AAA provincial championship.
Steve then played college basketball for Santa Clara University where he was awarded a scholarship for the 1992-93 season and became the first freshman to be named the 'Most Valuable Player' after the National Collegiate Athletic Association (NCAA) championship tournament.
After graduating with a degree in sociology, and as Santa Clara's all-time leader in assists, Steve Nash was selected fifteenth overall in the first round of the 1996 NBA Draft by the Phoenix Suns alongside Kobe Bryant and Allen Iverson, marking the beginning of his professional career.
Highlights of Steve Nash's Illustrious Career
Steve Nash was with the Phoenix Suns for two years before joining the Dallas Mavericks in 1998. The 6 feet 3 inches tall athlete had a brilliant time with the Mavs as he established himself as one of the best point guards in the NBA. However, he soon became a free agent after the 2003–04 season and chose to return to the Suns for the 2004–05 season.
In 2006, Nash was named the ninth greatest point guard of all time by ESPN. He performed excellently for the Suns such that they were the highest-scoring team in the 2009-10 season. Moreover, while leading the most dynamic offense with both the Suns and Mavericks in the 2000s, Nash led his teams to success reaching four Western Conference Finals.
In 2005 and 2006, Steve Nash was named the league's Most Valuable Player (MVP). He was later traded to the Los Angeles Lakers in 2012 but his time there was marred by injury. As a result of his frequent injuries, Nash opted to retire from professional basketball in March 2015.
Ranked as one of the top players in NBA league history, Steve Nash led the league in assists and free-throw percentage at various points in his career. He would later be selected for induction into the Naismith Memorial Basketball Hall of Fame in 2018.
Consulting for The Golden State Warriors After Retirement
After retirement, Steve Nash became a part-time consultant for the Golden State Warriors even though a few teams were still interested in having him on their roster. Nash rejected all the offers he got because of his health and settled for serving the Warriors as a consultant.
His first season with the team proved his decision was a good move, especially for the Warriors as they pulled off a record-breaking 73-win season. The next season, the team triumphed at the 2017 NBA Finals and Nash bagged his first NBA championship. This feat was repeated in 2018.
Apart from getting the NBA championship that eluded him as a player, becoming a consultant immediately after he retired meant that Nash's earning power didn't blink. Being one of the most successful basketball players of his time, his salary was on a steady increase and saw him earn over $8 million per year.
In addition to owning a chain of fitness facilities known as the Steve Nash Sports Clubs, the athlete also made his fortune through endorsements, including a commercial deal with popular brands like Nike, Dove Men, and Sprint. It is believed that he is worth $95 million. Of course, this has helped him to continue with his charity works.
Steve Nash Devotes A Lot of Time to Charity
Nash is a philanthropist who shies away from all the attention his good works bring his way. He is the founder of the Steve Nash Foundation, a charitable organization that focuses on child health and education services in Arizona, British Columbia, and other places around the world.
He also founded the Jim Jennings Memorial Endowment Fund at Santa Clara University. More so, the basketball star is involved with a non-profit organization called GuluWalk which raises funds for the war-affected children of northern Uganda.
Steve Nash's philanthropic works have earned him several accolades, including Officer of the Order of Canada, the Walter Kennedy Citizenship Award, an honorary doctor of laws from the University of Victoria, and the NBA's award for outstanding community work. Since he retired, he has become more active in promoting the welfare of humanity through his various charitable causes.
Nash Has Also Been Keeping Up With His Interests in Soccer
Generally, Steve Nash has been involved in many things since he retired from playing basketball. In addition to the foregoing, he has served as the general manager of the Canadian men's national team which he had played for. Also, he has been paying more attention to soccer which he has always loved.
It is said that Nash has become more involved in the activities of the Vancouver Whitecaps FC of Major League Soccer (MLS). Based on various reports, he is a co-owner of the team which joined the MLS in 2011.
Not long after he retired, it emerged that Steve Nash was part of a group that purchased a $21 million stake in RCD Mallorca, a Spanish Segunda Division soccer club.
Read Also: How Much Money Is Kevin Garnett Worth Now, after Basketball Career?
The NBA Star's Marriage and Divorce From Alejandra Amarilla
Steve Nash was formerly married to Alejandra Amarilla, a filmmaker based in Los Angeles, California. Alejandra is also an activist and a philanthropist like Nash. The union, which officially began in 2005, produced three children; twin daughters named Lola and Bella born in 2004, and a son named Matteo Joel born in 2010.
Just a day after the birth of their son, Nash announced that he and his wife of five years were separating. The pair have kept their fans guessing as no one knows the full reason for their divorce. Nash only disclosed that he had been separated from her for the past several months. While it is hard to tell if she has found another lover, it is not a secret that her ex-husband has moved on.
Steve Nash Remarried in 2016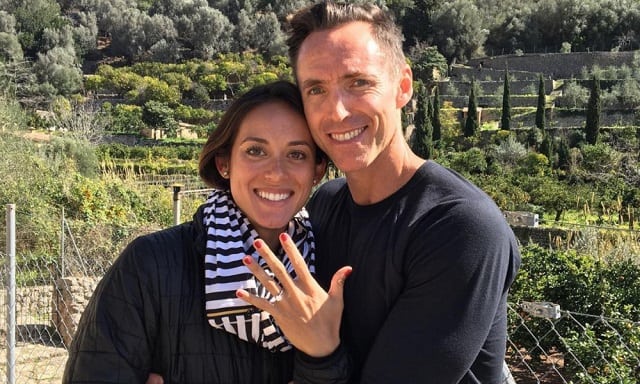 After he parted ways with his first wife, nothing was heard about Nash's love life for a while but eventually, it emerged that he had found love again in the arms of Lilla Frederick. Many were not surprised to learn that Lillia played volleyball at Pepperdine University and for the junior women's U.S. team.
Sometime in March 2016, it was reported that the two had gotten engaged. In September of that same year, they got married and welcomed a son named Luca Sun Nash in July 2017.