When former Kigoma North legislator Zitto Kabwe revealed the salaries of the former President, Prime Minister, and other Tanzanian politicians, people were surprised because they knew it was against the law to disclose the salary of Government officials. Although this is an old law, the citizens actually needed to know how their taxes are being dispersed and therefore requested that the old law be thrust into the trash.
After Zitto's revelations, former Prime Minister Mizengo Pinda had stepped out to deny the claims saying the amount revealed by the former legislator was all wrong, that notwithstanding, many still believed that the former president's take-home pay wasn't far from Zitto's claims.
Below was the salary scale of the former President of Tanzania and other top Politicians in Tanzania as revealed Mr Pinda and Zitto Kabwe.
Also See: GG Kariuki Dead: His Biography, Wealth and Facts About Kenya's Oldest Senator
Based on Zitto's revelation, the salary of former President of Tanzania (Jakaya Kikwete) is more than 30 million shillings ($US 18,750) per month an equivalent of $US 237,500 per annum as at 2013.
Zitto revelation also claimed that the former Prime Minister earned about 26 million shillings ($US 16,250) per month while MPs earned Shs.11.2 million shillings – $US 7,000 – every month
However, Mr Pinda gave a contrary opinion insisting that his gross salary was 6 million shillings every month, which includes his wife, Mama Tunu Pinda's allowance. He said the difference between his salary and that of the former Vice-President, Dr Mohamed Gharib Bilal, was nearly 1 million shillings but refused to make any comment concerning whether or not the salary of the lawmakers as revealed by Zitto was true.
Now, considering the analysis below, you could see that Tanzania's MPs are among the best paid in the world. While others may wish they were the ones earning the salary of these Tanzanian politicians, some others could call them greedy fellows.
Based on another report, a member of parliament in Tanzania made the following per month (30 days to be exact)
Basic salary sh.6,000,000
Entertainment allowance sh.1,000,000
House allowance sh.1,250, 000
Car maintenance allowance sh.3,000,000
Gym membership sh.60,000
Vehicle fixed cost allowance. Sh.3,000,000
Committee meeting allowance sh.100,000
Constituency allowance sh.900,000
A grand total amount of shillings 16,000,000 million which is equivalent to $14,118.
According to another report, the former Presidents takes home a salary of
TSh 84 million (US$ 52,500) annually.
While Gharib earned TSH 7 million (US$ 4,375) monthly.
Also See: Top 15 Most Corrupt African Countries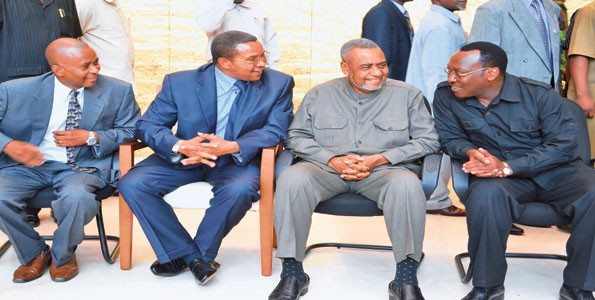 At the inception of office in 2015, the new Tanzanian president John Pombe Magufuli revealed that he has a monthly salary of Tsh9 million ($4,008).
His declaration came in 2017 after an opposition MP dared him to declare his salary and argued the president should pay taxes.
Magufuli did not only declare his salary but also announced the slashing of the salaries of executives at state-owned companies at 15 million Tanzanian shillings ($6,700) a month – more than his own.
Mr President who has no other publicly known sources of income also said in 2016 that his administration plans to submit a parliamentary bill that would prohibit public leaders from engaging in business to avoid conflicts of interest.
His monthly salary is about a quarter of the amount his predecessor Jakaya Kikwete earned if the above figures revealed three years ago by Zitto is something to go by.
Haven said this, it is good to note, however, that Magufuli's monthly take-home pay is only but peanut when compared to what other African Presidents earn.
SouthAfrican President Jacob Zuma earns about $20,000 monthly after his salary was increased by parliament in 2015.
Nigerian President Muhammadu Buhari took a 50 percent pay cut when he took office in May 2015.  Before then, the annual presidential salary was about 14.1 million naira, which was equivalent to $70,000.
Also See: Latest Salaries Of Top Ugandan Politicians Revealed
Whatever the case may be, Tanzanian Politicians are really making big money from taxpayers, so you could join the crowd of Politicians if you are looking for the best job to do in Tanzania. Whether or not they are worth the money they earn is not for us to determine, but what we do know is that they are earning big money from Tanzanian taxpayers.
Some have opined that Tanzania as a country does not need to spend such huge amount on her public office holders as she is still working towards becoming a developed country. Therefore, it might become necessary soon enough to reduce the earnings of Tanzanian politicians reasonably.