In 2013, Mercy Aigbe's marriage began like most other celebrity marriages, beautiful and topical with many pictures on social media, only to end like most others as well; in a very controversial manner. The Nigerian actress got married to Lanre Gentry after they dated for a while before they finally walked down the aisle.
Unfortunately, their vows of together forever did not hold much water after cases of domestic abuse and infidelity rocked the union in only five years. Both Mercy and Lanre have since moved on with their separate lives but the scars seem to still be there as they continue to take shots at each other on social media. This has got many wondering what actually went on between the two former lovebirds.
Mercy Met Lanre After Her First Divorce
The marriage between Mercy and Lanre was her most popular, but it isn't her first. She was initially married to a man whose name was never revealed. According to the actress, her first marriage came to an end because she got married quite young and was very naive. Also, her mother-in-law at the time did not support the marriage because she wanted her son to get married to a woman from their own tribe.
After the marriage ended, she came across a hotelier who was himself divorced from his first marriage, his name is Asiwaju Lanre Gentry. Circumstances surrounding how and when they met were not revealed by the actress, but it is known that they continued dating until 2013 when they got married.
Mercy and Lanre had already had two kids together before they walked down the aisle.
The Couple Had A Beautiful And Simple Wedding Ceremony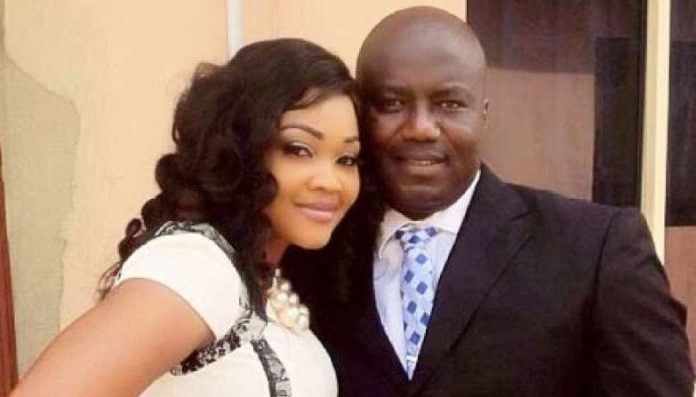 The couple had a simple union to formalize their marriage at the Ikoyi Registry, Lagos. The ceremony was attended by close friends and family members of the couple. This came years after their traditional marriage ceremony.
Their traditional marriage ceremony was even a more low key event, nothing of which was divulged to the media. Fans only had to continue speculating about the marriage. Why this was rather confusing for many was the fact that they were both open about their relationship and even appeared on various magazines together.
It was followed by an evening dinner at a Chinese restaurant in Lagos. The dinner was graced by the attendance of some selected guests.
She Was Accused Of Being A Husband Snatcher Before The Marriage
It was officially reported that Mercy and Lanre started dating after his first marriage came to an end. But there were words on the streets that the Yoruba star actress started dating the hotelier when he was still married to his first wife. It was alleged that she was the reason why the marriage crashed.
Aigbe vehemently denied the claims, but the allegations continued tagging her as a husband snatcher. There were those who claimed that she was married as a second wife. But then, she insisted that by the time she met and got married to her husband, he was already divorced from his first wife.
There's a 12-year age difference between them but that was not enough to stop Mercy Aigbe's marriage to Lanre.
Mercy Aigbe's Marriage Ended Due To Alleged Domestic Abuse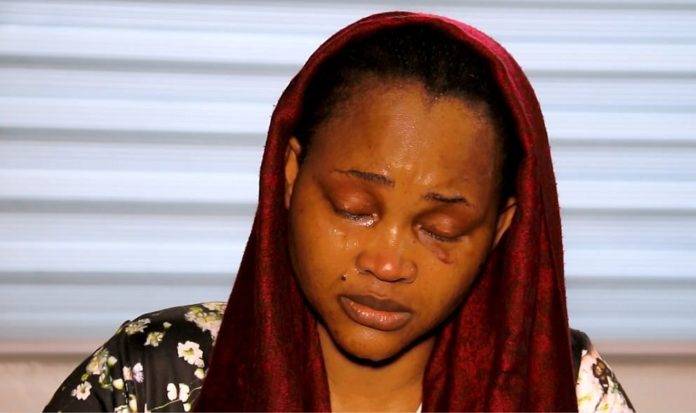 The marriage did not last beyond 5 years before it came to a shocking and terrible end. Signs of trouble in the union was first hinted at when reports started making the rounds that she was suffering from domestic abuse from her husband. The case was out to the public when Lanre allegedly beat his wife to a point that she was taken to the hospital where she was treated for various injuries to her face and body.
Although while the marriage lasted, the former couple usually flaunted their love on social media, it was alleged that they had started having problems since 2013, shortly after their marriage. That was when Lanre allegedly started beating the actress. When the news surfaced, the couple made a video to debunk the claims.
The celebrated Yoruba actress revealed that there was a time she was beaten by her husband until her eyesight got bad and she bled internally for three weeks. There was also a time that he beat her up publicly when she refused to pick his calls.
In spite of all the allegations that followed, especially as it relates to the domestic abuse charges, Lanre Gentry insisted that there was no point in their marriage that he assaulted his wife. He claimed the abuse claims were not from Mercy because she was not going to accuse him of something that wasn't true. He claimed the pictures she shared on social media were behind the scene images from an earlier film. However, he was still arrested and remanded for a while in Nigeria's Kirikiri prison before the marriage ended.
There Were Also Issues Of Infidelity Around Mercy Aigbe's Marriage
Apart from the beatings which she was said to have suffered in the marriage, there were also reports that Lanre was not the most faithful of partners to his wife. He was alleged to be having a relationship with another woman who happened to be his wife's close friend named Opemititi Ajayi.
Aigbe also claimed in an interview that she found out that Lanre was having an extramarital affair with an unknown woman and her personal assistants.
When the actress found out about the affiars, she cut off her relationship with her friend and confronted her husband, but things did not end well for her. Her husband became violent and started abusing her physically.
How Many Children Does Mercy Aigbe Have With Her EX-husband?
Mercy Aigbe's marriage to Gentry started and came to an end in a controversial manner, but it was still beautiful in many ways as it produced two beautiful kids; Michelle Aigbe Gentry and Juwon Gentry. Both kids were born before the marriage of their parents.
Michelle Aigbe Gentry
While Michelle, the older of the kids was born on July 11, 2001, her brother was born on June 18, 2010. Now all grown up, Michelle is a model who is receiving her education from the University of Manitoba, Canada, where sources reveal she is studying Aerotics.
In December 2020, the actress celebrated the return of her daughter to Nigeria when she went to pick her up from the airport. She made a video and shared it on her Instagram.
Apart from her educational pursuits, Michelle is building a brand for herself as a model both on social media and offline. Already, she has amassed a huge following on platforms such as Instagram and TikTok.
Juwon Gentry
Juwon, on the other hand, is still too young to select a career path for now. However, he is not hidden from the media as a result of the closeness he shares with his mother.
While celebrating Father's Day in 2020, she took to her social media to suggest she was both the father and mother of her kids. However, her husband swiftly made a different post warning that any woman claiming she was the father of her kids must be ready to also start paying the fees of the kids. With his post, many had come to the belief that he is involved in the lives of his kids, at least to the level of providing for their education.
Who Is Mercy Aigbe Dating Now?
Since her marriage crashed, both Mercy Aigbe and her former husband have continued with their separate lives. Lanre was believed to have moved on to another woman after he gushed over another woman on Instagram, describing her as his good wife, while also praying for her as she celebrated her birthday.
Days later, he came out to debunk the claims, setting the records straight that the woman in question was his younger brother's wife. He added that he was not fighting Mercy as they were having a good rapport. She was still a part of his life.
On her part, Mercy Aigbe has still not come out to make her relationship status very clear. She shared a video on her instagram in 2018, where a man was seen engaging her but it turned out not to be real. For now, she has continued to keep her private life private.