Matsie Angelina Motshekga known popularly as Angie Motshekga is a South African politician and the longest-serving Minister of Basic Education – she came into office in May 2009 and continues to hold the position to date. However, being the Minister of Education is not the only honorable position Angie Motshekga has occupied. She was appointed as the acting president of the Republic of South Africa in 2020 when President Cyril Ramaphosa attended the state funeral of Kenneth Kaunda in Zambia. More so, Motshekga is a member of the African National Congress as well as a Member of the Executive Council in Gauteng Province.
Angie Motshekga Began Her Thriving Career As A Teacher
Motshekga was born in Soweto, Transvaal Province, where she received her primary school education from different schools. She would then go on to complete her secondary school at a boarding school in Matatiele after which she proceeded to the University of the North in Limpopo, where she received a Bachelor of Arts degree in Education. Angie later went on to study at the University of the Witwatersrand where she first got a Bachelor of Educational Science degree and then a Master's degree.
Equipped with her qualifications, Motshekga was employed to teach at Orlando High School sometime in 1981. She worked at the school until 1983 when she resigned after being appointed as a lecturer at the Soweto College of Education. After her time there, Angie Motshekga progressed to become a lecturer at the University of the Witwatersrand in 1985 – she lectured at the university until 1994.
All The Notable Positions She Has Occupied
After a couple of years of serving as a teacher and lecturer, Angie Motshekga became a member of the Soweto Education Crisis Committee. This unit was formed back in 1985 by concerned parents which led to the creation of the National Education Crisis Committee – NECC in 1986 to unite students, parents, and teachers. More so, the incumbent South African Minister of Education was also a member of the United Democratic Front – the non-racial coalition formed in 1983 to fight the new Tricameral Parliament in the country. Angie also joined the National Education Union of South Africa and served actively in the Pimville Civic Association. More so, she is notable as a member of the National Convenor of Teacher Unity talks that led to the formation of the South African Democratic Teachers Union (SADTU).
Outside the academic scene, Angie Motshekga served as the regional chairperson of the African National Congress Women's League (ANCWL) in the Kyalami region. She also became a director in the office of the presidency from 1994 to 1997 after which she was elected Deputy Provincial Secretary of the ANCWL in 1997.
Motshekga was then sworn in as a member of the Gauteng Provincial Legislature after the 1999 general election. More so, due to her background in education, she was appointed the chairperson of the legislature's education committee. In 2000, premier Mbhazima Shilowa appointed her to the Social Development portfolio of the Executive Council. She would then return to the legislature for her second term after the 2004 general election and to crown her efforts, Motshekga was elected the national president of the ANC women's league in 2008, defeating the league's secretary-general Bathabile Dlamini after recording 1,826 votes.
Angie Motshekga's Stint as The Minister of Basic Education in South Africa
Angie Motshekga was elected to the National Assembly in April 2009 and as of then, the newly elected South African president, Jacob Zuma, divided the Education portfolio into 2 separate ministries. Motshekga was appointed Minister of Basic Education on 11 May 2009 and following the 2014 general election, Zuma retained her in the position. She retained this position for the next 4 years President Zuma was in power.
When Zuma resigned as South African president in February 2018, deputy president Cyril Ramaphosa was designated as his successor. Ramaphosa would go on to retain Motshekga in her position and in 2019, she became the longest-serving education minister in South African history. More so, she was re-elected as an MP in that year's general election and has remained as Minister of Basic Education to date. However, with regard to her earnings, the honorable Minister, has been quite frugal about the figures. Notwithstanding, for someone of her caliber, she must be paid quite a sumptuous sum.
Recap of Angie Motshekga's Positions
She held the position of National Convenor of Teacher Unity talks which eventually became the South African Democratic Teachers Union (1980s – 1990s)
Angie Motshekga was the regional chairperson of the African National Congress Women's League (1990s)
She was a director in the office of the presidency (1994 -1997)
Angie became the Deputy Provincial Secretary of the ANCWL (1997)
She was the chairperson of the educational committee of Gauteng Provincial Legislature (1999)
Motshekga has served as the national president of the ANC women's league (2008)
She was appointed Minister of Basic Education by former South African President Jacob Zuma. She has held that position since 2009.
Angie Motshekga Has Faced Several Controversies In The Past
Although Angie Motshekga has served in numerous positions in South Africa, a time during which she has contributed her quota to the country's success, her career has not been hitch-free. She has courted a lot of controversies which can be traced back to her first term as minister of basic education. As of then, textbooks were not delivered to impoverished Limpopo schools between December 2011 and June 2012. For this, she faced threats to resign or be removed, but that did not happen.
Recently in 2021, the minister was also criticized for a comment she made sometime in  February 2021. According to what was gathered, Motshekga said to pupils at Prospectus High School in Pretoria that an "educated man won't rape". However, she responded by saying that her comment was taken out of context and the public did not understand what she truly meant.
Her Son Has Also Dragged Her Name In The Mud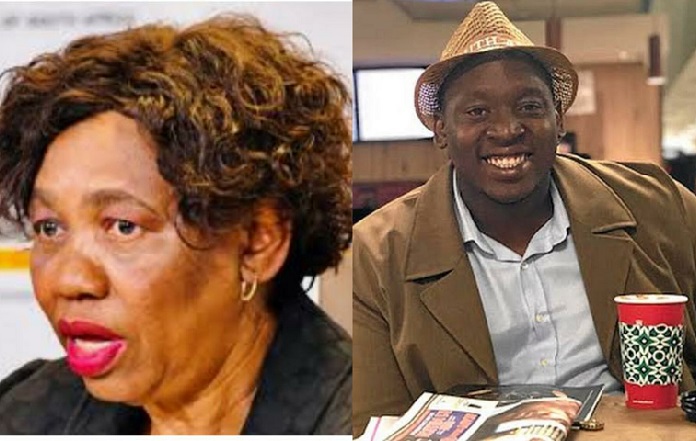 Apart from the fact that Angie Motshekga has faced several criticisms for her career, her son Kabelo has also contributed to her controversies over the years. Back in 2020, the Minister had to report her son to the police because he intentionally damaged a fleet of cars that belonged to the family. The young man is said to have caused this havoc while high on 'dagga cupcakes' and other illegal narcotics, which corroborated the suspicions that he was a druggie.
However, a series of events made Angie Motshekga withdraw the charges she had laid on her son, and this got a lot of people talking. Many blamed her for being too lenient with her son, and this has led to his constant misbehavior.