Ankara wears are rapidly transforming the fashion landscape in African countries and even the world at large. What started out as a piece of clothing manufactured by the Dutch for the Indonesian market has now been well-embraced by many people around the globe. It is now considered a contemporary African fabric. As Ankara gained wide acceptance globally, fashion designers have made unique Ankara designs for both men, women, and even children. Over the years, we have seen some top celebrities rock this colorful piece of clothing and they are loving it. Here, we will wet your fashion taste buds with some top Ankara styles for men.
Step Out In Class With Any of These Trendy Ankara Styles for Men
No matter the occasion, you can't go wrong with a well-sown colorful Ankara fabric. There are native Ankara styles, Ankara shirts, Ankara jackets, and suit ensembles, Ankara trouser combos, and those for couples that can be used at pre-wedding shoots.
Ankara Native Styles for Traditional Men
There are lots of Ankara native styles that you will fall in love with instantly. New trends off the block for men are Ankara tunics and shorts. With the right Ankara fabric and designer, you will steal the show anywhere you go. This may sound crazy but Ankara tunics blend in well with shorts.
1. Long-sleeve Ankara Tunic with Thick Black Stripe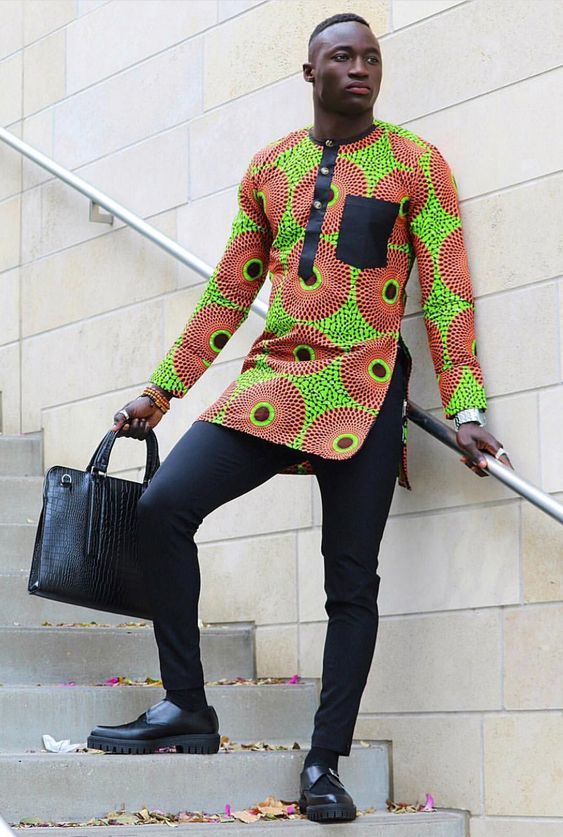 This is another Ankara style for men that would fit well on you no matter your body structure. The neck can be round or v-shaped. It can be worn with black trousers too.
2. Ankara Short Free Neck Tunic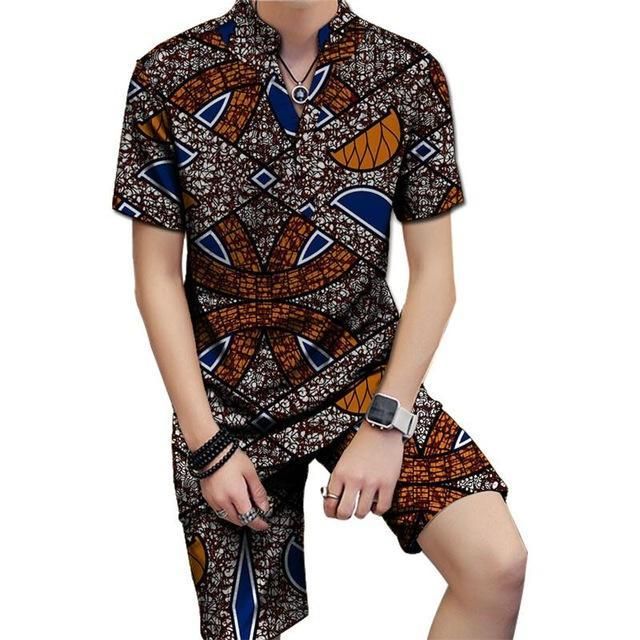 Ankara short free neck tunics still go well with trousers. Short sleeves or long-sleeved short tunics with a free neck will do the magic on trousers sewn from Ankara material or black-colored trousers.
3. Ankara Round Neck Tunic With Shorts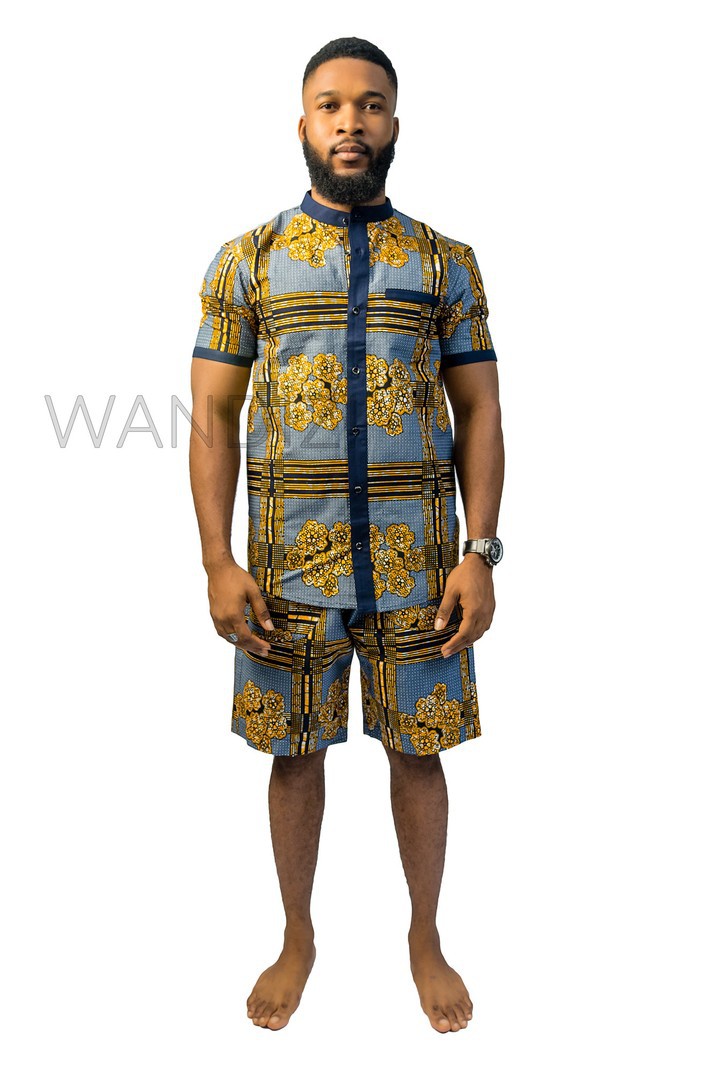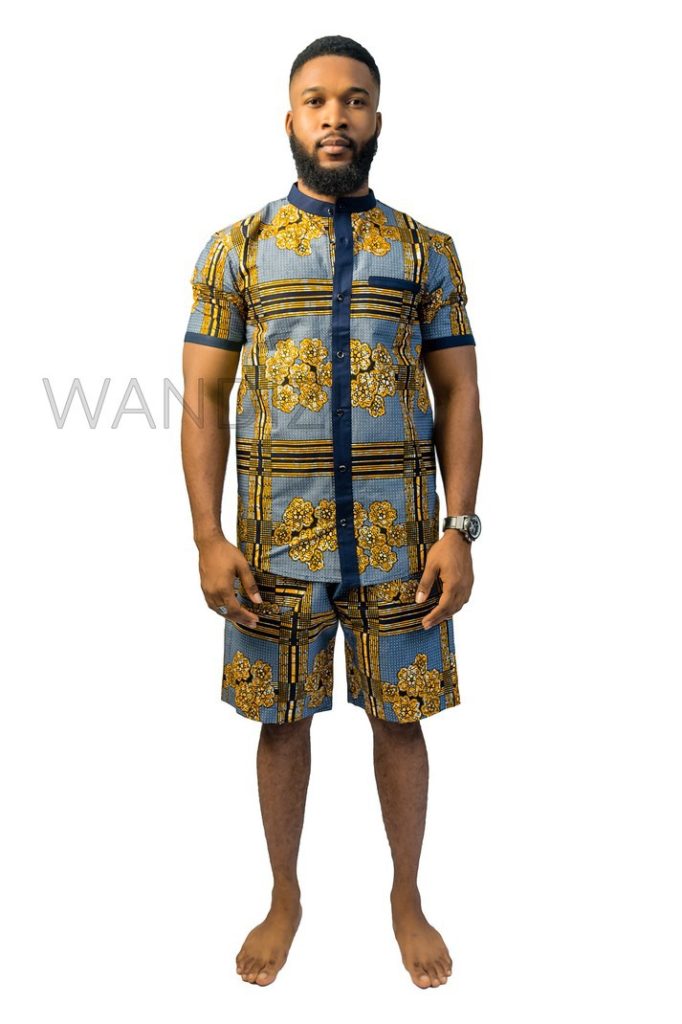 The shorts may be made from the same Ankara material or a different material. It may also be plain colored like black or white. To perfectly complete the mix, canvas and sneakers would be a perfect match. This may be worn to family or school reunions, get-togethers, dinner dates, or movie nights. It's casual and free. You can always feel comfortable in this dress with no stress.
4. Ankara Senator Combo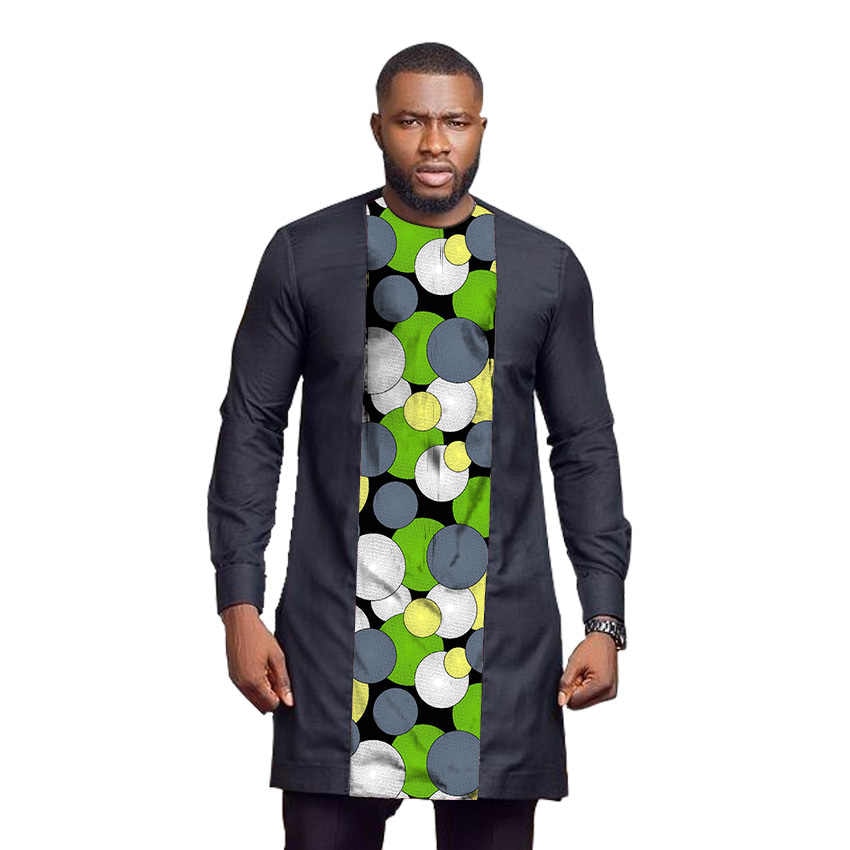 Another style to try out is the popular senator style. This is one of the trending styles in Nigeria at the moment and lots of people erroneously think it can't be sewn with Ankara. With a plain colored Ankara material, you would be rocking a senator and looking gorgeous in it. Ankara senators can be worn to important occasions like Church events, book and music launches, weddings, and the rest. It fits well on a man with a chubby frame and blends well with black or brown shoes.
5. Classy Long-sleeve Ankara Agbada With Thin Trousers

Agbada is still in vogue as of today. This traditional attire is native to the Yoruba people of Nigeria. This dress is made from plain colored materials but designers have incorporated the use of Ankara here. This style is very cool, especially for middle-aged men. Younger guys can try Agbada on shorts. Accessories like dark eyeglass and native beads as bangles will set you out as a well-dressed man.
6. Short-sleeve Ankara Agbada with Cap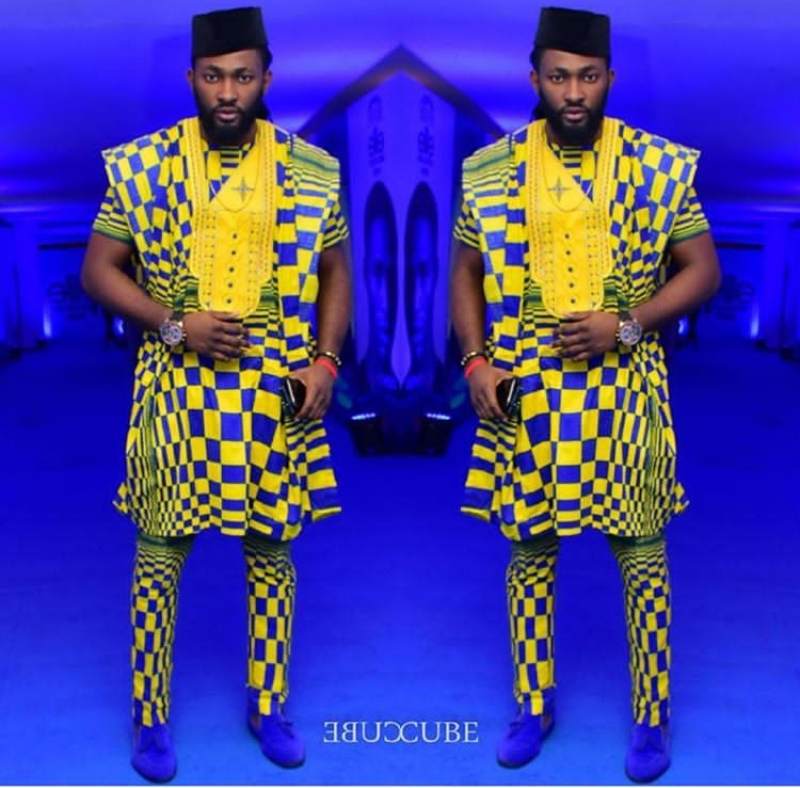 You can also opt for the short-sleeve Agbada especially if you are of the macho men's stock. This style would give your biceps great freedom whilst making you look elegant at the same time. Depending on the color of the material used, a black or brown shoe should match. Don't forget to match up with the cap.
7. Sleeveless Ankara Native Wear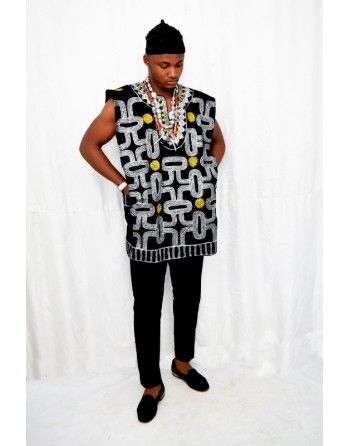 One of the most stylish Ankara wears for men is the sleeveless Ankara wear. It is perfect for those biceps as it allows them freedom. If you want to steal the show as the ladies man out there, you should try this one. Match with a native cap and you are good to go.
8. Ankara Dashiki Wear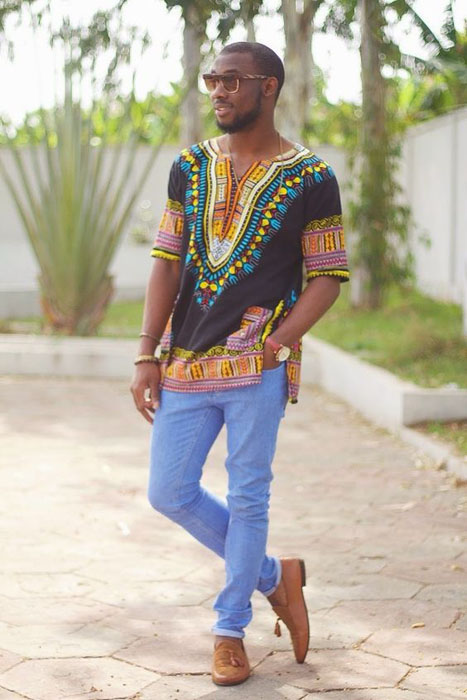 Have you tried dashiki sewn from Ankara material? This is also a trending but crazy style. Dashiki has been around for some time now but the latest trends have been added to it. This lovely style can blend well with jeans trousers too. A high sole black or brown shoe would do.
Ankara Shirt Styles For Fashionable Men
Designers have gone crazy with Ankara and this is visible with Ankara shirt styles that keep popping up here and there. These Ankara shirts styles for men range from those sewn throughout with Ankara or those mixed with Ankara and other fabrics to give the shirt a unique design. It's like an art. Designers can use Ankara to make some form of a fashion statement.
9. Long-sleeve Ankara Shirt
Long-sleeve shirts blend well with patterned materials more than plain materials. Short-sleeve shirts are cool too but well-crafted long-sleeved shirts steal the show any day, any time. They perfectly match macho men. The shirts can be worn as traditional outfits (as in the cases of tunic and dashiki) or formal wear.
10. Half-plain Half-Ankara Materials Combo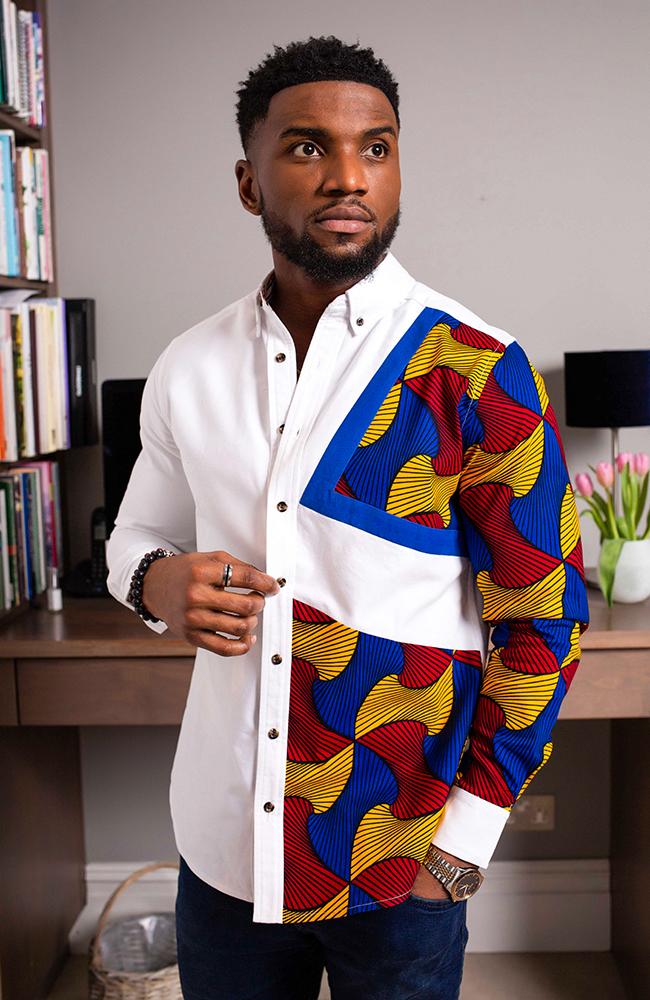 This style originally resulted from times when designers had little Ankara material to complete a design. It however became a popular style when people came to appreciate how cool it was. This style can perfectly match black plain trousers or denim jeans. Complete with a corporate shoe and you are good to go.
11. Ankara Inverted T-shirt with Round Neck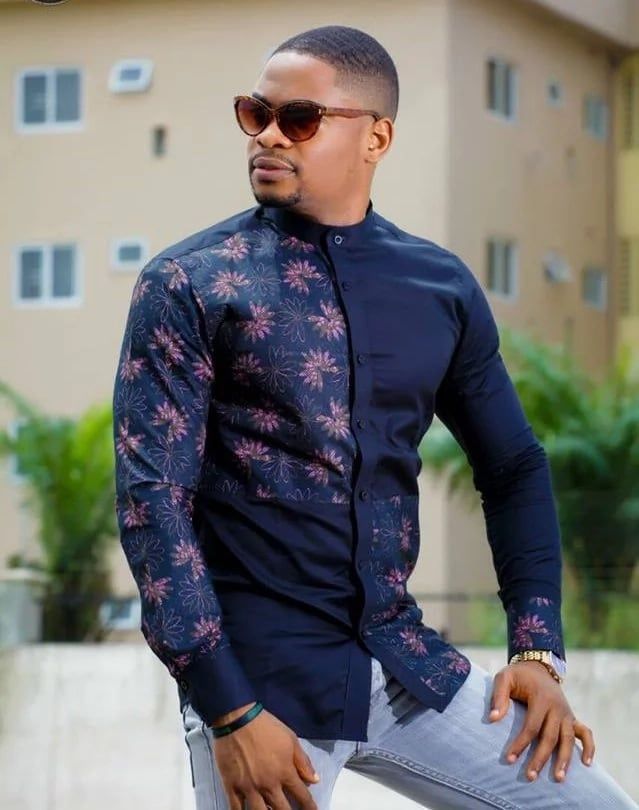 Inverted shirts are trendy as well as classy. These shirts blend well with Ankara trousers or shorts. Plain colored trousers or shorts can go too as well as denim trousers.
12. Ankara-blended V-neck Traditional T-shirts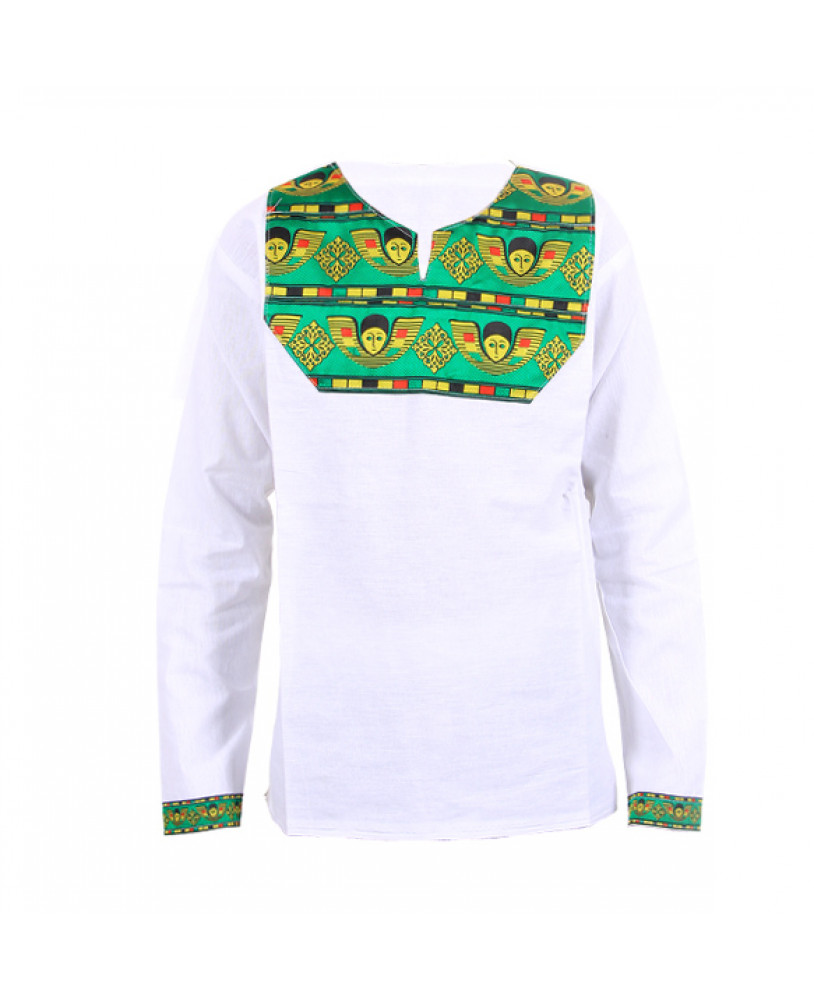 A V-neck T-shirt blended with Ankara at the breast region, wrist, and other parts is a great style for the perfect gentleman. Wear this with an Ankara or plain trouser with a corporate shoe or sneaker to match and you would be directing people to your stylist in no time.
13. Sleeveless Ankara Tops For Men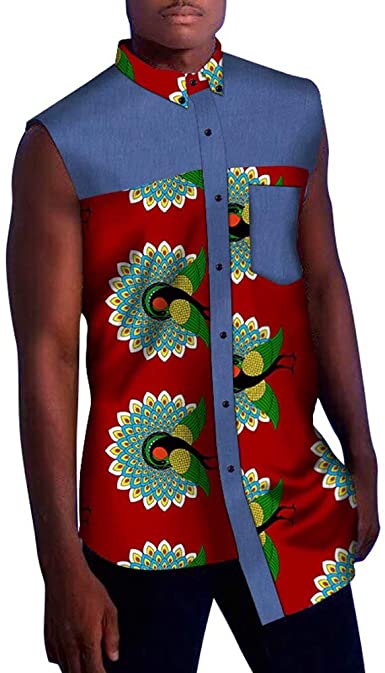 Have you tried out sleeveless Ankara shirts? They are in vogue right now and are worth it. These sleeveless shirts can be worn to lots of occasions, a day at the beach, night out, dinner party, and others like their kind. They fit perfectly well on denim jeans as well as plain trousers. Adding a custom-made Ankara bracelet to the mix would do wonders.
14. Plain T-shirt with Ankara Designs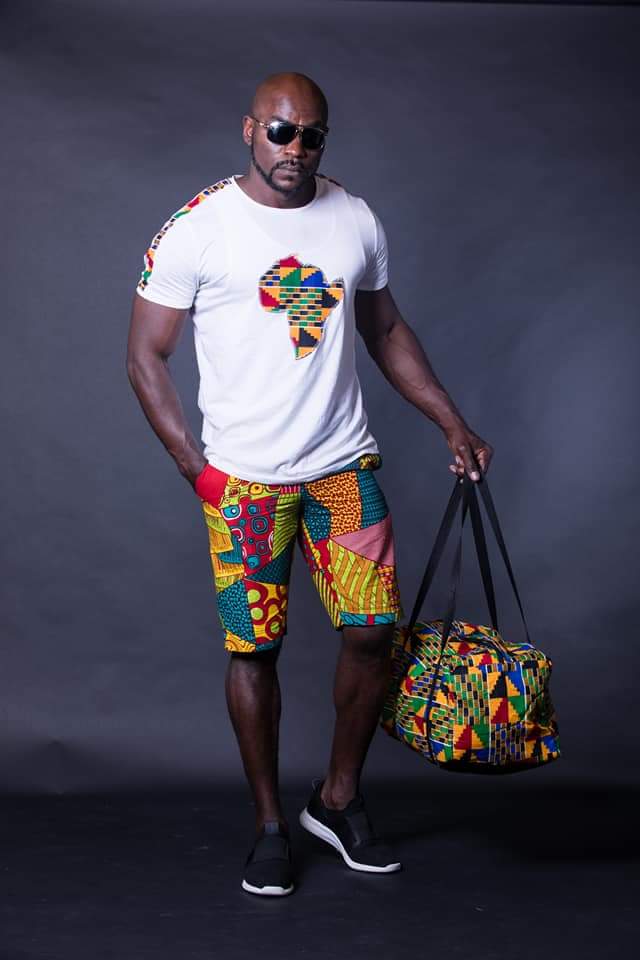 Want to express yourself through fashion? Ankara gives you the power to do just that. Ankara is perfect for creativity. You can make a great fashion statement on your Ankara shits by wearing plain shirts that are designed with Ankara. These can be drawings, writings, or even maps. They blend well with shorts and can also go well with trousers.
Ankara Jackets and Suit Ensembles for Gentlemen
Ankara jackets are in a world of their own. They can spice up any outfit they are worn on. They can be worn to casual as well as formal functions. They give men that extra-smart look that makes them stand out at any event or gathering. You may complement the style by wearing Ankara socks.
15. Plain Ankara Jacket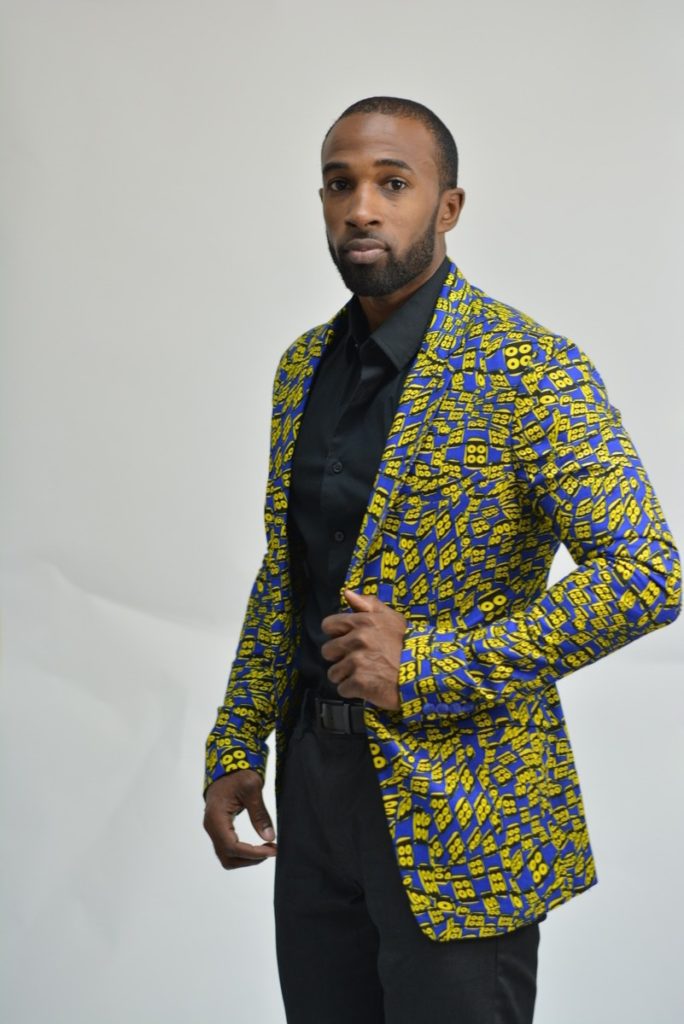 Plain Ankara jackets are stylish and sleek. All you need for a perfect Ankara jacket is the right fabric and an experienced designer. Once those are obtained, your jacket would be as stylish as ever. You can choose to rock the jacket on plain or Ankara T-shirts. Round neck polo would also blend in well.
16. Round neck Ankara Jackets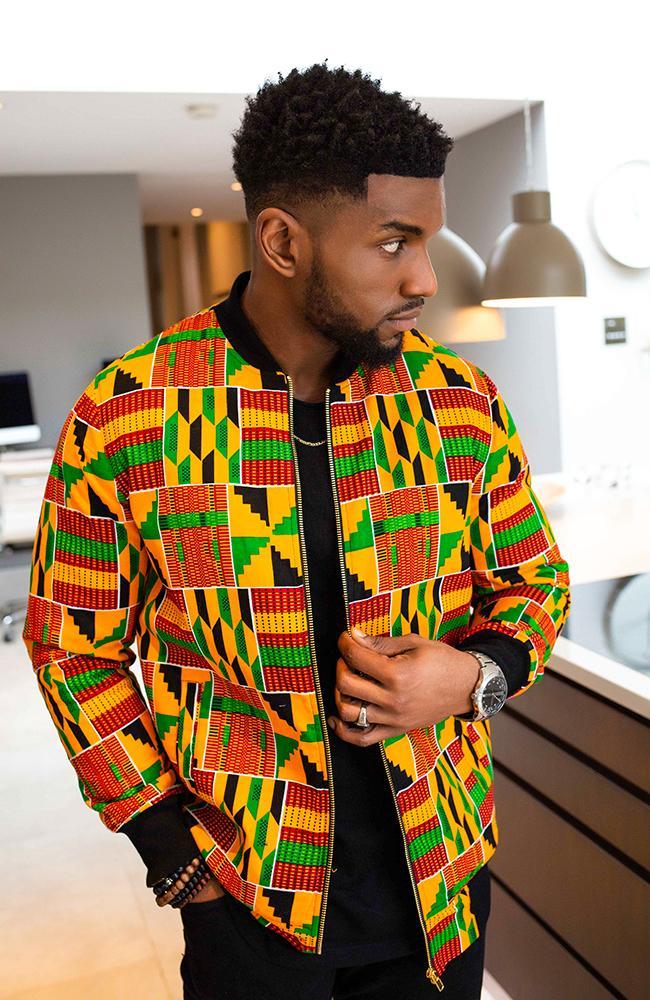 These jackets can be long-sleeve or short-sleeve, plain or patterned. They can be worn in shorts or trousers and are perfect for guys with a slim frame. If you intend to attend prom nights or casual functions, Ankara jackets on shorts may be your best bet.
17. Ankara Suit With Black Collar and Lapel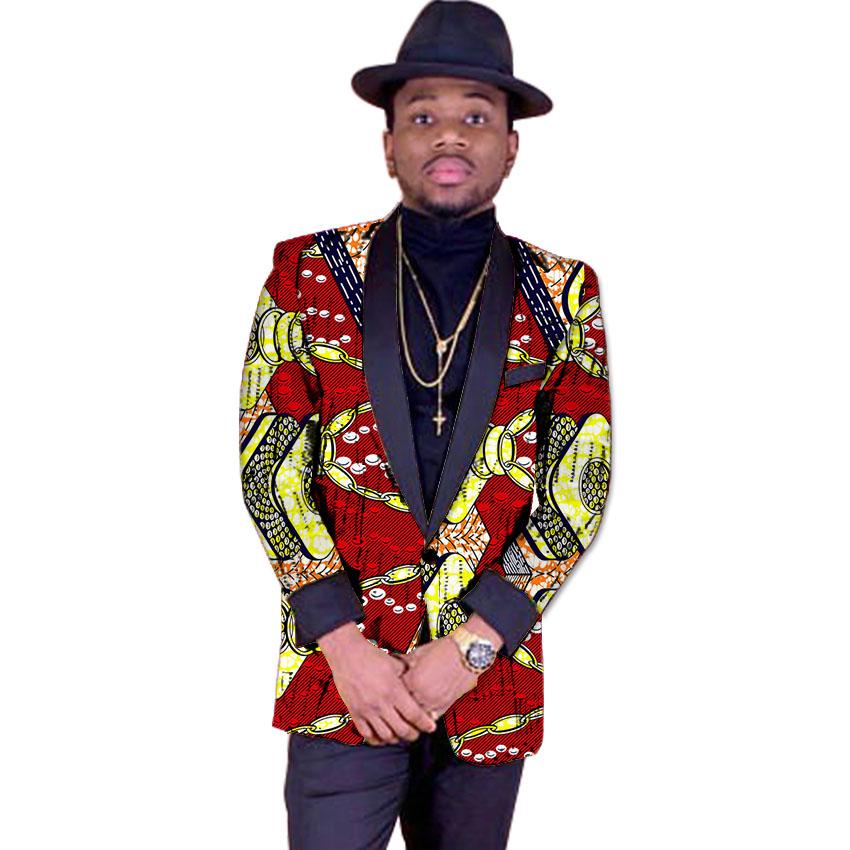 Full Ankara suits with black lapels rock especially if you are wearing them with bow ties on a plain shirt. The brightly colored Ankara fabrics would steal the show and ensure you stand out. For a killer, use a hat. You would steal the eyes at the party.
18. Long-collared Ankara Suit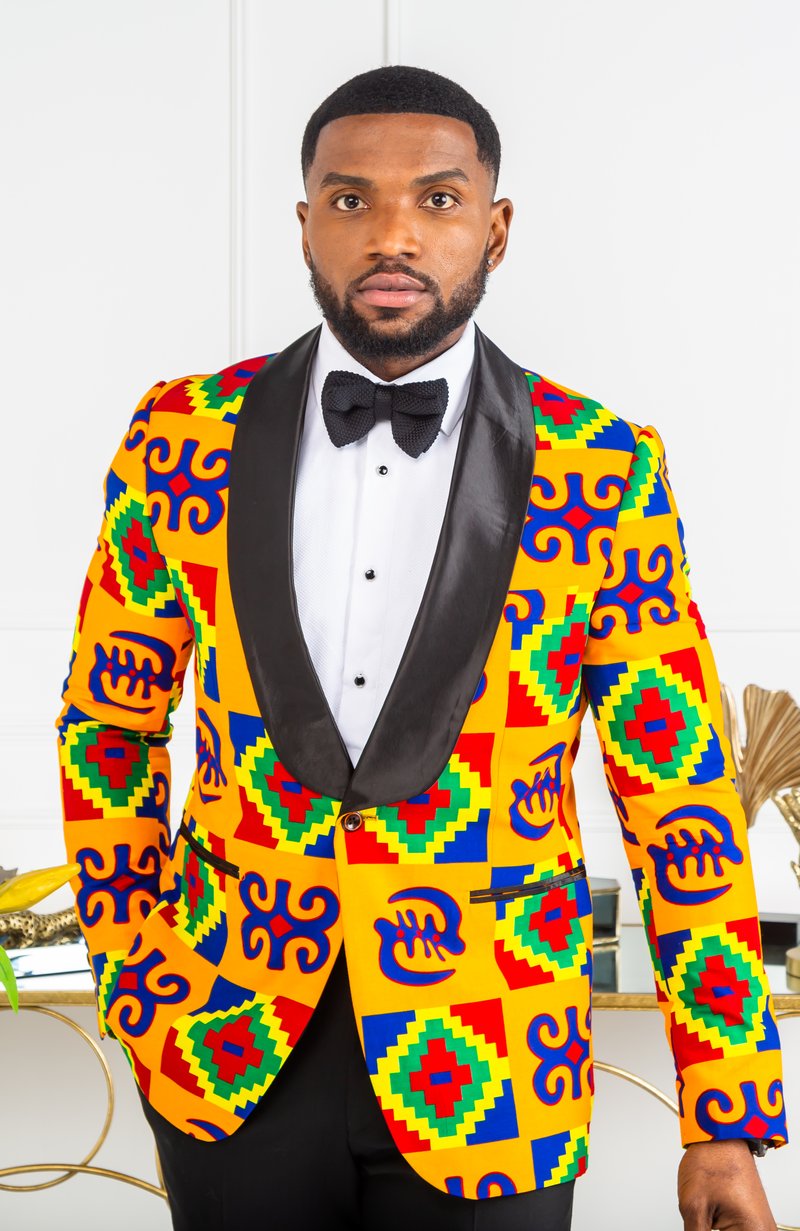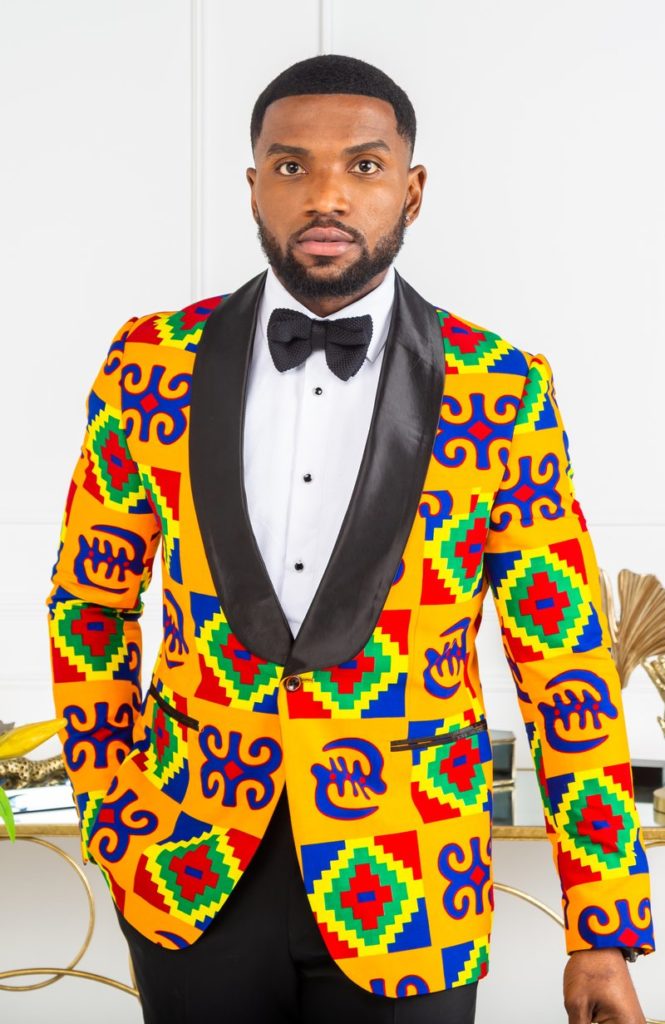 If you intend to look cool, then Ankara suits with the fused-together long collar should be your thing. These suits are sewn to perfection by professional fashion designers and would lap on your body like it's custom made for you. Their range of versatility is however limited as they fit better when worn with an inner white shirt or a shirt made from Ankara material. Bow or long ties made from Ankara would best compliment the style. You can also opt for a hat if you wish to.
19. Multi-colored Ankara blazers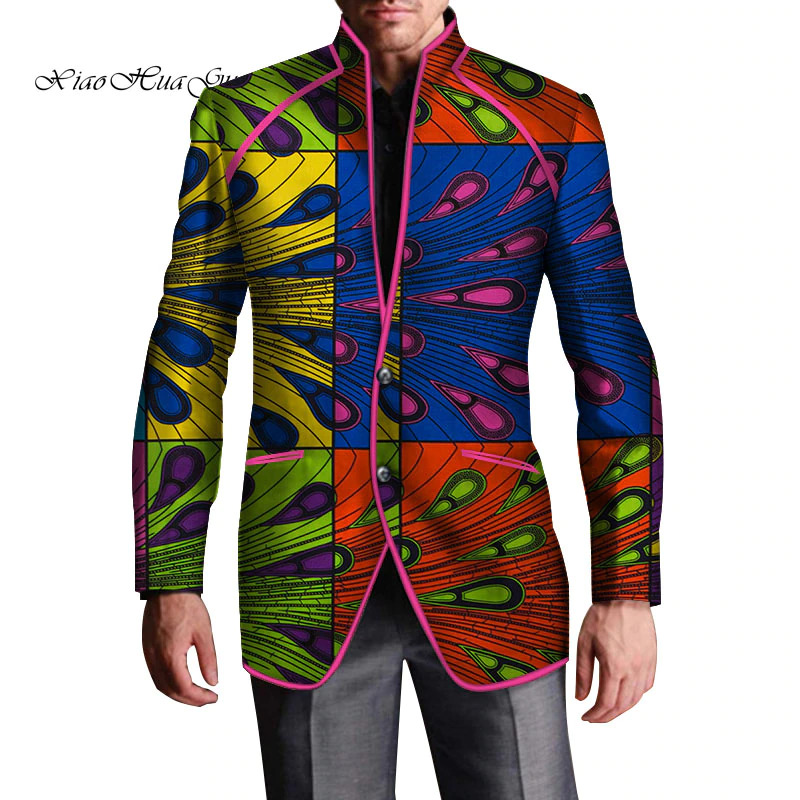 Multi-colored Ankara blazers bring out the real deal of Ankara which is the color. Ankara is known for its bright prints and if you wish to show that brightness in any event you attend, this may just be the perfect one for you. These blazers blend well with plain white or black shirts and a sneaker to match.
20. Ankara Jacket on Shorts
Do you know what's crazy? Ankara suits on shorts. As crazy as they are, they are lovely to adorn and are gaining wide acceptance. You should try one out today.
Generally, Ankara suits can be worn to weddings, offices, business meetings, cocktail parties, Church, prom, and a host of other formal gatherings. It perfectly fits anyone.
21. Long Ankara Jackets on Plain Inner Wears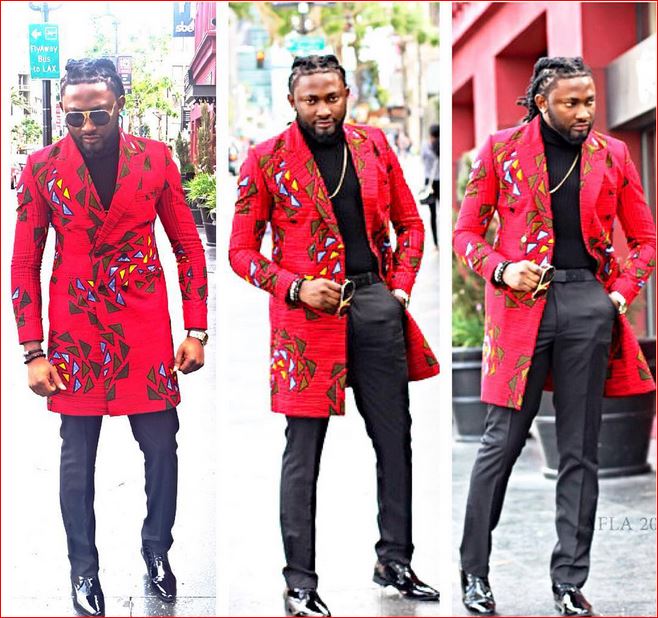 This is a great way to kill any show you are going to. With the bright color of the jacket, you are sure to stand out from the crowd. Wear these long jackets on plain inner wears. It wouldn't blend well with multi-colored inner wears. A black or brown shoe to match would be great.
Ankara Trouser Combo Styles for Unique Men
Ankara trousers remain a perfect match for many tops. Be it plain shirts, suits, native tops, and others, they will always bring out the beauty in you. Ankara trousers with brightly colored plain jackets make you look cool and classy. It blends well for those with nice abs. You can add a hat to complement.
22. Ankara joggers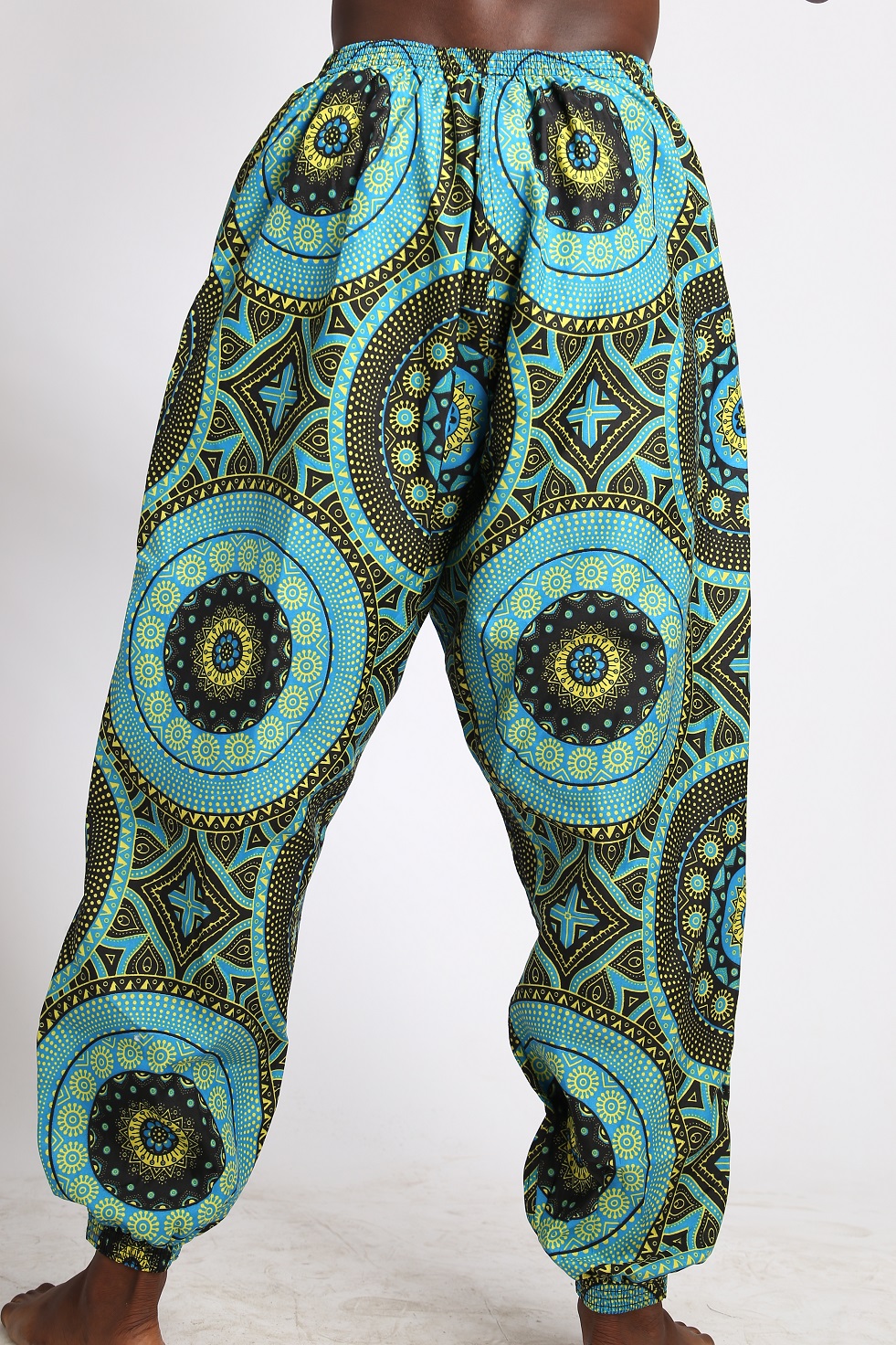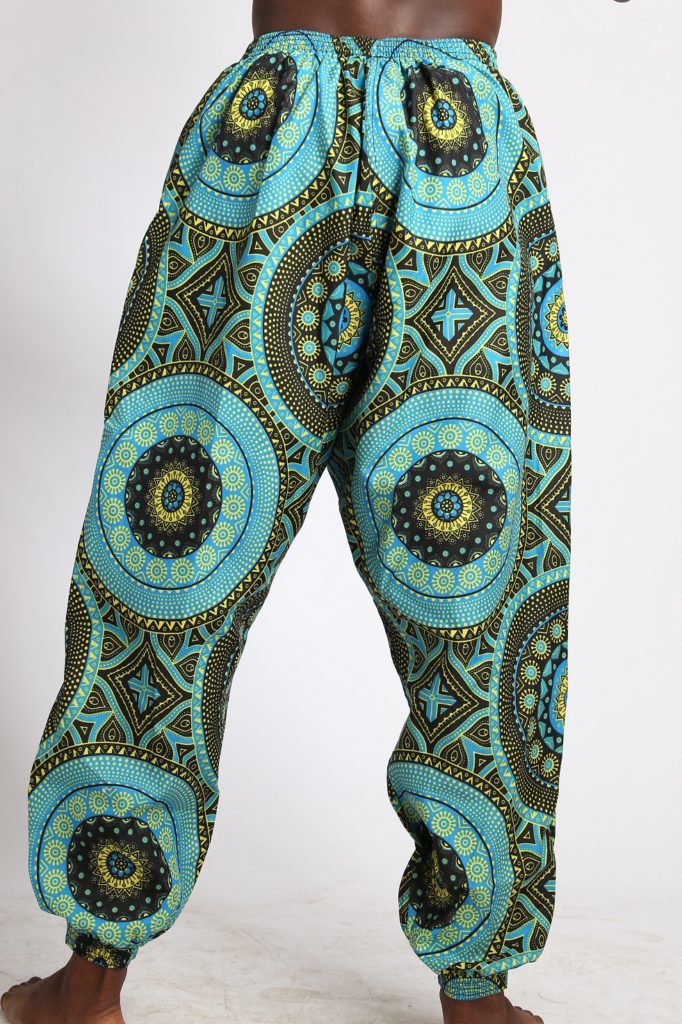 Are you surprised to hear that Ankara is now used to make joggers? Ankara joggers remain a great fit for every man irrespective of his body size. Use these joggers on plain T-shirts (short-sleeves would be more preferable). Rock this with a plain sandal to match.
23. Trouser Made From Different Ankara Materials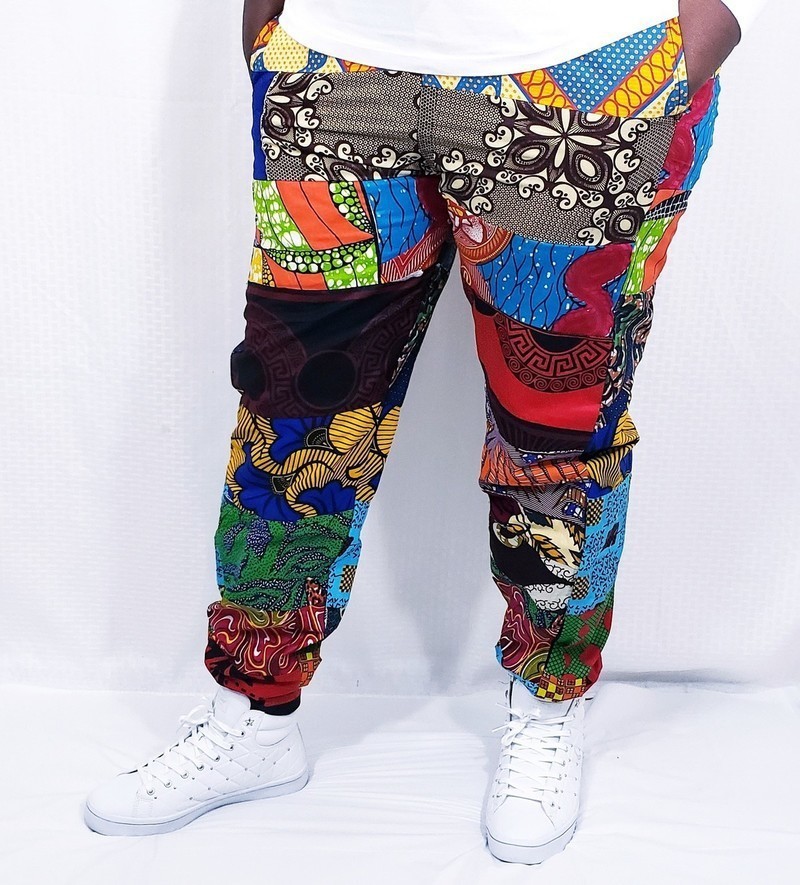 This is a crazy fashion but it's worth a mention as this style is currently making rounds in Nigeria. This style uses different Ankara materials and blends them into one pair of trousers. Rather than being a color mismatch, it looks perfectly ok as the colors complement one another. Use these trousers on plain white or black shirt and sneakers.
24. Ankara Baggy Hippie Harem Pants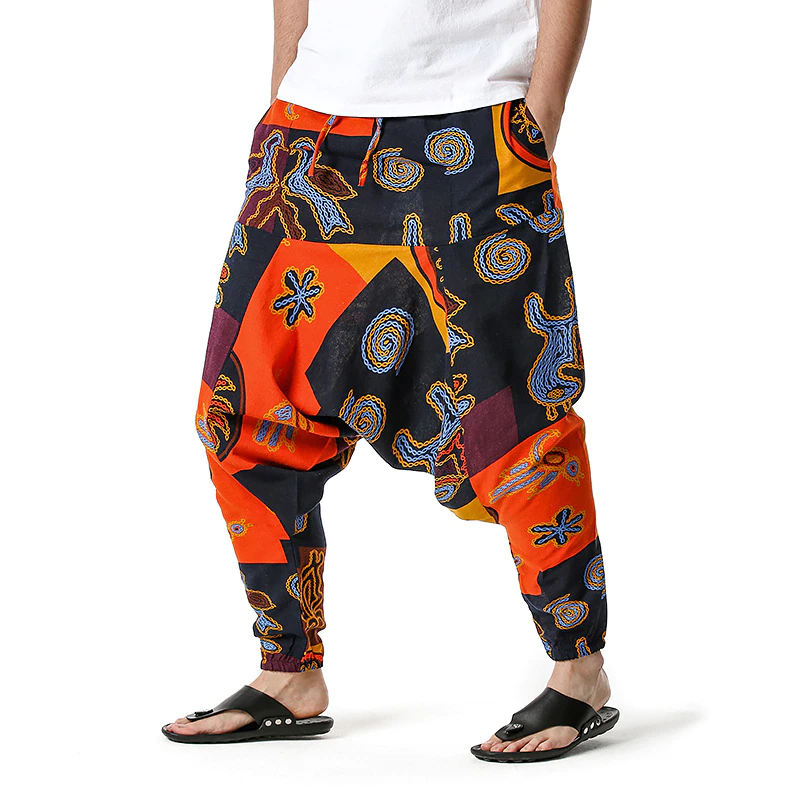 Great for just any T-shirt, this streetwear is the latest trend these days. It's worn mostly by young people and rightly so as it allows them to express themselves. The trouser is free and can be worn on slippers, canvas or trainers. Just don't use corporate shoes.
25. Ankara and Jeans Blended Trouser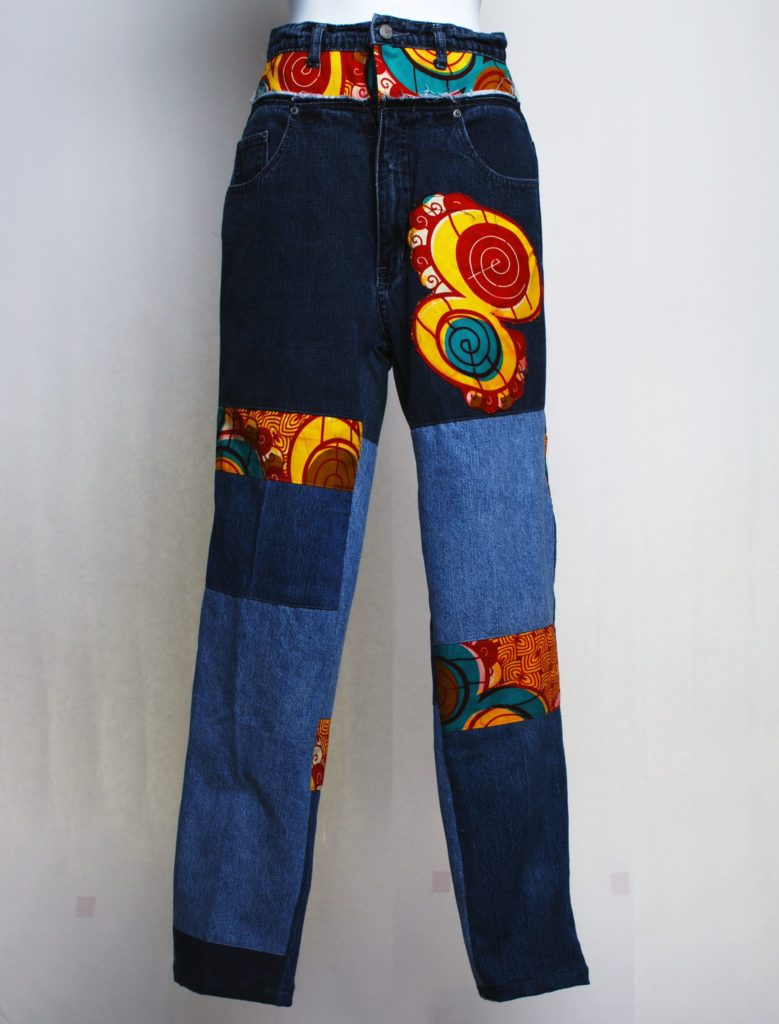 This is a fairly new style that many people have not yet discovered. This style isn't just fashion, it's an art. Fusing Ankara and denim jeans into one whole is something anyone can wear. It rocks well with short and long-sleeve shirts.
26. Same Color Ankara and Jacket Combo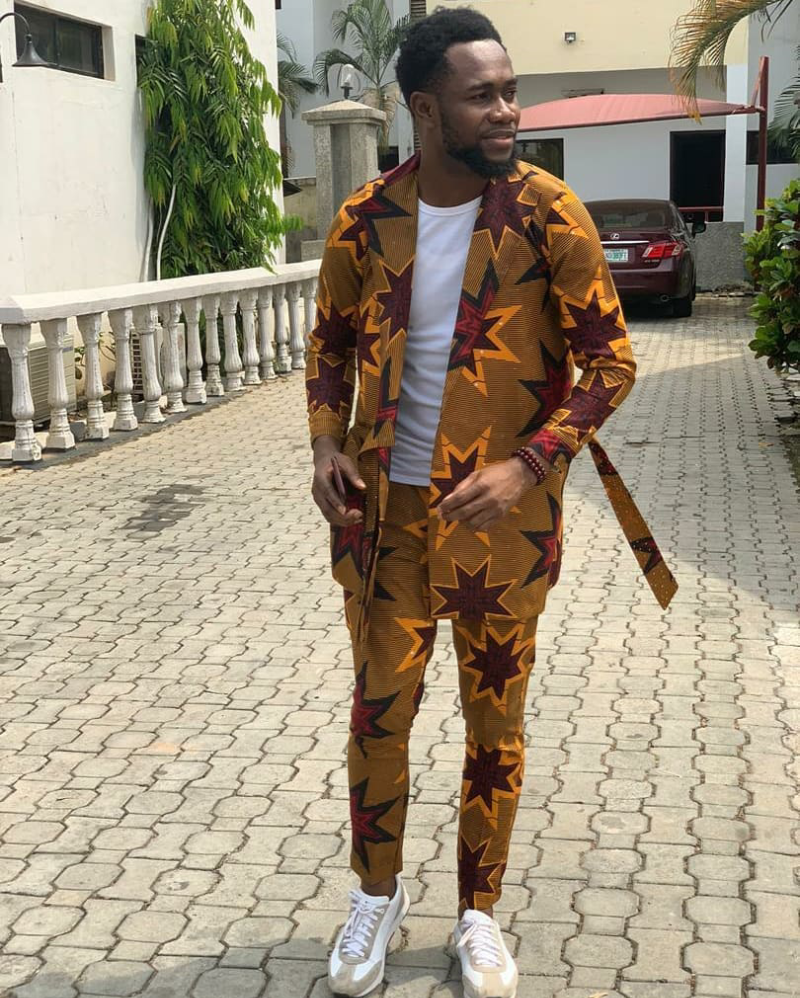 If you are only about looking a bit casual, you can try the Ankara trouser-jacket combo. You can rock this to casual meetings and social gatherings too. In place of a plain white shirt, you might want to try black or any other color but be sure it blends well with the Ankara fabric.
27. Long Slim-fitted Ankara Trouser with Long-sleeve Shirt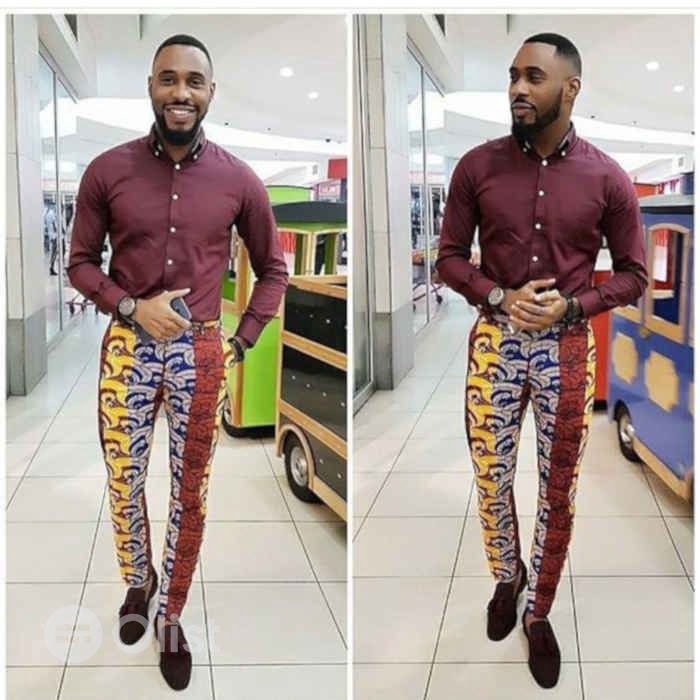 Long slim-fitted Ankara trousers rock too. You can wear these with shirts of the same or a different design. As long as it makes a fashion statement and makes you comfortable, it's something you should stick to. It is important to choose a shirt with a color that will complement the Ankara fabric so you won't end up causing a color riot.
28. Same Material Ankara Trouser and Waistcoat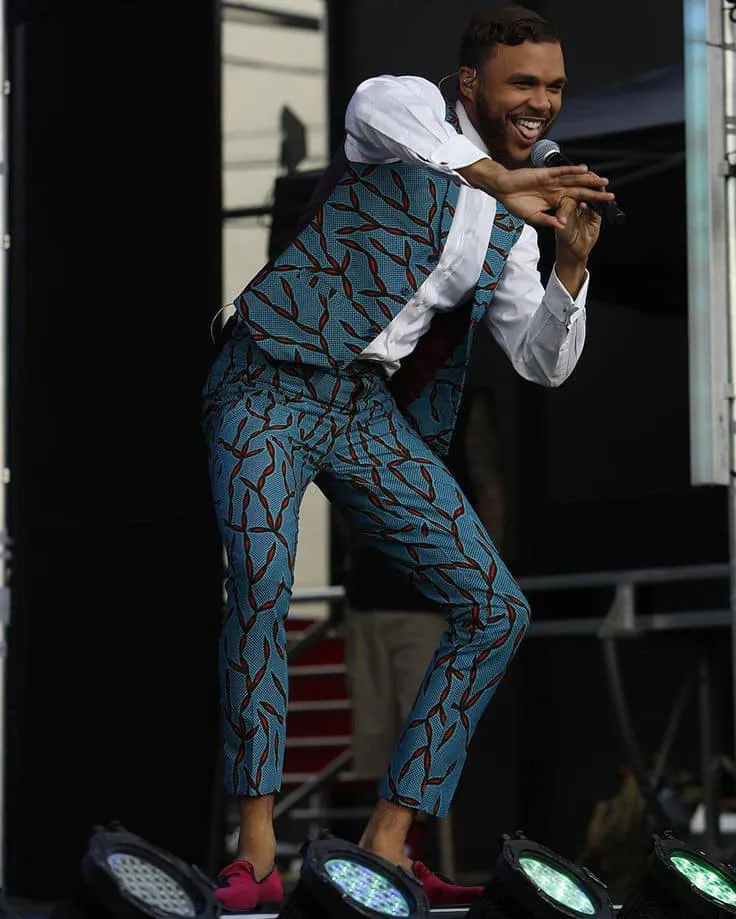 How about Ankara trousers and a waistcoat? This is perfect for a day out at the beach or on a dinner date. A hat to go with it can also style it better. American superstar Jidenna can testify to that. One other interesting thing about Ankara trousers is that they can be worn on sneakers as well as plain leather shoes. Whatever your preference, Ankara has you covered.
Couple Ankara Combo for Pre-wedding Shoot
People are often overwhelmed with joy when their wedding is drawing near. They also can become too busy to choose the best cloth material or style for their pre-wedding shoot. If you are in this shoe, look no further as Ankara will readily make the best of your pre-wedding shoot. The latest styles for pre-wedding shoots include:
29. Ankara Shots on Branded Shirts for Both Spouses-to-be.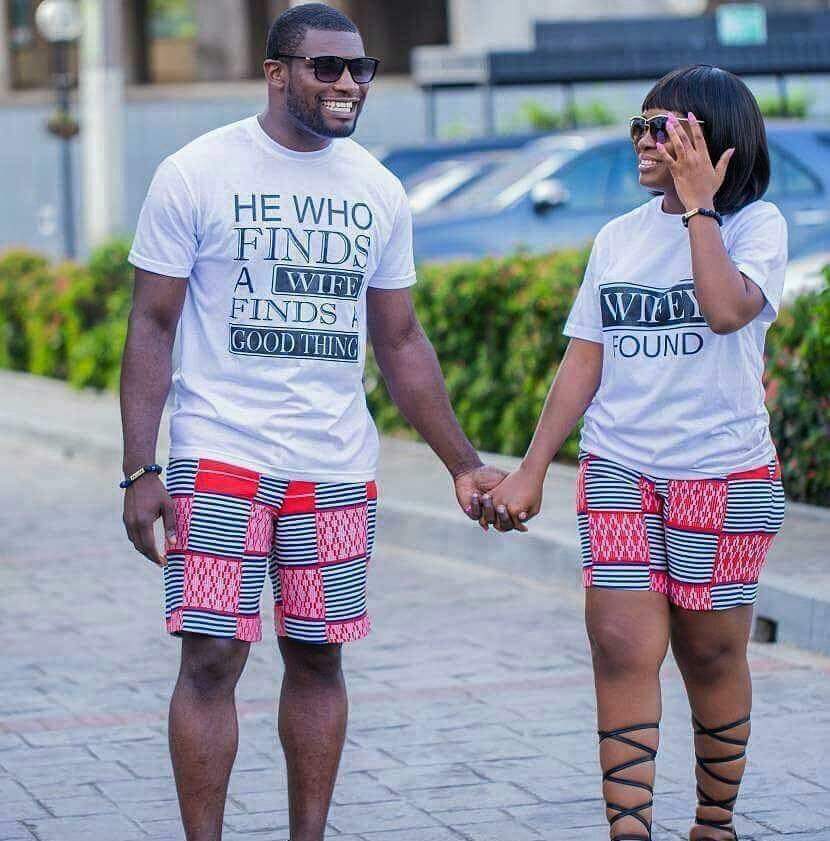 This comes top of our list because it's a unique style. Not many fancies wearing shorts on pre-wedding shoots but it's classy as well as beautiful. To complement this, a branded shirt should be worn. You can make a classy signature on the shirt. A thick timberland shoe would rock well with it.
30. Ankara Short for Male and Ankara Short Skirt for Female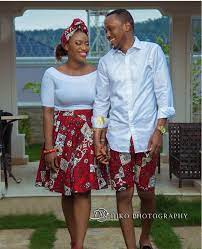 This is another cool style that has gotten wide acceptance in this part of the world. The beauty about short skirts is that it brings out the curves in your woman. If you intend to have a picture that you would always look back at and be proud of every time, then you should go for this. You may add a cap while she can put on an Ankara headgear.
31. Ankara Blended Agbada for Both Couples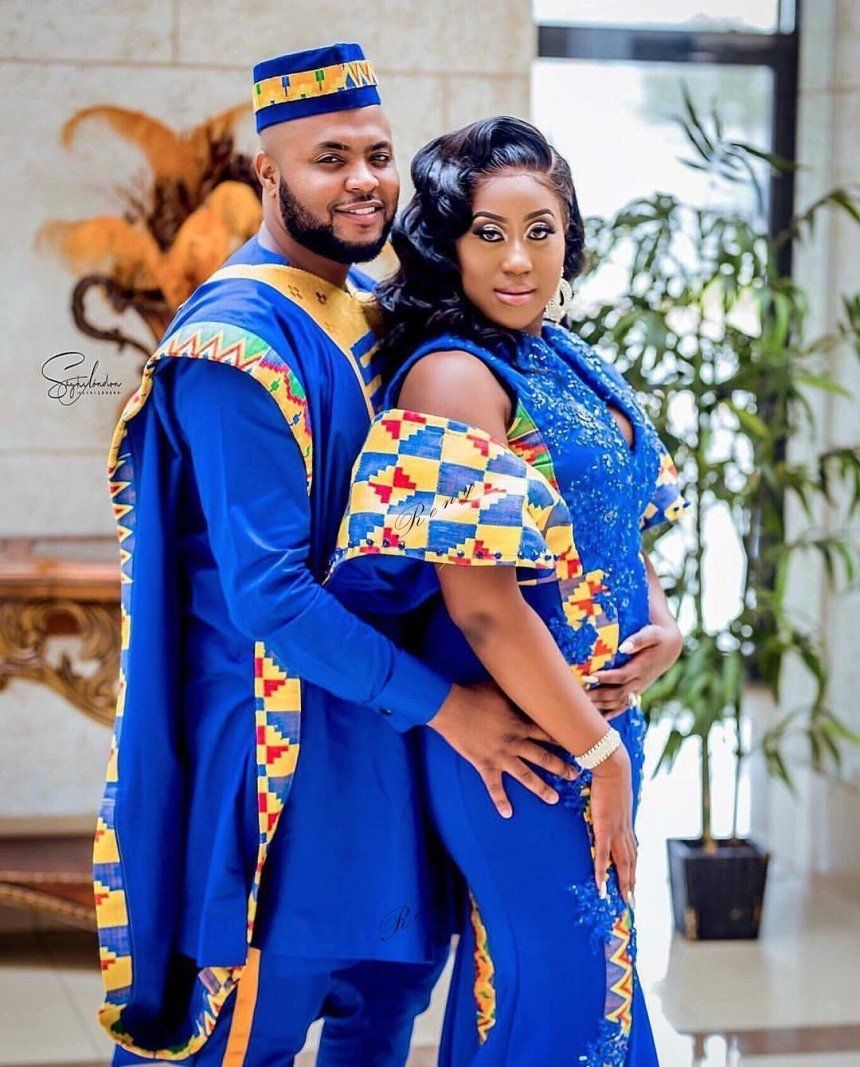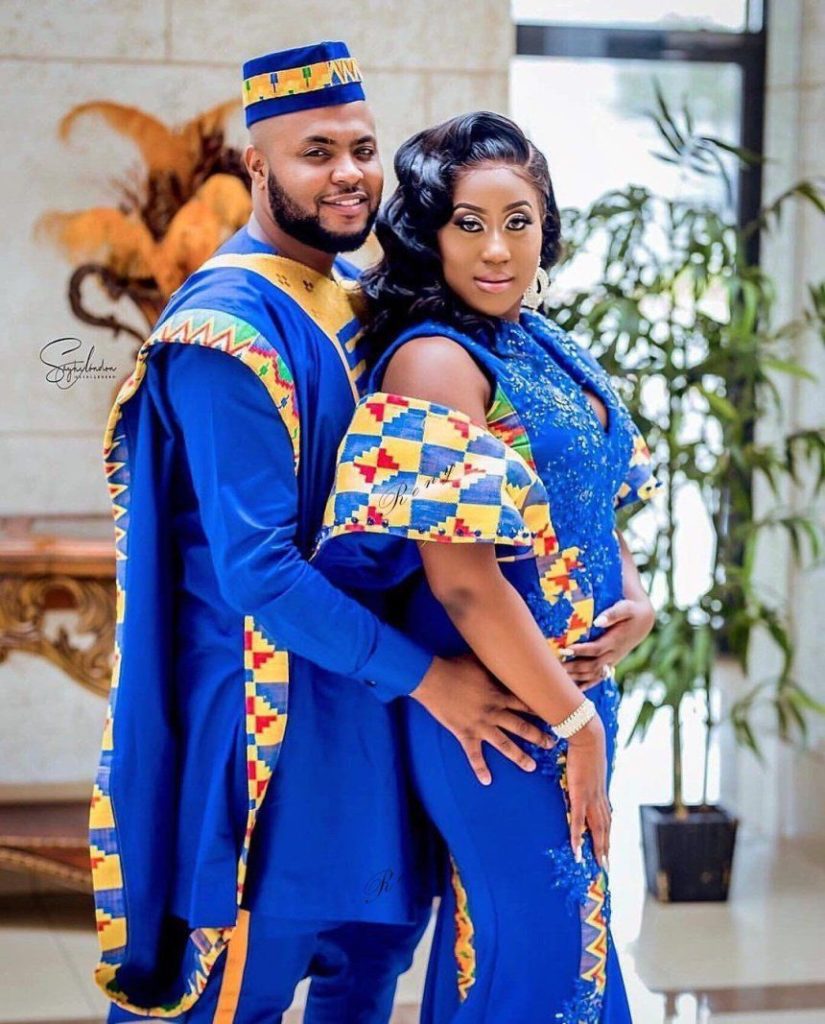 If you think Agbada can't be used for pre-wedding shoots, then you have to think again. This time, Agbada blended Ankara material at the right places is super cool. It has to go with a cap that could be made totally from Ankara or a blend of Ankara and other materials. The spouse-to-be could rock Ankara headgear.
32. Native Ankara Tunic with Slim-fitted Trousers for Two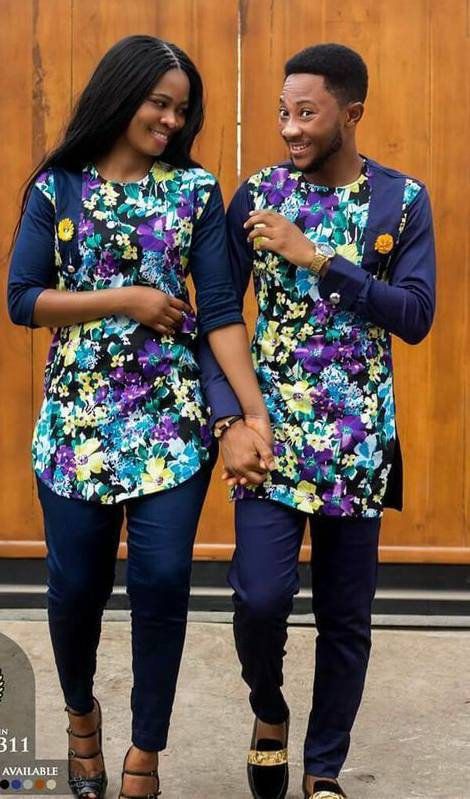 This style is cool, especially for slim partners. The trouser would match your shape like no other. Use a brightly colored Ankara material and your shoot would be a memorable one for you. Even after your couple photoshoot, the clothing can still adorn your wardrobe and come in handy for a formal or social occasion you both need to dazzle in.
33. Same Ankara Material in Opposite Positions for Both Partners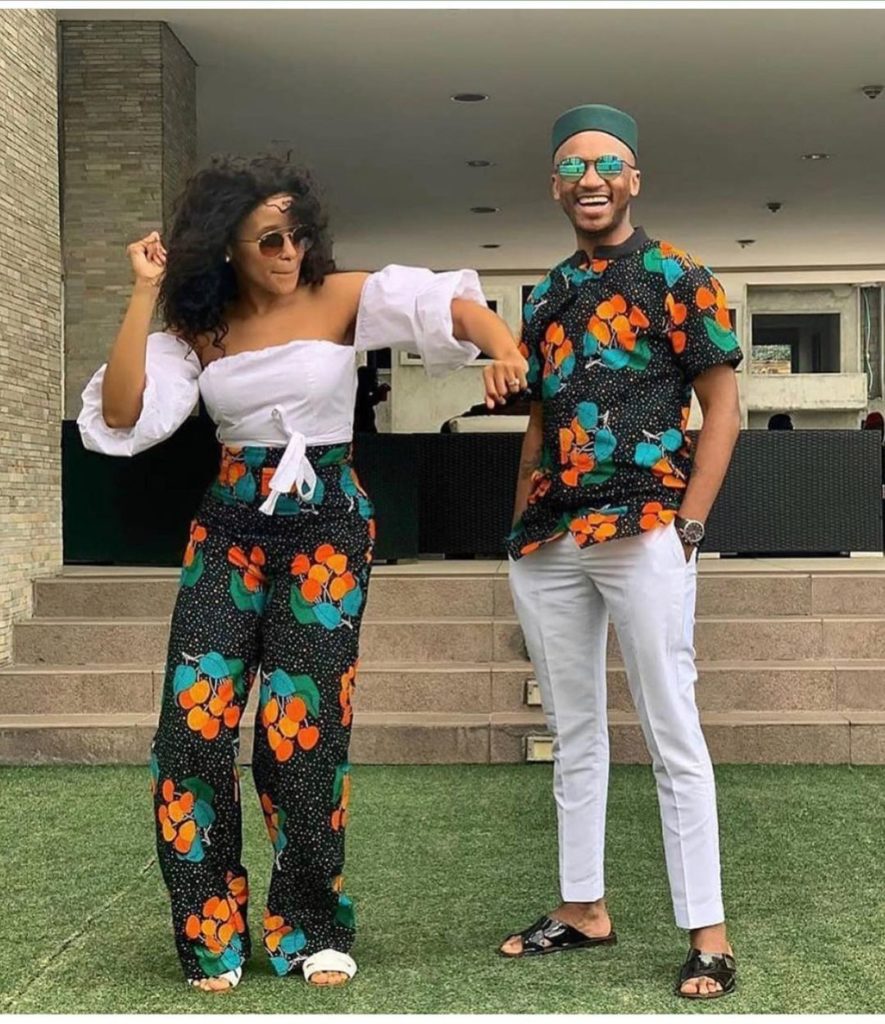 One Ankara material is used to make a short for the male and the top for the female or the other way round. This is also very cool. Wear with sneakers to bring out that modern look. This Ankara couple outfit looks the best when the couple contrasts the dress combination as can be seen above. While the lady is clad in Ankara trousers and a white top, the man contrasted his with an Ankara top and white trousers.
34. Full Ankara Wears for Two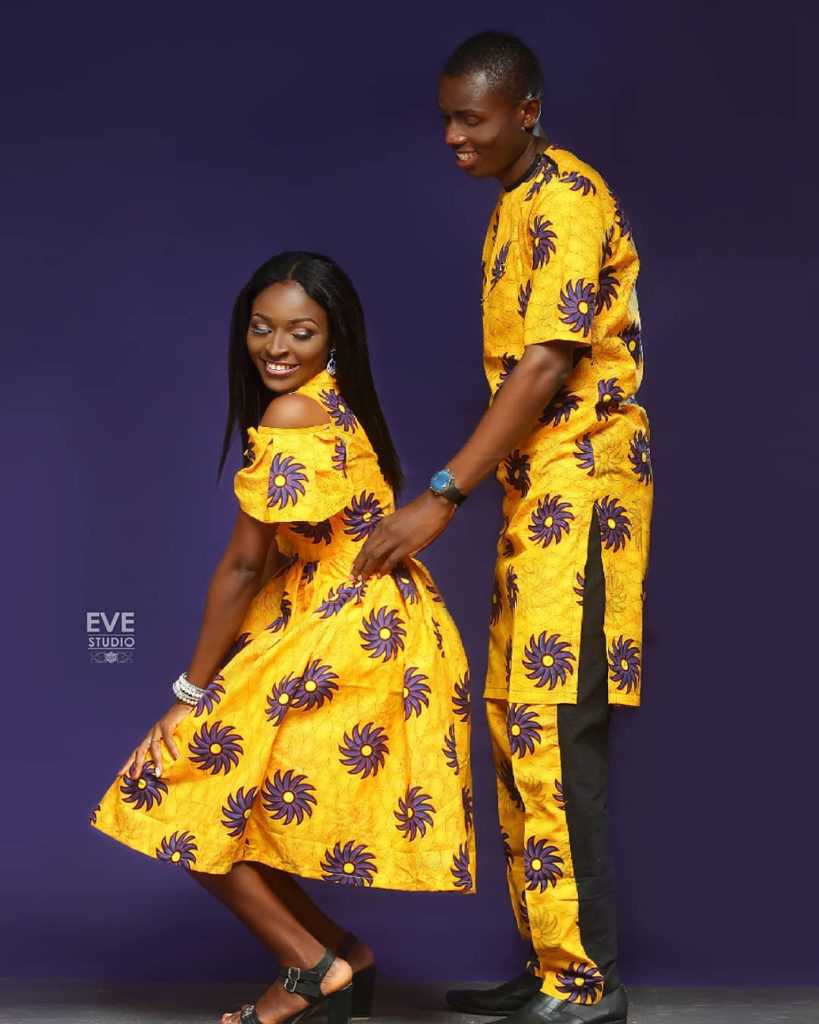 Full Ankara wears for a couple is still super dope. All you need is a designer to add more creativity to it and your shoot session would be a blast. Wear this with plain black shoes while she wears hers with high-heels, you would be amazed after you see the pictures.
35. Ankara Blended Shirts and Jogger Trousers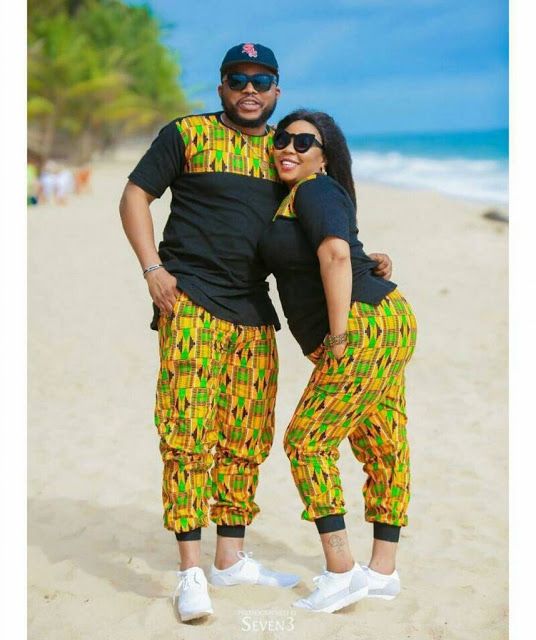 Wondering if you should try this style out? Here is why you should. It's new and modern. It's not well known around but it is super cool. You can add a hat or face cap to go with it. This is more like casual wear but it will effortlessly bring out the sparkle in your couple's attire.
36. Plain Material Sewn with a Touch of Ankara

You may also want to consider plain materials sewn with a touch of Ankara material for one or both couples. It's cool too. You can wear this with leather shoes, plain sandals or Ankara-themed sandals. The lady on the other hand an also wear flats or heels depending on the occasion, you both will look cool no matter what you want to complement your couple Ankara outfit with.
37. Ankara Tunic for Men and Short Ankara Gown for Women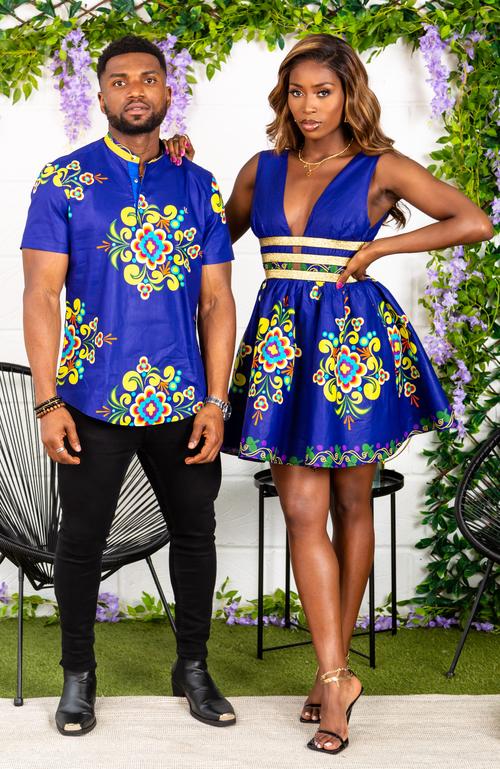 Try rocking an Ankara tunic in your pre-wedding shoot while your partner wears a short gown. This style is flexible as it allows you to express yourself in any way you wish. You can incorporate a long stripe at the center of your tunic if you please while your partner makes her gown flair. Ankara suits for one or both couples could bring in that classy and urbane look to the shoot.
38. Ankara Suit for Male and Long Ankara Flair Skirt for Female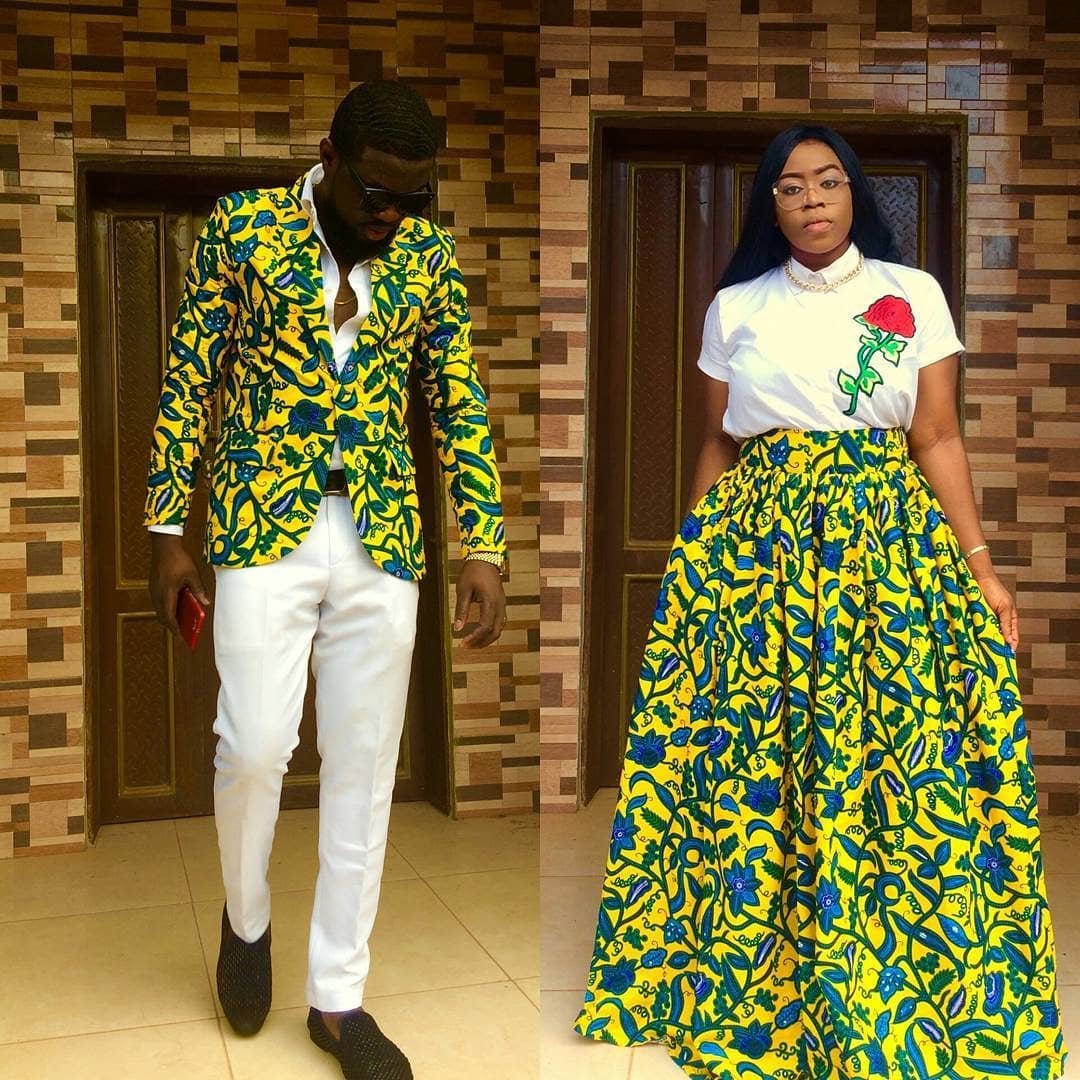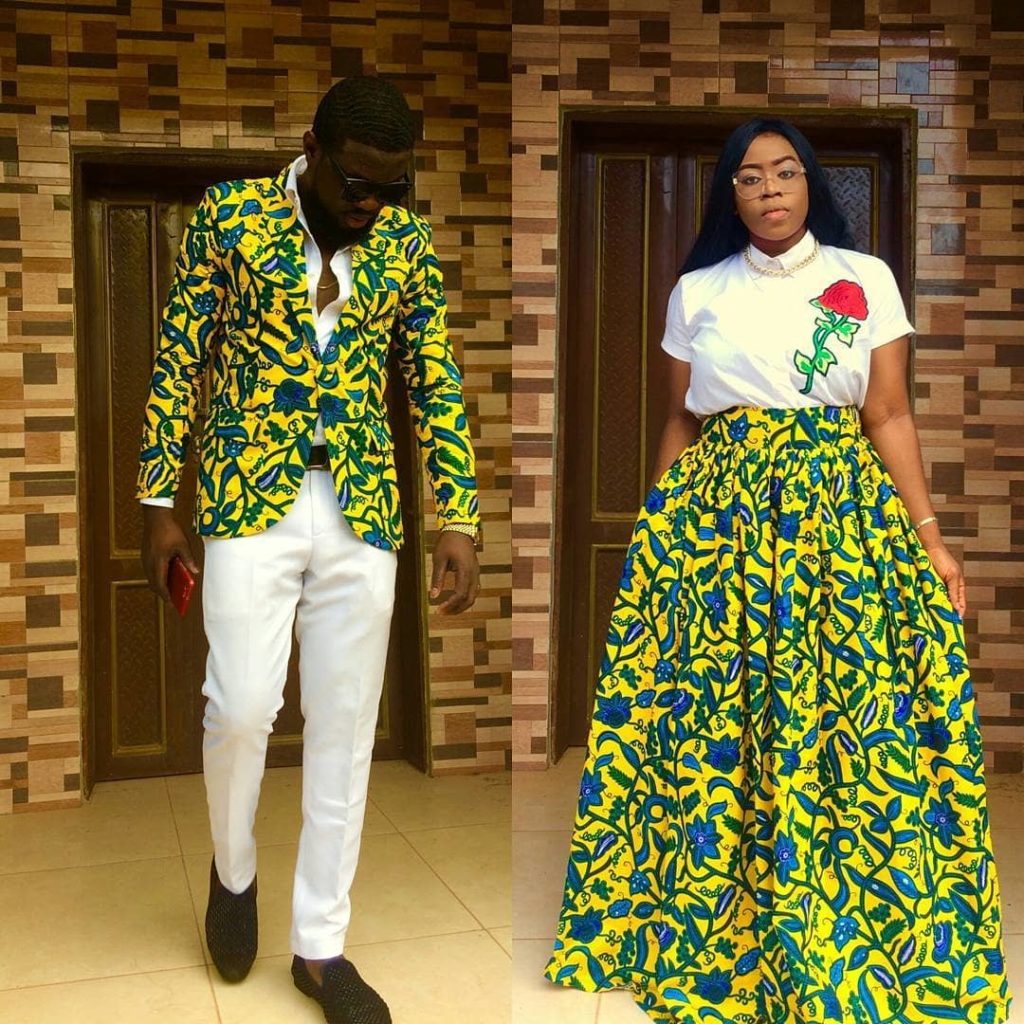 You and your bride-to-be would look classy and trendy in an Ankara suit and short flair skirt respectively. This makes a lot of fashion sense as it brings out the gentleman nature in you and that "classic chic" style in your woman. You may use a bow Ankara tie. A plain also blends well with Ankara.
39. Ankara Suit for Male and Ankara Gown for Female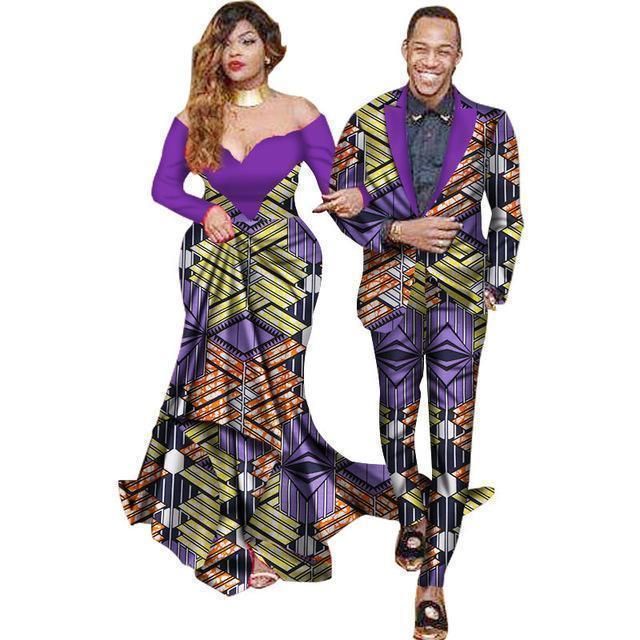 This style is for the boss and boss lady. It perfectly brings out that cool look in both you and your partner while giving you both a classy look and feel. While the man's suite could be a simple Ankara suite like one of those we have discussed above, the lady's gown is a bit more detailed as it can be styled to perfectly fit the lady's body contour. One good thing about this Ankara suit for male and Ankara gown for female is that you will make a bold fashion statement with your partner with it whenever you both step out.
40. Ankara Jacket on Plain Shirts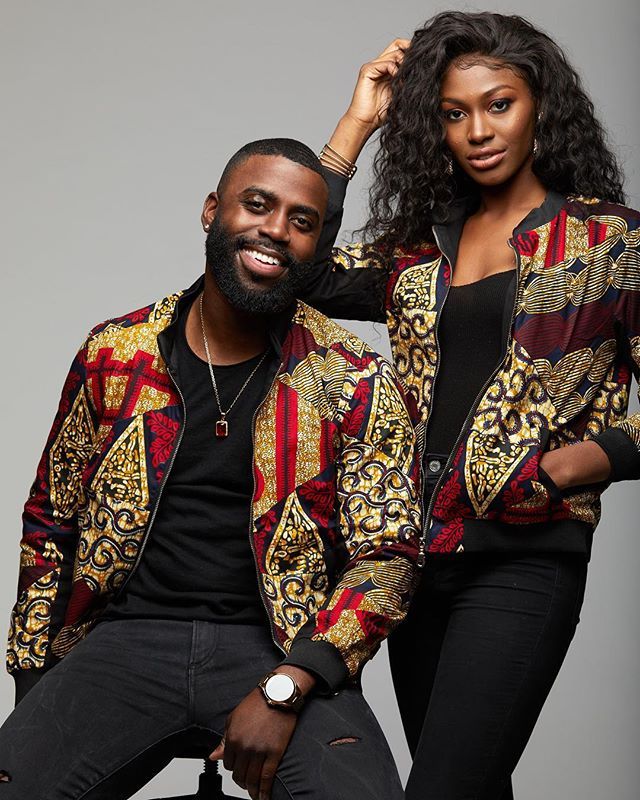 On the other hand, Ankara jackets on plain shirts with ties for either one of the two couples could do some magic. Ensure the jackets are styled just the way you want them.
If you haven't decided yet, I will advise you to try out Ankara in your pre-wedding shoot. You won't be disappointed.
Summary List of the 40 Fashionable Ankara Styles for Men You Deserve to Adorn
Long-sleeve Ankara tunic with thick black stripe
Ankara Short free neck Tunic
Ankara round neck tunic with shorts
Ankara Senator Combo
Classy long-sleeve agbada with thin trousers
Short-sleeve Agbada with cap
Sleeveless Ankara native wear
Ankara dashiki wears
Long-sleeve Ankara Shirts
Half-plain half-Ankara materials Combo
Ankara inverted T-shirt with round neck
Ankara-blended V-neck traditional T-shirts
Sleeveless Ankara tops for men
Plain T-shirt with Ankara designs
Plain Ankara jacket
Round neck Ankara jackets
Ankara suit with black collar and lapel
Long-collared Ankara suit
Multi-colored Ankara blazers
Ankara jacket on shorts
Long Ankara jackets on plain inner wears
Ankara joggers
Trouser made from different Ankara materials
Ankara baggy hippie harem pants
Ankara and jeans blended trouser
Same color Ankara and jacket combo
Long slim-fitted Ankara trouser with a long-sleeve shirt
Same material Ankara trouser and waistcoat
Ankara shots on branded shirts for both spouses-to-be.
Ankara shot for male and Ankara short skirt for female
Ankara blended Agbada for both couples
Native Ankara tunic with slim-fitted trousers for two
Same Ankara material in opposite positions for both partners
Full Ankara wears for two
Ankara blended shirts and jogger trousers for both
Plain material sewn with a touch of Ankara
Ankara tunic for male and short Ankara gown for female
Ankara suit for male and long Ankara flair skirt for female
Ankara suit for male and Ankara gown for female
Ankara jacket on plain shirts
Factors to Consider Before Selecting Your Most Preferred Ankara Styles for Men
Since you've discovered the inherent beauties of Ankara, it would be best to know the things to consider before opting for your most preferred style.
Purpose: Every outfit has a purpose and your style should match it. You would be off if you take a style meant for a casual outing to a formal occasion. It wouldn't look nice.
Quality: Ensure you use the best quality fabric for your styles. Check if the material is bright, resilient, durable, and of top quality.
Color: Color is also very important. Choose the right color that appeals to your occasion, mood, personality, or gathering.
Cost: You may also need to consider the cost. This isn't much of an issue because Ankara is very affordable and can be sourced locally.
There you have it. With this guide, you can make informed decisions about how to go about making the best of your Ankara material. Without any reasonable doubt, you will fall in love with Ankara as soon as you wear one.
Shocking Fact: Ankara isn't of African Origin
Ankara is 100% cotton and its brightly colored patterns are made with wax-resistant dyes. It may surprise you to know that Ankara isn't of African origin. Also known as Dutch wax or Holland wax, Ankara first became popular in Ghana in the 1800s through the activities of Vlisco, a company belonging to the first Dutch entrepreneur that developed a method to make prints on fabrics. He did so to try to meet the demands for printed batiks (a popular cloth in Indonesia). Ankara rapidly spread to other neighboring countries and got a foothold in Nigeria among other places. It soon became a traditional African identity after the manufacturers added colors and prints that evoked tribal thoughts. They made them appealing to the locals hence the wide acceptance.
Evolution of the Ankara Fabric
Ankara comes in a range of bright, colorful, and fabulous designs. The beauty of Ankara is that it can match any style. This is one quality that has seen it being deployed en masse in men's clothes and accessories and Ankara styles for men keep evolving by the day. Ankara was initially used for native and traditional clothing but fashion designers have brought in a lot of creativity to add more flair to the fabric. These days, we can now see Ankara being used for senator wears, shirts, Agbada, shorts, jackets, and even suits. These are some of the common Ankara styles for men and more are being designed daily.
Another thing that makes Ankara a top choice for men is its versatility. Ankara can be used in a different range of styles, designs, and fashion trends. Also, just about any man can wear Ankara. Whether slim or fat, tall or short, there are different ranges of Ankara styles that would fit you perfectly. With Ankara, be rest assured that you will have all eyes on you at any event as people would naturally be attracted to the brightly colored fabric anywhere they see it.
Ankara Can Be Used To Sew Any Style of Cloth
Ankara is very affordable and readily accessible in Nigeria and beyond. This made it the first choice of clothing for many. Ankara styles for men initially were of the traditional type. The fabric was used for local and traditional wears such as Agbada, Dashiki (dan ciki), Buba, and others. Contemporary styles like Senator wears were developed later along the line. The influence of western culture and dressing also left a mark on the ideas of creative fashion designers. Rather than relegate Ankara to the use of traditional wears alone, the fabric has been incorporated into formal wear as opposed to just traditional occasional wears.
It's now common to see men wearing shirts, trousers, suits, and blazers all made from Ankara. When it all started, many thought it was crazy. The concept was so appealing that in a few years it gained lots of popularity. Many men now wear Ankara wears to offices and other formal functions. When quizzed about their choice of Ankara, they respond that they are more comfortable in the fabric. Aside from being beautiful and brightly cooler, Ankara is also lightweight. You wouldn't have any issues moving any part of your body freely when adorning an Ankara dress.