If you pay only cursory attention to the Ghanaian entertainment industry, chances are you only know her for acting and TV presenting. More than that, you probably know Moesha Boduong for her dramatic curves, one that has firmly placed her among Ghana's curviest women.
While we will be the first to admit African women are predisposed to a curvy body, Moesha has had some help. It is another evidence of a spending power that allows her to afford luxuries like her mansion and cars.
Moesha Boduong Had a Procedure to Make Her Tummy Flat
Her backside might be the star attraction, but it was the final icing on Moesha's walk to her curves. Her flat tummy, as simple as it might seem, has been a contributor to the admiration her body covets. And while she is known for spending a significant amount of time in the gym, it turns out she has had some help.
In 2019, Moesha Boduong admitted that she had a liposuction procedure. Liposuction is an operation where excess fatty tissue is removed from under the skin by suction. The result is a flat tummy that enhanced her body shape. She confirmed it all during an appearance on Nana Ama McBrown's McBrown's Kitchen.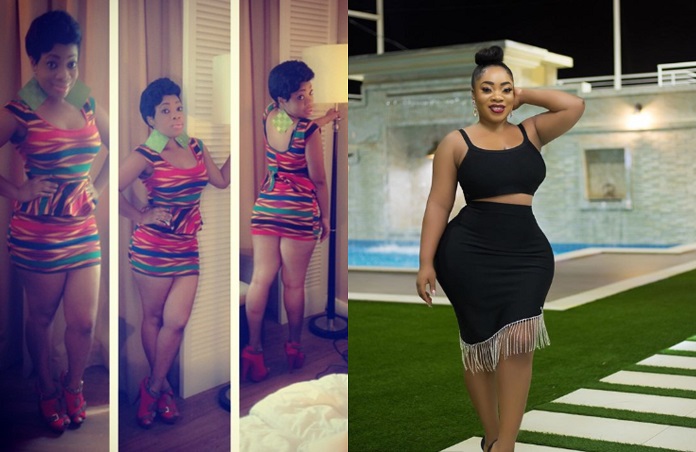 Moesha confirmed what many considered an open secret on the show, claiming she underwent the procedure to give herself a slimmer waist. Interestingly, on the same show, Moesha denied extending the surgery to her backside. However, it turned out it was not true at the time.
She Later Admitted Having Surgery on Her Ass and Hips on National TV
Moesha Boduong's comments on McBrown's Kitchen opened the door to suggestions that perhaps, her jaw-dropping backside is natural after all. However, in August 2020, while appearing on GHOne TV's TLS show, she finally put an end to the debate about her curves. She admitted getting a Brazilian Butt Lift, a procedure where excess fat is taken from other parts of your body and transferred to your hips and ass. Furthermore, she confirmed that she got the surgery along with the liposuction she admitted to as a separate surgery before.
Asked why she underwent the procedure, Moesha revealed years of gym work was not giving her the result she wanted. As a result, she went under the knife to get what she desired after careful research on the subject. Controversial as the process might seem, the effect has been undeniable.
Moesha's Curves Have Attracted Positive and Negative Reactions
Not only has Moesha Boduong risen in status and exposure in the Ghanaian entertainment industry, with increased roles and modeling gigs, but the interconnectedness of the modern world has also gotten her attention from abroad too. She has featured on US platforms like The Shade Room and amassed over 2.4 million followers on Instagram.
It has not all been positive, though. The actress/model has faced a significant amount of body shaming, aided not just by her body shape but her propensity to show it off in tight and skin-revealing clothing. It has attracted suggestions she is a sugar baby and that she is fake.
Nevertheless, she has taken it all in stride and even went on the offensive on a couple of occasions. Earlier in 2020, she took to her Snapchat to encourage other women who wish to undergo surgery to take the leap. Overall, Moesha Boduong's curves have had a net positive effect on her life, including boosting her net worth.
Moesha Boduong Has a Luxurious Lifestyle Fueled by a $400,000 Net Worth
Once upon a time, Moesha was the subject of vitriol from Ghanaians. In April 2018, she suggested during an interview with CNN's Christiane Amanpour that Ghanaian women use men as their primary source of income, trading cash for sex.
The interview drew scrutinizing attention to Moesha Boduong's net worth and her income sources, causing many to claim her comments were mere reflections of her life. There has been zero evidence of those claims. However, we know acting and modelling are two professional sources contributing to a reported $400,000 net worth owned by the Ghanaian personality.
She Has Been Acting Since At Least 2017
https://www.instagram.com/p/CGu8tu9H5mU/?utm_source=ig_web_copy_link
Unlike other famous actresses in the Ghanaian film industry, Moesha's journey in the industry is not well-documented. However, public records show she has been acting since at least 2017 and has appeared in several films in that period.
Beyond her ability to bring characters to life, Moesha Boduong's curves have also helped expand her filmography, resulting in more than 20 known film appearances to date. Unfortunately, her salary for each film remains undisclosed. But considering her popularity and the commercial performances of her works, comparable to other actresses, there is no doubt they have been significant contributors to her net worth.
Her films include The Hero: Service to Humanity, Amakye and Dede, Grey Down, Yvonne's Tears, Pool Party, and several others.
Moesha Also Makes Money from Modeling and Digital Influencing
Modeling and social media influencing may not seem like the kind of career to fetch Moesha Boduong her reported $400,000 net worth. Regardless, they are lucrative roles in modern life. Aided by her curves, Moesha has leveraged her looks to become a model and influencer.
On social media, particularly Instagram, she has over 2.4 million followers. It is a significant following that has attracted brands like The Skin Pop Shop, Furnart Ghana, and Bet Planet. Her body has also opened the doors to modeling gigs, with partnerships with brands in the lingerie business like The Body Shop and Curve Thicked Body.
How much do these partnerships earn her? We will probably never know. But they have funded Moesha Boduong's luxurious lifestyle and her overall net worth.
Cars and a Mansion are Ways Moesha Boduong Spends Her Earnings
Having a $400,000 net worth puts the actress in a position to enjoy some of life's luxuries, and Moesha has embraced the opportunity. Among a possibly long list of the actress's assets are two cars; a Range Rover and a Land Cruiser. Both are painted white as her part of her signature look.
She shared a video of both vehicles in October 2020, parked in front of a mansion, which she also owns. The house is in East Legon, and although she is yet to take fans on an inside tour, her Instagram posts reveal it is well furnished.
Aerial view also shows it is significantly large, enough to warrant its mansion tag. From the outside, the house has two garage spaces for her cars. Combined with expensive shopping and vacation trips, Moesha is aptly enjoying her wealthy status.