Thabiso Sikwane is a well known award winning TV and radio personality, broadcaster, and talk show host in South Africa. Her years in the media world brought her lots of fortune, as well as the fame that comes with it.
Thabiso Sikwane is best known as the wife of DJ Fresh, whose real name is Thato Sikwane, one of the most famous disc jockeys in South Africa and across the whole of Africa. On the side, she is a swimming instructor, a brand ambassador, and also an entrepreneur.
Matladi, as she sometimes prefers to be called, has distinguished herself in her career and marital life. Despite her numerous achievements and some scandals that have rocked her marriage, she still loves and supports "the Big Dawg" (another alias of DJ Fresh). She remains one of the few celebrities that has done this and as such, sets an example for others to follow. She and her family live in Jozi, South Africa, but also frequents Gauteng for seminars based on growth, business, and more. There is more to know about this accomplished woman than being the wife of an international DJ. She is a successful career woman, an accomplished media personality, and a business manager. We take a peek at her life and family.
Profile Summary of Thabiso Sikwane, Wife of DJ Fresh
Full name: Thabiso (Matladi) Sikwane.
Date of birth: Circa 1980s
Age: 43 years old
Education: Wits University (B.Sc English and Sociology)
Number of children: 3
Occupation: Media Personality, Presenter, Swimming Instructor, Brand Ambassador, and Entrepreneur.
Marital status: Married
Hobbies: Swimming, listening to music, and cooking
She Holds a Degree in English and Sociology and Works as a Media Personality
Thabiso Sikwane isn't from a privileged background. Just like other amazons, she built herself from scratch despite the challenges she faced early on in life. She began schooling at an early age and completed high school on time. She then enrolled in Wits University, a public university of repute in Johannesburg, where she bagged a degree in English and Sociology. She ventured into the media world immediately after graduation which turned out to be the career that changed her life.

Thabiso Sikwane is a thorough-bred media personality and professional. She is widely respected in the media space and beyond and has enjoyed a wonderful career. She started her media journey at Voice of Soweto, a community radio station based in Soweto. She then moved to YFM where she did exceptionally well. She has also worked at SAFM and PowerFM at some point. She returned to Kaya 959 FM in 2019 after an absence of 7 years. Thabiso currently co-hosts the morning show, KayBreakfast, with David O'Sullivan and Jason Goliath at the radio station.

Aside from being an accomplished media personality, Thabiso is also an MC, author, agriculturist (beekeeper), and entrepreneur. She runs a swimming academy and a media outfit known as Borona Productions. At her swimming academy, she helps young people develop their talent and hone their skills in the sport. She also volunteered to be an ambassador for the Nelson Mandela Children's Hospital. Thabiso has undoubtedly made a fortune for herself through what she does. Her net worth is estimated to be around $150,000 a large chunk of which she made through broadcasting.
Thabiso Sikwane Met DJ Fresh at YFM and Married Him After 6 Years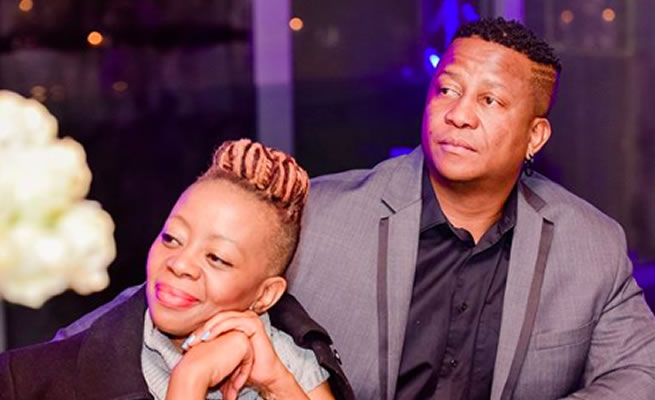 A peek into the romance history of Thabiso reveals that she met her husband, DJ Fresh while working as a newscaster at YFM in 1997. Thato Sikwane, who later turned out to be one of the biggest DJs in South Africa, had just landed in South Africa from Botswana to study media studies and journalism at Johannesburg's Boston Media House against his father's wish for him to study law. In the third year of his studies, he got a job at YFM (his first job), where he met Thabiso who would later become his wife.

The pair worked together on a show at the station. While "the Big Dawg" was the DJ, Thabiso was there as a presenter, reading news on the show. This brought them closer and they fell for each other almost immediately. They started dating the next year, 1998, which ultimately led to something more.

After dating for 6 years, the couple decided to tie the knot. They wedded in presence of family and friends in a small ceremony in 2002. The DJ was 30 years old when he got married to his heartthrob. At this time, he already had a stable and growing career as one of the favorites and influential DJs at YFM. His wedding was attended by some notable personalities which include the CEO of YFM, most of the staff there, and top DJs and celebrities in the country. Their marriage has lasted unlike many other celebrity marriages of recent times. Thabiso Sikwane remains a committed wife and mother as much as she is a career woman.
How Successful is Thabiso Compared to DJ Fresh?
Given that both of them have independent but complementary careers in the media and entertainment industry, the couple is no doubt remarkably successful in what they do. However, when placed in comparison, one of them seems to have earned more money than the other. It is however important to note that this judgment is not full proof as there is a dearth of some information to make a comprehensive assessment of who is faring better in his or her career.
DJ Fresh Has a Net Worth of About $2 Million
Obviously, DJ Fresh is the richer of the two with a net worth of about $2 million which he has painstakingly earned over the years by building his entertainment career one block at a time. The DJ also makes the list of the richest DJs in South Africa and undoubtedly demands a good price before one can secure his services. Thabiso Sikwane's husband's wealth comes mainly from his work as a DJ. He began learning the ropes of the profession as a 13-year-old and now an adult, he has over 25 albums with some reports hyping his album count to as much as 32. Indeed, all of DJ Fresh's albums have been remarkably successful and he has also ventured into other areas of interest.

DJ Fresh, like his wife, also works in a radio station as a presenter. He landed his first radio gig as a teenager and became even more famous when he landed a job with 5FM and Metro FM which both belong to the South African Broadcasting Corporation. In addition to his radio gigs, DJ Fresh also earns money working on South Africa's Got Talent where he has proven himself to be of great value. He also banks from the Big Dawg Productions which scouts for new talents in the entertainment industry and makes them stars.
Thabiso Sikwane Has a Net Worth of About $150,000
Thabiso Sikwane on the other hand has an estimated net worth of about $150, 000 the bulk of which she earned from her career as a broadcaster. She is one woman who is known to have worked so hard to be where she is today as no man can claim to have brought her this far. Even though she is more popular as the wife of DJ Fresh, Thabiso has a lot to stand for on her own. Perhaps in the years to come, we would see her net worth rise beyond what it is presently not to rival that of her husband but to show how successful she has been in her career over the years.
The "Big Dawg" and Thabiso Sikwane are Parents to 3 Children
Thabiso Sikwane is a proud mother of 3 children. If you consider the child DJ Fresh had while in his younger years, that would be 4. Her first child (a male) was born in 2003, making him 20 years old this year. He is followed by a girl, who is 15 now as she was born in 2008, and another son who is currently 9 years old as he was born in 2014. Thabiso's stepdaughter is 27 and has a 4-year-old son. This makes DJ Fresh a grandfather and a proud one at that.

Thabiso's children are all in school and are doing quite well. Not much is known about them as she and her husband rarely post detailed information about them. The couple only posts them on their social media space during birthdays and other special occasions. The first son is about to enroll in the university while the others are in lower grades. Not much is known about the intentions of Thabiso and her husband concerning their children's career path. Are they going to become media personalities like their parents? Do they have the flair for the media world? Well, we just have to wait and see.
Allegations of Infidelity Against Thabiso's Husband, DJ Fresh
Thabiso Sikwane's marriage, just as many others out there, isn't free from challenges. Some crises rocked the marriage which tested it on several occasions but she kept on strong. In 2015, the Sunday Sun reported a story about how DJ Fresh cheated on her with his then manager, Tsholo Mosaka. The story said they had a son together which he hid from her. This allegedly happened when he was on a trip to Botswana, his home country. The DJ subsequently came out to deny it, claiming that while he was in Botswana, he never slept with Tsholo Mosaka nor had a child with her. He also demanded a full-page apology from the tabloid and that they take down the post. The said manager, Mosaka, also came out to dispel the rumor, stating that she only has 2 daughters and no son. She however did not reveal the identity of the father of the two children. Thabiso handled this issue as a mature married woman.

Just when the dust was about settling, the DJ was enmeshed in another controversy 5 years later. He was accused of rape by Ntsiki Mazwai, a popular poet and activist. The DJ didn't spend time refuting this accusation and even sought redress in court. He had his day in the court who asked Ntsiki to delete her post since she didn't have enough evidence to back up her claims.

Just a year later, the "Big Dawg" was again accused of rape but this time his friend and business associate, Euphonik was dragged along. A Twitter user who goes by the moniker, @Nampree, accused the celebrity DJ and his friend of raping her and 3 others after drugging them on a night out. This allegation made several of the radio stations they work with temporarily suspend them. The duo also agreed to go off air to ensure that proper investigation is launched into the matter.
Thabiso Remained Calm Despite the Damning Allegations Against Her Husband
While all these storms were raging, Thabiso stood strong as a woman. Rather than allow this scandal to destroy her home, she stood by her husband until they were all over. She showed how supportive a wife could be throughout the time and has continued to support them. Her actions are somewhat strange for those who are in the media/public eye.

While many would have hurriedly sued for divorce or call time in the union immediately, Thabiso Sikwane remained calm and allowed reason to prevail over emotions. There was not a time when Thabiso posted about the scandal on social media or talked about it publicly. Whenever she was interviewed and questioned about the matter, she chose to remain silent.

The public on the other hand has never for once heard about a serious brawl between the couple. They seemed to be getting closer together even amid the scandals. They are truly meant for each other. Little wonder DJ Fresh came on air to share the secrets of his success in marriage for other couples to learn from.

Thabiso Sikwane and her husband, Thato Sikwane (aka DJ Fresh) are enjoying their careers and marriage today because of the sacrifices they made for each other but largely because of Thabiso who sticks and supports her husband amid every storm that comes his way. While we praise her for being a great woman, we enjoin women from all over the globe to learn a thing or two from this rare gem.