Yemi Alade does not appear to have a husband but there are unconfirmed reports that she got married to her longtime manager, Taiye Aliyu, in January 2023. The award-winning singer has, however, not come out to confirm or deny these claims.
Prior to the reports linking her to her manager, Yemi was known to be very single. She had in the past been linked to a few heavyweights in the entertainment industry. They include Alexx Ekubo, Phyno, and Flavour N'abania.
A Busy Life and Desire for Freedom Has Left Yemi Alade with No Husband
At her age, a lot of people are married and have a couple of kids to call their own. A fraction of those who are single at this age remains so because they do not have the financial stability to start a family. With a net worth estimated at $4.2 million, that is not the case for the Tumbum crooner, but she remains single all the same.
At the moment, every piece of evidence suggests it is a personal choice, with her hectic schedule being another contributory factor (she barely lived in her house until 2020). She has admitted to journalists that she enjoys her life, loves being alone, and has no plans to get married now.
But even though marriage seems to be out of the cards for Yemi Alade in the near future, that is not to say men haven't offered to become her husband. In a February 2020 Instagram post, she revealed that a Masai offered 20 cows for her hand in marriage during a visit to Kenya.
A scroll through her comment section also reveals that Yemi Alade is not short of male admirers who would jump at the chance to be her husband. Despite marriage seemingly being a foregone conclusion for the pop star, rumors suggest she has been in a few relationships, none of which have ever been proven to date.
Meet the Men Who Were Once Rumored to be Yemi Alade's Boyfriend
Naturally, as a celebrity, Yemi Alade prefers keeping her love life away from the public eye. But a few comments to the press here and there have given fans some clue to the men in her life. We know that the end of an early relationship because of infidelity inspired her hit song, Johnny. The song, which is a tale about a cheating lover, was inspired by her own life experience.
Thanks to a few other public comments, we also know that she may have had a thing with actor/model Alexx Ekubo, rapper Phyno, and Enugu entertainer Flavour.
Alexx Ekubo (Circa 2013- 2014)
As far as Yemi Alade's dating history goes, Alexx Ekubo is the closest she has had to a publicly confirmed relationship. Neither party ever confirmed it, but there were intense rumors that the self-proclaimed Mama Africa once had a secret romantic relationship with the fair-skinned Nigerian actor and model.
The rumor started after he appeared in the music video for Johnny, playing the titular character. Rumors about a potential relationship between the two further intensified when they appeared arm in arm on the African Magic Viewers' Choice Awards' red carpet.
When asked about the rumors, Yemi gave nothing away, only admitting that his personality as a 'cool and lovable guy' is why people think they are dating. Did they actually date? All the evidence suggests it may have happened, but so far, the official answer is no.
Phyno (2015-2016)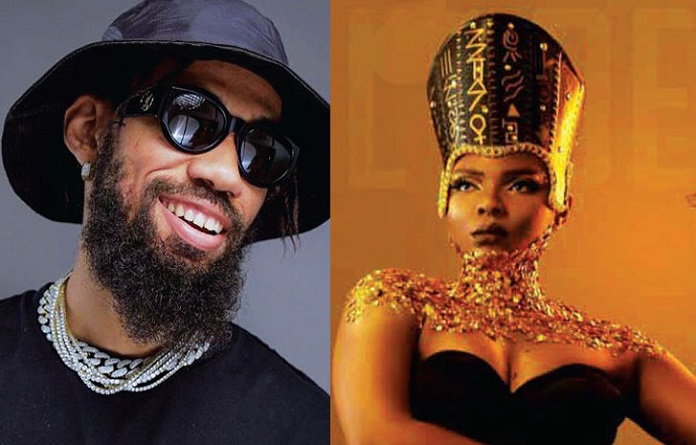 Nigerian rapper Chibuzor Nelson Azubuike, popular known as Phyno, is another significant name in Yemi Alade's dating history. Not so much because they certifiably dated, but because they admitted shared interest in doing so. During the period they collaborated on the song, Taking Over, Yemi admitted having a crush on the Anambra-born rapper.
In an interview with Lanre Odukoya, Yemi Alade even went as far as admitting that she would be open to marriage to the rapper if they were dating. Her comments came after fans clamored for the singer and rapper to date during an appearance on MTV Base's Real Talk. About a year after her remarks, during an interview with HipTV, Phyno also admitted that he could date Yemi Alade.
Does this mean the two had a thing kept out of the public eye and only alluded to publicly via hypothetical answers? It is hard to say. Then again, considering they had a popular song together during this time, it may have all been a publicity stunt.
Flavour N'abania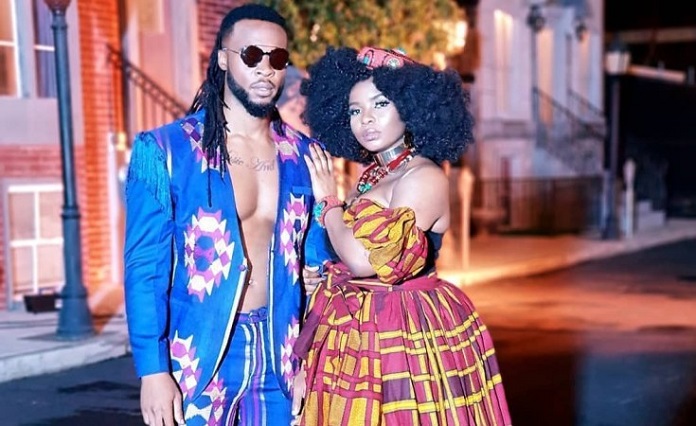 As one of the most prolific love song singers in the country, with a hot body and pretty face to match, there is no shortage of women or men who have a crush on the Nwa Baby singer. That includes Yemi Alade, who has made no secret of a deep attraction to the dread-haired singer. The gorgeous pop singer once confessed to having a crush on the Enugu entertainer during an appearance as a guest on Soundcity's Star Host.
She admitted in her early days in the industry, she had a massive crush on Flavour and hoped to date him. There is even a photo of her expressing her attraction to the singer by kissing a painting of him. Yemi ended her confession on the show by saying the crush no longer exist.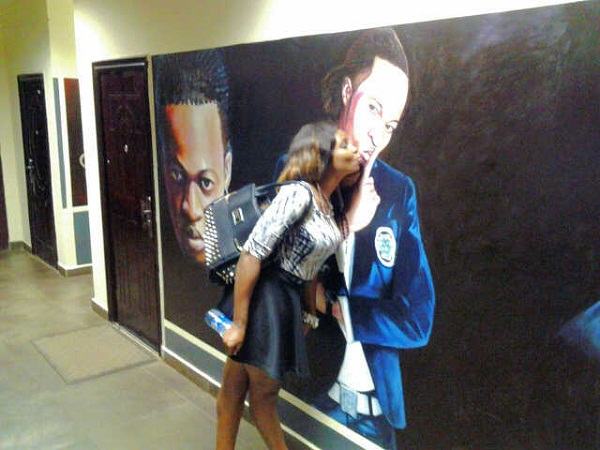 Is that because she finally got her wish? Considering they have recorded two songs, Crazy Love and Kom Kom together, that might be the case. But like everything else in her romantic life, the truth remains hidden.
So far, these are the three men who have held a significant place in Yemi Alade's dating history. For fans of the singer, the wait on who gets to be her first official boyfriend continues. Considering all three men are still publicly single, who knows, she might circle back to any of her old crushes and flings. Until then, Yemi Alade remains perpetually single with no husband, jetting around the world doing what she loves.