The traditional attire and dresses of the Sepedi are among the most vibrant of all South African tribes. It is made of bright colors that are said to signify happiness. The Sepedi women used to wear front (ntepa) and back (lebole) aprons made from strips of animal product, but this is no longer common. Also, the men wore vibrant colored kilts in ancient times. Now, they wear bright-colored shirts and trousers. The women compliment their attire with a moruka (head jewelry) or koeb (head tie). Here, we will discuss different Pedi traditional attire and dresses for men, women, women, couples, and modern Pedi traditional wedding dresses.
Pedi Traditional Attire for Men
1. White Shirt with Pink and Blue Sidelines
This is a simple half-button Pedi traditional shirt for men. The shirt has a bishop collar nicely decorated with some colorful Pedi fabrics. The half button runs from the collar to a point just below the man's chest with about 5 to 6 buttons. Though the buttons used on this shirt look simple, it is not out of place to use buttons that are a lot more complexly designed. On the right side of the shirt, two colorful pink and blue Pedi fabrics were nicely sewn to the plain white shirt. These colors also complement the fabrics used for the bishop collar which was also used to finish off the cuffs of the long sleeve shirt.
This simple white Pedi shirt with pink and blue sidelines can be worn over black or blue trousers. It could be jean trousers, chinos, or even plain trousers. And while dark-colored shoes or sandals are ready options to clad your feet, you will make a bold fashion statement with shoes or sandals that are white to match your shirt. The bright color tells that the man is happy or going for a happy occasion.
2. Long Sleeves with Shades of Blue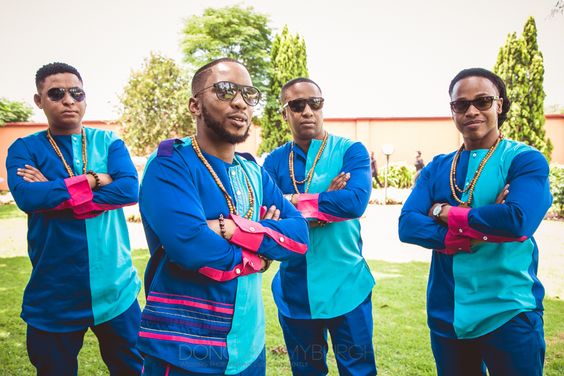 This is a loose-fitting long sleeve Pedi shirt in two shades of blue and a touch of pink.  The shirt is also a half-button shirt and though the design looks simple, its blue shades and vibrant touch of pink will ensure you stand out wherever you were this to especially if you wore it as a group. The two shades of blue effortlessly add to the vibrance of the shirt as do the little pink on the sleeves. The yellow beads further reveal that the attire is for a special occasion. You can also rock the attire with a more modern necklace if you like.
For the trousers, they were sown with the darker navy blue color though the reverse could also be the case, it is typical for men's trousers to come in darker colors. With a pair of dark-colored shoes or sandals, your outfit is already complete without looking too complex.
3. White Long Sleeve Shirt with Blue Patch

This is another Pedi traditional attire for men that are simply sown. The white plain long sleeve shirt has a blue design in front of it which parts at the middle to make way for the buttons that run from the collars down. You can wear this button-up shirt with any preferred color of trousers, however, a trouser whose color will compliment the colors of the design the chest has will bring out the attire's true beauty in a simple way. Since it has fewer colors, this clothing shows simplicity. For your feet, any shoe or sandals can go but as most men would prefer, you are better off with dark-colored footwear.
4. Long Sleeve Shirt with Curved Buttons and Sidelines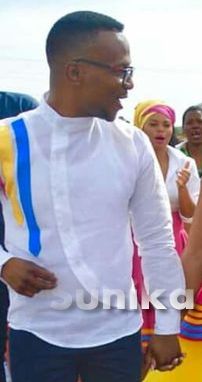 This Pedi shirt is made of a simple plain white fabric with colorful yellow and blue fabrics sown to the side from the shoulder down. However, where the twist lies for this attire is in the manner the button curved. Starting from the bishop collar, the buttons were patterned into a curve that terminates by the left-hand side. This is unlike how many other men's Pedi shirts are made but this simple difference in design is what set this attire apart as one of the best Pedi traditional attire for men we selected. You can wear this shirt over any desired color of trousers; pink, blue or black since pink and blue colors are on the side. You can also wear any desired footwear.
5. White Shirtsleeves with Embroidery Designs
Embroidery spells elegance and it is an interesting part of Pedi attires. The beauty of this dress lies in its simplicity and ability to effortlessly announce the rich and colorful Pedi traditional colors in a classy way. The shirt is basically a plain white shirt with a piece of embroidery work done around the neck which extends to the stomach region. Also, at the base of the shirt and end of the sleeves, a fine embroidery line was nicely sewn around the shirt to complement that already on the chest.
Though this shirt looks traditional at first impression, with a pair of jean trousers and even a hat, you will fit perfectly into the contemporary Pedi fashion craze for men. With some nice jewelry, you will give yourself an even more sophisticated look.
Pedi Traditional Attire For Couples
6. Long Dress with Doek and Bishop Neck Shirt for the Man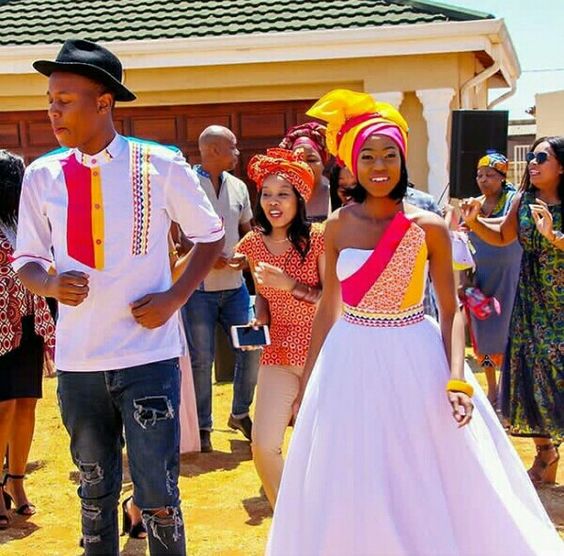 Almost all the colors common with Pedi traditional attires and dresses are seen in this couple's attire. The woman can add beautiful traditional necklaces to make her outfit even more elaborate. The man can equally use a bangle. The vibrant colors show they are having a happy celebration.
7. Pink and White Matching Wear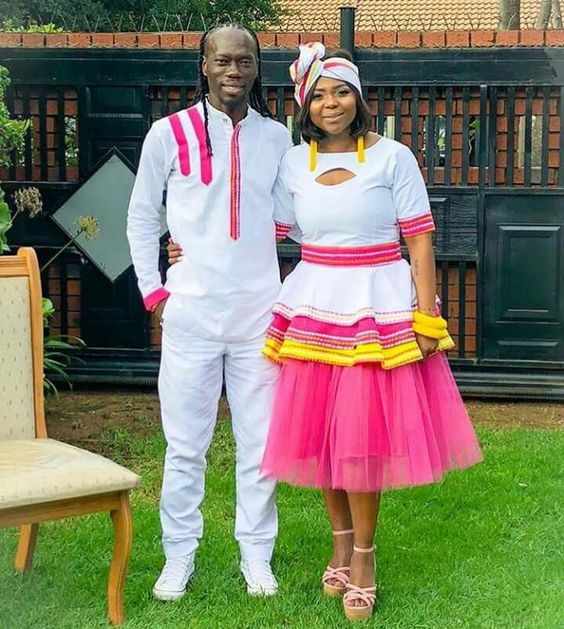 The outfit is made largely of pink and white and a little bit of yellow on the bride's cloth.  The doek and jewelry worn by the lady are perfect for the dress.
8. Multi-colored Couple Wear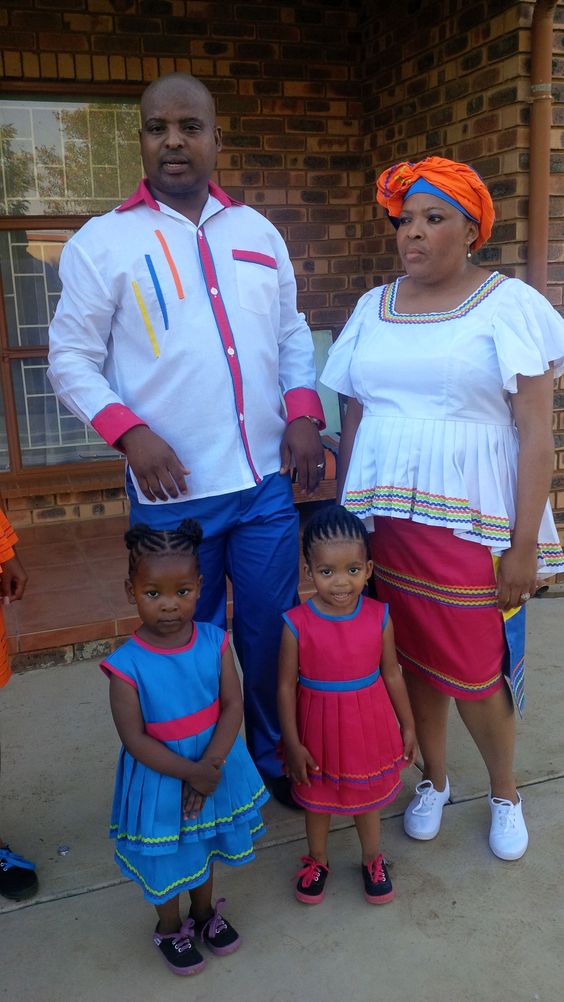 This outfit for the couple features all the vibrant colors of Pedi. The many bright colors look beautiful together. The lady can wear beautiful heels that will fit the dress.
9. Modern Pedi Couple's Attire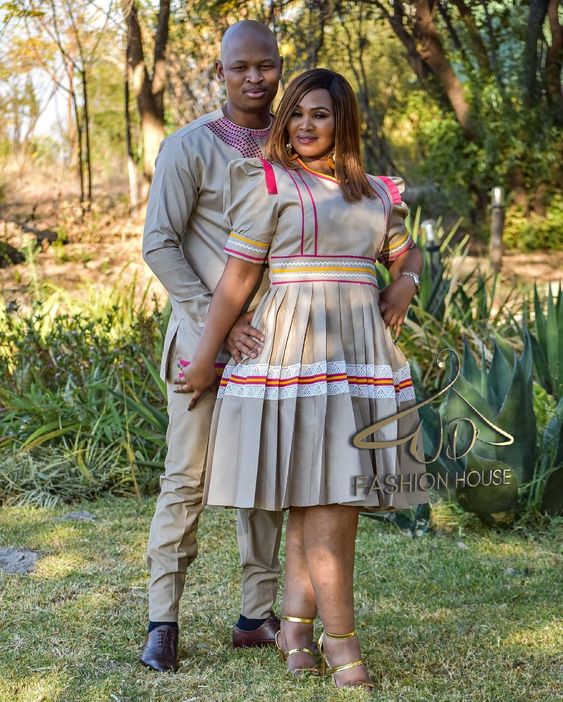 The light brown color of the material on which other bright colors are printed gives this attire a more modern look from other Pedi materials. Beautiful beads can also be used with the attire to rock it better.
 10. Royal Blue Matching Outfit
Royal blue is the main color for this attire and the tip is lined with purple and yellow on the lady's dress. The man has a well-designed white shirt over his blue trouser. The uniformity is beautiful. The man can wear a nice hat to rock his look better
11. Complementary Color Outfit for Couples
Couples can wear outfits that are not of the same color and still appear in uniform. Complementary colors like blue and pink look good together. A hat will make the man look more sophisticated.
12. Matching Pattern Color for Couples
Couples can also match their outfits by using the same color designs on them. The pink and yellow designs look good on both materials. The lady can use a different color of doek for a more vibrant look.
13. Matching Trouser with Doek and Pattern
The lady can wear a dress that has a color design that matches the man's trousers, and then she ties a doek to match. This outfit is in itself elegant enough, but you can further wear it with necklaces and bangles.
14. Pedi Rainbow Color Uniform Attire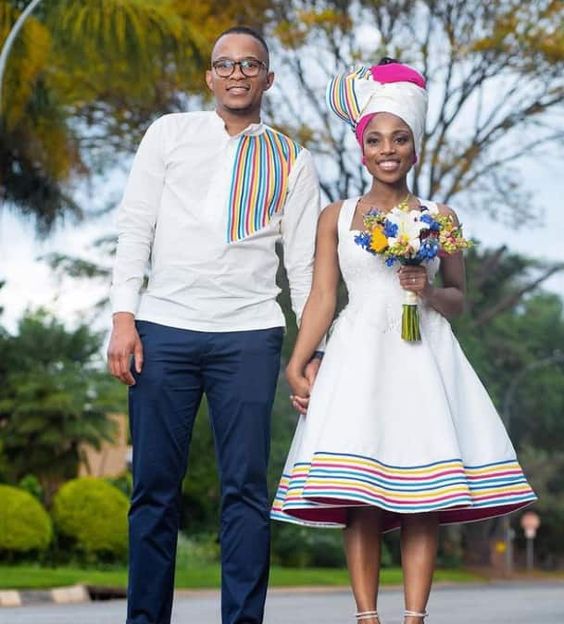 The rainbow color design on the couple's clothes is beautiful and shows the couple's joy. You can wear beautiful traditional necklaces and bangles with such attire to look even prettier.
15. Vibrant Yellow Attire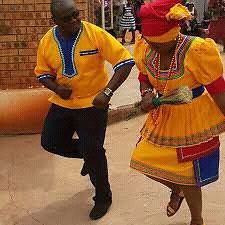 This is the perfect attire for a wedding ceremony. The yellow color reflects the glory of the day and the blue and red additions make it look more beautiful. There is no better way to rock this outfit than with traditional jewelry.
16. Matching Pink Pedi Outfit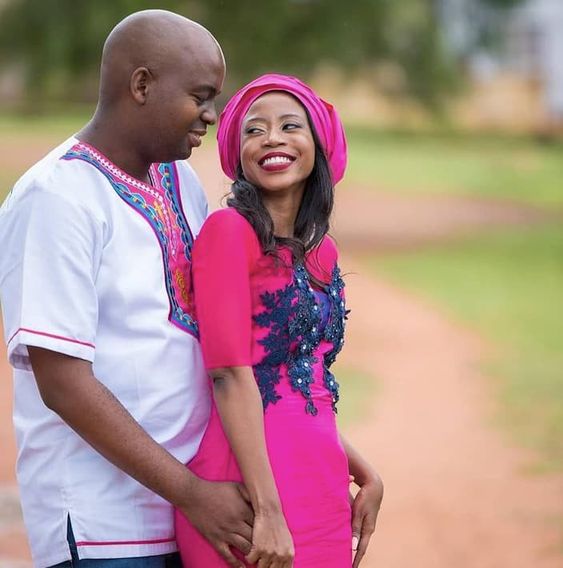 The pink color is a good choice for a couple's matching outfit. When combined well with other vibrant colors like blue, it makes couples look good together.
17. Pedi Flamboyant Colors Matching Outfit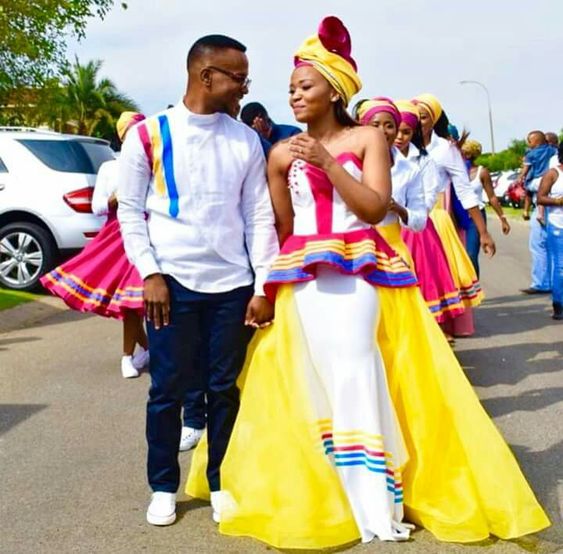 A couple's attire can also be beautiful when several colors are combined together. A combination of yellow and white with a little other colors will make the couple look vibrant and beautiful.
Pedi Traditional Attire for Women
18. Tiny Pleating Gown with Ntepa and Lebole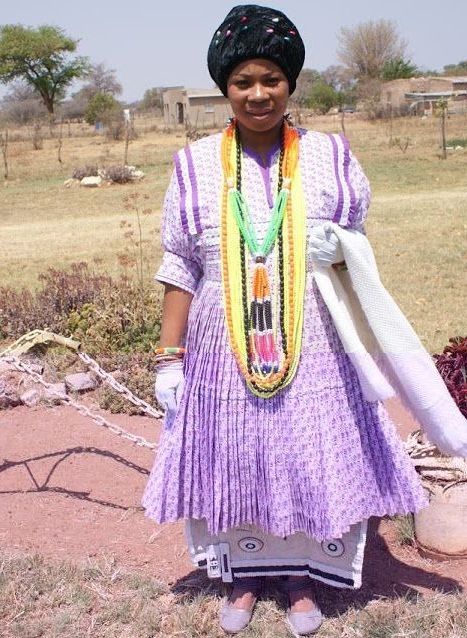 Typically worn for special occasions, this is a complete Pedi attire. The headtie and the beads complement the dress. You can wear it with a more vibrant color of headtie.
19. Long Blue Gown with Rainbow Design
This gown is perfect for almost any occasion and the pink doek is a perfect match. Wearing it with traditional jewelry gives it the most beautiful look.
20. Square Neck with Front Pleating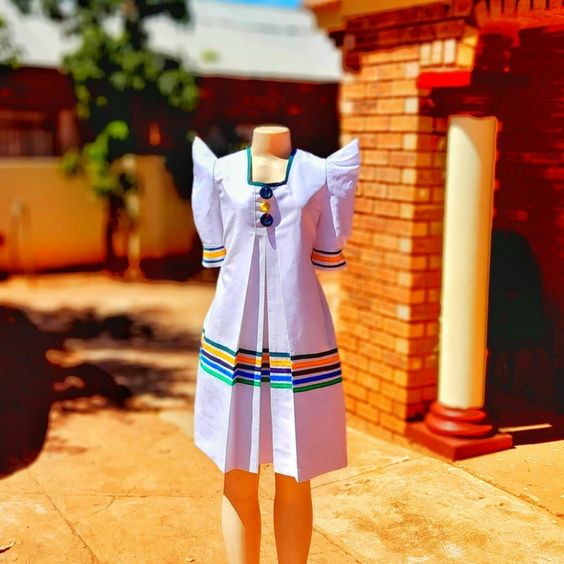 This simple Pedi style is in line with modern-day fashion but still retains its cultural aspect. A blue doek and varied color jewelry will make this outfit completely beautiful.
21. Pink, Yellow, and Green Gown with Pleating Sleeves
Although it does not have so many colors, these three colors blend well enough to make a fashion statement. This Pedi dress shows both traditional and modern day fashion. You can use traditional or foreign necklaces to further ardone yourself.
22. Pleating Top and Short Skirt
Almost every color of Pedi traditional attire and dresses can be found in this outfit. It is a good option for a traditional wedding and you can wear traditional jewelry to make it even more beautiful. You can also wear heels in place of sneakers if you want.
23. Peplum Top and Long Flare Skirt
Pedi styles are endless. This outfit is perfect for an elaborate ceremony. Traditional or foreign jewelry can go with it. Also, you can replace the pink head tie with an orange one if you wish.
24. Square Neck Blouse with Tiny Pleating and Short Skirt
If you want something completely colorful, this style is best for you. The blouse, skirt and jewelry perfectly combine different colors to give you a bright and unique appearance.
25. Calf Length Gown with Pleating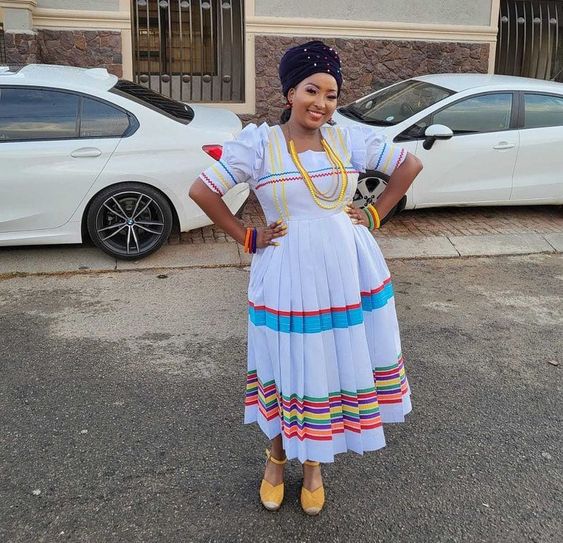 This white gown has multiple colors lined around close to its tip. It is elegant and tells that the occasion is a joyful one
26. Shorty Flare Gown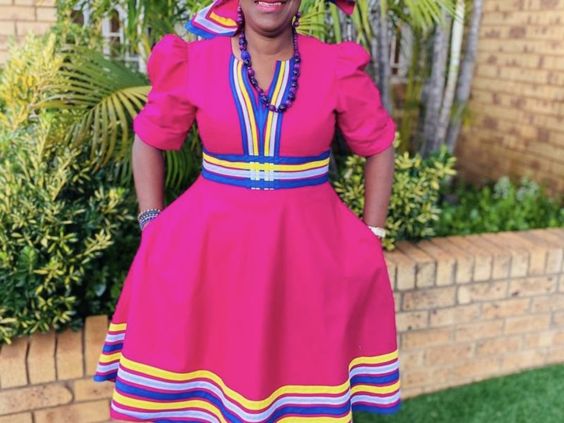 This beautiful pink gown blends with blue and yellow to give a simple and stunning look. You can tie a pink head tie or a blue one with a blue shoe to match.
27. Short Flare Square-neck Gown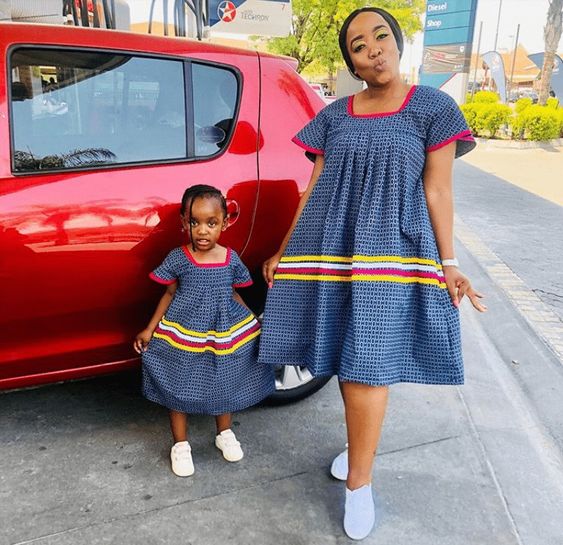 Some Pedi outfits can be simple and worn for casual occasions. This dress is very comfortable and you can rock it with sneakers or any desired footwear.
28. Calf Length Off-shoulder Dress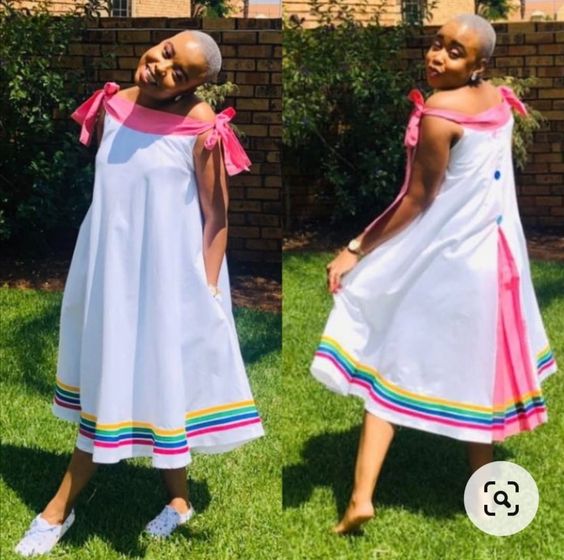 White can almost always do no wrong. This beautiful white dress with a little pink here and there, and a rainbow design towards its tip, is a perfect fit for almost any occasion. A flat shoe or heels will go well with it.
29. Sleeveless Calf-length Dress with 3-step Flares
An all pink dress with a little addition of color on one of the flares makes for a stunning style. It makes the lady appear bright and beautiful. The blue accessories also add to the glamor.
Modern Pedi Traditional Wedding Dresses
30. Pink Gown with Yellow and Blue Bow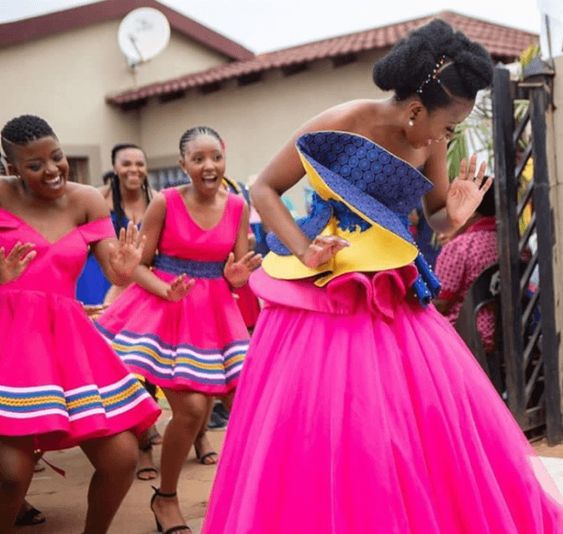 What better color can one use for a wedding dress than pink. The beautiful long gown worn by the bride and her bridesmaid adds a lot of color to the occasion. It is made of a net pink fabric that runs from the waist down, while the upper-half of the gown is made in a pleated blue and yellow fabric.
31. Long Flare Gown with Step by Step Peplum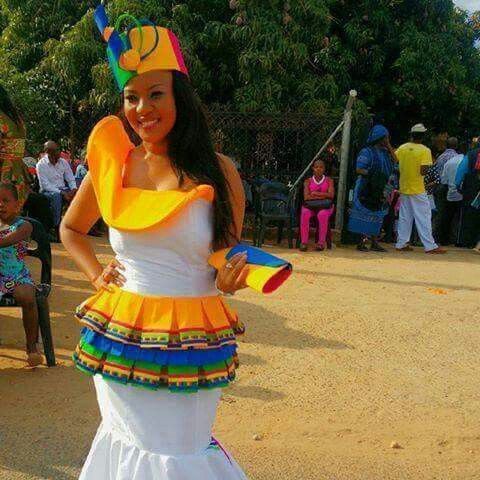 This beautiful Pedi wedding dress comes with its own purse and cap to replace the doek. The yellow and white color combination is bright and beautiful enough to fit for a happy occasion.
32. Multi-colored Fish Shaped Gown with Peplum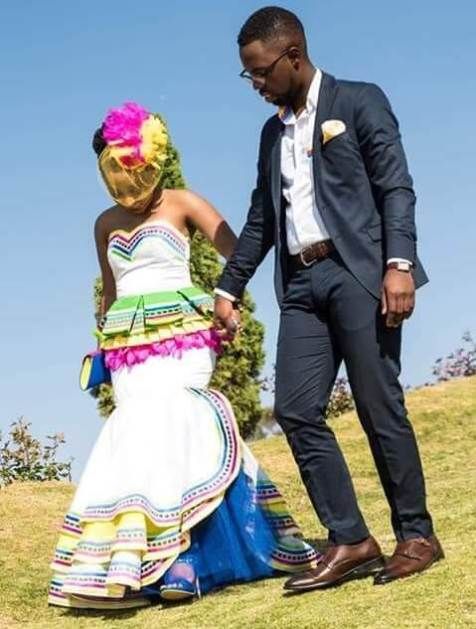 A true Sepedi bride shows off all the elaborate colors of her tradition. This gown, though modern, carries almost all the colors common to Pedi materials and reveals the joy of the bride on her special day.
33. Sleeveless Ball Gown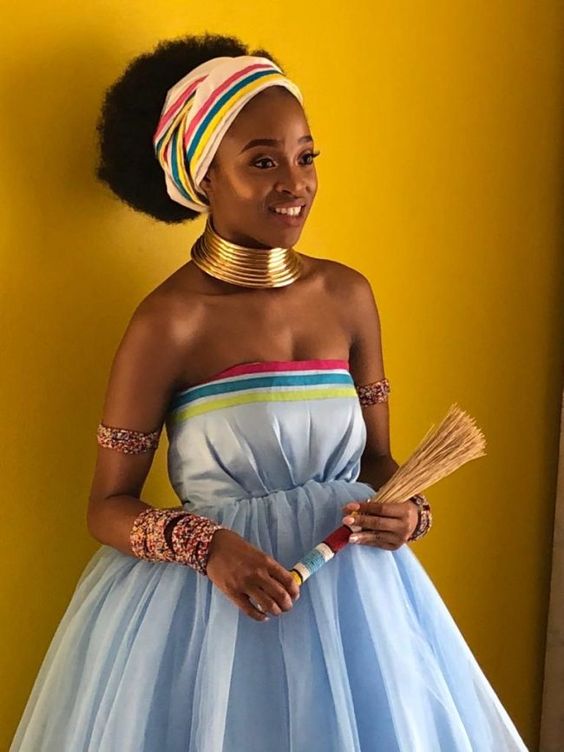 Combining the Pedi material with a modern-day ball gown gives the bride an amazing look. Her jewelry and doek also add to the glamor. If you are a bride that does not enjoy tying head ties, you can use a fascinator in place of the doek.
34. Long Pedi Dress Made with Net Material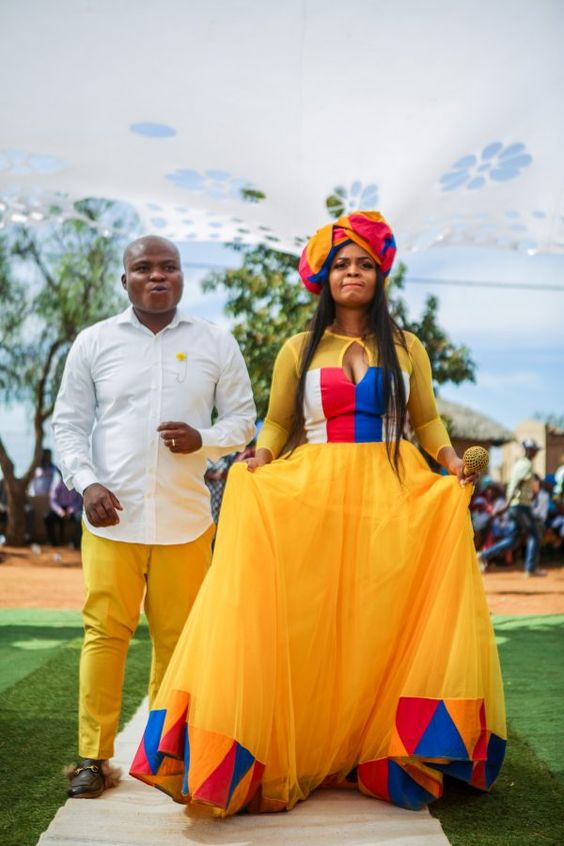 An elaborate dress made of yellow net and a multi-colored Pedi material reveals the beauty of the bride and the joy of the day. Her doek is also quite elaborate and befitting of her dress.
35. Flowing Bridal Gown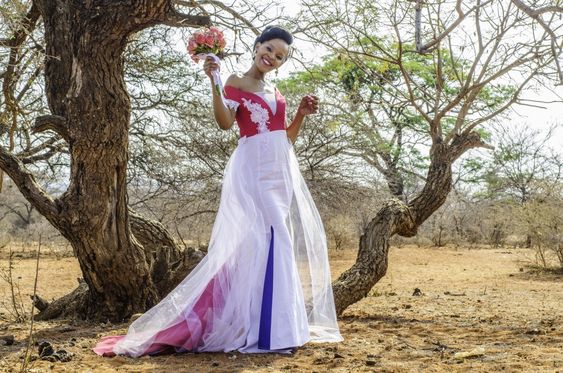 The detailed dress and fantastic combination of red and white makes a good wedding dress. It reveals the happiness and beauty of the bride. You can wear this with a beautiful fascinator.
 36. Pink and Blue Dress with Several Color Designs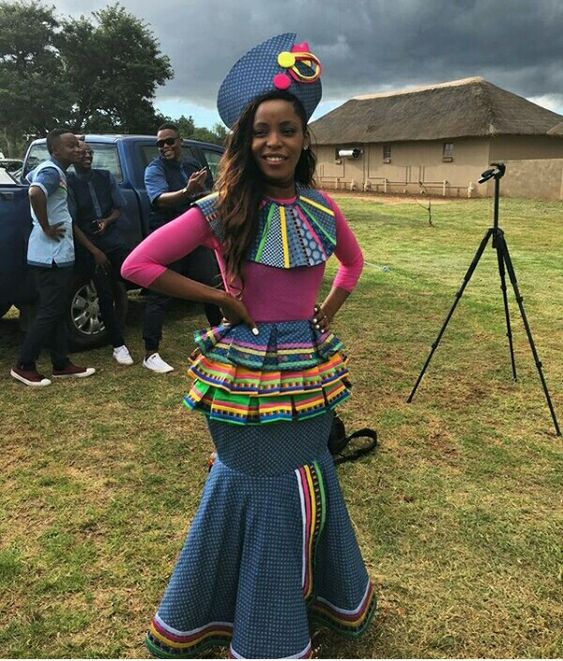 If you love complex fashion or want to blend a lot more of the Pedi attire with modern style, this is for you. It has a dramatic color combination, giving the bride an outstanding look. The elaborate hat won by the bride also adds to the beauty of her outfit
37. Single Sleeve Fish-shaped Gown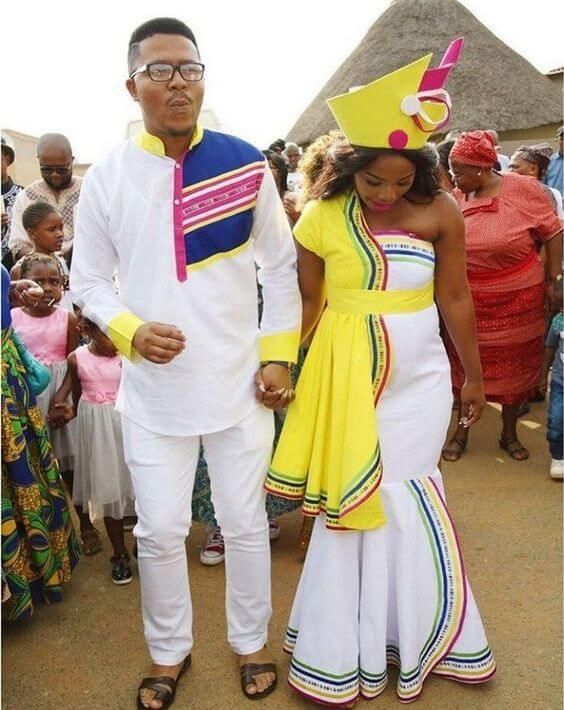 The bright white and yellow color of the bride's wear reveals that it is her day, and that it brings her joy. The modern hat replaces the doek. Since the dress already has a beautiful design, all you may need would be some bangles on your wrists.
38. Yellow and Pink Calf-length Pleating Gown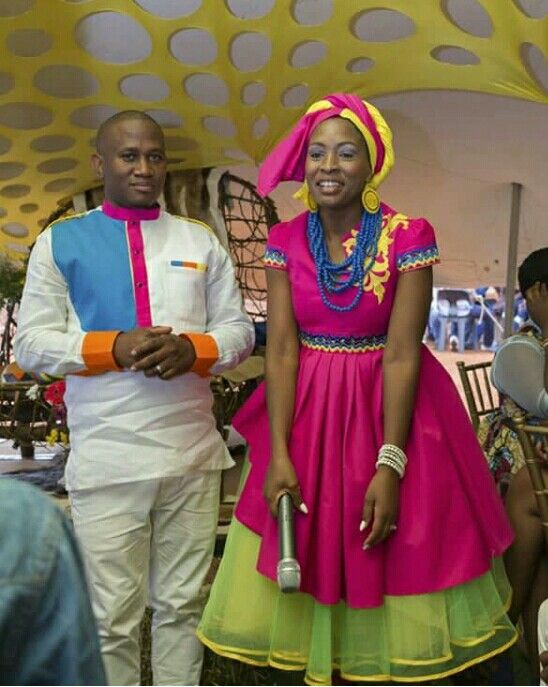 Not all bridal gowns are long enough to cover the feet. Some are calf length and still show the beauty of the bride and the glamor of the day. A calf-length dress of this nature is better worn with heels.
39. Makoti Pedi Dress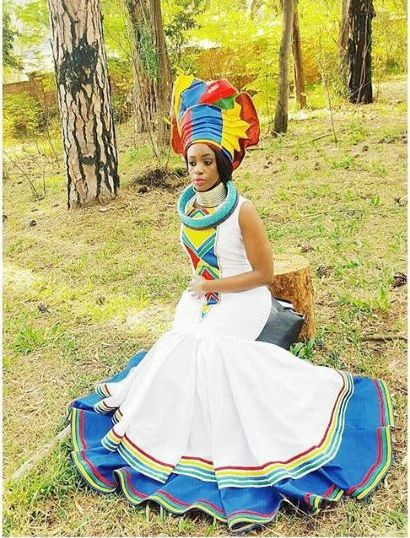 Makoti is one of the most beautiful Pedi traditional attires and dresses. It is a bridal attire for a Pedi wedding. The bride wears a white dress with Pedi details, combined with ndebele neck ring, hoop and an elaborate doek.
40. Sleeveless Sepedi Inspired Dress with Doek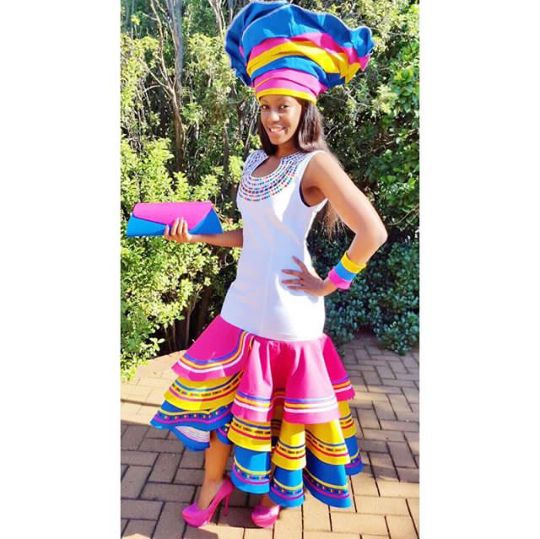 Yellow and pink always give a beautiful combination. When combined with white, it brings the outfit to life. The bride looked gorgeous in the beautiful dress with her doek. You can add a beautiful neck ring if you like to make you look even more gorgeous.
41. Pedi Inspired Pink Bridal Gown with One Sleeve
The bridal gown is fully pink with a little Pedi style on the sleeve. The bright color reveals the excitement of the occasion. If you want to cover your hair, you may decide to use a fascinator.
 42. Beaded Yellow Top and Flare Orange Skirt
A beautiful combination of yellow and orange lined by pedi colors makes a beautiful wedding outfit. You may want to add a necklace if you like.