When you want to talk about Ghanaian celebrities who seem to be obsessed with automobiles, then Kwadwo Nkansah should be at the forefront of that discussion. The actor fondly referred to as Lil Win (Ghana's version of Lil Wayne) is simply crazy about cars, acquiring them in their numbers. Perhaps the amazing part is the fact that he doesn't just go for any brand of vehicle, but the very best of brands ranging from SUVs to Rolls Royce, among others.
In addition to acquiring luxurious cars, the Ghana-born artist is also into real estate with quite a good number of plush properties to his name. He even gifted his mother an eight-bedroom apartment during her 70th birthday in 2017 – even though there have been a whole lot of controversies surrounding the house gift. Most of these controversies could be traced to his "juju man" and old friend, Top Kay who revealed some very shocking truths with regards to the house, as well as the "real reason" Nkansah agreed to gift his mother the property in the first instance. The plot goes on and on.
Kwadwo Nkansah Can Boast of An Expensive Fleet Of Cars
Kwadwo Nkansah is one Kumawood actor that is not averse to letting the universe know about his affluence. The Ghanaian star has sure accumulated a lot of wealth from his career in the entertainment industry which funds his lavish lifestyle. Just visit any of his social media pages and you will have a real feel of his expensive tastes which are evident in his dressing, houses, and automobiles.
He is really into the wealth flaunting business and recently employed a bodyguard and a publicist just for the fun of it. Those who are privileged to see him around town have attested to the fact that he only moves around in highly expensive vehicles such as SUVs and the likes. From what we have gathered, Ghana's own Lil Wayne as he calls himself is the type of guy that believes that going overboard with the show of a luxurious life is a statement of his affluence. Just recently, Ghpage.com named him the richest Kumawood actor, and Nkansah surely fits the bill.
Lil Win Has A Customized Chevrolet Camaro As Part Of His Fleet
Kwadwo Nkansah's existing luxurious fleet of cars was recently boosted by an additional automobile and this time, it was a plush Chevrolet Camaro, customized in black and yellow color. Needless to say that the vehicle cost a tidy fortune, however, a quick check on Ghpage.com's revealed the value to be around $44,000 and it may even end up being higher when you factor in all the embellishments and also the fact that the car came customized.
Kwadwo Nkansah's Plush Fleet Also Includes A Rolls Royce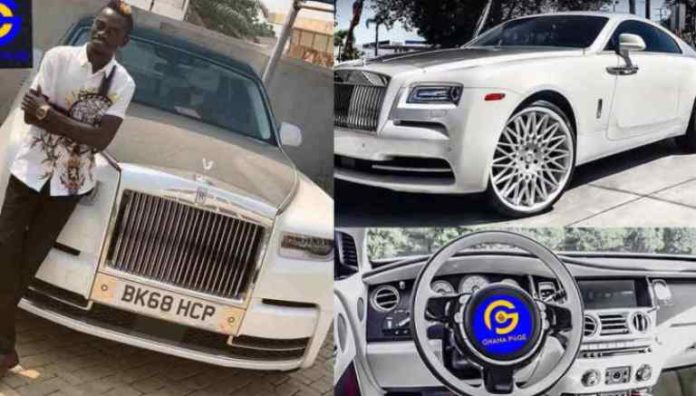 While the Ghanaian film industry seems to be going through periods of hardship, Kwadwo seems not to be affected one bit as the entertainer continues to live the lavish life. In fact, it was when the country was groaning under the pressure of difficulty that he launched a Rolls Royce which came as no surprise to his fans as they know him as a lover of everything luxurious. The artist wasted no time flaunting the car on social media where he was photographed leaning on the white Rolls Royce Phantom. Kwadwo Nkansah is yet to go public with the cost of the car, but a reliable estimation pegged it at $300,000.
He Purchased a V8 Just to Mock Funny Face For Flaunting His Laboro Porsche
When Ghanaian comedian Funny face started flaunting his Laboro Porsche all over social media, Nkansah decided to take up the challenged and bought his own V8 just to mock the Ghanaian comedian. And when speculations ran rife that Funny Face's luxury car was actually given to him by Togolese footballer, Emmanuel Adebayor, Lil Win had more cause to mock him.
The rumors about Funny Face's car being a gift started after fans spotted Emmanuel Adebayor's customized license plate still attached to the car. This gave Kwadwo Nkansah more clout as their beef intensified. The beef was worsened by reports that soon surfaced about Funny Face milking all his wealthy friends dry just to fund his luxurious taste. Fans advised him to work hard and buy things with his own money so he can have the right to feel smug about them. Nkansah just put the final nail in his coffin by telling him that his V8 was bought with real hard cash and not a gift.
The feud between the two Ghanaian celebrities started way back in 2019 when Lil Win disclosed in an interview that Funny Face emerging as the winner of the year's Favourite Actor award was a mistake and the comedian did not deserve the accolade. On his own part, Funny Face leveraged social media to expose a lot of unprintable things about Lil Win. In a bid to get back at Funny Face, Lil Win compared the cost of his new V8 to the comedian's house, claiming that the cost of his car can not only build his house but can as well furnish it.
He went as far as making a video where he came down hard on Funny Face, claiming that the comedian does not come anywhere near him in terms of wealth – even with all the cars, cows, and chickens that Emmanuel Adebayor has given to him.
He Has Another Chevrolet Camaro Valued At $26,000
Coming into contact with excess wealth can be intoxicating especially when your background is not so affluent and it can make one go to the extreme with expenses. Nkansah's wealth sure makes him spend like money is no object and having two Chevrolet Camaros attests to this. The Ghanaian bought two Chevrolet Camaros within the same year, one came in yellow and black while the other is a bright red color and worth about $26,000. He also owns other plush cars which all go to show how involved he is with cars.
Lil Win Also Bought A Car For His Girlfriend
After he kicked his wife out of their matrimonial home, rumors started circulating that Kwadwo Nkansah had gifted his girlfriend Sandra with a white Honda Civic – in addition to opening and stocking a cosmetics shop for the lady. He did all these while the mother of his children was languishing in a single room. According to Lil Win's ex-wife, her ex-husband took away the car he bought for her when they were still married, converting it into a taxi. Following this, he rented a single room for her to live in the suburbs of Kumasi. It is important to note that Sandra was the 'other woman' instrumental to the collapse of the couple's union, according to Ghpage.com.
Kwadwo Nkansah Gifted His Mum With An 8-bedroom House in 2017
Struggling to put food on the table became a past for Lil Win many years ago as the actor can now boast of enough funds to keep living in luxury, and can even spare a fortune to keep his loved ones in comfort. One family member Kwadwo Nkansah never hesitates to pamper is his mother who he credits with having been there for him through thick and thin.
His most recent gift to his mother is an eight-bedroom mansion. He gifted his mother the plush house which is reportedly huge and equipped with all kinds of modern appliances on the occasion of her 70th birthday. Both family and friends were in attendance when the septuagenarian received the house gift from her son. Going all emotional, the woman was full of gratitude to her son for bestowing her with a most wonderful gift. The mother of six was treated to a party after she cut the ribbons and welcomed all invited guests into her new home. On his own part, Lil Win referred to the house as a gesture of appreciation to the woman who gave him life, especially after seeing how she sacrificed all she got to ensure his career becomes successful.
Controversies Began When It Was Revealed That The House Gift Was A Show and Not Real
It is public knowledge that Top Kay and Nkansah were close friends, thus when the former reveals anything about the comedian and actor, it is likely to be taken as the truth without questioning its authenticity. After the Ghanaian entertainer gifted his mother with the house on her birthday, Top Kay (Lil Win's "Juju man") made some really surprising revelations about the house gift.
In his own words, the composer said that Kwadwo Nkansah only decided to make the house into a gift for his mother in a bid to stop his estranged wife from coming out to claim ownership of the property. Throwing more light on the issue, Top Kay said Nkansah's former wife was entitled to claim ownership of one of his houses, but he (Top Kay) advised the actor to make it as a birthday gift to his mum. They also advised Nkansah to compensate his ex with a car and a plot of land, just to placate the woman for sticking with him when he was poor. Thus, Top Kay dismissed the gift as a fake.
Top Kay Reveals the Real Reason the Ghanaian Star Gifted His Mother The House
Top Kay went further to reveal that at the end of the day, Kwadwo Nkansah gave his ex-wife a paltry sum of 15,000 cedis while perfecting the ploy of getting the house out of her reach. His reason for going with the idea according to Top Kay is because he knows that at 70, his mum may pass on soon, after which the house will revert back to him. Even when his sister pleaded to stay with their mum in the house, Nkansah declined her request.
His reason for declining his sister's request to stay with his mother was that nobody in his family extended a helping hand to him during his rough days and he was not ready to help anyone now that he has made it in life.
The Ghanaian Comedian Can Also Boast Of Other Houses In Addition To The One He Gifted His Mother
It goes without saying that a celebrity of Lil Win's level would have acquired a lot of landed properties as a mark of his affluence and status, and when you consider what he does with automobiles, you will begin to get a clearer picture of the type of houses he will go for. The eight-bedroom house he gifted his mother will be considered a scratch on the surface to anyone who is privileged to see his newest plush house. In fact, the media described it as something Lil Win got just to pamper himself.
The interior of the house is simply fascinating, in fact, it is said to have every imaginable state-of-the-art home appliance. The furnishing can only be described as magnificent and the exterior view of the house is just too welcoming. Kwadwo Nkansah sure knows how to live life in the lap of luxury.
His Vow Not To Help His Other Family Members Notwithstanding, the Ghanaian Actor Sure Loves To Give Back to the Society
For someone who is adamant about extending his wealth to his family members because they did not show him support during his rough days, the actor has gone on to surprise fans with his philanthropy. Kwadwo Nkansah single-handedly completed a massive school building which he handed over to the Ghanaian government, showing his passion for education as well as the academic welfare of children in his home country.
The school he built is named GREAT MINDS INTERNATIONAL SCHOOL and in his words, Lil Win stated that hygiene should be the highest priority in life. The actor also mentioned that the school environment should not just be conducive for studying, but also for the health of children. His philanthropy has also seen him donate cash gifts to several causes in the country and beyond.