Africa as a continent can boast of a plethora of beautiful beaches and places to visit. Narrowing it down to Ghana, there are many lovely beaches in the West African country, and most of them are breathtaking. Even though the Atlantic Ocean washes down drifts, specks of dirt, and plastics into some of these beaches, the authorities responsible for managing these places work ceaselessly to ensure that it remains clean. Their activities ensure that beaches in Ghana are kept in tip-top condition, allowing the country to have some of the cleanest beaches in Africa.
From Labadi Beach in La, the capital city of Accra, to Anomabo Beach that has always earned top marks for being one of the cleanest beaches in Ghana, the West African nation has come to be regarded as one of the best holiday destinations in this part of the world. With Ghana, Africans don't need to go far before they can enjoy what beach life has to offer and needless to say, the presences of these beautiful patches of paradise have attracted millions of tourists from far and near.
List Of The Cleanest Beaches in Ghana
1. Labadi Beach
Location: La
City: Accra
Water Body: Atlantic Ocean
Access: Paid
The coastline of Accra is dotted with a plethora of forts, castles, and public beaches all offering tourists access to the wonderful view of the enormous Atlantic Ocean as it crashes against the shore. Among all these, Labadi Beach stands out with its range of vibrant beachside activities. The healthy air of a very clean beachfront, the beautiful music, the delicious food, and loads of new friends that can pop out from any corner leaves you with what can be best described as a great beach experience.
Also referred to as La Pleasure Beach, Labadi Beach sits in a town known as La but gained popularity with the name Labadi. The spot is very close to Teshie in Ghana's Greater Accra Region. Labadi Beach occupies a fascinating 3-kilometer beachfront with a beautiful range of attractions like the Labadi Beach Hotels and the La Palm Royal Beach Hotel. What's more, there is this very strong wind on the beach that enables sports like beach volleyball, soccer, and Frisbee. A smattering of snack bars, hookah bars (for tobacco lovers), restaurants, changing rooms, and shower rooms make the place user-friendly. Horseback riding across the shoreline comes at a token price. Even though it is the busiest beach on the coast of Ghana, Labadi Beach still maintains an enviable position among the cleanest beaches in the country.
The resident local hotels are in charge of maintaining the beach and they charge a token of GH¢10 (this is equivalent to US$2.30) as an entrance fee from those not staying in any of the hotels. Regular visits from foreigners attracted the establishment of art stores where various artifacts (rings, Krobo beads, wooden masks, trinkets, and many more) can be purchased. On regular basis, the beach is graced by acrobats, performers, and musicians. Tourists can enjoy hiplife, reggae, cultural drumming, playback, and dancing. Very early in the morning and during the weekends, the beach is usually suffused with sports-loving people doing workouts, and the nighttime parties are just too cool. Besides, being at the beach is a good opportunity to try out some locally-brewed gin and spirits such as Akpeteshi or Shocker. Under the sparse coconut trees at the spacious shoreline, tourists can enjoy local favorites, including charcoal-grilled tilapia, jollof rice, and spicy kebabs at very low prices. There are still spots for continental dishes such as French fries, salads, and burgers.
2. Anomabo Beach
Location: Anomabo
City: Anomabo
Water Body: Atlanta Ocean
Access: Paid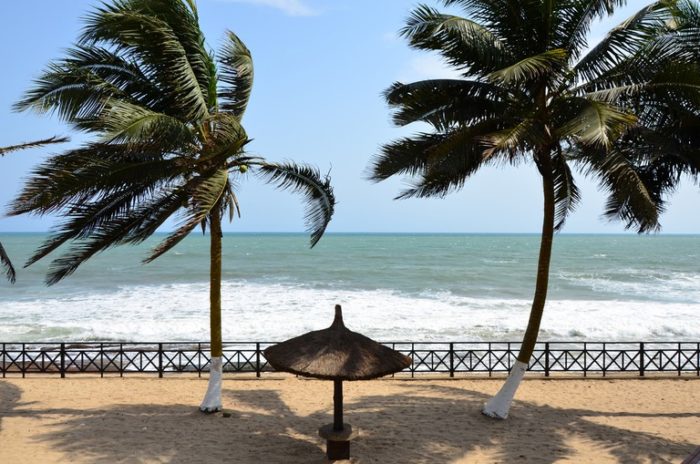 While Ghana has a lot of refreshingly clean beaches, Anomabo Beach ranks high on the list. Even without the presence of the beach, its location in the Central Region happens to be a top tourist destination as it played a very big role during the infamous transatlantic slave trade. Though it is a small fishing village, its historical involvement in shipping out African slaves gave it prominence and made it attractive to tourists from all races. Thus, the beach is not the only tourist attraction in Anomabo.
The fishing village that houses Anomabo Beach is in close vicinity to Cape Coast and is considered ideal for a quick getaway. Tourists and natives alike will have to pay to access the beach but those who have funds to spend on a holiday can check out the Anomabo Beach Resort nearby where they are sure to enjoy the best seafood menu directly sourced from the glittering waters. Holidaying at Anomabo Beach is a great experience that you wouldn't want to miss.
3. Ada Beach
Location: Ada
City: Ada Foah
Water Body: Atlantic Ocean
Access: Paid
Spread out on the coast of Ghana is a piece of paradise called Ada Beach. Getting to this beautiful stretch of sand is a 100-kilometer journey from Accra; its exact location is the estuary of River Volta. This lovely rustic and palm-lined beach is in close vicinity with the fishing town called Ada Foah. A spot of magnificent scenic beauty, the beach is known for its widespread sand bars that provide sea birds with nesting grounds. There are also many endangered types of marine turtles that take to it as a safe refuge. Ada Beach has been described as the perfect retreat for sporting activities like surfing.
The beach is relatively less visited, thus is more peaceful. Visiting this stretch of sand is a nice experience and you can even spend the night for a token of $10. The little crabs, sand floor, mosquito net, double bed, including the boisterous sound of the nearby ocean are sights and sounds to remember. The restaurants and bars offer some cool beers and amazing food, the type you wouldn't expect in a remote place. Evenings are characterized by bonfire parties with music, and the dancing prowess of the locals is worth seeing.
The geographical location of the town (Ada) made it a target for washed-up garbage carried by the wind and the waves from the Volta River, Tema eastwards, and Accra. However, constant beach cleanings carried out by the Ghanaian government and some private initiatives have made it one of the cleanest beaches in Ghana. There are the vicinity sports beach resorts/camps, guesthouses such as Aqua Beach Resort and Ada Beach Resort offering chalets and personal huts to tourists and natives who wish to stay over. With that said, Ada Beach is considered to be an ideal spot for entertainment, relaxation, honeymoon, picnics, holidays, festivals, and what have you.
4. Kokrobite Beach
Location: Ghana's coastal plain
City: Kokrobite
Water Body: Atlantic Ocean
Access: Paid
Kokrobite beach in Ghana has been described as a Rastafarian paradise and it goes without saying that the people who favor this genre of music would just fall in love with the spot. Situated on the country's coastal plain, Kokrobite beach lies about 27 kilometers from the capital city of Accra. Even with the proximity, the beach makes you feel like you are very far from the accompanying hustle and bustle of nearby cities.
Those on the lookout for an ideal spot to relax for a few days will find their answers in Kokrobite Beach and are sure to feel refreshed after soaking up the beautiful sights and sounds of this tropical beach. The merrymaking and partying atmosphere of the beach are second to none and in this regard; this stretch of sand is considered to be superior to all the other beaches located in the suburbs of Ghana's capital city. It comes complete with a tropical temperature that makes sunbathing an enjoyable experience. What's more, a cooling breeze comes inland from the blue coastal waters. Nighttime at the beach is quite a frenzy with bonfire merriments characterized by songs, drumming, and dance. If you ever holiday in Ghana, Kokrobite might just be the best place for you.
The tro-tros and taxis are there to convey you to your destination, nearby souvenir stalls offer a variety of items such as Ghanaian artifacts at affordable prices, delicious meals, snacks, and fruits are accessible, including beer and cocktails. Sleeping arrangements can be made at the resorts close by.
5. Ankobra Beach
Location: Axim
City: Axim
Water Body: Atlantic Beach
Access: (Free or Paid)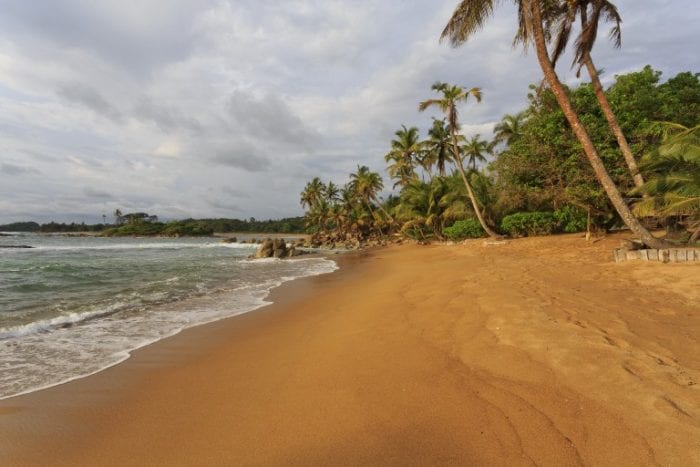 Another one of the cleanest beaches in Ghana is Ankobra Beach which is viewed as ideal for a peaceful and isolated vacation where people can unwind and unplug. Located in the coastal community of Axim, the beach is in proximity to Takoradi, which is just a few kilometers away. The six kilometers long dream beach is quite breathtaking, with its ambiance described as comfortable; most of which are provided by the surrounding tropical flora and fauna in the vicinity. The beachfront is very tidy, sporting a smattering of palm trees that are forever swaying with the direction of the wind. If you want to minimize distractions on your vacation, then Ankobra Beach is the ideal spot for you.
Within its ambit is a 45-hectare complex with comfortable rooms, good quality food, and services run by Boutique Hotel Resort. The accommodation's services come in different categories; Executive Family Chalets, Executive Double Chalets, and Deluxe Single/Double Rooms and Twin. On offer in the restaurants are fresh culinary highlights of African and European cuisine. Provisions are made for children, vegans, and gourmets. There are selected excursions that offer a real-life experience of African culture. With the services at Ankobra Beach, you will broaden your horizon and get to further understand the real black continent of Africa.
6. Busua Beach
Location: Takoradi West
City: Takoradi
Water Body: Atlantic Ocean
Access: Paid
Lovers of surfing would find a surfer's paradise in Busua Beach. Situated 30 km west of Takoradi and 12 km from Agona, this beautiful stretch of sand is among Ghana's best surfing destinations. The beach, which is strategically located, is a great attraction not only for Ghanaians but the entire African continent and beyond. Driving from Accra to this span of the natural sandy beach will take about 5.5 hours. Holiday goers just can't resist the fresh atmosphere and the magical night breeze of the beach. Besides, the coastal waters are nothing short of breathtaking.
Thanks to its remote location, Busua Beach is counted among the most peaceful and cleanest beaches in Ghana. It is your "go-to" spot for quietude and peace of mind. The beach boasts of two surf schools where competent local instructors offer excellent surf lessons. Besides, they rent out surfboards to experienced surfers who just want to have a good time on the ubiquitous surfable waves that Busua is known for. What's more, when you are worn out and wish to rest your arms, you can relax with those refreshing coconut shakes from the beachfront restaurants. Free shows are also there for your enjoyment. There are many cafes, eateries, and accommodation spots on the beach but if you prefer luxury, then you can try Busua Beach Resort – a 3+ star hotel with a swimming pool and fitness room.
7. Cocoloco Beach
Location: Ada Foah
City: Ada
Water Body: Atalntic Ocean
Access: Paid
Also meriting inclusion on the list of the cleanest beaches in Ghana is the Cocoloco Beach. Located in Ada Foah, Volta region, the beach is located at the confluence between the Volta River and the Atlantic Ocean. A sanctuary for all kinds of birds, the spot also attracts a variety of sea turtles looking for a natural breathing ground. With Ada Beach in close proximity, the spot gives you an opportunity to feel nature and enjoy everything about beach life. It is just perfect for camping and there are also traditionally built bungalows for those who don't fancy camping.
Staying at the beach resort attracts a fee of 15 Ghana Cedis per night for a hut, 25 Ghanaian Cedis per night for a single room, and those who wish to stay in the double rooms for a night will have to part with 30 Cedis. Taxes are included in the fees but they come with free breakfast.
Majorly, the beach attracts enthusiastic bird watchers, sea turtle observers, and of course those who just wish to swim and relax under the tropical sun. Tripping to the estuary is another interesting activity on the beach and you can enjoy a game of volleyball, tan under the tropical sun, sailing, fishing, or explore the waters on boat cruises. The restaurants on the ground are known for their delicious traditional Ghana meals prepared with freshly caught fish and seafood. In addition to all these, you can also entice your taste buds with some continental dishes.
8. Bojo Beach
Location: Bortianor
City: Greater Accra
Water Body: Atlantic Ocean
Access: Paid
Right at the delta of the glittering Atlantic Ocean and the Densu River is Bojo Beach. This spot is in close proximity to one of the country's fishing villages. It is in Greater Accra (12 miles from Accra City), lying about half an hour's drive from the city center or the airport. Accessing it only means that one will have to ferry down with a boat across the Densu River.
Bojo Beach has a reputation of being sparkling clean, little wonder it is listed among the cleanest beaches in Ghana. Besides, the setting is best described as natural, lovely, and unique. It is completely untouched with its signature white sand and choppy waters. You are free to stay at the beach for the entire seven days of the week as it is always open.
Attractions on the beach include bars and restaurants offering delicious meals and refreshing drinks. Options for the meals include fish, meat, and rice which are deemed pricey. 150 Cedis might do for a couple of friends who wish to relax with food and alcoholic drinks. Food and soft drinks might attract 80 to 100 cedis. One important fact to note about this lovely sandy spot is that you are not allowed to bring in food from outside. The reason is that the authorities already put bars and restaurants in place to cater to the needs of visitors.
Entrance to the beach attracts a token for different groups; Kids who fall between the ages of 4 to 12 are expected to pay the sum of 5Ghc and adults will have to part with 15Ghc. Consideration of free entry is given to children who are below four years. Whatever amount you pay to gain access to Bojo Beah is money well spent as you are going to get your money's worth and a whole lot more.
9. Fete Beach
Location: Fete
City: Accra West
Water Body: Atlantic Ocean
Access: Paid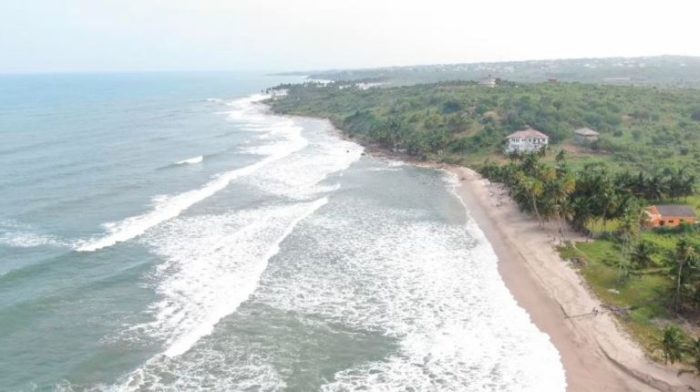 The list of the cleanest beaches in Ghana cannot be deemed complete without including the white sand beach in the vicinity of the country's capital, Accra. An hour's drive towards the west of Accra will land on you on this sandy paradise. The peace and tranquility visitors experience on Fete stems from the fact that it is rarely visited, thus, the traffic is always low. However, holiday goers who have discovered this piece of paradise have made it their first choice for a relaxation destination.
This astonishing stretch of sand is in close proximity to a popular Ghanaian fishing village called Senya Beraku: this is the village that hosts the rarely visited but famous Fort of Good Hope. The beach is known for its strong wind and large waves, making it suitable for surfing. Thus, a lot of surfers are always there to take advantage of what the beach has to offer. Besides, it has an advantage over other surfing beaches as it is the closest to the nation's capital.
10. Elmina Beaches
Location: Elmina
City: Elmina
Water Body: Atlantic Ocean
Access: Free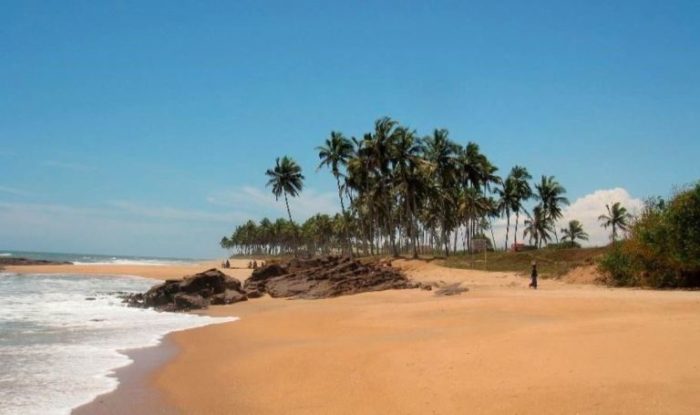 The fishing port of Elmina located on the southern coast of the West African country is home to several beautiful beaches. In the same way as Anomabo, Elmina equally played a major role during the transatlantic slave trade that ravaged the world for several decades. The village also houses the Elmina Castle constructed in 1842 by the Portuguese; this served as a base for the trading of gold, ivory, as well as slaves.
The streets of Elmina are littered with fascinating bits of history but its beaches are best described as patches of paradise. These beaches score high points among the most breathtaking, beautiful, and spectacular recreational spots, not only in Ghana but in the whole of West Africa. You get to see the extensive coastline studded with naturally beautiful palm trees, the strong tidal waves that usher the fresh breeze into the coastal hotel right from the deep sea, and the unforgettable view of St. George's Castle. Holidaying at the Elmina Beaches is sure to leave you with a nice beach experience as it is completely litter-free which places them among the cleanest beaches in Ghana. As if that is not enough, Elmina Beaches have a very strong advantage over every other Ghana beach; entry is absolutely FREE.
Is It Safe to Swim in Ghana Beaches?
It is common knowledge that beach waters are from larger water bodies like the Atlantic Ocean when it comes to those in Ghana. It, therefore, goes without mention that the Atlantic is home to a plethora of dangerous marine animals like sharks. Because of the fear of shark attacks, visitors of the beaches in Ghana who wish to indulge in some swimming activities are usually advised to only swim close to the shores. This is because your safety is not guaranteed in the deeper parts of the water where sharks might just be lurking around. Again, it is not advisable to swim after dark as it is deemed too dangerous.
Yes, the waters at Ghana beaches might be littered with sharks but one thing that must be said for the country is that despite the presence of dangerous animals, Ghana is yet to experience any shark attack; this piece of information is from an online report dated from 1900 to date and compiled by sharkattackdata.com.