Ned Nwoko is a popular Nigerian billionaire, attorney, politician, businessman, and philanthropist whose net worth is estimated at $1.2 billion. He has become a trending celebrity due to the extreme flaunting of his fortune and love for the good things of life, he has also won the admiration of so many people for his humanitarian and philanthropic gestures. Also a former Member of the House of Representatives in the wake of the Fourth Republic between 1999 and 2003, he is a strong advocate of the End Malaria campaign across the globe.
His activism has made him famous worldwide as the first African man to step foot on the South Pole, Antarctica, where he extended his Malaria awareness sensitization. Again, his popularity got heightened after he got married to the popular young Nollywood actress Regina Daniels as his sixth wife, which set tongues wagging across the country due to their wide age margin.
Profile Summary of Ned Nwoko
Full Name: Prince Chinedu Munir Nwoko
Date of Birth: December 21, 1960
Age: 61 Years Old
Place of Birth: Idumuje-Ugboko, Aniocha-North, Delta state
Nationality: Nigerian
Education: The University of Keele and King's College London
Occupation: Legal practitioner, politician, businessman, philanthropist
Spouses: 6 wives, youngest Regina Daniels (Nollywood Actress)
Children: 6
Net worth: $1.2 billion
Website: https://prince-nednwoko.com/
How Ned Nwoko Made His $1.2 Billion Net Worth
The billionaire philanthropist is regarded as one of the most influential and richest personalities in Nigeria. Recent estimation of Ned Nwoko's net worth is placed at a whopping $1.2 billion (N435,000,000,000, four hundred and thirty-five billion Naira). He has amassed this mind-blowing wealth from his legal and political careers and many honest businesses he has built over the years. Let's take a look at his income sources below.
Legal Career & Law Firms
The billionaire started his journey to greatness through his legal career. Ned Nwoko was called to bar at Lincoln's Inn, after which he joined the Crown Prosecution Service as a prosecutor. The Crown Prosecution Service is the principal public agency for conducting criminal prosecution in England and Wales. It is usually manned by the Director of Public Prosecution. After serving under this organization, he joined two other firms, Kumars Solicitors and Pascaldiers & Co. Solicitors. His experience there qualified him as a Solicitor of the Supreme Court of England and Wales. Nwoko was also the secretary-general, Nigerian legal practitioners in the UK and was visiting adviser, citizens' advice bureau, based in London.
From his wealth of experience in legal practice, Ned Nwoko was able to establish his own law firms, which added up to his numerous sources of income. The law firms are Ned Nwoko & Co. Solicitors in London, United Kingdom, which specializes in managing and verifying foreign debts of third world countries and their states and Linas International Limited  Nigeria, which focuses on verifying and reconciling foreign loans for states, particularly the Paris and London clubs' loans.
Through his law firm, Ned Nwoko Solicitors, he investigated the multinational creditors and discovered discrepancies in loan repayments, which orchestrated the refund of the first tranches of the loan under former President Obasanjo administration. He also charged the dederal government of Nigeria to court on behalf of 774 Local governments for the refund of illegal deductions and obtained a judgment of $3.2 billion for local governments, which compelled the government to refund all the monies in fulfillment of the court ruling of 2013.
Political Career
The political career of Ned Nwoko was set in motion when he decided to return to Nigeria in December 1998 as he felt the need to contribute his quota to the building and sustenance of a viable democratic institution in the country following a change from the long years of military dictatorship in the country.
Ned Nwoko has also garnered quite a large chunk of his income from his political career, being a member of the House of Representatives, representing Aniocha North-South and Oshimili North-South of Delta State. He severed in that capacity between 1999 and 2003.
Meanwhile, he has also contested for the gubernatorial seat of Delta State but concealed defeat to James Ibori in 2011, consecutively, he also vied for the senatorial seat of his constituency but suffered yet another defeat to Ifeanyi Okowa.
Mount Delta
Ned Nwoko has become one of the key stakeholders as far as tourism is concerned in Nigeria with the establishment of the breath-taking tourism destination known as Mount Delta, which is among the 21 tourism sites approved by the Delta State government. It is situated in his native town Idumuje-Ugboko, Aniocha North Local Government Area of the state. This paradise is popularly called "Castle in the Air." It is one of the most preferred and favorite tourism destinations for tourists across the nation and in Africa as a whole.
This architectural wonder is one of the major money-spinning ventures of the billionaire. The castle is said to have a museum, farm, zoo, fishponds, poultry, and a nine-hole golf course. This state-of-the-art facility is a fusion of Arabian and western designs adorned with a splash of royal touch.
In addition to this, the poultry section is packed with about 5000 chickens while another part of the land is filled with thousands of palm trees. At the rear of the main castle, there are other sporting activities, which include an Olympic size swimming pool, a lawn tennis court, and standard table tennis. This glorious castle has been estimated to be worth N10 billion, and it is pitched at about 1000 feet above sea level, which makes it the highest peak in Delta State.
What Does Ned Nwoko Spend His Money On?
Apart from maintaining a very large family with six wives and many children, Ned Nwoko loves to enjoy the good things of life. He has the fortune to splurge on these luxuries and doesn't hold back.
Private Jet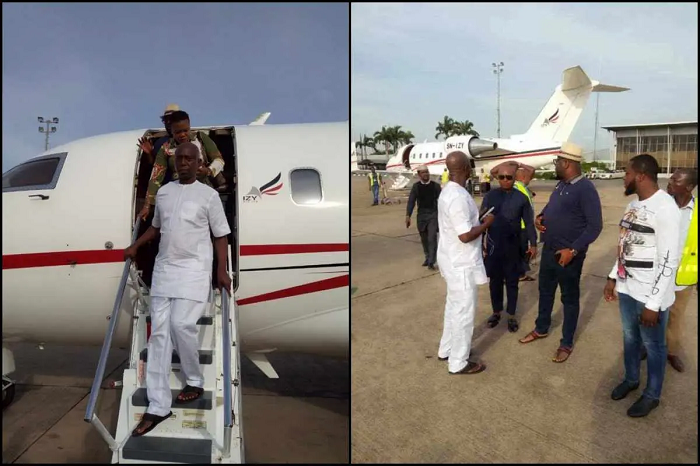 Ned Nwoko is among the few prominent Nigerians who own a private jet. He is said to have recently acquired a falcon 7x private jet manufactured by the Dassault Falcon line, which he purchased at the sum of $54 million (N20,7748,420,000).
Cars
Ned also has a fleet of very expensive luxury cars though it is difficult to ascertain the exact number of automobiles in his garage. Nevertheless, in 2019, he showed off his exotic Rolls Royce, which costs about N172,903, 500, while taking his wife for a ride. The names of other cars in his garage are currently unknown.
Real Estate
Being a successful businessman, Ned Nwoko is said to have diversified into the real estate industry as he has many properties to his name across the country, in addition to his popular multi-billion Naira tourism site "Castle in the Air" in his hometown of Delta state.
Ned Nwoko's Malaria Eradication Foundation
In a bid to give back to society, being moved by the loss of lives from malaria, the billionaire philanthropist saw the urgent need to establish the Ned Nwoko Malaria Eradication Foundation where he invests lots of money to provide free malaria prevention and treatments in an effort towards eradicating or minimizing the deadly disease in the world. The foundation was launched in January 2020 with the epoch-making campaign tour to the South Pole Antarctica.
The foundation drums support to the existing efforts of vaccine development by funding research for the anti-malaria vaccine in partnership with leading universities in Africa. Similarly, Ned Nwoko has played a significant role in the empowerment and education of youths within his constituency, senatorial district, and state, through the foundation.
Being a nation builder, Ned Nwoko has in 2019, donated $273,000 (N100,000,000) for the rehabilitation of dilapidated portions of the road linking South Eastern Nigeria to the nation's capital, Abuja. Again in the same year, he pledged the sum of $200,000 (N71.6 million) to UNESCO in support of sports development in West Africa.
He Schooled In The United Kingdom
Prince Chinedu Munir Nwoko, who became popular as Ned Nwoko, was born on December 21, 1960, into the royal household of Nwoko of the Idumuje Ugboko kingdom of Aniocha North Local Government Area in Delta State Nigeria, where he earlier had his elementary and secondary education. Since Ned is born of blue blood, he was among the few privileged to leave the shores of the country for studies abroad. He then got accepted at the University of Keele, Staffordshire UK, where he obtained his first degree in law and history.
Being such a bookworm, Ned decided to advance to the King's College London, in pursuant of a pst-graduate studies, where he bagged an LLM in Maritime and Commercial law, and he was later called to the English bar at Lincoln's Inn. Again, Ned was awarded an Honorary Doctorate from the Commonwealth University College in Belize. Back in Nigeria, he also received an Honorary Doctorate Degree in Science from the Federal University of Petroleum Resources Effurun FUPRE, Delta state.
Meet His Wives and Children
Ned Nwoko is a happily married man who is said to have a big appetite for beautiful women, having married six wives. His latest wife is the young talented Nollywood actress Regina Daniels, whom he tied the knot with during a secret wedding ceremony attended only by a few family members and friends. In June 2020, Ned Nwoko and his young wife, Regina Daniels welcomed their first child who they named Munir Neji Ned Nwoko.
Meanwhile, on a sad note, the billionaire lost his first son Tarik, a 22-year old, whose mother is from Morocco. Tarik was a Law student at the North Staffordshire University in the United Kingdom, where he died in his sleep in the early hours of December 8, 2014. Nevertheless, it is reported that Ned Nwoko has 6 children.
Ned Nwoko is famous for his high taste for the good life and luxury, as he is often flaunting his wealth in the company of his elegant wives on social media, he is also a personality who loves going on vacations and spending memorable time with his family regularly.
Nwoko Has Many Feathers In His Cap
The media hype the billionaire businessman and philanthropist is currently enjoying is not mere publicity stunt but has been authenticated with the retinue of his lifetime awards and recognition, which are well-deserved for such an iconic personality.
Some of the awards and recognition he has received include:
Africa Value Awards – Effective Leadership and Youth Empowerment- 2018
Peace Achievers Awards 2019
Delta Role Model Awards – Humanitarian Services- 2019
Prime Excellence Recognition Awards – Man of the year- 2019
Abuja AR Reporters Awards- Man of the year -2019
Suncity Champions of Democracy Awards – Humanitarian Services – 2019
5 stars awards for Tourism Development in Africa – 2019
University of Nigeria, Nsukka Nigeria Philanthropy Awards – 2019
Anti-corruption crusader Awards – 2019
All Africa Music Awards AFRIMMA – Africa Community Impact Awards – 2019
With all of these accolades, it is obvious that this humanitarian businessman and politician has succeeded in writing his name in the sands of time for his deep love for humanity.