The world of K-pop is as diverse as it is ever-changing. Time and time again, groups debut only to have to rebrand and reshuffle its members due to one situation or the other. Beast is one such group that underwent a rebranding. One of K-pop's most well-known and loved boy bands since they were formed in 2009, Beast would later change to the group Highlight. In an industry where younger and newer bands keep coming and going, Beast/Highlight has certainly achieved things that most boy and girl groups could only dream of; longevity, popularity, and success. But their climb to the top wasn't an easy one.
Beast debuted in 2009 as an underdog act whose members had already embarked on separate careers or were passed over by other bands. Over the years, Beast grew to become one of K-pop's most recognized acts, shining with its sleek, energetic approach to dance music and sentimental pop ballads. The group began under the management of Cube Entertainment from inception until 2016.
In late 2016, the group changed management from Cube Entertainment to Around Us Entertainment. By 2017, they changed their name to Highlight. The band's new agency, Around US Entertainment, told Korean media that the name signifies their potential to be exceptional and stand out. The name is based on the title of Beast's 2016 album, Highlight, which was the first and only album the band released with all five members in Cube Entertainment.
Who Were the Members of The Beast K-Pop Group?
Beast began with 6 members until Hyunseung left in 2016. Yong Jun-Hyung also left in March 2019 following the chatroom scandal.
Doojoon
Doojoon is a South Korean singer, actor, and leader of the South Korean boy group Highlight. He debuted as the leader of Beast in 2009. Before joining Beast, Doojoon was a JYP Entertainment trainee and was featured in the Mnet documentary Hot Blooded Me. In 2016, he left label Cube Entertainment along with several other Beast members. Doojoon debuted as an actor when he was cast in MBC's daily sitcoms More Charming By The Day and All My Love. He enlisted for mandatory military duty on August 24, 2018.
Yoseob
Yoseob is a South Korean singer and musical actor. He is the main vocalist of the boy group Highlight. The singer first gained interest in music and started practicing singing after listening to Brian McKnight's music. He released a digital single together with Dalmatian's Daniel titled First Snow and First Kiss and participated in singing original soundtracks (OSTs) for various Korean dramas such as Happy Birthday. Yoseob attended Dong-ah Institute of Media and Arts and graduated in 2014. He began his mandatory military service on January 24, 2019.
Kikwang
Kikwang is a South Korean singer-songwriter and actor. He originally debuted as a solo singer with the stage name AJ (Ace Junior), releasing his first mini-album First Episode: A New Hero on April 4, 2009. He began his acting career with a supporting role in the popular television sitcom High Kick Through the Roof. The singer has also served as an MC for various shows such as Hot Brothers and Inkigayo. He was trained under JYP Entertainment for four years before joining Beast.
Dongwoon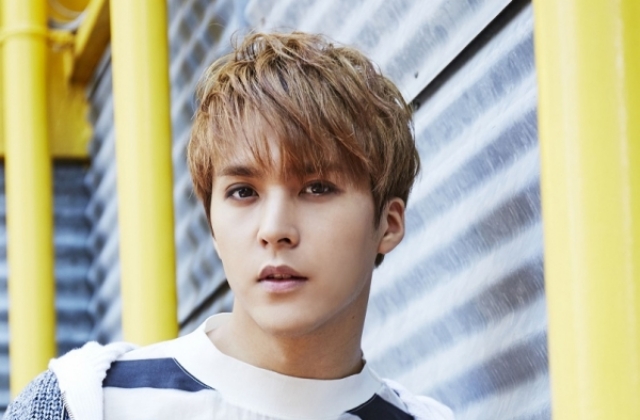 Dongwoon is a South Korean singer and a member of the boy group Highlight. In December 2010, Dong Woon released a digital single album Udon together with Davichi's Kang Min Kyung. He studied in Santa Rosa, Laguna, Philippines and he trained at JYP Entertainment for two years before he was chosen to join Beast. He is the youngest of the group.
Former Members of The Beast K-Pop Group
Hyunseung
Hyunseung was also one half of the duo Trouble Maker with former Cube label mate, Hyuna. In 2004, at the age of 15, Hyunseung took part in auditions for YG Entertainment. Unfortunately, he was eliminated in the second round. On May 7, 2015, Hyunseung released his solo debut extended play, My.
Junhyung
Junhyung debuted under Cube Entertainment as a member of the boy band Beast in 2009. Before then, he joined the boy band Xing in 2007 and featured alongside Kevin Woo, a now-former member of U-KISS. Junhyung was known by the stage name Poppin' Dragon while in Xing. He released his first solo full-length album, Goodbye 20's, on May 9, 2018. The album debuted at #2 on the Gaon Album Chart. On March 11, 2019, Jun-Hyung was accused of being part of a group chatroom where people shared hidden camera footage and sexually explicit images. He announced he was leaving Highlight after he admitted to watching illegal videos.
See Also: Who Are Twice Members And Why Are They Called Twice?
Why did Hyunseung Leave?
Hyunseung trained for one-and-a-half years to be a part of BIGBANG and was featured on BIGBANG Documentary. However, he was eventually eliminated from the group. He went on to join Cube Entertainment, where he debuted in the six-piece group, Beast. After seven years, Hyunseung left the band in April 2016. Cube Entertainment issued out a statement and revealed that the singer would focus solely on being a solo artist and not continue with his group.
The company wrote that it was due to differences in personalities, which stemmed from conflicting musical opinions. This was to be expected when reports of his lack of enthusiasm during the group's events and practice sessions started popping up. Around the same time, he also missed out on the group's performances, even going as far as posting pictures of himself on a date with a woman when the rest of his band was attending a fan meeting.