Similar to every other profession, the salary of officers of the Kenya Police Service depends on their current ranks in the service. Constable which is the bottom rank receives the least amount of 32,880 monthly and 394,560 yearly while the Inspector general of police at the helm of affairs goes home with as much as Sh854,241 as his monthly remuneration. The salaries of other ranks fall in between the two extremes. Also, personnel of the Kenyan police are entitled to other allowances and welfare packages apart from their salaries.
The Ranks In The Kenyan Police Service
1. Corporal
2. Sergeant
3. Senior Sergeant
4. Inspector
5. Chief Inspector
6. Assistant Superintendent
7. Superintendent of Police
8. Senior Superintendent of Police
9. Commissioner
10. Assistant Inspector General
11. Senior Assistant Inspector General
12. Deputy Inspector General
13. Inspector General
The Salary Scale For Kenya Police 
In the East African region, the present Kenya police salary is one of the highest. This was made possible by the most recent salary increment which was aimed at improving the services of the workers. It was a hundred percent increment and reviews are expected every two to four years.
| | | | |
| --- | --- | --- | --- |
| S/N | Kenya Police Rank | Pay Per Month (Sh) | Annual Pay (Sh) |
| 1 | Inspector-General of Police | 854,241 | 10,250,892 |
| 2 | Senior assistant inspector general | 274,890 | 3,298,680 |
| 3 | Assistant inspector general | 187,890 | 2,254,680 |
| 4 | Commissioner of Police | 130,590 | 1,567,080 |
| 5 | Senior superintendent | 85,890 | 1,030,680 |
| 6 | Superintendent | 73,020 | 876,240 |
| 7 | Assistant superintendent | 70,530 | 846,360 |
| 8 | Chief inspector | 59,220 | 710,640 |
| 9 | Inspector of police | 53,820 | 645,840 |
| 10 | Senior sergeant | 50,220 | 602,640 |
| 11 | Sergeant | 45,540 | 546,480 |
| 12 | Corporal | 42,660 | 511,920 |
| | Constable/ Fresh Graduate | 32,880 | 394,560 |
Going by the new pay structure, a police constable's basic remuneration is way above what most university graduates collect after being recruited by the Kenyan Public Service Commission.
Kenyan Police Allowances
Monthly salary is that fixed amount a worker receives on a monthly basis irrespective of variables like company performance, employee performance, and whether an employee goes on annual leave or sick-off. For the Kenyan Police Services, in addition to their basic remunerations, the staff will still receive other allowances such as housing allowance, leave allowance, as well as a commuter allowance.
A Scrutiny Of How Officers Are Promoted In The New Structure
In any Police force, promotions are meant to come only when officers have successfully completed all required training as well as duty requirements; this must come with above-average scores to superior ratings. they must meet or exceed any quotas, mission, directives, and conduct protocols required in their current rank for them to proceed to the next rank.
The NPSC's career guidebook entitled "Career Progression Guidelines for National Police Service Personnel" emphasizes that it is compulsory for all police officers to undergo special courses before they can be considered for promotions. However, it has been discovered that some parts of the qualification requirements are rather discriminatory.
This has led the commission to seek an end to the style of haphazard promotions; they propose to achieve this by establishing a well-defined and clear career progression structure. The aim is to motivate, attract, and facilitate the retention of competent personnel. The new structure will provide officers of the police with job descriptions and specifications that are clearly defined, coupled with delineation of duties/responsibilities at every level. Police officers under this new guideline can only be eligible for promotions after they have served for 3 years in their current ranks.
And as part of efforts geared towards streamlining career progression in the Kenyan Police Service, all Constables who have obtained their university degrees will be considered for promotions. However such people must score a mean grade of C plus (C+); those who scored below the mark must present proof of their bridging certificate.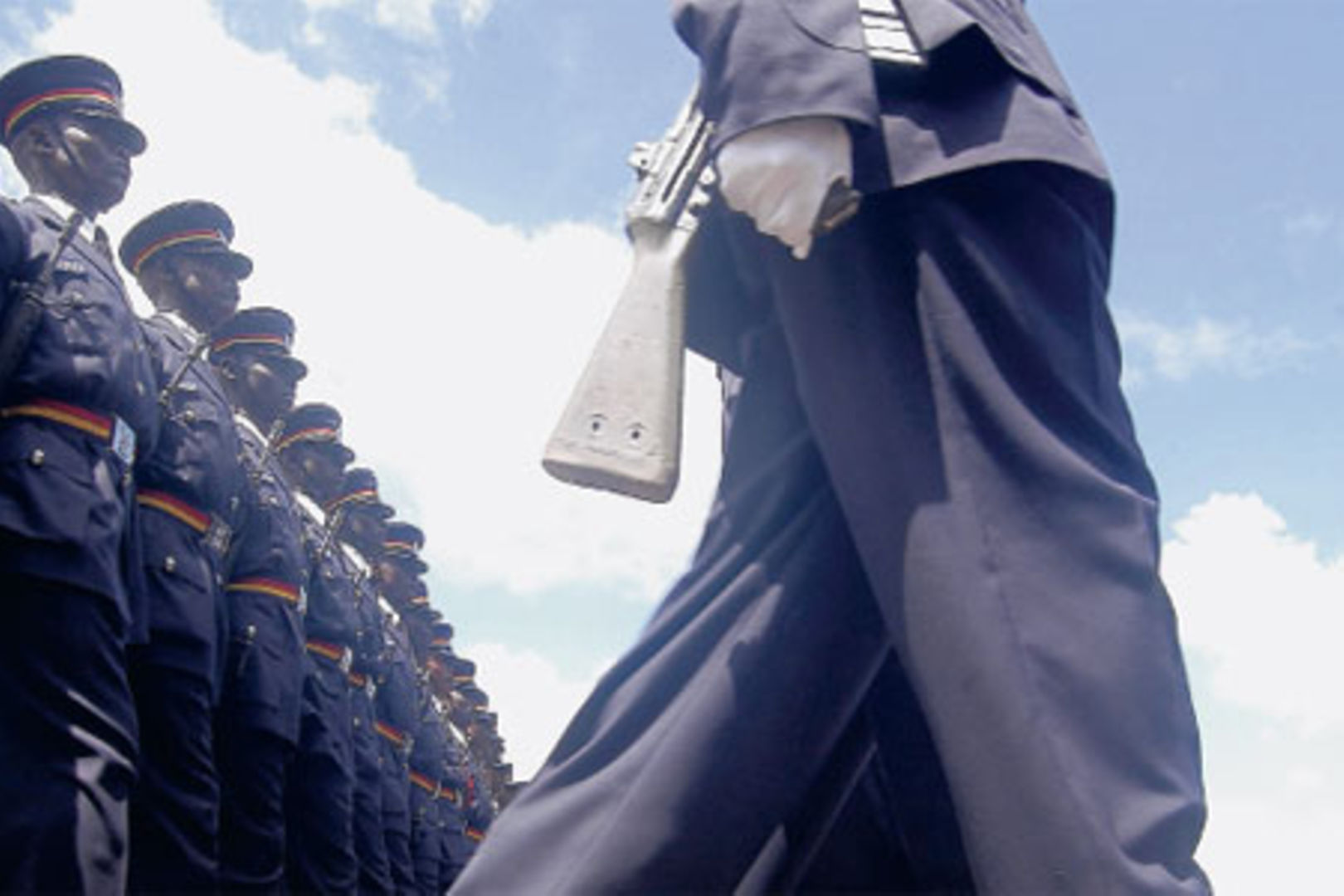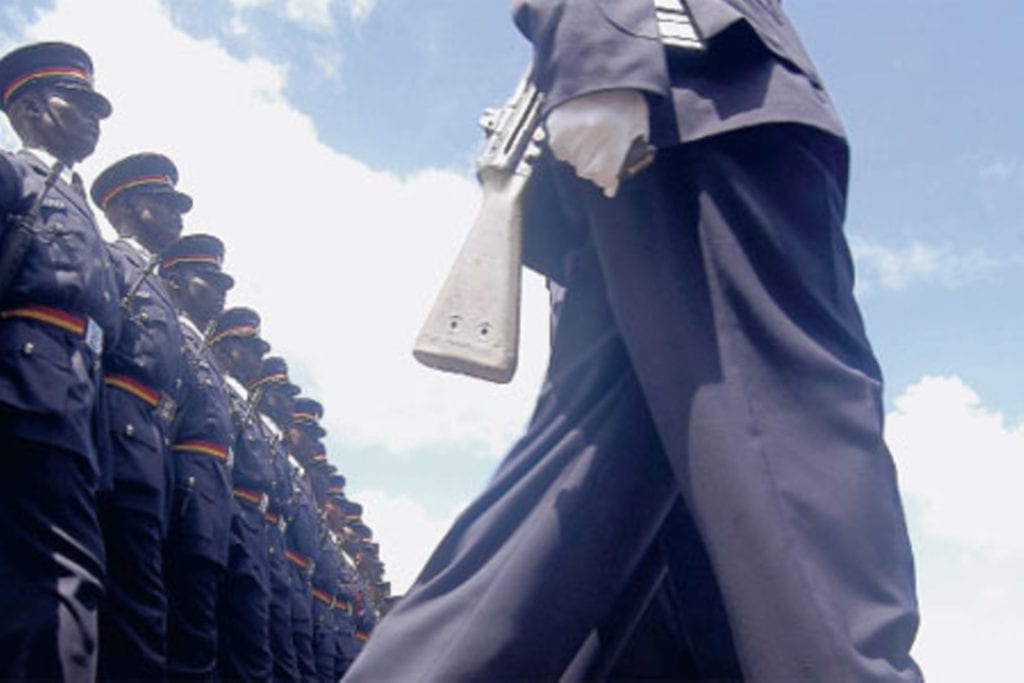 How Do I Join The Kenyan Police?
To become part of the Kenyan Police Services, applicants will have to satisfy some entry requirements. They include;
The applicant must be a Kenyan citizen.
He or she must be a holder of the Kenya National ID card.
Expected minimum qualifications include 'D+'(D Plus) and above in KCSE (Kenya Certificate of Secondary Education) and must have a 'D+' (D Plus) and above in English or Kiswahili languages.
The age bracket is between 18 and 28 years.
The requirements inherent in chapter six of the constitution must be met.
Applicants must be physically, medically, and mentally fit.
Must be completely devoid of any criminal record, pending or otherwise.
Female enrollees must not be pregnant during the recruitment to the end of the training period.
Note:
Examination Result slips are not acceptable, an applicant who
a) Canvases either directly or indirectly
b) Intentionally presents forged academic testimonials and certificates
c) Engages in corrupt activities of any form
Shall be instantly disqualified, offenses (b) and (c) attracts arrest and prosecution.
Under section 25 of the Kenyan National Police Service Commission Act, applicants who willfully present the Commission with any false or misleading information are guilty of an offense, and on conviction, he or she is liable to part with a fine not exceeding Ksh. 200,000 (two hundred thousand shillings). Alternatively, the offender faces imprisonment for a period not exceeding 2 years or to both.
Gender Balance & Diversity
All recruited applicants shall reflect the ethnic, gender, and regional diversity of the people of Kenya.
Application Submission
All intending applicants must complete the approved application form; this is obtainable from any of the under-listed locations
The Sub-County Police Commander (SCPC) of your choice or any police station.
The Sub-County Administration Police Commander's (CIPU) offices nearest to you.
Commissioner's Offices.
Nearest Huduma Centres.
The forms are also downloadable, via these websites;
www.npsc.go.ke
www.kenyapolice.go.ke
www.mygov.go.ke
www.administrationpolice.go.ke
Submission of applications must be done in duplicate, and must be accompanied by these documents:
a. A copy of applicant's academic certificates/testimonials;
b. A copy of the applicant's Kenya National I/D
c. A copy of his or her Birth Certificate;
d. KRA Pin Certificate
All applicants must be present at the recruitment center and must present their duly completed forms on the day slated for the recruitment exercise.
Important to note that
Applicants are expected to present their original supporting documents; this will be used for verification. The originals will be given back to them after verification.
Once an applicant is recruited for training, he or she is bound to put in a minimum of 10 years in the National Police Service.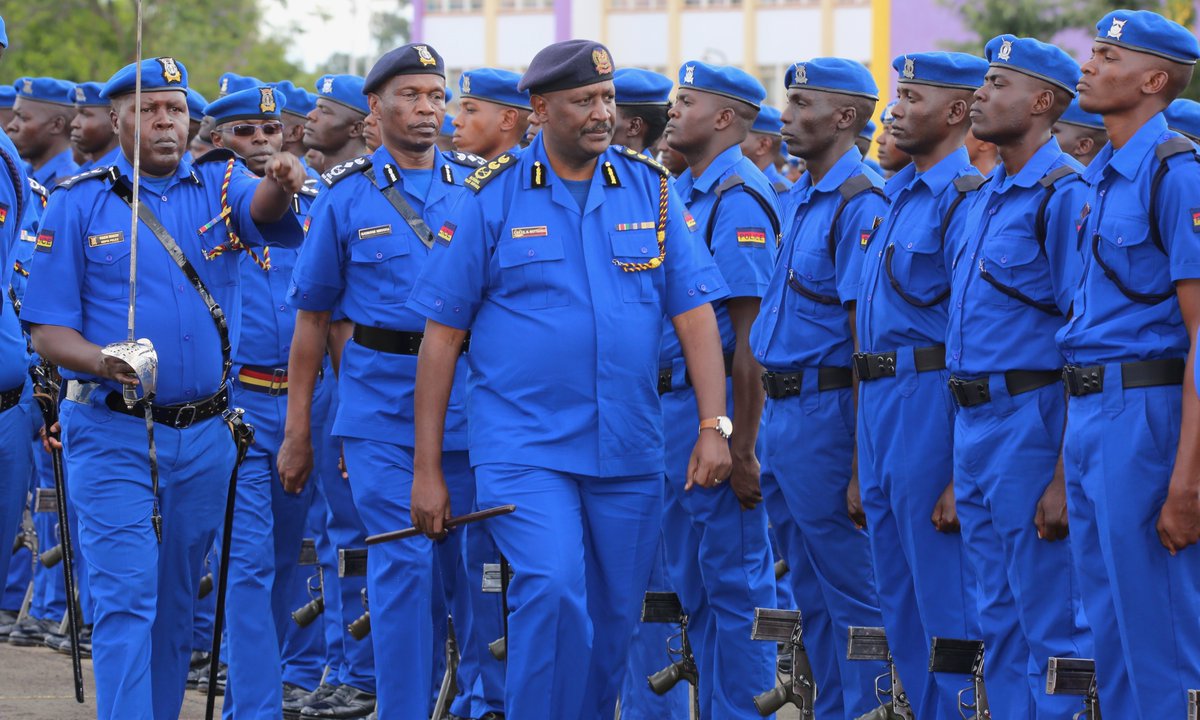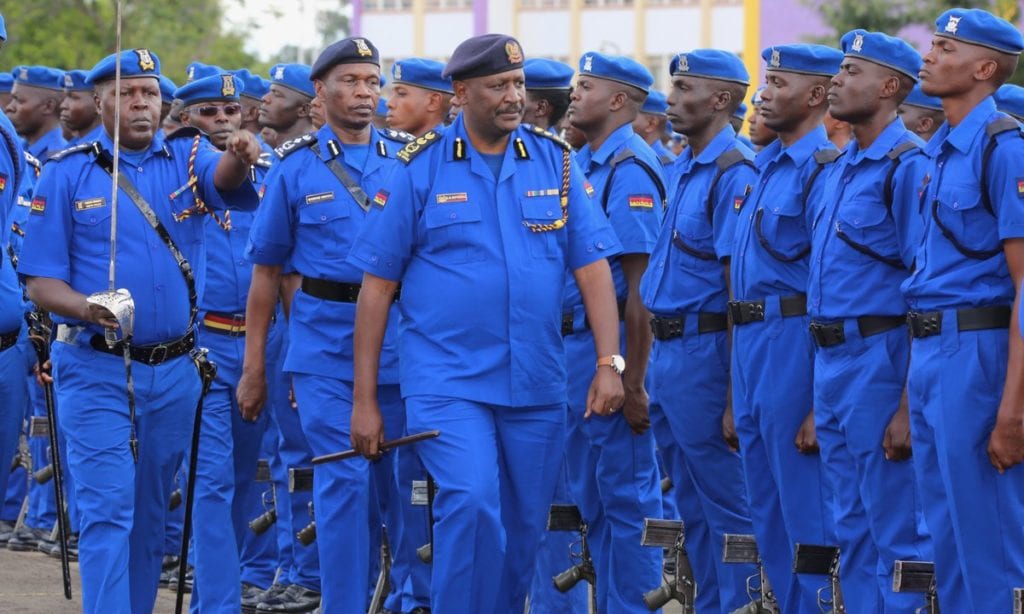 Commencement of Recruitment
Upon the commencement of recruitment, all applicants must present themselves at their respective Constituency-based Recruitment Centers as early as 8:00 am. The exercise is expected to last from 8:00 am to 5:00 pm.
Important to note that:
Each applicant is entitled to submit JUST ONE application for the exercise.
The consequence of submitting multiple applications is disqualification.
The National Kenya Police WILL NEVER demand nor accept any form of gratification or gifts, to favor a candidate in the recruitment exercise.
Thus, applicants are advised to desist from offering gratifications, before, during, or after the conclusion of the recruitment exercise.
Any candidate caught in the act faces prosecution and summary disqualification
Screening And Examination For Kenya Police Recruitment
Shortlisted applicants will receive an email to come to their respective screening centers for Screening and Examination; Applicants select their screening centers during their online application.
Training For Kenyan Police Recruitment
Training commences after the Screening Examinations and only successful candidates will be invited for the training exercise.
Kenyan Police Recruitment Passout
After successful completion of the training exercise, candidates will pass out and join the Kenya Police Services.