How much do Saturday Night Live (SNL) actors get paid is a question that has dominated the cyberspace in recent time. The late-night television variety show, which is one of the longest-running TV shows on the planet, was created by Lorne Michaels. It premiered on NBC on October 11, 1975, with the original title as NBC's Saturday Night. Since the show first aired over four decades ago, it has continued to live up and somewhat exceed expectation, with other features added to it which has made it a very popular show.
Entertainers who have graced the show either as a cast or host come out filling more fulfilled, while many that are yet to make an appearance do all they can to see that they identify with the show. In fact, SNL is described and has certainly been a springboard for many comedians and actors in their individual careers.
This article takes a look at the remuneration side of the show as it will reveal how much the Saturday Night Live actors get paid per show or per season for their outstanding work.
How Much Do Saturday Night Live Actors Get Paid Per Show?
In 2018, Pete Davidson, a Saturday Night Live cast member made headlines when he proposed to his girlfriend – Ariana Grande with an engagement ring worth $93,000. The news of the engagement generated a lot of questions as regards to how much the cast members of Saturday Night Live get paid per episode or season.
In our attempt to ascertain how much Saturday Night Live actors get paid per show or per season, we discovered that the cast members' pay is determined by a lot of indices, such as the number of years they have been on the show.
According to the information made available by celebritynetworth.com, during the first year of one's participation in the show, the actor earns $7,000 per episode. In a situation whereby an actor becomes a regular on the show and stays for up to 5 seasons, the actor's paycheque rises to $15,000 per episode.
See Also: Sarah Beattie – Biography, Career at SNL and Family Life of the Comic Writer
How Much Do SNL Actors Earn Per Season?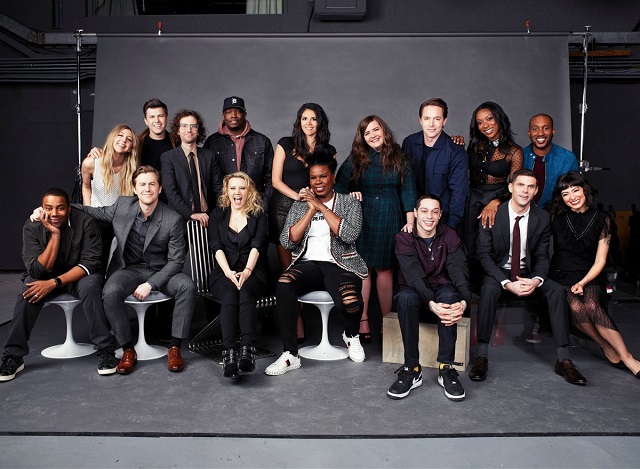 As stated above, the actor's pay per season is determined by the earnings of the actor per show. If the actor's pay is $7,000 per show, owing to the fact that a season of the show contains 21 episodes, the actor would be paid $147,000 per season. If the cast continues in the next season, the pay would rise to $8,000 per episode which would summarily put his season's total earnings to $168,000.
As stated above, an actor who becomes a regular act by staying up to 5 seasons will see his pay rise to $15,000 per episode which would see the actor earn a whopping $315,000 a season.
Going by the above explanation, there are quite a good number of cast members who have made appearances on the show for five or more seasons. The likes of Kenan Thompson (16), Darrell Hammond (14), Seth Meyers (13), Al Franken (12), Fred Armisen (11), Tim Meadows (10), Jason Sudeikis (9), Bobby Moynihan (9), Kevin Nealon (9), make the list of the cast members that have enjoyed the longest appearance on the TV show.
The highest salary cast members can earn in Saturday Night Live based on their years of participation is $525,000 per season or $25,000 per episode. The cast members mentioned above may have earned exactly, or something similar to that amount. As of 2001, Will Farrell was the longest cast in the show and earned as much as $17,500 per episode and $367,500 per year. A whole lot of people have since surpassed him in that capacity and may have earned double of what the American actor, comedian, producer, writer, and businessman once earned.
Similarly, celebrities who graced the show as a guest host reportedly earned as much as $5,000 as a host. This was made public knowledge after Justin Timberlake disclosed the figure to Entertainment Tonight at the end of his third appearance as a guest host on the show.
Alec Baldwin holds the record of the most appearances as a guest host on Saturday Night Live with 17 episodes, followed by Steve Martin with 15 episodes. John Goodman and Buck Henry occupy the 3rd and 4th positions on the log with 13 and 10 episodes respectively.