Many celebrities in different parts of the world have taken to both fame and luxury and as part of the luxury, a number of them have turned to the use of private jets instead of commercial planes. African celebrities are not left out of this love for the good stuff and some of those who own a private jet include sportspersons and musicians. Many of these jets are luxurious and come in different types and models that can contain from 6 to more passengers. Owning private jets in Africa also shows how successful some of these celebrities are and the net worth they have acquired, especially because you need about $1.96 million to acquire the cheapest private jet.
Nevertheless, it is no rumor that many African celebrities use private jets but do not necessarily own them – as there are many firms that offer charter jets. As a result of social media posts made by many of these high-profile people in or around jets, a number of them are assumed to own planes. This has rather made it difficult to know exactly the African celebrities who truly own this luxury. However, here are 10 African celebrities who own private jets.
African Celebrities Who Own Private Jets And How They Made Their Wealth
1. Samuel Eto'o
Private Jet: Cyster Citation cj2 jet
Price Tag: $2.5 million to $6 million
Net Worth: $95 million
Occupation: Athlete
Nationality: Cameroonian
Country of Residence: Italy
Eto'o is a former Cameroonian football player whose private jet is said to be worth $6 million. At a point in his career, the player was receiving a salary of 20 million Euros to make him the world's highest-paid player. He currently has an estimated net worth of $95 million which he mostly accumulated from the football career that let him play for the Cameroon football team and other football clubs such as Real Madrid, Barcelona, Inter Milan, Chelsea, and Everton among others. However, that is not the only source of income that made the four-time African Player of the Year rich.
Many sponsorships have come his way and equally fetched him millions of dollars. He also owns a telecom company in Cameroon named Set Mobile and also has a football academy in Gabon.
Eto'o's lifestyle is a luxurious one as he has a thing for fancy things. Some of the things he has spent money on overtime include a Buggati Veyron that costs 1.5 million Euros and an Aston Martin One-77 which costs a million pounds. In addition, he owns an 18-million-Euro mansion in Italy and may have other houses in Cameroon and the UK.
2. Didier Drogba
Private Jet: unknown
Price Tag: unknown
Net Worth: $90 million
Occupation: Athlete
Nationality: Ivorian
Country of Residence: United Kingdom
Didier Drogba's private jet has made the headline since 2014. The jet is white and can contain numerous passengers. Although he posts pictures of him in or around the jet on a number of occasions on social media, it is difficult to get details and other specifications of the plane.
Drogba earned fame and fortune from his job as a former professional Ivorian football player who rose to become Ivory Coast's top scorer of all time. He played for several teams, including Chelsea, and won awards such as African Player of the Year twice in 2006 and 2009. Also, he made bank through different sponsorship deals with big brands like Konami, Nike, and PepsiCo. At some point, his salary was $15 million a month.
Apart from his private jet, he owns cars that may include mini cooper S, Ferrari, Mercedez, Audi R8, and Porsche 911 Turbo. He also owns a mansion in the United Kingdom among his other properties. His net worth is estimated at $90 million.
3. Emmanuel Adebayor
Private Jet: Unknown
Price Tag: Unknown
Net Worth: $45 million
Occupation: football player
Nationality: Nigerian-Togolese
Country of Residence: Paraguay, UK, Ghana
Like many other African celebrities who own a private jet, Emmanuel Adebayor has chosen to keep details about his jet private. He is a Togolese football player and the country's all-time goalscorer with 32 goals to his credit. He won the African Player of the Year in 2008 and has played for English teams such as Manchester United, Manchester City, and Real Madrid. At present, he plays for a Paraguayan football club known as Olimpia.
With his accumulated wealth, his life is filled with luxury. Among the many valuables he has owned is an Aston Martin – the DBS which costs about 316,000 for Superleggera Coupe and $397,007 for Superleggera OHMS S Edition. He also owns a Fisker Karma which variably costs $102,000, $110,000, and $116,000 and above for different models. He further owns a $509,549 Rolls-Royce, a Mercedes-Benz G65 SUV that costs $240,620 and a and a Can-Am Spyder trike among other automobiles. Similarly, he owns a home in Accra, Ghana, Togo, and a summer house in the US.
4. Pierre-Emerick Aubameyang
Private Jet: Unknown
Price Tag: Unknown
Net Worth: $30 million
Occupation: professional football player
Nationality: Gabonese
Country of Residence: England
Many sources have reported that Pierre-Emerick Aubameyang is among African celebrities who own a private jet. This is mainly because pictures of him in a private jet have circulated a lot. However, there is no proof he owns any aside from the pictures.
Aubameyang who is a French-Gabonese and a football player has amassed wealth that could buy him a private jet. His net worth is $30 million and he is currently Arsenal Football Club's captain and the club's second-highest-paid player. More so, his salary is £200,000 a week and he gets an annual salary of £10,400,000. He also earns from sponsorship deals as he is a brand ambassador for Nike and the company has released a boot called 'GabonPanther'.
With all this wealth accumulated, his lifestyle has remained that of luxury. The football player owns a house in London that costs £16 million. He owns numerous cars that include a Range Rover, Lamborghini, 2 Porches, Aston Martins, and Audis. He also owns a Batmobile among other automobiles. Together, the cars amount to more than £1 million.
5. Mikel Obi
Private Jet: Unknown
Price Tag: Unknown
Net Worth: $45 million
Occupation: Footballer
Nationality: Nigerian
Country of Residence: United Kingdom
Mikel Obi is a Nigerian football player who has earned heavily from his career that has lasted more than a decade. He has played for the Nigerian Super Eagles team, Chelsea, and currently plays for Stoke City. Although there are no details about Obi owning any private jet, he has at many times been seen flying private and sources would go ahead to claim that he owns it. However, the football player has neither accepted nor debunked the rumor. This has led many people to believe that he actually owns a jet.
Obi currently has a mansion in London and Nigeria. He also owns a 2010 Bentley Continental GT that is worth $180,000, a $60,895 Range Rover Sport, and a $75,000 2012 Mercedes Benz E-Class among many other exotic cars.
6. Davido
Private Jet: Bombardier Global Express 6000
Price Tag: $23 million (pre-owned) $62 million
Net Worth: $10 million
Occupation: singer, songwriter, and record producer
Nationality: Nigerian
Country of Residence: Nigeria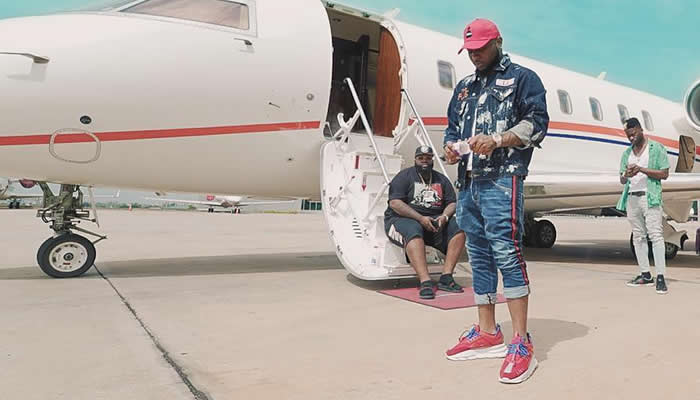 The Bombardier Global Express 6000 is a business jet that is of different models from 2012 to 2018 models. The jet offers 3 different cabin zones, at least 15 passengers, and 2 crew members, and has the ability to move from one continent to the other. It also has 2 engines that are reportedly made by Rolls-Royce and is faster than a commercial airplane.
Although the private jet was bought by Davido's father, Adedeji Adeleke, the singer is known to be using the jet on many occasions. Mr. Adeleke has bought 2 jets, including the most recent Bombardier Global Express 6000 which Davido described as 'our baby'. Davido makes his wealth mainly from his music career and has a net worth of $10 million dollars. He also earns from sponsorship deals with brands like Infinix and IxBet among many others.
His lifestyle is full of luxury and would turn many heads, especially on social media with his exotic cars that include a Rolls-Royce Cullinan 2019 that is worth ₦350 million, 2018 Bentley Bentyga, Range Rover Autobiography LWB of ₦98 million, and a Range Rover 2017 Sport of about ₦80 million among others. The singer owns multi-million dollar mansions in Banana Island, Lekki, and Atlanta Georgia.
7. Suleiman Ali Muntari
Private Jet: unknown
Price Tag: unknown
Net Worth: $22 million
Occupation: former football player
Nationality: Libyan
Country of Residence: Ghana, England
There are more than a few sources who have gone ahead to report that Suleiman who is popularly known as Sulley owns a private jet. As many other African celebrities who own a private jet or are speculated to have one, there are no details about the jet except for the color of course. It is a white jet that could contain about 15 passengers and 2 crew members.
Sulley who is a Ghanaian was a football player and midfielder who made this wealth from his football career. Presently, he is one of the top 10 richest African football players, accumulated through a salary that was about 1.5 million euros.
8. Wizkid
Private Jet: unknown
Price Tag: unknown
Net Worth: $4 million
Occupation: musician
Nationality: Nigerian
Country of Residence: Nigeria
Ayodeji 'Wizkid' Ibrahim Balogun, a Grammy Award-winning Nigerian artist is popular for sharing pictures of himself flying around the world in a private jet for many years now. What remains a mystery is whether he actually bought the jet for himself, it was gifted to him, or he chatters it, even though many sources claim that the jet belongs to him. Although there are no details about the jet, it may cost above $1 million.
Wizkid's main source of income is his music career where he has amassed a net worth of $4 million to make him one of the richest musicians in Africa. The Nigerian Justin Bieber as he is widely known also has many sponsorship deals with big brands to his name and some of them include the United Bank of Africa (UBA) and Tecno. He owns many cars that include a Lamborghini which is said to cost about $200,000. He also owns houses in Nigeria and the United States, as well as other valuables that may not necessarily be within the reach of the public.
9. Cassper Nyovest
Private Jet: unknown
Price Tag: unknown
Net Worth: $3 million
Occupation: rapper, record producer
Nationality: South African
Country of Residence: South Africa
Hello MONEY!!! Is that you???? YESSS YOU'RE WELCOME IN MY LIFE!!! COME IN!!! pic.twitter.com/prkLNWTJPj

— Don Billiato (@casspernyovest) January 3, 2018
As per reports, Cassper Nyovest became the first rapper in Africa to buy a private jet. There have been several of his pictures in the jet as well as outside making the rounds on social media platforms. What usually catches the eye about the jet are the words 'Thank You', and 'Ciroc' inscribed on the jet. Other than the pictures, there are no specifications available about the jet.
Cassper Nyovest is a South African multi-award-winning rapper. The artist is among the richest musicians in South Africa and has a net worth of $3 million. He is known to live a life of luxury with cars such as Bentley GT Coupe, BMW 4281, and Rolls-Royce gracing his garage. Adding to his list of properties are mansions, including a home that costs R10 million. Also, his fortune has allowed him to travel the world many times in a private jet.
10. DJ Cuppy
Private Jet: unknown
Price Tag: unknown
Net Worth: $200,000 – $3 million
Occupation: DJ, musician
Nationality: Nigerian
Country of Residence: Nigeria
Like Davido, Nigeria's 'DJ Cuppy' Florence Otedola flies private with her family's private jet bought by her father Femi Otedola, a Nigerian billionaire businessman who easily affords the finest things in life. Some of the fancy wheels in the Otedola family include Mercedes SLR McLaren that is worth about ₦250 million, Rolls-Royce Phantom worth ₦162 million, G-Wagon that costs about ₦53 million, and a Mercedes Benz AMG G63 worth ₦72 million among others. Cuppy's dad gifted her a ₦90 million Ferrari Portofino.
On her own, however, DJ Cuppy has made quite a fortune from her jobs as a disk jockey and as an artist with a significant net worth to show for it. Her lifestyle is filled with splendor as she travels around the world, organizes shows that even the richest man in Africa, Dangote attends. Cuppy has a family that lives in the lap of luxury and they don't shy away from showing it all off on social media. They once traveled to Italy just to take ice cream.