Guaranty Trust Bank plc, also known as GTBank is a technologically innovative Nigerian bank with extension to other African countries. First formed in 1988 by a group of over 35 young Nigerians, the multinational institution has a platform that allows you to operate your bank account from your mobile phone, giving you a very handy access to carry out your transactions at any time and at your own convenience. There are 3 possible ways you can use your mobile phone to operate your Guaranty Trust Bank account (GTBank Mobile) securely and still be able to achieve what you want to achieve.
See Also: How To Open A GTBank Account in Nigeria
How To Use  Your Mobile Phone To Operate Your GTBank Account
1. Using MoVe (MOBILE VELOCITY): MoVe is a GTBank Mobile Phone Application that enables you to connect to your account through the official GTBank mobile banking website (www.gtbank.mobi). With MoVe, you can also be able to do the following:
It enables you to locate the nearest Guaranty Trust Bank branch or ATM locations around you using the Nokia's OVI Maps & Google Maps.
Get real-time bank exchange rates for foreign currencies like USD, GBP, YEN, EUR and others using the real-time currency exchange calculator with which you can get conversion equivalents in local currency.
Access the daily stock market report from the Nigerian Stock Exchange (NSE).
How to use GTBank Mobile Velocity Application
Visit this link: http://gtbank.com/MoVe/Java/MoVe.jad or the Nokia mobile Ovi Store to download the application. You can equally search for it through the Nokia Ovi store application on your phone. The application can also be downloaded from BlackBerry App World on BlackBerry devices, from Google Play on Android devices and from App Store on iOS devices. Install the application on your phone and you are ready to go.
See Also: How To Open A GTBank Account NRN Non-resident Nigerian account
2. The GTBank Mobile Phone Application, GTMOBILE: GTMobile comes as a FREE Mobile Phone Application from Guaranty Trust Bank which helps customers of the bank to conduct virtually all forms of banking transactions at their convenience and from anywhere in the World using their Mobile phones. The two-in-one app which consists of Mobile Banking and Mobile Money has been developed to be quite compatible with most mobile devices.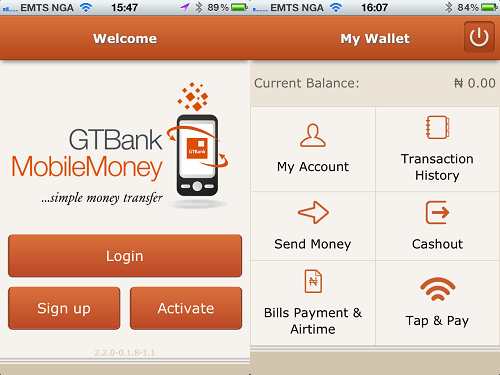 What can you do with the GTMobile Mobile Application:
Hotlist lost or stolen ATM card
Make utility bills payments such as DSTV, HITV, PHCN, ZAIN & MTN postpaid
Purchase Airtime (GLO, Starcomms, MTN & Zain)
Make transfers to your account(s)
Check your account balance & account transaction history
Request for account statements
How to use GTMobile Phone Application
Click here to download GTMobile phone application. You would be required to enter your mobile phone number, select your type of phone and your vendor then click "send WAP Push" or download to your PC if you would like to download to your PC. Install the application on your mobile device and after account identification & authentication, it would be associated with your Naira MasterCard and you are ready to go.
Bonus: How To Use GTBank Online Banking
The video tutorial below forms a good step by step guide to installing and using GTMobile from Guaranty Trust Bank.
[youtube http://www.youtube.com/watch?v=cb30g6Ng4T8]
3. The GTBank Mobile Banking Site: The GTBank dedicated website address for mobile devices is (www.gtbank.mobi). What this means is that Guaranty Trust Bank has enabled this link for you to log on to a fully functional mobile website from your phone's web browser. This mobile site is optimized for faster loading times & low data usage to increase the mobile phone web browsing experience. The mobile website is a secure platform that also allows you access to your Internet Banking Account and allows you to carry out banking transactions from anywhere in the World.
GTBank 737 Code: How to Use The Newly Introduced USSD Code
GTBank has gone a long way in making bank transaction quite easy for its customers by leveraging technology to make banking activities much faster, safer and more accessible for all customers.
GTBank's 737 code is another simple, smart, and safe way to bank anytime, anywhere and on any mobile device without the need for internet connectivity. The unstructured supplementary service data (USSD code) is a communication protocol available on GSM cellular networks to relay messages to the service provider's computers.The code allows the customer to open a GTBank Account, transfer money anywhere in Nigeria, load airtime and/or data on your phone and to check your account balance anywhere.
To Open a GTBank Account: Simply dial *737*0# and follow the information on your mobile screen. An account number will be created automatically and sent to you via SMS. Once you sign up, look out for your ten-digit account number (NUBAN).
To create your transaction PIN: Simply dial *737*5#; Input the last 6 digits of your Debit Card, and Create your 4-digit PIN.
To transfer Fund On GTBank Account: Simply dial *737*1*Amount*NUBAN Account Number# using the mobile number you registered with GTBank. (e.g. *737*1*1000*1234567890#). Follow the on-screen prompts.
To transfer to other Banks: Dial 

*737*2*Amount*NUBAN Account Number#

 (e.g. *737*2*1000*1234567890#) from your phone, then authenticate the transfer with the last four digits of your GTBank debit card.
Note that once your transaction is successful, money will be deducted directly from your GTBank account. For transfer into other banks attracts a bank charge of N65 for customers in Nigeria.
737 for Airtime top-up: To top-up Airtime to your mobile phone or your friends', simply dial *737*amount# on your phone (e.g. *737*1000#) for a top up to your phone. Dial *737*Amount*Recipient's number# (e.g. *737*1000*08023456789#) for airtime top-up for a friend or relative.
Data Top-up: Dial *737*4# on your phone and follow the on-screen prompt to buy data for your phone and your friends.
Dial *737*6*1# on your mobile phone and follow the on-screen prompts to check your account balance.