Olga Kurylenko is a French model and actress from Ukraine who is regarded as one of the most stunning contemporary actresses Hollywood has to offer. Starting her career with modeling and music video appearances, she got her screen debut in the French film L'Annulaire. After this, she made her transition to American movies and her career went to greater heights. She found her breakthrough in the 2008 James Bond movie Quantum of Solace. Other notable movies Olga Kurylenko has appeared in are The Hitman, Max Payne, Seven Psychopaths, and A Perfect Day. With over a decade in the movie industry, here are Olga Kurylenko movies and TV shows ranked from best to worst.
Olga Kurylenko Movies and TV Shows Ranked From Best To Worst
1. Quantum of Solace (2008)
Production budget: $200 million
Box office: $586,090,727
The 22nd movie in the James Bond movie franchise, Quantum of Solace is the direct sequel to 2006's Casino Royale. It is also the second film Daniel Craig appears as James Bond in. Directed by Marc Forster, the movie follows Bond and ally Camille Montes (played by Olga Kurylenko) as they work towards stopping the plans of wealthy businessman Dominic Greene from staging a coup in Bolivia.
Considered not as good as its prequel, the movie holds a 65% score on Rotten Tomatoes and 58/100 on Metacritic.
2. Oblivion (2013)
Production budget: $120 million
Box office: $286,168,572
Set in a dystopian future, Oblivion stars Tom Cruise, Olga Kurylenko, Morgan Freeman, and Nikolaj Coster-Waldau. Co-produced and directed by Joseph Kosinski, the movie was based on his unpublished graphic novel of the same name. Set in 2077, Oblivion follows technician, Jack Harper who is sent back to earth after a devastating war to fix drones used to fight against the enemy. Oblivion has a score of 53% on Rotten Tomatoes and 54/100 on Metacritic.
3. Max Payne (2008)
Production budget: $35 million
Box office: $85,416,905
Next on our list of movies starring Olga Kurylenko is Ma Payne. Loosely based on the video game series of the same name by Remedy Entertainment and Rockstar Games, Max Payne stars Mark Wahlberg, Mila Kunis, Chris 'Ludacris' Bridges, and Olga Kurylenko. The neo-noir action movie follows policeman Max Payne's journey through the criminal underworld of New York City as he tries to solve the murder of his wife and child. Despite the game franchise's success and acclaim, the movie was poorly received by critics and fans of the game alike. It has a score of 16% on Rotten Tomatoes and 31/100 on Metacritic.
4. Tyranny (2010)
Number of appearances: 5 episodes
Tyranny is a political thriller web series that premiered on KoldCast TV on the 11th of 2010. It was directed and written by John Beck Hofmann, and also starred Hofman and Olga Kurylenko. Set in 1999, the series follows a man who tries to understand the visions he receives after volunteering for a neurological experiment at UC Berkeley. The series was part of the 2010 Geneva International Film Festival selection and went on to receive 2 Indie Intertube Award nominations in 2010.
5. Magic City (2012 – 2013)
Number of appearances: 16 episodes
Not just movies, Olga Kurylenko has also made a name for herself as a TV actress. One of her most notable TV roles is in Magic City. Created by Mitch Glazier, Magic City premiered on Starz. Premiering on the 6th of April, 2010 it ran until the 9th of August, 2013. It was canceled by Starz after two seasons. The series, set in 1959 Florida, follows Ike Evans, the owner of the most glamorous hotel in Miami as he is forced to make a deal with Jewish mob boss Ben Diamond to keep his hotel running. The series was met with mixed reactions, receiving a score of 56/100 on Metacritic.
See Also: Woody Harrelson Movies and TV Shows Rated From Best To Worst 
6. Seven Psychopaths (2012)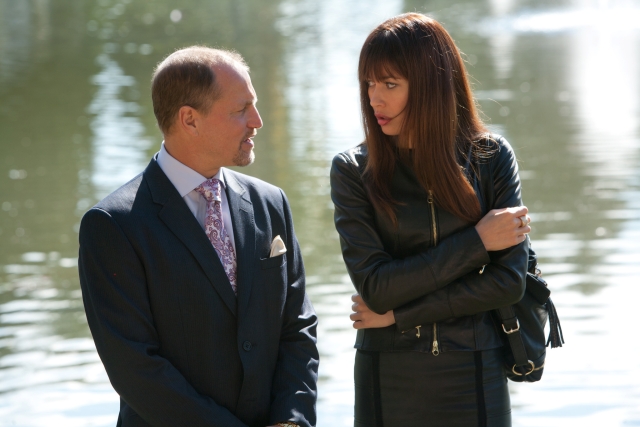 Production budget: $15 million
Box office: $19,422,261
Starring Colin Farrell, Woody Harrelson, Christopher Walken, Olga Kurylenko, and others, this 2012 dark comedy movie was written and directed by Martin McDonagh. The movie follows the story of a struggling writer, Marty who tries to finish his screenplay, Seven Psychopaths. To do this, he gets to meet and write the stories of several different characters he meets during the duration of the movie. The movie was well-received, with praises going to the actors. It has a score of 82% on Rotten Tomatoes and 66/100 on Metacritic.
7. Centurion (2010)
Production budget: $12 million
Box office: $6,814,789
This historical action-war movie was loosely based on the disappearance of the Roman Empire's Ninth Legion in Caledonia in early 2nd century A.D. Written and directed by Neil Marshall, it stars Michael Fassbender, Dominic West, Olga Kurylenko, Noel Clarke, and Liam Cunningham among others. The movie was well-received but was unable to make up for its production budget, performing poorly at the box office. On Rotten Tomatoes it holds a score of 60%. On Metacritic, 62/100.