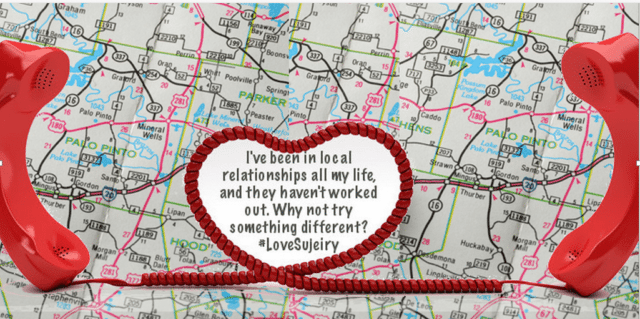 Long distance relationships are often tagged as high risk and this seem to be supported by an age old adage that states that "out of sight is out of mind". If you are in a distant relationship, you would need to double up on your average commitment to make it work. Theoretically, this means that you would need more trust, more communication and more romance to keep the relationship afloat and quotes are often needed to remind you of how it all started and where the relationship is hoped to get to. Apart from songs for distance relationships which come in handy in this state, long distance relationship quotes also offer a great way to ignite and maintain the love, passion and commitment in a relationship. Answers Africa features some of the best long distance relationship quotes which you  you can share with your loved ones to keep the romance alive between both of you!
Best Quotes For Long Distance Relationships
1. A part of you has grown in me so you see, it's you and me together forever and never apart, maybe in distance, but never in heart.
2. I can't wait for the day that I don't have to wait anymore.. the day I can finally have you back!
3. We cannot be together, but we'll never be apart, for no matter what life brings us, you're always in my heart. LOVE you!
See Also: Most Beautiful Ethiopian Women and 10 Evergreen African Music
4. Distance is just a test to see how far Love can travel.
5.  Love doesn't know its own depth till the hour of separation.
6. Missing someone gets easier everyday because even though you are one day further from the last time you saw them, you are one day closer to the next time you will.
7. Even when we're miles and miles apart, you're still holding all of my heart. I promise it will never be dark, I know..we're inseparable.
8. I`m missing you. Tonight, I mean that in a totally different way. Most of the time, I tell you that I miss you. That means that I wish you were here, I want you near me, I crave your touch. No, tonight I`m missing you. It means you`re missing from me. I need you here to feel complete. It feels as though I`m missing my other half. Without you, I`m not whole.
9. Sometimes, the people who are thousands of miles away from you, can make you feel better than people right beside you.
10. Distance means so little when you mean so much to me.
11. Expectations: Using the person next to you as a pillow. Reality: Using the pillow next to you as a person.
12. I know when I leave, the distance will keep us apart. But distance, no matter how far, can't change these feelings in my heart.
13. Distance is not for the fearful, it is for the bold. It's for those who are willing to spend a lot of time alone in exchange for a little time with the one they love. It's for those knowing a good thing when they see it, even if they don't see it nearly enough…
14. Some couples think that long distance affects their relationship badly and love will disappear if they don't have regular contact to each other. But loving from a distance can test how strong this feeling is and how much the couple loves each other.
15. If the only place and time where I could keep you in my arms was in my dreams, I'd sleep forever.
16. "Love, compassion, a smile, a tear, a sign of good bye and welcome back attitude. We don't say goodbye because we know that one day we will see each other again"
17. Long distance relationships prove that love has no boundaries. They prove that it can happen and it is possible for two people far away from each other, can fall in love even without meeting each other. But most importantly these type of relationships know no age, and no distance.
18. If ever there is tomorrow when we're not together. There is something you must always remember. You are braver than you believe, stronger than you seem, and smarter than you think. But the most important thing is, even if we're apart… I'll always be with you.
19. They say…"Out of sight, out of mind!" But how can that be true? You are not here, yet I can't get you out of my mind.
20. The scariest thing about distance is that you don't know whether they'll miss you or forget you.
21. I relive every second I have had with you. It's all I have to hang on to until the next time I see you.
22. Missing someone isn't about how long since you've seen them or the amount of time you've talked them. It's about that very moment when you're doing something and wishing they were right there with you.
23. Love knows no reason, no boundaries, no distance. It has a sole intention of bringing people together to a time called forever.
24. Missing you turns my pain to pleasure, when I know that miles away you are missing me too.
25. Love, compassion, a smile, a tear, a sign of good bye and welcome back attitude. We don't say goodbye because we know that one day we will see each other again
26. A long distance relationship isn't hard at all, it's just a matter of trust, commitment and holding on.
27. If love is a labor I'd slave till the end
28. The best and most beautiful things in the world cannot be seen or even touched. They must be felt with the heart.
29. I love you and I miss you so much that, hearing your voice is the closest thing to feeling you.
30. Distances means so little when someone means so much
31. Distance doesn't ruin people's relationship. You don't have to see someone everyday to be in love.
32. Missing someone is a part of loving them. If you're never apart, you'll never really know how strong your love is.
33. "And as days go by, the memories remain. I wait for you. As days go by I swear I'll try. Until I die. Anything for you."
34. We are the perfect couple, we're just not in the perfect situation
35. Long distance relationship will work if two people involve are strong in faith, love and respect for each other.
36. True love doesn't mean being inseparable; it means being separated and nothing changes.
37. Distance is only a number, feelings can't be measured, and time doesn't exist when you have someone you can't get off your mind.
38. When it rains it reminds me of you. Although 2000 miles away is so far away, I still always walk outside in the rain and kiss it just for you. It never fails me. The rain will always come and I'll always love you. The next time you see a storm on the horizon, don't worry, it's just heaven doing me the favor of taking you my kiss. Walk outside and kiss the rain whenever you need me.
Don't Miss: How to Get Beautiful African Girls and 200 Best African Names and Meanings
39. Having you in my life's the best thing that ever happened to me. We maybe millions miles apart from each other, it just added for the Love that we have, because we both know that time will come that we will be together until forever.
40. What greater thing is there for two human souls that to feel that they are joined… to strengthen each other… to be at one with each other in silent unspeakable memories.
41. In true love the smallest distance is too great, and the greatest distance can be bridged.
42. I'll turn my back and walk away, away from the pain. Scream it loud, drown it out by the sound of the rain. Listen up, I've had enough all this waiting. I need you more right now than I ever did!
43. I long for the day I'll dream of your kiss no more, when your lips will caress mine for real, when your touch makes me alive again, and the sight of you arouses all my senses.
44. Long distance relationship is one of the best relationships… It's really sweet to see two patient hearts that are willing to wait because they think that everything is worth it anyway… Yes it's hard not being together physically, you cannot hold each others hand… You cannot kiss and hug each other, but still, you know that one day you will…
Recommended: 130 Questions to Ask Your Boyfriend
45. I'm not alone, but I am lonely without you.
46. Love puts the fun in together, the sad in apart, and the joy in a heart.
47. Distance is to love like wind is to fire…it extinguishes the small and kindles the great!
48. Even though we are distance apart I still think of you and feel you and your smile.
49. Your absence has not taught me how to be alone, it merely has shown that when together we cast a single shadow on the wall.
50. Don't tell me long distance relationships don't work out, because as far as I can see local relationships don't work any better.
Visit Next Page for More of your favorite Long Distance Relationship Quotes…