The internet has groomed many into being massive influencers online. Just like many others in this category, Alaina Anderson is a sensation to her social media fans. She is an American professional model, social media influencer, Instagram star, and celebrity spouse who rose to prominence when she got into a relationship with NBA player, Derrick Rose.
Before her relationship with the basketballer came to light, Anderson was relatively unknown and off but the story changed as soon as she introduced Rose as her partner. Since that intro, she has kept her audience entertained with her meteoric rise in followers, fans and the many doors that have opened to her career path.
6 Facts You Need to Know About Derrick Rose Wife
Alaina Anderson's Bio and Early Life
Coming into the limelight as a result of her relationship with the NBA star, Derrick Rose meant that the beauty has been able to control the info she feeds the public about her personal life. In a very good effort, she has kept all details about her early childhood and growing up days to herself. Despite that, we know she was born on the 15th day of November 1994 to her mother, Angela Kathleen and her husband whose name is not known. Her parents raised her in Illinois, Chicago where she was born alongside two sisters whose names are not known either,
Alaina Anderson had her high school education at De La Salle High School where she was a cheerleader. She went ahead to further her studies by attending University of Illinois at Chicago. She completed her studies there with no records of attending any further institution or university.
Relationship with Derrick Rose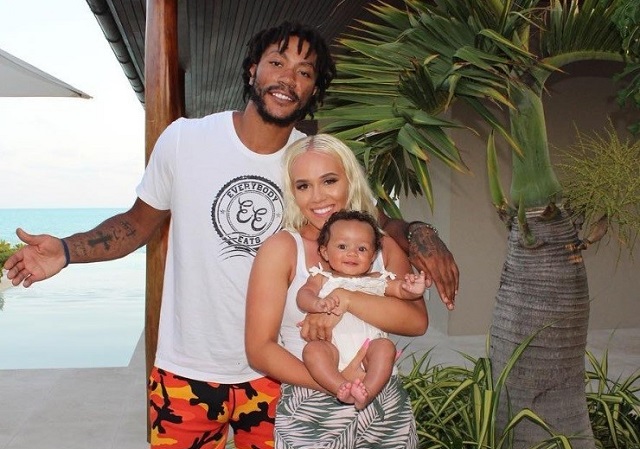 Alaina Anderson and Derrick Rose started dating sometime in 2016 even though there is no clear story as to how they met exactly. They courted for two years and by 2018, they eloped and had a secret wedding after the NBA star's 2017-2018 season. The union has produced a daughter who they named Layla Rose.
After her marriage to the star, Alaina took up the duties of being a step mum to Derricks son, Derrick Rose Jr who was born in 2012 from Derrick's earlier relationship with stylist and entrepreneur, Mieke Reese. Derrick and Reese were previously engaged until 2013 when they went their separate ways.
Alaina Anderson has built an exciting home with her husband, step-son and daughter. The family is further made complete by their pet dog Louie who according to the social media star, was born on the 18th day of March 2017.
Social Media Presence
The social media influencer and gorgeous model, she has never kept her audience unentertained as she keeps hitting her accounts with pictures either taken at the nicest of places due to her traveling spree or loved up pictures shared with her family. For her efforts, Alaina Anderson controls over 140 thousand followers on her Instagram account and a reasonable amount of followers on her twitter handle too. It is still unknown if she is active on Facebook and Snapchat.
Other Endeavors
Alaina Anderson has been quite effective with the internet and has maximized it much to her advantage. Besides sharing interesting tidbits of her life with followers on social media, she took things a step further when she created her own website which she aptly named 'Alaina Taught You'. On the site, she shares pictures about her career and lifestyle and equally shares experiences she feels many others might find inspiring.
Net Worth
Seeing as she is still relatively new to the spotlight and still has some ways to go in her career path, Alaina Anderson's net worth is surely still on the growth path and has been pegged at $500,000 accrued from the earnings that come in from her social media activities, her modeling career and her website. This notwithstanding, there is no doubt that she is living a lavish lifestyle all thanks to her celebrity husband handsome earnings from the NBA. From his many years in the game and the endorsement deals he has inked, Derrick Rose reportedly controls an estimated net worth of $85 million.
Body Stats
As a model, Alaina Anderson has put in some massive work in making her body shape remain soothing over the years and has successfully kept her audience entertained by putting up palatable pictures of her curvy body. considering how almost perfect her physical features are, there is no doubt that her bodybuilding routine is paying off. Alaina Anderson stands at a nice height of 5 feet 5 inches or 1.65 meters balanced on a healthy body weight of 60 kilograms or 132 pounds.