Playing as a running back for the New Orleans Saints, Alvin Kamara has gained recognition as one of the effective playmakers of the team. Although it hasn't been long he started playing for the side, he has bagged a lot of achievements including his honor as the Offensive Rookie of the year 2017. In view of his performance, he's bound to become one of the best players in the nearest future.
Alvin Kamara Bio
Alvin Kamara is one of the few NFL players who allowed their instincts to rule over them especially when it comes to making decisions and choosing friends. Regarded as one of the weirdest, shy, and reserved footballers in the NFL, he is often seen as a man who has a mind of his own. Most people who have a close relationship with him say he got these amazing traits from his Liberian Mother, Adama Kamara and his older sister, Garmai K. Momolu.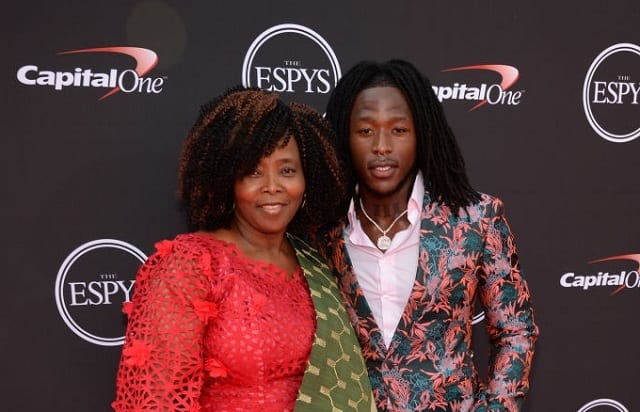 Growing up without the head of their home was quite a tough one for the family as they struggled on their own to survive in the United States of America. Their mother was born and bred in Liberia; she took to her heels when the first Liberian war broke out. Alvin Mentian Kamara was born on July 25, 1995. He barely speaks about his father and has never acknowledged him in any of his interviews. Alvin's place of birth was in Norcross, Georgia.
Reports have it that Alvin Kamara is really close to his elder sister, she is his best friend and the one person who can predict his very next move at any given time, the two share an amazing bond as siblings.
Alvin discovered his passion for football during his days at Norcross High School. As a junior, he rushed for 1,300 yards and managed 17 touchdowns. He only got better as a senior, accumulating 2,264 rushing yards and 26 touchdowns. In addition to that, he pulled off 22 receptions for 286 yards and 5 touchdowns.
It would have been a huge surprise if Alvin didn't gather a lot of accolades while in high school. Crowned as Georgia Mr. Footballer, he also received the All-State honor. His days at high school soon became history as it was time for him to forge ahead. He settled for the University of Alabama over the numerous offers he got. Irrespective of the fact that his time with the school was short-lived as he was suspended from the team due to some inappropriate behavior, his contribution to the team has refused to fade out.
Alvin couldn't do without being a member of a school football team, so he didn't wait for his suspension to be lifted. Instead, he transferred to Hutchinson Community College. On his arrival at the school, he was benched for a year. He wasted no time in asserting himself when he resumed playing and as a result of his remarkable performances with the team, he was noted as a top prospect in the nation. For the remaining of his collegiate career, the footballer moved over to the University of Tennessee.
Alvin Kamara was among the black men who made the cut into the National Football League in 2017 as he was chosen by the New Orleans Saints as the 67th overall pick during the third round of that year's selection. Ever since he joined the team, he has nurtured his skills and has bagged more wins than losses, acquiring different accolades.
What Is His Salary?
Many have expressed that what Alvin Kamara takes home as salary is quite disappointing. While that's not a story we want to get into here, we know that he made a 4-year pact with the Saints sometime in June 2017. The total value of the deal which guaranteed $972,772 is $3,857,772 and the annual contract value is pegged at $964,443. In all, the footballer pocketed $1.4 million in 2017.
Weight, Height and Other Body Stats
For a man athlete, Alvin Kamara is quite small in size. He is only 10 inches taller than 5 feet and weighs 98 kg. Nevertheless, he has polished the disadvantage of his physical features with his skills. His arm length measures 32 3⁄4 in (0.83 m) and his hand size is 9 1⁄4 in (0.23 m).