Being a rapper, Angel Haze has found a purpose in making songs that would reach out to people who are facing life challenges similar to what she experienced earlier in life. Even though she has only attained a fairy successful height in her career, she is admired for not being afraid to express herself. Let's learn more about the rapper…
Who Is Angel Haze (American Rapper)?
Angel Haze, born as Raykeea Raeen-Roes Wilson on July 10, 1994, is an American rapper and singer. The rapper born in Detroit, Michigan to a military family, merged her middle name with the nickname of a porn star to become Angel Haze. Her father, an African American died when Haze's mother, a native American Cherokee, was pregnant with her. He died after he shot himself in the stomach while trying to pistol-whip someone in a fight.
When she was still a young child, her mother met a preacher in the Greater Apostolic Faith who told her that God wanted her to drop out of college and move in with his family and she went along with it, moving into what Angel Haze describes as a cult. Growing up in the church was hard as the rapper was exposed to domestic violence, sexual abuse, and manipulation.
Speaking in an interview with The Guardian, Angel remembers being told that she would die spontaneously if she didn't behave correctly. According to her, her family alongside others lived in the same church community, ten minutes away from each other and they were not allowed to talk to anyone outside the community neither were they allowed to wear jewelry, listen to music, eat certain things, nor date people.
When she was 15 years old, Angel's mother fell out with the leaders of the church and as a result, the family left the church and moved to Brooklyn, New York, but lived in fear for many years because the so-called pastor told them that God was going to kill them.
Afterward, things became tougher and the family moved around a lot, living in a shelter at a point. Wearing good clothes could only be imagined and Miss Haze was mocked at school. Consequently, upon the constant movement and switching between homeschool and public school, it was hard for her to make friends. She, however, finished her high school one year early.
Angel began writing as an outlet for her life woes. She first wrote poems, and later, raps. Her first poem was published when she was 13 after emerging the winner of a school competition. Although she took lessons in creative writing as a child in preparation towards becoming either a songwriter or gospel artist, the star rapper later started making YouTube videos and freestyle rapping at 18. She made some rough-spun hip-hop and distributed it online via sites like Tumblr and without planning for it, a fan base began to form.
See Also: M.I.A. (Rapper) Biography, Family Life and Other Interesting Facts
Meanwhile, sequel to her relocation to New York, Angel Haze started listening to secular music and drew inspiration from artists like Eminem, Kanye West, Nicki Minaj, Drake, and Lil Wayne, who she says are uncompromisingly themselves.
From 2009 to 2012, Angel Haze released five mixtapes for free download on the internet. These include New Moon, Altered Ego, King, Voice, and Reservation. Following the outstanding success of her last mixtape, she was nominated for the Sound of 2013 poll as announced by the BBC on December 9. In 2012, the young lady narrated her sexual abuse experience in her cover of Eminem's "Cleaning Out My Closet". She talked about how she was sexually assaulted by two men from the age of seven and never told anyone because she was afraid that nobody would believe her.
In August 2013, she released a lead single, "Echelon (It's My Way)", from her debut album Dirty Gold which dropped in December 2013 and on September 14, 2015, she released the mixtape Back to the Woods and followed it up in March 2017 with "Resurrection".
Living in a world full of a lot of evil which others may decide to close their eyes against, Angel Haze decided to be vocal, centering her raps on themes such as homophobia, rape culture, and racism. She believes that her purpose as an artist is to reach out to people who share some similarities with her and those going through hard times.
Love Life and Sexual Orientation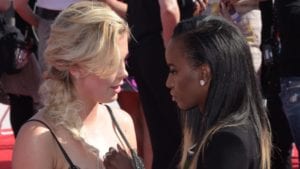 The rap queen who identifies as pansexual and agender uses the pronoun 'they' for herself. According to her, love is boundless so she can love and be with anyone who can make her feel great and laugh irrespective of whether the person is cisgender, transgender or a hermaphrodite. She came close to getting married once when she got engaged to a Marine at the age of 17. Speaking of the relationship, Angel said the young man is the only man she has ever loved. She got into a high profile relationship with model Ireland Baldwin in 2014 but in 2016, they split up.
On March 10, 2018, the New York rapper announced on Instagram that she has changed her rapping name. She wrote "…I WILL NO LONGER GO BY ANGEL HAZE but instead would like to be called ROES".