A beautiful and gentle-looking woman, Anjali Pichai is an Indian businesswoman who is known for being the wife of the chief executive officer of Google, Sundar Pichai. The couple has a wonderful story of how they started dating and maintained their love over the years. They have since begun a family and are blessed with kids.
However, the fact that she is widely recognized as the wife of Sundar does not mean she's a housewife – far from it! As a matter of fact, Pichai has got beauty and brains; she is a certified chemical engineer and is actively working as much as her husband does.
Anjali Pichai Met Sundar in College
The story of how Anjali Pichai and Sundar Pichai first met extends way back to their college days. Anjali who was born on January 11, 1971, grew up in Kota, located in the northern Indian state of Rajasthan. After attending high school in her hometown, she gained admission to study chemical engineering at the Indian Institute of Technology in Kharagpur.
It was while studying at the institute that she met Sundar Pichai. Interestingly, Sundar was also studying engineering and was taking the same classes with Anjali. This was how they first came to know each other. At first, they were just friends and decided to keep things that way for some time. However, it was not too long before they developed feelings for each other.
It is not exactly clear who made the first move to start a relationship. It is also not clear when they started dating but they did fall in love while taking classes together.
Sundar Had Nothing But Anjali Didn't Care
It is noteworthy that Sundar Pichai was not a rich kid while in college. Reports on an Indian website claims he was not financially independent at the time and had nothing, not even a TV. Anjali knew this but she was not all about whether or not he was rich, she just loved him and wanted to be with him.
When they started dating, it was quite difficult for them to set up meetings as often as they wanted because cell phones were not common. So, to meet with Anjali, Sundar would have to walk to the girls' hostel. Whenever he got there, he would speak with the person at the front desk and ask them to help him call Anjali. The person at the front desk would then go in and loudly call out to Anjali in a way that everyone could hear: 'Anjali, Sundar is here'!
This was very embarrassing for them but it was one of the few ways they could meet up and spend some time together. They continued their romance as they studied together and as time went on, their bond got stronger.
They Got Engaged During their Senior Year in College
Anjali and Sundar Pichai's romance blossomed with each passing day until they became inseparable while at the Indian Institute of Technology. They were so in love that Sundar did not wait to finish college before he asked her to marry him.
It was during their senior year of college that it happened. Sundar and Pichai were head over heels in love. So, when he proposed to her, Anjali did not waste time in saying yes. They then decided to tie the knot after completing their studies.
After Anjali and Sundar graduated from college, Sundar decided to further his studies. He proceeded to the United States to acquire a master's degree at Stanford University in California. During this time, Anjali remained in India and they commenced a long-distance relationship.
The period that Sundar was in the USA and Anjali back in India was quite a difficult one for the lovebirds. This was because they could not speak as often as they wanted to. Sometimes, they would not speak for as many as six months mainly because Sundar who was not financially buoyant at the time could not afford to call frequently.
And Then Became Life Partners
Eventually, Anjali followed Sundar to the United States where they were reunited. After studying for his Master's degree and reuniting with Anjali, Sundar decided it was time to get married. According to reports, the engineer reached out to Anjali's parents and asked for their permission to marry their daughter. His request was granted.
Details about the exact date of their wedding remain vague but we know it was soon after Sundar asked Anjali's parents for permission. The couple started living together in the USA following their marriage.
The Couple Live With Their Kids in a $6 Million Home
The marriage between Anjali and Sundar Pichai has been blessed with two children; a boy named Kiran Pichai and a daughter named Kavya Pichai. They also own a dog they call Jeffree.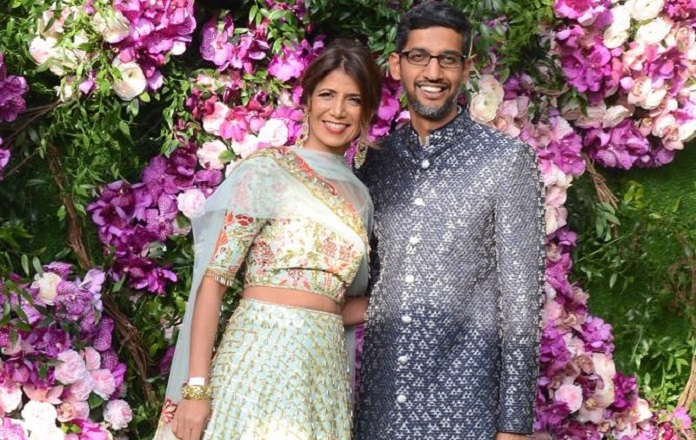 The family now lives in Los Altos, a city in California, which is located in the northern part of Silicon Valley. They live in a massive home which is worth quite a lot. According to Los Altos Crier, the couple bought the property in 2014 for $6 million.
The beautiful home which currently occupies more than three acres of land has an infinity pool, a gym, a garage of more than 800 square feet, and a wine cellar. The building also contains separate apartments for the nannies. Apparently, the Pichais are doing very well for themselves.
Anjali Pichai Is a Business Operations Manager
Even though her man rakes in quite a lot of money as the CEO of Google, she does not just sit back and rely on him. As of this writing, Anjali is gainfully employed as a business operations manager at Intuit.
Intuit is an American business and financial software company. Their operations revolve around developing and selling financial, accounting, and tax preparation software and related services to small businesses, accountants, and individuals. The tech company is headquartered in Mountain View, California.
She Worked as a Business Analyst
Before she started work for Intuit, Anjali Pichai worked at Accenture. She started working with the establishment in 1999 until 2002 when she left the company.
The role she played at Accenture was that of a business analyst.