While Annette Bening did not start her acting career as a child, she was still able to record so much success in her heydays. She made her stage acting debut at the age of 22 before going ahead to land her first role on television six years later when she was well into her 28th birthday. The talented actress had to wait for an additional two years before commencing her movie career. However, it did not take time before she was able to mop up awards and nominations, with her first being an Academy Award nomination when she was 32.
Bening is best known for the roles she played in American Beauty, Bugsy, and The Grifters. Other notable appearances she had are in 20th Century Women, and The Kids Are All Right. While most women often have to sacrifice career for family or vice-versa, Bening has had no such problems as she has built a marital union that has stood the test of time with four thriving kids. However, she had to try twice before she found her perfect match.
Annette Bening's First Marriage Reportedly Crashed As A Result Of Addiction Issues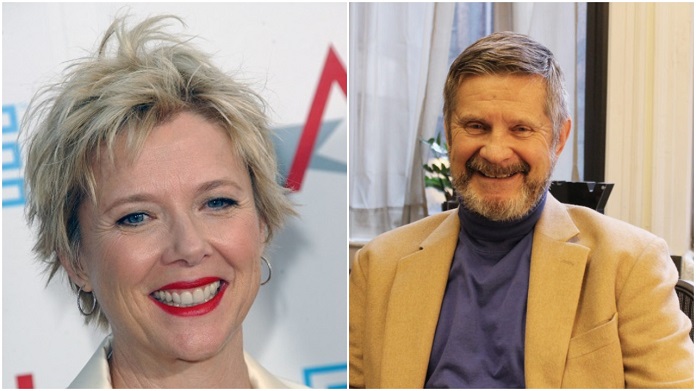 Annette, like many people, has had her fair share of disappointments in the love department and hers came in the form of James Steven White. White is a fight director and consultant whose most notable work dates as far back as the 1970s. His works have graced the stage of major Broadway plays such as The Color Purple, All My Sons, Uncle Vanya, and The Lion in Winter. He now works as a Stage Combat and Competitive Fencing instructor for NYU Tisch's Graduate Acting Program.
Little is known about how Annette and White met but we do know that they got married on the 26th of May in 1984. The union lasted for about seven years and was finally dissolved in 1991. No reason was given for the split but shortly after the divorce, Annette's parents opened up in an interview about the secret drug addiction their son-in-law was struggling with. He was getting help for it at the time of the interview but the damage had already been done as his marriage couldn't be salvaged. The whole issue was probably too much for Annette to bear and so, she decided that it was just time to move on; no need to cry over spilt milk.
The Actress Has Been Married to Hollywood Legend, Warren Beatty, For About 28 Years
Just a year after finalizing her divorce from White, Annette Bening went on to remarry. This time, the marriage was to a famous actor, Warren Beatty, and their union has waxed strong since then. The couple's love story started on a conventional note but has grown to be quite special. Bening and Beatty first met on the set of the 1991 crime-drama, Bugsy. Beatty played the role of Siegel, an American mobster who wants to build a gambling haven in the Las Vegas strip, while Bening was his love interest.
Warren, who at the time was known to be a seducer in Hollywood with a body count of over 12000 conquests, had invited Annette to his place for dinner on one cool evening. According to the actress, he held her close and asked her whether she would like to have a baby with him and she said yes. This marked the beginning of their relationship and they got married that same year.
The couple remains together to date and now has four kids (Kathlyn/Stephen, Benjamin, Isabel, Ella). They have been able to make their union work despite a 21-year-age gap between them. Many have sought to know the secret to their success and they have given different reasons. Annette has praised her husband for being very good with the kids and quite involved in their lives. She attributed this lovely trait to the good upbringing Warren had while growing up.
Warren, on the other hand, has confessed that due to the fact that he had his fair share of "the game", before settling down, he felt fulfilled in every possible way and that's his reason for being so dedicated to the family man lifestyle.
Meet Annette Bening And Warren Beatty's Four Kids
The couple has raised four kids to adulthood and one of them is a transgender son who now goes by the name Stephen.
Kathlyn/Stephen
Kathlyn made her public debut when she was just 10 weeks old at the 1991 Golden Globe Awards where her father, Warren, was named best actor for his outstanding performance in the film "Bugsy". She is a poet and a fiction writer who transitioned to a male individual named Stephen.
Like her other siblings, Kathlyn was enrolled in Burkley for her high school education. The twist in the story came when she started transitioning to male at age 14. She had to withdraw from Burkley because the school was conservative and wasn't really appropriate for her anymore. She, or rather he, was homeschooled for some time before enrolling in Arete Preparatory Academy in Los Angeles. The school was more open-minded and let her enrol as a man and graduate as one. This helped him to thrive and he went on to become a teaching associate at the institute whilst studying creative art at Sarah Lawrence College in Bronxville New York.
Annette Bening has been totally supportive of her daughter's wish to switch gender, saying that she thinks that she has handled such a difficult situation in a very intelligent and brave manner. On the other hand, her father, Warren, has been less enthusiastic but he has no choice but to come to terms with the decision.
Ben
Annette Bening's second child is Benjamin Maclean Beatty. He was born on August 23, 1994. Despite having a rather slow start in the movie industry, Ben still insists on following in his parent's footsteps. He is most popular for the 2018 sci-fi film, UFO, where he played the role of Lee. Judging from his posts on his different social media accounts, Ben is a huge fan of basketball and maintains close relations with his family members, including his famous dad, Warren.
Isabel
Isabel was born in the year 1997. She is a bright light in Hollywood and possibly has more chances of succeeding in the movie industry than her brother. The young lady, who is also a writer played the roles of Jess and Daisy in Murder Tag (2018) and Baggage (2019) respectively. She also made headlines in 2014 when she was formally presented at the Debutantes Ball in Paris. Her father wasn't there but mom, Annette, was there for the big occasion.
Ella
The baby of the house, Ella Beatty has taken a different part to life. In addition to being an internet sensation and a part-time model, she has taken an interest in the arts of fine taste, so much that she has gone all the way to Ireland to study food science at UCC.