Ayesha Curry is a Canadian-American actress and television personality, her passion for cooking motivated her to start her own celebrity cook show on Food Network, as well as to published a cookbook titled The Seasoned Life.
As her last name might seem familiar, she is the wife of famous professional basketballer, Stephen Curry. Ayesha Curry is also a mother of three – two daughters and a son; she describes herself as a believer living an indestructible bubble of happiness.
Ayesha Curry Bio (Age and Ethnicity)
Ayesha Disa Alexander was born on March 23, 1989, in Toronto, Ontario, Canada. She's of mixed ethnicity as her roots have been traced to the African, Polish, American, Chinese, and Jamaican heritage. She grew up in Toronto with her four siblings; two brothers and two sisters Maria, Janice, Jaz and Chad until the family moved to Charlotte, North Carolina. She was 14 years old at the time.
After high school, Ayesha Alexander, as was her maiden name, moved to Los Angeles to pursue acting. Before that, she got accepted into the prestigious Arts York drama program at Unionville High School and later on, landed her first roles in 2007 at the age of 18.
Ayesha Curry pursued a career in acting at a very young age and while she only played few random roles in movies, they were described as an amazing start. Some of her film and television appearances include Gary Unmarried, Love for Sale, Hannah Montana, and Ballers (2015). Most of the parts she played seemed to be selected as none was too compromising. She also took up guest roles in several television shows until family life came calling and she got married to her teenage heartthrob, Stephen Curry.
Meanwhile, family life didn't dent her childhood passion for food, it came alive as she builds her family. With her husband's encouragement and support, nothing was holding her back from pursuing a career in cooking. For starters, Curry opened a blog and a YouTube channel where she presents her cooking, offering lifestyle tips.
Subsequently, she started the Ayesha HomeKitchen, first of which ran for six episodes; the second season of six episodes premiered on Food Network on April 30, 2017. The television show exhibits her professional and personal life with brief scenes from her husband and kids.
Not only that, she began to participate as one of the hosts of The Great American Baking Show, an American cooking competition television series that was first aired on ABC. Ayesha Curry owns a company named Little Lights of Mine, the company sells its own brand of extra virgin olive oil. In light of her generosity and compassion, 10% of all proceeds from the company's sells are donated to the No Kid Hungry charity.
To cap her success as a media personality, Curry was named as a spokesperson for CoverGirl, a cosmetic brand that is known to recruit mostly actresses and singers. However, working with the brand literally made Curry the first spokesperson who is neither a singer or steady actress. She recently (in 2016) released her first cookbook – The Seasoned Life – in collaboration with celebrity chef Michael Mina.
More so, the pair [Curry and Mina] established a restaurant, International Smoke, in San Francisco which has proved successful enough to aim for other branches in Florida and Southern California.
Curry is expected to join the next season of Dancing With The Stars as she disclosed she has been approached by the officials of the show. She and her husband Stephen Curry welcomed their first son, Canon W. Jack Curry on February 7, 2018. The couple took to their Instagram pages to make the announcement and express their happiness at having their son earlier than expected.
On how the couple met each other, suffice it to say their marriage was predestined. But if you think that is an exaggeration just know that Ayesha met Stephen when they were teenagers in Charlotte, precisely in a church youth group and the rest became history.
Cannon is their third child. Before him, they had two daughters, Riley and Ryan respectively born in 2012 and 2015.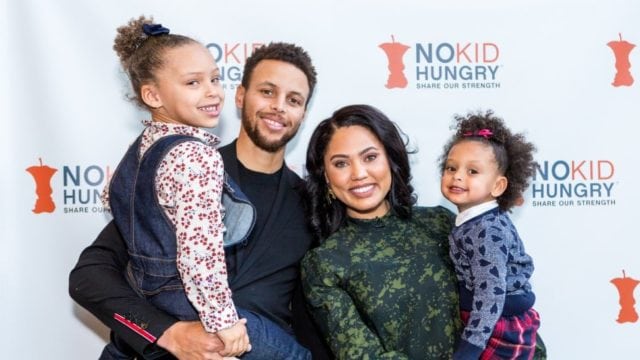 See Also: Is Margot Robbie Married, Who Is Her Husband Or Boyfriend, Mom?
Her Parents
Ayesha Curry's father John Alexander is of mixed Polish and African-American heritage. On the other hand, her mother Carol Alexander is of Afro-Jamaican and Chinese-Jamaican descent. She once described her parents as super awesome, young and fabulous.
Height – How Tall Is She?
Ayesha Curry is 1.73 m tall. Approximately, she stands 7 inches taller than 5 feet.