When your husband is one of the greatest basketballers that the NBA has ever seen, then it bestows on you the status of a celebrity wife – and may not even demand that you do anything extra to maintain that status. However, Ayesha Curry, the wife of multiple NBA champion, Steph Curry, is not one to sit down and bask in the glory of her husband's achievements. She has ventured into several pursuits of her own, including a celebrity cook show on Food Network, as well as a cookbook titled The Seasoned Life, and has recorded decent success there. She also has many more irons in the fire and the future is looking bright for her.
On the home front, Ayesha is mom to three beautiful kids as well as wife to a husband that adores her. The culinary personality also boasts of loving brothers and sisters as well as supportive parents and in-laws. All this has made her describe herself as a believer living in an indestructible bubble of happiness and one cannot help but agree with that summation.
Ayesha Curry's Early Attempts to Make it in Hollywood
Ayesha Disa Alexander was born on March 23, 1989, in Toronto, Ontario, Canada. She spent the first 14 years of her life in Toronto before her family relocated to Charlotte, North Carolina. In the United States, Ayesha Alexander, as was her maiden name, completed her high school education and moved to Los Angeles to pursue her dreams of becoming an actress.
She started her acting career at the age of 18 and scored a few random roles in movies. Some of her film and television appearances include Gary Unmarried, Love for Sale, Hannah Montana, and Ballers. The young lady was quite selective with the roles she played, most probably due to her Christian faith, and this limited her filmography. She, however, remained undaunted and gave her best in the few jobs she landed. Ayesha continued this pattern until she had to shelve her acting career for marriage.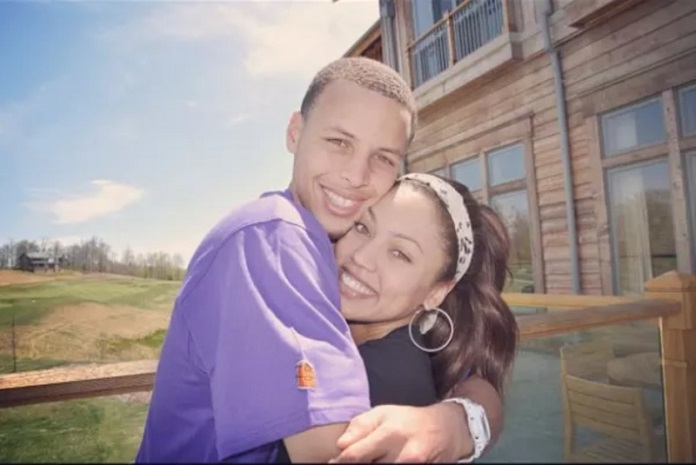 Meeting and Marrying Steph Curry
Ayesha and her famous husband, Steph Curry, have a love story that is worthy of a movie plot and we are sure that filmmakers have taken note of this. Ayesha and Steph first met each other while they were both members of a church youth group back in Charlotte, North Carolina. Ayesha, aged 14 and Steph, aged 15, started out as mere acquaintances.
They remained at that level until a few years later when Ayesha was living in Los Angeles and pursuing her acting career. Curry came into the city to attend the ESPYS sports award show and looked her up on Facebook. They reconnected and spent a whole day hanging out together. They subsequently started dating and later got engaged. The couple then tied the knot on the 30th of July 2011 in the same church where they met for the first time.
Ayesha Curry and her man have remained together since then and have become one of the most adored celebrity couples in America. They support each other's careers and have got each other's back when controversy arrives. For instance, in May 2019, Ayesha did an interview in which she admitted to feeling insecure because she doesn't command male attention anymore. Many people on the internet bashed her for her thoughts but her husband "praised her for being authentic and putting herself out there".
A Proud Mama of Three
Since tying the knot, Ayesha Curry and her husband have gone on to welcome three kids. Their first child, daughter – Riley, was born in July 2012 while her younger sister, Ryan Carson, followed in July 2015. The couple subsequently welcomed son, Canon W. Jack Curry, in July 2019. Canon arrived a bit premature and his mom took to her Instagram page to share how happy she was that everything was alright. She also revealed that the pregnancy was quite tough and that she was glad that it had come to a good resolution.
Canon is now growing in leaps and bounds and has two protective elder sisters to lavish love on him. His doting parents are also not left out and devote quality time to him. Despite Steph Curry's packed seasonal schedule, the basketball player and his wife ensure that they have as much family time together as possible. Ayesha and the kids attend almost all of her husband's home games while having quality "facetime" when he is on the road. This has contributed in no small measure to a loving family bond.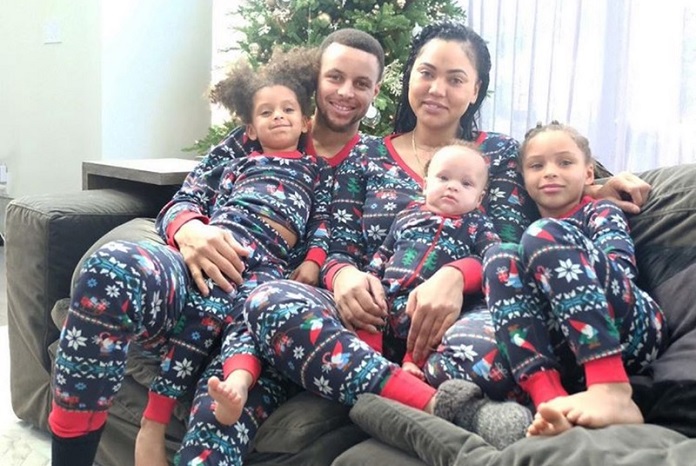 Making Her Mark as a Restaurateur and Culinary Personality
Ayesha Curry is not satisfied with just being known as Steph Curry's wife. The Canadian native is determined to make her mark and one of the ways she is doing so is through food. Mrs. Curry first fell in love with food as a result of her immediate family and has cultivated that love ever since. She then had a desire to share her knowledge with the world and so, opened a blog and a YouTube channel where she presents her cooking and lifestyle tips. She subsequently debuted her cooking and lifestyle show, Ayesha Home Kitchen, on the Food Network in April 2017.
Since then, Curry has gone on to deepen her imprints in the food industry. She has served as one of the hosts of The Great American Baking Show, an American cooking competition television series that was first aired on ABC. She also owns a company (Little Lights of Mine) that produces extra virgin olive oil and in 2016, released her first cookbook – The Seasoned Life – in collaboration with celebrity chef, Michael Mina. More so, the pair – Curry and Mina – established a restaurant, International Smoke, in San Francisco which has proved successful enough to give rise to other branches in Florida and Southern California.
Another area that is also feeling the Ayesha Curry impact is the wine industry. In May 2018, the Canadian native joined hands with her sister in law, Sydel, to set up a wine label known as Domaine Curry. The label is a partnership with a famed winemaker, John Schwartz, and its first release is the 2015 Femme 31 Cabernet Sauvignon. The wine is $89 apiece and Curry has stated that she is quite proud of the venture as it represents all the women in her family including moms, grandmas, aunties, and sisters. The wine is also looking to the future generations to whom it will be passed on to.
See Also:  Kishele Shipley, Kawhi Leonard's Partner – 6 Things You Need To Know
Ayesha Curry Grew Up As A Middle Sibling
Ayesha Curry is a potpourri of ethnicities and this can be traced to her parents. Her father, John Alexander, is of mixed Polish and African-American heritage while her mother, Carol Alexander, is of Afro-Jamaican and Chinese-Jamaican descent. Asides her parents, the culinary personality also has four siblings namely brothers, Chad and Jaz as well as sisters, Maria Avana and Janiece Renee.
The celebrity chef is quite close to her family and regularly gushes about them on Instagram. She once described her parents as super awesome, young, and fabulous. She also celebrated her siblings on the occasion of national sibling day in April 2020. She also alluded to the fact that she was the middle sibling in the house.