A whole lot of guys have gotten into the American music industry over the decades, some rose to stardom earlier than they imagined while others patiently and painstakingly walked their way to the top; Big Sean is a product of patience and hard work, the Black American rapper transformed from a young Detroit freestyler to an internationally decorated musician. His albums have been nominated and have won several awards so far. He is a songwriter, singer, rapper and record producer.
Big Sean's Bio (Age and Background)

Born and named Sean Michael Leonard Anderson on March 25, 1988, in Santa Monica, California, United States, the skinny rapper later adopted Big Sean as his stage name. He was born to African-American parents; James Anderson and Myra Anderson. The musician once disclosed in an interview that he had his ancestry from Nigeria. At a very tender age when Sean was barely a year old, he moved to Detroit where he was raised by his mother who was a school teacher and his grandmother. His grandmother was a captain in the U.S Army and a veteran of World War II. Little wonder she inculcated the spirit of discipline and hard work into the life of Big Sean.
Sean went to Detroit Waldorf School and would later graduate from Cass Technical High School with an impressive 3.7 G.P.A. While in school, he didn't leave his studies for music or vice versa. The lad did a lot of freestyle rapping that earned him admiration from his mates. He participated in rap battle contests organized by Detroit hip-hop station WHTD.
Having been following the activities of the top shots in the music industry, in 2005, Sean heard the voice of Kanye West as he was being interviewed in a radio station. He quickly made his way to the station to meet with the superstar and freestyled for him. West gave him 16 bars to rap for him to which he was impressed with and subsequently collected a demo tape from Big Sean before leaving. The good news Sean eagerly waited for came 2 years later as Kanye West called him up and signed him to his record label 'GOOD Music'.
His Music Career
After his contract with GOOD Music ended, Big Sean made his full entry into the music world with the release of his first official mixtape on September 30, 2007, which he titled 'Finally Famous.' Following the success of his first mixtape, he released his second mixtape titled 'UnknownBigSean' in April 2009.
The second mixtape was followed by the release of his third mixtape on August 31, 2010, which was titled 'Finally Famous Vol. 3: BIG' in which some notable superstars like Drake and Tyga featured in. The rapper dropped his first studio album on June 28, 2011. Big Sean would later reveal that it was somewhat challenging but fulfilling working in the studio with Kanye West in his 1st Album titled 'Finally Famous'. A lot of notable Artists featured in the Album, the likes of John Legend, Kanye West, Wiz Khalifa, Rick Ross, and Nicki Minaj.
In September 2011, Big Sean made known his intention to release his 2nd Studio album in 2012, he eventually released his the album titled 'Hall of Fame' on August 27, 2013.  The album had the likes of Lil Wayne and Nas featured in it.
Very spirited and motivated, the musician released his third studio album in 2015. The album titled 'Dark Sky Paradise' debuted atop the Billboard 200 making it Sean's first No. 1 Album. On March 25, 2016, he released a special single titled 'I Got My Shit Together' to mark his 28 Birthday. Sean Co-released another album titled 'Twenty88' with Jhene Aiko, who would later become his girlfriend. He released his 4th Studio album on February 3, 2017.
The album became his 2nd number one album on the Billboard 200 chart and was certified gold on April 18, 2017.
His hard work in the music industry has been recognized several times. Big Sean has been nominated 37 times for awards like the Billboard, Grammy, BET, Hip Hop, MTV Video Music Awards. From these nominations, the musician has won BET Hip Hop Awards in the category of Impact Track for his work 'One Man Can Change The World' with Kanye West & John Legend, BET Awards 2012 as Best Male Hip-Hop Artist, MTV Video Music Award in 2017 in the category of Best Fight Against the System for his work 'Light' and many others.
Net Worth

The Black American rapper has recorded a tremendous increase in his wealth following his successful albums and tours. The rapper is currently worth $26 million. He has a shoe endorsement deal that brings in extra income. Certainly, his net worth will keep increasing in the nearest future as he keeps churning out more hit singles and album.
Who is Big Sean's Girl Friend?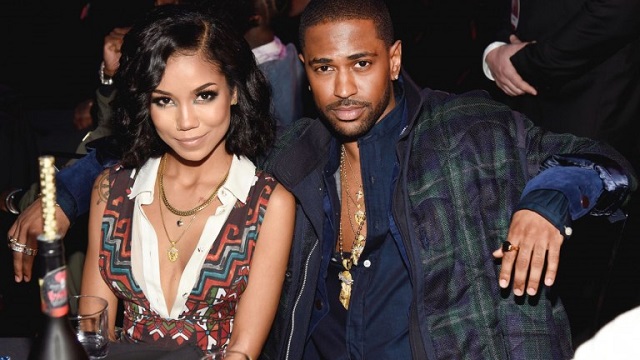 Big Sean like some other superstars has had his fair share of dating beautiful ladies. Sean is currently in love with a superstar, singer and songwriter you know as Jhene Aiko. Big Sean confirmed his relationship with Aiko on Instagram.
Aiko was born on March 16, 1988, just as her lover, Sean. She was born in Los Angeles, California, to parents; Christian Yamamoto and Karamo Colombo. Aiko has a sister named 'Mil J' an R&B singer. She has mixed ancestry, Dominican, Spanish, Native American, African-American, German and Jewish.
Prior to her relationship with Sean Aiko dated R&B singer O'Ryan whom she had a baby girl with named Namiko Love Browner at age 20. Aiko later married Oladipo Omishore, but they got divorced in October 2017 and she then moved on with Big Sean whom she was allegedly dating before her divorce.
Sean past love interests are; Ashley Marie, his high school sweetheart, their relationship ended in 2013. Glee actress Naya Rivera who he met on Twitter in 2013, they got engaged in the same year but Riveria called off the engagement in 2014 after she accused Big Sean of seeing her friend and fellow Glee star Lea Michele. Sean would later hook up with the popular pop singer Arian Grande, they both made an appearance on the red carpet of 2015 Grammy Award, sadly their relationship lasted for 8 months before they called it quits in 2015.
Height and Other Interesting Facts
1. He stands at 5 feet 8 inches and weighs 69 kg.
2. The musician was born in Santa Monica but he spent most of his growing up days in Detroit.
3.  He is a philanthropist, he once donated $10,000 dollars for the Flint water crisis in 2016. In addition, he owns a foundation known as Sean Anderson Foundation through which he helps Children in Detroit.
4. When he graduated from High school, Big Sean's teacher said he was throwing his life away with music, the same teacher later invited him to speak at the school after he became famous.
5. He was arrested for third-degree sexual assault at a concert in Lewiston, New York on August 4, 2011, following his arrest, he paid $750 after he pleaded guilty to the charge.
6.  The music star purchased a 7 bedroom and 8 bathroom home sitting on 11,000 square meters piece of land for $8.7million in November 2017.