Fewer people have had the kind of wide-ranging and far-reaching impact that Bill Gates has had on humanity. As the head and co-founder of the tech giant, Microsoft, Gates has spearheaded the information age with his operating system software, personal computers, and a host of other innovative products such as the Xbox series of video game consoles.
All these have resulted in momentous wealth for the Seattle native and he has used the same to touch humanity in unprecedented ways. His Bill and Melinda Gates Foundation is the biggest non-profit in the world and has touched lives in the areas of education and battling malnutrition. They have also made a tremendous impact on battling diseases such as malaria, Ebola, and tuberculosis.
All these feats and more have fetched the Microsoft founder several accolades, including a Knighthood from the queen, but he will be the first to let you know that his achievements are not as a result of a solo effort. They are rather due to the support of his loved ones, including a wife who has become an indefatigable partner in his charity work as well as parents whose nurturing helped him become what he is today.
Bill Gates Father was a Renowned Lawyer While His Mother was the First Woman to be Appointed Director of First Interstate Bank
The success that Bill Gates has achieved in life did not come about by chance or accident. It is as a result of his brilliance, hard work, and family influence. The Microsoft co-founder is the scion of two distinguished professionals; William H. Gates Sr. and Mary Maxwell Gates.
Bill's father was a native of Bremerton, Washington, and was born in the year 1925. He spent a year serving in Japan after WWII. He later returned to the States and completed a law degree. The senior Gates delved into private law practice in the 50s and went on to establish one of the largest law firms in the world known as K & L Gates. He was a pioneer as well and had the foresight of getting involved with early tech businesses such as Physio-Control Co (a company that deals in defibrillator), Intermec Corp (barcode technology), and SeaMed (a medical instrument company).
Gates Sr. also made a positive impact on society. He served as a trustee of associations such as Planned Parenthood and the Greater Seattle Chamber Of Commerce. He also served as the president of the American Bar Association and helped to promote legal services for the poor and scholarships for minorities. All these made him a towering figure in Seattle and he retained that position until he retired from law in 1998. He then went to work at his son's non-profit foundation and helped them do much work in the area of global health.
William Gates passed away at the age of 94 in September 2020 in his Washington home. His death was as a result of Alzheimer's disease. His son paid a touching tribute to him in which he described him as a wise, generous, empathetic, and humble person. The Microsoft founder also stated that his father is everything he tries to be and as such, is the real Bill Gates.
Bill Gates' mom is also late. Mary Maxwell Gates was also a native of Washington and was born on the 5th of July 1929. Unlike her husband who hailed from relatively humble beginnings, Mary was the daughter of a bank president and went on to obtain a degree from the University of Washington. She subsequently delved into the corporate world and achieved much success.
Mary Gates was the very first woman to be appointed director of First Interstate Bank. She was also the first woman to lead United Way America, a non-profit group comprising of more than 1000 autonomous local organizations. Mary also served as the regent of the University of Washington during which she took steps towards fighting apartheid in South Africa.
Much like her husband, Mary Gates was indeed a tower of strength in her community and was scheduled to receive the Municipal League of King County's citizen of the year award when she died of cancer in June 1994.
The Role His Parents Played in Getting Microsoft Off the Ground
There is no gainsaying the fact Gates' parents played a pivotal part in his success story. They encouraged him to try things that he thought he wouldn't be good at, such as swimming or soccer. This was done in the hopes that the young boy would learn that failure is perfectly normal and acceptable. Another thing that the couple did was that they gave their son the freedom to leave home for significant periods of time and undertake several jobs, such as a programmer at a power plant in Washington. This independence ultimately contributed to his success. Bill Gates' parents also have a hand in his philanthropic bent. They made it a point to get involved in charity work and also thought him about the importance of giving.
Beyond these invaluable life lessons, Bill Gates' parents also contributed to the actual growth of Microsoft. It was his father's connection with Intermec that enabled him to get them to build the tape reader that he used for his first system, Traf-O-Data. It was also his mother that helped him score his first contract to supply IBM with an operating system; a deal that helped to make Microsoft the largest software company in the world for PCs.
Bill's Elder Sister Kristi is an Accountant while Younger Sister Libby is on the Board of Regents at The University of Washington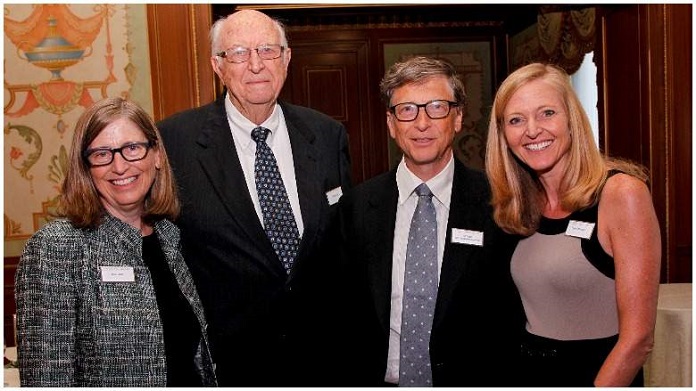 Bill Gates has just two siblings; sisters Kristi and Libby. His older sister, Kristi Blake, is a certified public accountant who earned a business degree from the University of Washington in 1975. She subsequently delved into practice, specializing in personal financial planning and tax planning, and went on to work for Deloitte for about 13 years. During this period, Kristi was transferred to places such as San Diego and Dallas. At the latter, she found the climate and attitude inhospitable to women and so started reviewing her options. She quit her lucrative job and decided to open up shop for herself.
Kristi is now based out of Spokane, Washington, and is doing quite well. She has been appointed to the Securities Advisory Committee of the Washington Department of Financial Institutions. She also served as a member of the American Institute of Certified Public Accounting's Committee for Financial Planning. The accountant has also served as a director of companies such as Laird Norton Tyee, Advantage IQ, and Avista Corporation.
Kristi also has a track record of serving the public just like her parents. She was previously on the board of regents for her alma mater. She has also held important positions in organizations such as the YMCA, Board of the Community Colleges of the Spokane Foundation, and United Way of Spokane. Kristi may not be as rich or as famous as her little brother but there is no denying the fact that she has made an impact in her chosen field of endeavor. She is married to a college sports coach named John and they have at least two children. They make their home in Spokane.
Gates' other sibling that is also doing well for herself is his younger sister, Libby G. MacPhee. She obtained a degree in economics from Pomona University in 1986. She also holds a master's degree in social work from the University of Washington. Libby has served on the governing board of several educational institutions including Pomona College (for about 18 years). She also served as a trustee of Santa Clara University as well as a board member of Lakeside School (for about 16 years).
Libby is now affiliated with the University of Washington and has served on several boards of the institution, including the Medical Affairs Development Council. She is now on their board of regents having been appointed by the Governor in 2019 for a five-year term. Away from education, Libby is also passionate about helping others and has worked with the Make-A-Wish Foundation and Seattle Children's Hospital. She also co-founded Seattle Family Support. This is a collaborative counseling practice that provides strength-based mental health services for adolescents, adults, and families in the Seattle area. Libby is married and has three children.
As can be deduced from the above, all of Bill Gates' siblings reside in the Washington area which makes it easy for them to keep in touch with each other. They thus remain very close to each other and Bill referenced his sisters whilst paying tribute to their dad in 2020. His sisters also participated in the making of his 2019 Netflix documentary titled Inside Bill's Brain: Decoding Bill Gates.
Bill Gates and His Wife Melinda Were Named Time Magazine Person of the Year 2008 in Recognition of Their Philanthropy
There is no gainsaying the fact that the strides Bill Gates has achieved in philanthropy are because he has a life partner who shares his zeal for humanity. That life partner is none other than his wife of over 25 years, Melinda.
Nee French, Melinda was born in 1964 and grew up in Dallas, Texas. Her father Ray was an engineer and so he naturally got her tech products, such as computers, as gifts. This helped the brilliant Melinda to get hooked on computer games and basic programming and she subsequently went on to study computer science and economics at Duke. She received her degree in 1986 and initially interned at IBM. She then landed a permanent position with Microsoft and joined them having been advised that it was a company that would offer her opportunity for terrific advancement. This advice proved to be true and with six years, Melinda had gone from software marketing novice to general manager of information products such as Publisher, Expedia, Microsoft Bob, and Microsoft Encarta. She would later step back from the company as a result of family demands.
Speaking of family, Melinda first met Bill in 1987 at an industry dinner in New York. They later bumped into each other in the Microsoft car park and he asked her out. They soon began dating and she found his forthrightness and independence attractive. She also liked the fact that he was nerdy and they could indulge in geeky things such as math games. All in all, the couple had a mutual attraction for each other but it took a long time before they got engaged in 1993. This was largely due to Gates' demanding work schedule. He used to work 16 hours a day and wondered whether he would have time for his family. He later reasoned that Melinda was too good for him to let her go and decided to go ahead and propose after all.
The couple tied the knot in 1994 and have been together to date. Even though their union has stood the test of time, they have nevertheless encountered some troubles, including Gates' inability to properly balance work and life. This meant that Melinda was often left with taking care of the three kids but she was patient with her husband and things eventually got better. The couple is now one of the most admired in the world and has made great strides in charity. Bill and Melinda set up their first non-profit, William H. Gates Foundation, in 1994, and initially channeled it towards education in the United States.
It has now morphed into the Bill and Melinda Gates Foundation, the most endowed non-profit in the world, and has made great strides in fighting diseases such as malaria, polio, and tuberculosis. They have also worked towards developing highly-nutritional variants of foods so that it can be deployed in poverty-ravaged areas. All these and more fetched the couple the Time Magazine Person of the Year Award in 2005 (shared with Bono). They also received the Presidential Medal of Freedom from President Obama in 2016.
Bill and Melinda Gates' Eldest Child is an Accomplished Equestrian as well as an Aspiring Medical Doctor
Bill and Melinda Gates have three children. The eldest of the trio is Jennifer Katherine Gates who was born on the 26th of April 1996. She studied human biology at Stanford University and has since gone ahead to study medicine at the Icahn School of Medicine at Mount Sinai New York City. Beyond her studies, Jennifer has a passion for horse riding. She began riding at the age of six and is already an accomplished equestrian. She won first place at the November 2017 National Championship in Lexington, Kentucky. She also took first place at the September 2017 U.S. Open Under-25 Grand Prix in New York City and in 2018, received the Lionel-Geurrand-Hermes trophy from the U.S. equestrian team.
Jennifer is well aware of the privilege she enjoys as the daughter of the second wealthiest man in the world and this has motivated her to also try to make the world a better place. This is why she has chosen to study medicine so that she can render help to people who need it. Meanwhile, the equestrian is happily engaged to her boyfriend of four years, Nayel Nassar, an Egyptian-American who holds a degree in economics from Stanford. He is also a professional showjumper and helped Egypt to qualify for the 2020 Olympics in Tokyo. It was their mutual love for horses that brought Jennifer and Nassar together while they were both at Stanford. They are now set to get married having gotten engaged in February 2020.
Their Two Younger Children Are Still On a Mission To Discover Their Purpose in Life
Bill Gates's only son is Rory John Gates. He was born on the 23rd of March 1999 and attended Lakeside Primary School in Seattle. He obtained a degree in computer science and economics from Duke, much like his mother.
Rory is a big fan of poetry and has a collection of poems titled Physics Of Light, to his name. He has been described as a feminist by his mother who is quite optimistic about the future that his generation will build.
The youngest child in the Gates household is Phoebe Adele who was born on the 14th of September 2002. Phoebe is still of school age and is yet to make her own mark. One thing that is for sure though is that she has her whole family rooting for her.
Phoebe is quite close to her eldest sister who always pours out encomiums on her during her birthdays. She is also close to her parents even though they are a bit strict about TV time and phone time. She takes this in stride though and helps her father to figure out the nitty-gritty of social media.