Booboo Stewart is an American actor whose acting career kicked off in 2004 with the movie, Yard Sale. He once explained the origin of Boobo which has taken over his real name saying that it was his childhood nickname.
The actor is popular for his role as a shapeshifter named Seth Clearwater in the film, The Twilight Saga and also for playing Warpath in X-Men: Days of Future Past. Most recently, he acted as Jay (the son of Jafar) in the 2015 Disney TV films – Descendants and Descendants 2.
Booboo Stewart's Age and Ethnicity
The actor was born as Nils Allen Stewart Jr. on January 21, 1994, in  Beverly Hills, California. He has multiple ancestral roots, including Japanese, Chinese, and Korean on his mother's side while on his father's side, he has Scottish, Russian and Native American heritage. Contrary to speculations, Booboo is in no way related to his Twilight Saga co-star, Kristen Stewart. However, both of their parents are involved in the entertainment industry and as a result of his parent's influence, Stewart became interested in acting, joining the industry at a very early age. His mother later gave up her business to become his personal trainer.
Like his father, the actor is also a martial artist and has won two World Championships. In recognition of his contribution to the society, he was honored by being inducted into the Jr Blackbelt Hall of Fame.
Booboo Stewart started out in the showbiz industry as a model when he was just 10 and due to his martial arts experience, he landed film roles, appearing as child warrior in the 2004 movie, Skeleton Man. He also put his stunts to good use in Zoom (2006) and Beowulf (2007). He starred in various independent television films and served as a host in 6 episodes of the children's show, Blue Dolphin Kids, in Hawaii and also features on several TV series.
In addition to being an actor, Booboo is also a singer. He was a member of band groups named Echoes of Angels and a Disney hip-hop/pop group known as T-Squad. The talented young man also performed with his sisters, Fivel and Maegan as part of the group, "TSC" (The Stewart Clan). When he was 12 years old, he got a recording contract with Walt Disney and recorded the song "Let's Go!", which was used as the opening theme song for the Disney Channel Games 2008. He also went on tours with Hannah Montana/Miley Cyrus and the Jonas Brothers.
Booboo got his major breakthrough in 2010 with his role as Seth Clearwater in the third installment of The Twilight Saga film series, The Twilight Saga: Eclipse.
His Parents and Family Members
Nils was born to Renee Stewart (mother) and Nils Allen Stewart Sr. (father). His father, born on July 19, 1961, is a stunt performer who featured in more than 100 films some of which are Galaxy Quest (1999), Anger Management (2003) and Code of Honor (2016). As an actor, Booboo's dad made appearances in the 2000 movie Space Cowboys, The Mask (1994) and Hope Bridge (2015) among others. Apart from that, he was also a professional wrestler in the Independent Wrestling Federation using the name, The Stomper.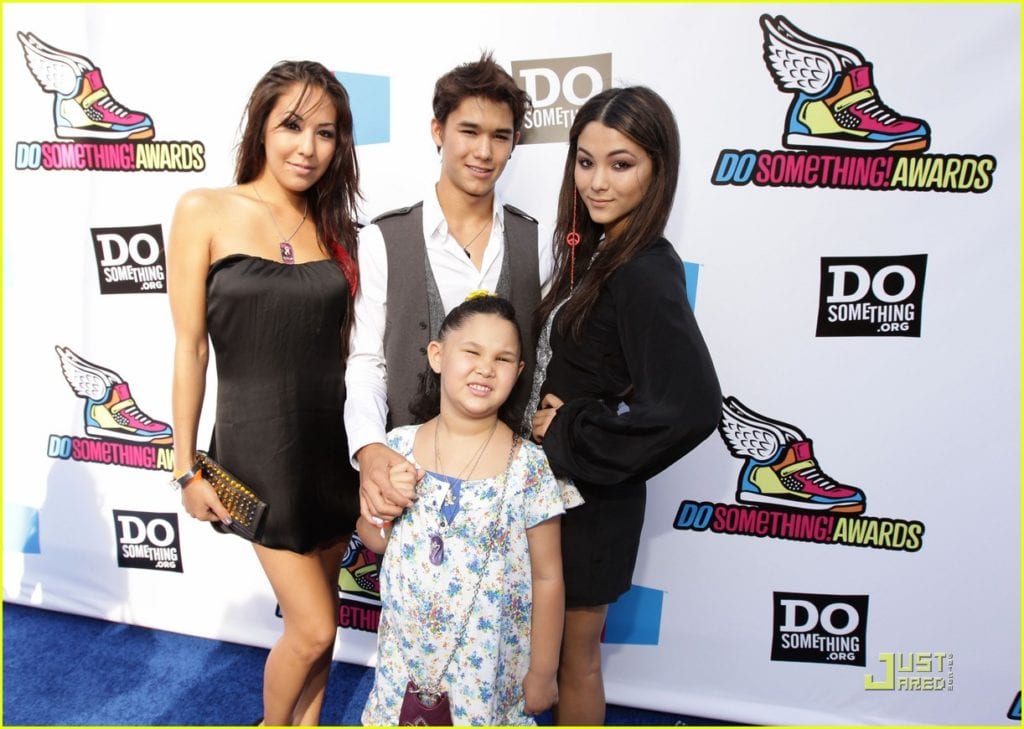 The actor's mother is an actress. She acts on a part-time basis and has featured in movies like Warrior of Justice (1995), Hot Wax Zombies on Wheels (1999), and Skeleton Man (2004).
Booboo is the only son among four children and just like him, his three sisters – Maegan, Fivel, and Sage – are also very active in the entertainment industry. Maegan Stewart is known for her roles in 666: The Child (2006), Wristcutters: A Love Story (2006), Koreatown (2007), The Devil's Tomb (2009), and Dark Games (2011) while Fivel, born on November 4, 1996, has also featured in a number of films, including Pit Fighter (2005), Hansel & Gretel: Warriors of Witchcraft (2013), Freeze (2013), Like a Country Song (2014), and The Last Survivors (2014). Sage, the last child of the family born on November 14, 2005, has also towed the path of her parents and siblings, acting in the 2015 movie Tales of Halloween and Hope Bridge.
Who's His Girlfriend or Is He Gay?  
Booboo is reportedly in a relationship with Megan Trainer. News of them being an item broke out when Trainer started flooding her Instagram account with pictures of her and Booboo.
The speculations were backed up by the young lady when through her IG account, she announced that there would be a joint Instagram account named peaks.and.pines, where she would be documenting her adventures with Booboo. The rumor further gained traction when the duo attended the premiere of the 2017 film, Beauty and the Beast as a couple with Trainer sharing their pictures from the event online.
Even though Booboo has been rumored to be gay, his strong bond with his girlfriend tends to disprove the speculation.
Booboo's Height and Body Measurement
Height: 5 feet 8 inches
Chest – 41 inches
Biceps – 14 inches
Waist – 30 inches