Brent Grimes is an American footballer who began his professional football career in 2006 as an undrafted free agent. Before then, he played college football for the Raiders football team of the Shippensburg University but drew zero interest in the 2006 NFL Draft. However, the Atlanta Falcons saw something they liked in him and signed him to a three-year contract as an undrafted free agent.
Having played in the National Football League (NFL) for more than a decade, Brent has established himself as one of the best and most popular cornerbacks in the league. His popularity is, nevertheless, not just because of his skills but largely due to his always vocal and controversial wife, Miko Grimes. Keep reading to find out more about Brent Grimes' NFL career, his wife, net worth and much more.
Brent Grimes Bio
The player whose full name is Brent Omar Grimes was born on  July 19, 1983, in Philadelphia, Pennsylvania, where he attended Northeast high school. Even though the player believes that he could have played in one of the bigger schools, he was not fortunate to receive a scholarship offer from any of the D-1 schools.
Consequently, he moved on to Shippensburg University, a Division II school, and made the best of it, setting a school record with 27 interceptions. This convinced Brent Grimes the more that he had what it takes to play at the highest level.
However, coming out of college and measuring five feet, nine and a half inches placed Brent at a disadvantageous position among NFL teams. According to the player, he could make plays, but they didn't really believe in him because he was from a small school and also because they felt he was too small to play professionally.
Although raw, small school products are not highly coveted by NFL teams, the Atlanta Falcons saw something they wanted in him and signed Brent up as an undrafted free agent in 2006. He was later waived after sustaining a groin injury during training camp, but the star cornerback found a way to hold on to a practice squad spot for almost two whole seasons. He finally got a call-up in December 2007 and made his professional regular season debut on December 23, 2007. Brent finished his rookie season with 12 combined tackles (11 solos) in two games and zero starts.
In 2008, Brent Grimes was named the starting cornerback to begin the year's regular season, alongside Chris Houston. He made his first career start in the season-opener against the Washington Redskins and was sidelined in Weeks 13–15 after he sustained an injury on his knee. At the end of the 2008 season, he recorded 34 combined tackles (30 solos), 6 passes defensed, and an interception in 12 games and 6 starts.
Grimes played for the Falcons until 2012 and after then, he became an unrestricted free agent. During this time, he attended visits with the Cleveland Browns and Miami Dolphins and was eventually signed to a one-year contract by the Dolphins on March 30, 2013.
During his first season with the Dolphins, Brent Grimes was voted to his third Pro Bowl and he also ranked as the second-best cornerback by Pro Football Focus. He was also listed in the 95th position among the NFL Top 100 Players of 2014. He made a total of 60 combined tackles (52 solos), 17 passes defensed, 4 interceptions, and a touchdown in 16 games and 16 starts at the end of the 2013 season. Following his excellent performance, the team re-signed him to a four-year contract. After three productive seasons with the Dolphins, Brent was cut off in 2016 for refusing to restructure his contract.
In March 2016, he signed a two-year deal with the Tampa Bay Buccaneers and on March 12, 2018, the team re-signed the cornerback to a fully guaranteed one-year contract of $7 million.
His Salary and Net Worth
Since 2006 when the Atlanta Falcons signed Brent Grimes to a three-year $1.08 million contract, he has been living large. He remained with the team and signed a one year $2.61 million and $10.60 million contracts in 2011 and 2012.
The following year, he joined the Miami Dolphins, signing a one-year $5.50 million agreement, including $2.75 million guaranteed. In 2014, the cornerback bagged a four-year contract worth $32 million which included a signing bonus of $6 million and guaranteed $16 million. He played for the Dolphins until 2016 when the team cut him off after he refused to restructure his contract.
The same year, the Tempa Bay Buccaneers came calling with a two-year $13.50 million contract. Following the expiration of the deal in 2017, the team re-signed Brent Grimes to a fully guaranteed one-year, $7 million deal on March 12, 2018. This means that the player in 2018, earned a base salary of $3.5 million, a roster bonus of $3.5 million, and an incentive bonus of $1 million while carrying a cap hit of $8 million and a dead cap value of $7million. In 2019, he signed another 1 year, $7,000,000 contract with the Tampa Bay Buccaneers, the amount of which is guaranteed.
The Tampa Bay Buccaneers cornerback has been in action for over 12 seasons and has career earnings of $60.69 million which ranks 107th among active NFL players entering 2018. However, it is difficult to state what his net worth is. Although different figures have been quoted as the player's net worth, we are only sure that his account reads millions of dollars.
Brent Grimes' Wife
Brent Grime is married to one of the most popular and controversial wives of NFL stars, Tamiko Grimes. In one of her autobiographical blog posts, Tamiko, who goes by the nickname, Miko, said she was born in St. Louis and at the age of five, she moved to Southern California with her mother, an aspiring restaurateur.
Like her husband, Miko is also athletically inclined. In high school, she played basketball and ran track before going off to California State University, Los Angeles from where she graduated with a degree in kinesiology and nutritional science. Upon graduation from college, Miko said she played professional basketball in four different countries overseas while nursing a dream of becoming a journalist.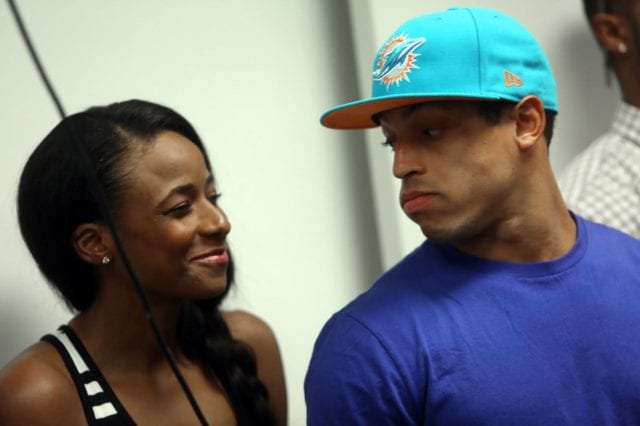 Following her undying interest in journalism, she decided to give life to her dream and moved to Atlanta where she grabbed a job co-hosting a radio show and doing sideline commentary for college games. She met her very quiet husband, Brent Grime when he was playing for the Atlanta Falcons and after three weeks of dating, Miko dumped him thinking he was gay because he wasn't talking to her nor did he make any attempt to kiss or sleep with her. But Brent's teammates who set up their meeting assured her that he was just being Brent (quiet and not the talking kinda guy) and nothing more. On a second thought, she got back together with Brent and they have never been apart since then.
The power couple got married in 2010 and Miko has been a force in the league as much as her husband but while Brent is reputable for being a fine cornerback, his wife is known to be a relentless trash talker. The couple is a typical example of the saying that opposites attract. While Brent is reserved and prefers to fly under the radar, his wife has established herself as an NFL spouse who does not waste time to speak her mind. With a wife like Miko, quiet Brent Grimes fears nothing because she fiercely defends him on her blog and her @iHeartMiko account on Twitter.
Though she always speaks in defense of her husband, Miko has been a fierce critic of the league. She once wrote that the NFL is the shadiest and disrespectful professional sport in the world, adding that as long as she breathes air, she will talk shit about them. She has also accused the NFL of not caring enough about the health of its players and belittling the occurrence of on-field concussions.
As an experienced athlete and a sports talk show host, Miko is knowledgeable about the game of football, unlike many NFL wives. Speaking in an interview with Bleacher Report writer Mike Freeman in 2018, she revealed that she texts Brent at halftime with suggestions, and had access to his Dolphins-issued iPad (when he was still with the team) that contains team plays. That aside, Miko represents her husband in different capacities and also serves as his hype man and personal coach.
Miko is eight years her husband's senior and their marriage has produced a son named Aiden Grimes, who happens to be averse to football. Aiden was born in 2010.
Height, Weight, and Other Facts
1. The Tampa Bay Buccaneers cornerback is just 5 feet 9.5 inches tall. Brent Grimes is not the tallest guy in the league but his athleticism is impressive. The Philadelphia native weighs 185 lb (84 kg).
2. In 2016, the Miami Dolphins released Brent not just because he refused to restructure his contract but partly because of his wife's untamed attitude.
3. He has been selected to the all-star games of the NFL (Pro Bowl) four times – 2010, 2013, 2014 and 2015.
4. Grimes was allocated to the Hamburg Sea Devils of NFL Europa and was part of the team that won World Bowl XV.
5. He was named to the DII All-American for three consecutive years (2003-2005).