Since his acting debut in 2003 in an episode of ER and episodes of CSI: Miami and The Guardian, Chris Pine has become one of the very recognizable faces in Hollywood as we have gotten to see him in many other TV films, series, and blockbuster movies. He is particularly popular for playing the role of James T. Kirk in the Star Trek reboot film series, Will in the 2010 thriller Unstoppable, and Cinderella's Prince in the 2014 musical fantasy movie, Into the Woods.
Pine has further starred in Hell or High Water as Toby Howard, The Finest Hours as Bernie Webber, and the 2017 blockbuster movie Wonder Woman as Steve Trevor. It is no surprise that the actor has been able to become a household name as he comes from a family that has produced quite a number of actors that held their own in years gone by.
Long List of Chris Pine's Family Members Who Are Actors
Acting is a very lucrative business. It brings in not just money but fame as well, and so, there are a number of families who have a few members doing the same thing. For the Pine family, acting has gone far beyond money and fame, it is their legacy.
Born in Los Angeles, California on the 26th day of August 1980 as Christopher Whitelaw Pine, the actor was welcomed into a family of great actors, starting from his grandparents to his parents and sibling. His parents are Gwynne Gilford and Robert Pine. His older sister is named Katie.
Robert Pine
Chris Pine's father, Robert Pine, who was born on July 10, 1941, in New York City, has been acting since 1964. He is known for his appearances in films and television series like CHiPs (1977-1983), The Young Warriors (1967), Below Utopia (1997), Murder, She Wrote (1986-1996), Black Scorpion (2001), and Finding Carter (2014-2015). Some of his latest appearances are in the war drama film, The Last Full Measure, the sitcom The Cool Kids, and the TV series Pearson, all in 2019.
Gwynne Gilford
His mother, Gwynne Gilford, was born in Los Angeles, California, on July 27, 1946, to parents who were in the entertainment business. Her father was actor and producer Max Gilford while her mother was actress Anne Gwynne.
Chris Pine's mother was active as an actress in the 1970s and 1980s. She has since retired to work as a psychotherapist. During her acting years, she appeared in quite a number of television series, including the ABC sitcom A New Kind of Family, The Waverly Wonders, and the legal drama series The Young Lawyers. She also had roles in films like Beware! The Blob (1972), Satan's School for Girls (1973), Fade to Black (1980), and Masters of the Universe (1987).
Katherine Pine
Chris's older sister Kathrine is also a thespian, although she is not quite as popular as other members of her family. She began her career by voicing a character in the 1997 video game, Heavy Gear, before making her debut as Rhonda in the 1998 comedy entitled Love Boat: The Next Wave. She has since gone on to appear as Tina in Jon Cassar's 1998 feature film entitled CHiPs '99.
Like her mother, Katie has since decided to take a different career path as she has become a psychotherapist. Currently, it appears she works as a California-based licensed marriage & family therapist, specializing in treating anxiety, depression, and relationship issues.
Anne Gwynne and Max Gilford
As mentioned above, Max and Anne are Chris Pine's maternal grandparents who both had stints in show business. While Max (born Max Goldfarb) was an actor and producer, Anne (born Marguerite Gwynne Trice) shined as both an actress and a model. She was popular as one of the first scream queens following her numerous appearances in horror films like Black Friday (1940) and House of Frankenstein (1944). She also appeared in a number of Westerns, including Men of Texas and Ride 'Em Cowboy. One of her most memorable TV appearances was on the series, Public Prosecutor (1947–48) where she appeared as Pat Kelly, the district attorney's secretary.
Chris Pines Career Achievements
Having gained some experience from his time with the UC Berkeley Theater Department, Chris Pine kicked off his acting career with an appearance in the medical TV series ER in 2003. That same year, he would appear in an episode of CSI: Miami and The Guardian.
The following year, Chris starred in a short film titled Why Germany? and as Nicholas Devereaux in The Princess Diaries 2: Royal Engagement. In 2005, he featured in an independent film titled Confession, a short film called The Bulls, and in an episode of the TV series, Six Feet Under. 2006 saw him appear in the TV movie, Surrender, Dorothy, and then alongside Lindsay Lohan in the romantic comedy, Just My Luck. In that same year, he starred in Blind Dating, and Smokin' Aces, before making his theatre acting debut in a one-man play staged at the Center Stage, New York titled The Atheist.
By the late 2000s, Chris Pine's career had certainly taken off thanks to his role as James T. Kirk in the 2009 Star Trek film. He had turned down an offer to appear in the film adaption of James Ellroy's novel, White Jazz, for the role. Between 2010 and 2018, he starred in over twenty-five projects, some of which were high profile movies that won awards. They include The Lieutenant of Inishmore which earned him the L.A Drama Critics Circle's lead appearance award, Unstoppable, This Means War, Rise of the Guardians where he voiced Jack Frost, People Like Us, Hell or High Water, SuperMansion for which he was nominated for an Emmy Award in the "Outstanding Character Voice-Over Performance" category.
Chris Pine gained more fame for starring in Wonder Woman alongside Gal Gadot, A Wrinkle in Time, Outlaw King, and Z for Zachariah among others. Thanks to all of these projects, the American actor has been able to earn a good living as his net worth is estimated to be around $30 million.
Also Read About: Elijah Wood Bio, Net Worth, Is He Gay, Who is The Girlfriend, How Tall Is He?
What We Know About Chris Pine's Love Life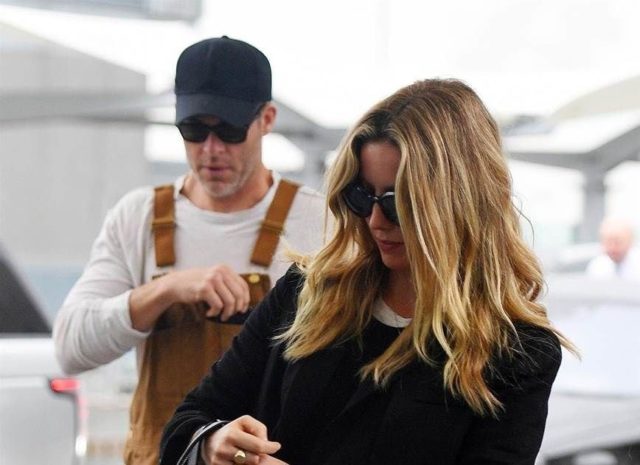 Chris Pine has never been married and is not known to have any kids. He has, however, been in more than a couple of relationships with a few high profile women. Some of the people he has been linked with include Beau Garrett, Audrina Patridge, Olivia Munn, Dominique Piek, Nathalie Walker, Jasmine Waltz, Zoe Kravitz, Iris Bjork Johannesdottir, Amanda Frances, Vail Bloom, and Sofia Boutella
In recent times, however, the ladies man is said to be dating British beauty, Annabelle Wallis. Like most of his exes, Annabelle is an actress best known for her roles as Jane Seymour in The Tudors (2009–2010) and as Jenny Halsey in the supernatural adventure film, The Mummy (2017).
Chris and Annabelle apparently started dating in 2018. Shortly after confirming their relationship, they were both seen vacationing on a yacht in Italy with Pine's parents. The two have further been spotted vacationing in Hawaii and Paris together. As of 2020, Chris and Annabelle have been seen together in and around the Los Angeles area looking happier than ever.