Since his debut in a 2003 episode of ER and then in a few episodes of CSI: Miami and The Guardian, the name Chris Pine has remained one that we have got to see in many other TV films, series, and blockbusters.
He is popularly known as James T. Kirk from the Star Trek reboot film series, Will, in the 2010 thriller Unstoppable, and as Cinderella's Prince in the 2014 musical fantasy movie Into the Woods. Pine starred in Hell or High Water as Toby Howard, in The Finest Hours as Bernie Webber and in 2017 blockbuster movie Wonder Woman as Steve Trevor. His most recent movie is A Wrinkle in Time, where he played the role of Dr. Alexander Murry.
Chris Pine's Biography – Age 
Pine was born in Los Angeles on the 26th day of August 1980 as Christopher Whitelaw Pine. His parents are Gwynne Gilford and Robert Pine. He is not the only child of his parents; he has an older sister named Katie. Pine has a Russian Jewish heritage.
He is from a family of actors and actresses. His father was an actor, he starred as Sergeant Joseph Getraer in CHiPs – an NBC sitcom which aired from 1977 to 1983. His mother was also a former actress who is now a psychotherapist. Chris' maternal grandma, Anne Gwynne was once a Hollywood actress, and his grandfather, Max M. Gilford was an attorney who headed the Hollywood Bar Association.
Chris Pine attended the University of California, Berkeley from where he bagged a degree in English in 2002. He studied abroad at the University of Leeds, England for one year as an exchange student. After obtaining a B.A from Berkeley, Pine attended the Williamstown Theatre Festival and also studied in San Francisco at the American Conservatory Theater.
While in college, he joined the UC Berkeley Theater Department and performed in a Caryl Churchill play staged in La Val's Pizza's Subterranean Theater. He also performed Shakespeare and Orestes at the Zellerbach Hall, Berkeley.
Career
Chris kicked off his acting in 2003 in the medical TV series ER. He would later appear in an episode of CSI: Miami and The Guardian that same year. The following year, he starred in a short film Why Germany? and as Nicholas Devereaux in The Princess Diaries 2: Royal Engagement. In 2005, he featured in an independent film, Confession, a short film The Bulls and in an episode of the TV series Six Feet Under. 
In early 2006, he was seen in the TV movie Surrender, then alongside Lindsay Lohan in a romantic comedy Just My Luck. In that same year, he starred in Blind Dating, Smokin' Aces and in The Atheist – a one-man play staged at the Center Stage, New York.
The following year, he was seen playing an alpha-male friend in Neil LaBute's play Fat Pig. In the same, he turned down an offer to appear in the film adaption of  James Ellroy's novel White Jazz, for a role as James T. Kirk in the 2009 Star Trek film. In 2008, he starred in Bottle Shock. Asides from promoting the star trek film, Pine also spent 2009 onset of the film adaptation of Beau Willimon's play Farragut North.
The list of Chris Pine's movies are just endless, between 2010 and 2018, he has starred in over twenty-five movies which include TV films and series. Some of these movies are major hits which earned him some awards. Some of his other movies include The Lieutenant of Inishmore which earned him the L.A Drama Critics Circle's lead appearance award; Unstoppable, This Means War, Rise of the Guardians, where he voiced Jack Frost, People Like Us, Wet Hot American Summer: First Day of Camp, Hell or High Water, SuperMansion, for which he was nominated for Emmy Award in "Outstanding Character Voice-Over Performance" category.
He was also in Wonder Woman alongside Gal Gadot, A Wrinkle in Time, Outlaw King, Z for Zachariah and many others.
Also Read About: Elijah Wood Bio, Net Worth, Is He Gay, Who is The Girlfriend, How Tall Is He?
Net Worth
The multiple award-winning actor's net worth is put at $20 million (that is £15 million) and his accumulated net worth is from his acting career. 
Is Chris Pine Gay? – His Wife, Girlfriend
Star Trek turns 50 in September 2016, and for the first time in the history of the franchise, it portrayed a gay character. In Star Trek Beyond it was revealed that Sulu (John Cho) is gay and Pine was super excited about the new development and stated he is proud to be a part of a franchise that shares a message of hope and positivity.
This has led to speculations that the actor is also gay. But must the actor be gay to make such a statement and take such a stance? Well, he isn't and hasn't come out as a bisexual too (as we know of his many relationships), he is not just Homophobic as some people are, he fully supports the LGBT community.
Chris Pine has not been married and is not known to have any kids, but he has, of course, had his share of relationships not just with actresses but also models and high-profile women as well.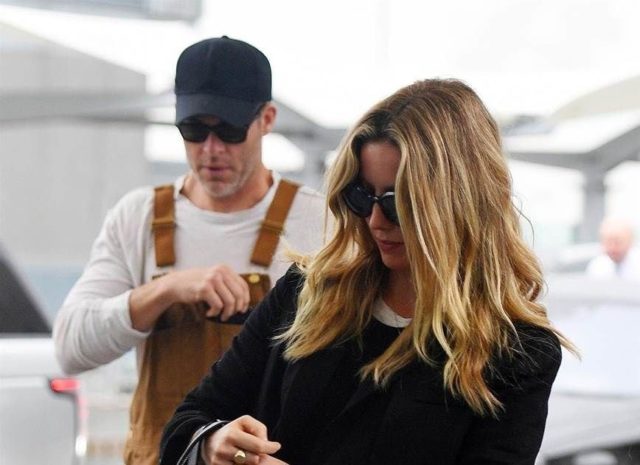 Here is the list of the women the Hollywood star has either dated or has been linked with: Beau Garrett, Audrina Patridge, Olivia Munn, Dominique Piek, Nathalie Walker, Jasmine Waltz, Zoe Kravitz, Iris Bjork Johannesdottir, Amanda Frances, Vail Bloom, and Sofia Boutella
Should I continue? well, let us leave the list at that and move to his latest catch. As at 2018, the ladies' man is said to be dating British beauty, Annabelle Wallis. We just hope, things get very serious between them.
Height And Other Body Measurements
Pine stands at the height of 6″0 that is 183 cm and weighs 78kg (172 pounds). His body stats is Chest – 41 in (104 cm), Arms/Biceps – 14 in (35.5 cm), and Waist – 31 in (75 cm).