Conan O'Brien is an American comedian who has hosted several renowned comic talk shows in the past. In a career spanning 25 years, he has hosted shows such as Late Night and The Tonight Show and established a reputation as one of the funniest men on TV. At present, O'Brien is the longest running talk show host in the United States. Find out more about him including his wife, kids, net worth and the scandals which have threatened his career etc.
Conan O'Brien Biography (Age)
Conan Christopher O'Brien was born on the 18th of April 1963 in Brookline Massachusetts. He comes from a large Irish Catholic family consisting of his father, Thomas Francis O'Brien and mother, Ruth. In addition, he had three brothers and two sisters. O'Brien's parents were high flying achievers; his dad was a physician and a professor of medicine at Harvard while his mother was a partner in a Boston law firm.
Conan O'Brien attended Brookline High School where his good writing skills began to emerge. He served as managing editor of the school newspaper, won a national writing contest and graduated top of his class (valedictorian) in 1981. After that, O'Brien moved on to Harvard University where he also served as writer and president of the school's humor magazine, Harvard Lampoon. All the time spent goofing around did not harm his academic abilities as he graduated magna cum laude from Harvard, with a BA in American History & Literature.
Career
On graduating, Conan O'Brien moved to Los Angeles where he commenced his career in earnest. He got his first gig serving as a writer for the HBO comedy show, Not Necessarily the News. He spent two years there before moving on to Saturday Night Live in 1988. While at SNL, he wrote many recurring sketches and also appeared as extras on TV. In 1989, he and his fellow SNL writers received an Emmy Award for Outstanding Writing in a Comedy or Variety Series. O'Brien spent nearly four years with SNL before quitting in 1991. His next destination was the Simpsons where he continued his writing career. He was with the show from 1991 to 1993 and produced some memorable episodes such as "New Kid on the Block" and "Treehouse of Horror IV"
Following the exit of David Letterman, long-time host of Late Night, O'Brien was hired in 1993 to fill the large shoes which he left behind. His first season at the helm of the show was poor and he was savaged by critics. Ratings dropped so low that at a point his contract was on a weekly basis. O'Brien refused to give in and by the second season, things began to improve. His audience grew steadily and he started topping the ratings. Late Night with Conan O'Brien lasted for 16 years and O'Brien and his writing team received numerous awards including an Emmy Award for Best Writing in a Comedy or Variety Series in 2007. His time on the show came to an end in 2007. He then briefly did The Tonight Show between 2009 and 2010. Presently, O'Brien has his own comedy show Conan running on the TBS network. The show started in 2010.
Conan O'Brien's career has not been limited to comedy shows alone. He has scored guest appearances on several TV series such as The Office and has done voiceovers in some animations including The Simpsons. He has also hosted several awards ceremonies such as the 2006 Emmy Awards and the 2014 MTV Movie Awards.
Net Worth
Conan O'Brien is reportedly worth $58 million. His major source of income is the numerous primetime shows he 'captained' over the years and the awards ceremony he has hosted. O'Brien is also a very popular figure in America and has done commercials for American Express and Bud Light. He earned more than $1 million for the American Express Ad alone. He also regularly weaves in product pitches during his monologue and of course, this is not for free.
Wife and Kids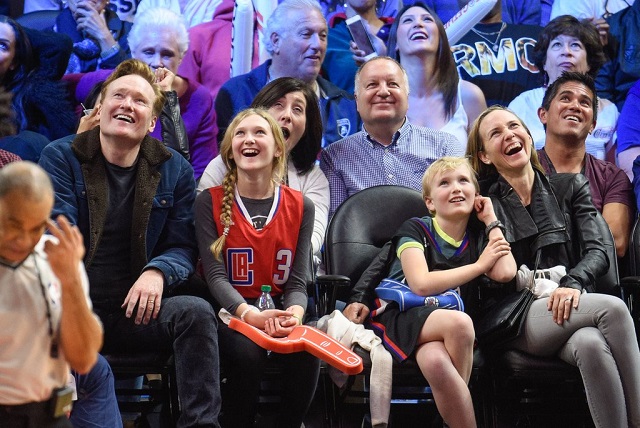 Conan O'Brien is married to Elizabeth Ann 'Liza' Powel. They met in 2000 while taping an episode of his show, Late Night with Conan O'Brien. At the time, Liza was working as a copywriter for the advertising company which produced that particular episode. According to O'Brien, he fell for her the first time he saw her in the audience. They dated for 18 months before getting married in 2002. They have two children; Daughter Neve born in 2003 and son Beckett in 2005.
See Also: Things You Didn't Know About The Hilarious Ugandan Comedian Ann Kansiime
Scandal
Conan O'Brien was involved in some controversy with another popular comedian, Jay Leno, during his stint at The Tonight Show between 2009 and 2010. Both he and Leno hosted two different shows for the NBC network, The Tonight Show and The Jay Leno Show. At some point, both shows were not doing well and NBC decided to further push back the time of The Tonight Show just to favor Jay Leno. The plan did not go down well with O'Brien who felt that his own (equally suffering) show was being disadvantaged and he left the show in January 2010.
Additionally, In July 2015, a freelance comedian by the name, Alex Kaseberg, filed a court action claiming that Conan O'Brien had copied five of the jokes he had posted on his blog. The O'Brien team dismissed the accusation as false and asked the judge to throw out the suit summarily. In May 2017, the judge ruled that the comedian should face the allegations for three out of the five jokes. Nothing more has been heard about the matter for now.
Height
Conan O'Brien is 6 feet 4 inches tall. In an industry where most of his colleagues are of average height, he surely stands out. When his show was faltering at the early stages of his career, some people even suggested that his height may be an issue. Lynn Hirschberg wrote in the New York Times in May 2009 that he was "too smart, too East Coast, too sophisticated, too young and even too tall to be successful"