Valentine's Day is a special day to show your partner how much you really care even though some people see it as a normal day.
Generally, people save their best for Valentine's Day while others do not know what to do for their partners to make the day memorable.
Technically, Valentine's Day is not just for people in a relationship, it can be celebrated with good friends, family members, or just about anyone who is lucky enough to be loved by you. And this is even more so, a kick-starter to a new relationship.
If you are hoping to declare love for someone, Valentine's Day is the perfect time to do so by surprising them with a treat that spells out your love for them.
Here Are 10 Creative Ways of Saying I Love You On Valentine's Day
1. Declare Your Love For Your Partner As If It's Your First Time
Declaring love for a partner for some people is not an easy thing to do while to others, it's something they do every day. If you want to make it special, let it be heard around the world so people can notice your effort.
If you would want to do this over the table on Valentine's Day, do not forget that the aim is to be creative as you do it with your whole heart.
On social media like Facebook, for instance, you can customize your cover page with the picture of your partner and his or her name boldly written accompanied by your intention; "Be my Val" or "I love you."
On Twitter, you can create a love story or poem using a thread just to ask them to be your Val. This is one of the most romantic ways of showing your partner that you are really proud of them and would let the whole world know.
2. Go On A First Date Again
This part is fun-filled because you and your partner will play and act like you just met for the very first time.
Look at your partner the same way you did when you first met. Shy I suppose. Yeah, be shy, talk a lot, joke around, and ask silly questions the same way you did on your first date.
Remember all the questions you asked on your first date and be sure to ask them again. This will help make Valentine's Day memorable and it will re-ignite the first feelings you both shared.
See Also: 100+ Most Romantic Soulmate Quotes
3. Surprise Your Partner
Buying Roses for your love is not a bad idea. Many don't find it interesting but this is one of the best gifts you can give your partner for valentine. Remember the aim is to be creative and surprise your partner as well.
Here's how it goes, buy a rose and then find the most amazing photo of your partner, use it to create a unique stamp card with a poem. Go to her workplace, take permission from her boss and deliver the rose to your partner as you read the poem to her.
With this, she will love and cherish you for the rest of your lives.
Girls, you can also surprise him by writing a love letter and posting it to him. No matter the distance to his office, mail it to him wrapped and see him go weak in the knees.
4. Breakfast In Bed
Write at least 15 reasons why you love your partner. On Valentine's Day, serve him or her breakfast in bed with the note inside.
You can also use special heart-shaped fruits inscribed with 'I Love You'. Remember, in doing this, the aim is to be creative.
5. Create A Day Of Surprises For Your Partner
With the help of your friends, you can arrange a wonderful day full of surprises for your partner. For example, this is one interesting idea for guys, imagine you and your partner walking in a park and suddenly you see a box of chocolate on the bench with flowers and a Valentine's Day card. She opens it and reads only to find out it was addressed to her. It will be an unforgettable day for your special lady.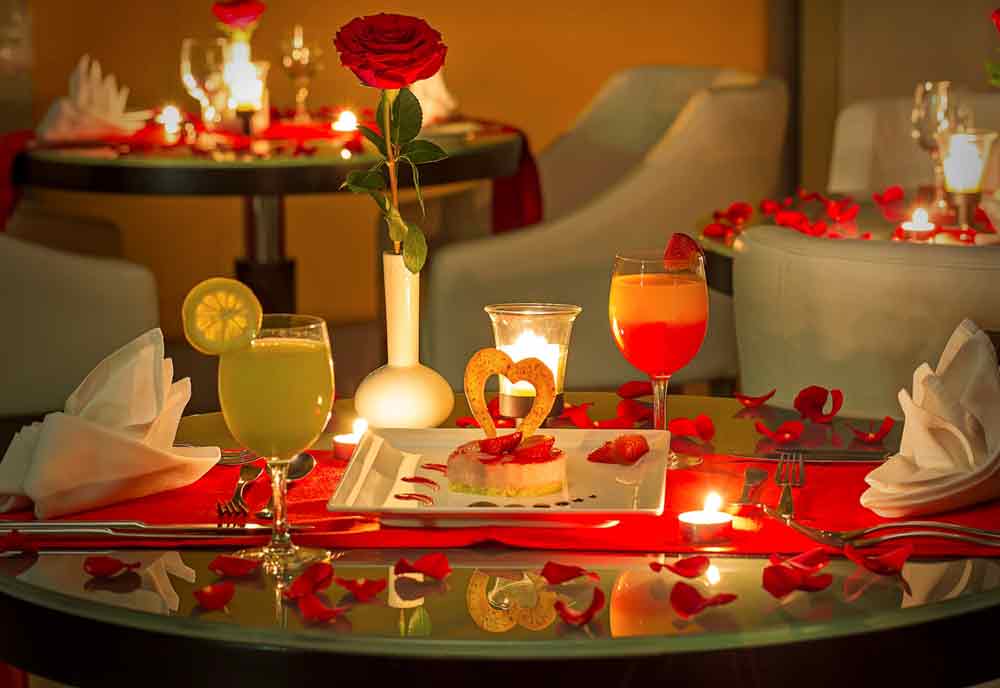 You can also take your partner out on a romantic dinner date. Everywhere will be normal before you leave the house but when you return you'd find the lights out, and the rooms covered with rose petals and lit candles. All these will be done while you are still out for dinner. Your special one will never forget the details of this romantic gesture.
6. Reasons Why I Love You
Get coloured envelopes of different sizes. Get a pen and paper, write out the reasons why you love your partner and wrap it in the smallest envelope. Then place it in the next bigger sized envelope until you add all the different sizes of the coloured envelopes and keep it at your sweetheart's corner where he or she can see it.
You can also get papers with the heart shape and use it to write the reasons why you love him or her and place them all over the house.
See Also: 150+ Random Questions To Ask A Guy
7. The Kiss Game
Using pieces of paper, write out all the names of kisses you can think of (French kiss, English kiss, a peck, kiss on the forehead …etc) and then fill them up in a red felt bag and present it to your partner. Ask your partner to pull the pieces of paper out one after the other and you will give him/her each kiss described.
8. Surprise Gift Puzzle
In this game, many would think it would be so expensive to make it happen but in this sense, it has more to do with actions behind it rather than the gift itself.
This is a wonderful puzzle for the guys. Get her a gift wrapped with love. Find pieces of paper and then start your game. Write a task which your partner will do to get to the gift pack. For example, you can start by writing a note that you left your car keys on the dining table. She should take it and open the car so she could come pick you.
When in the car, she would find another note with a set of instructions. This will continue for a while till she eventually finds the gift you have for her. If followed properly, this scenario will make Valentine's Day more special and memorable.
See Also: 100 Dirty Questions to Ask Your Boyfriend
9. Lovebirds Who Have Lost The Spark; Reignite The Passion
Valentine's Day is another good opportunity for Partners who have lost the spark; or who are yet to define what they share, to make it official. One of the most creative things to do on Valentine's Day is to redefine your relationship and reignite the passion for your love. This will be the beginning of a re-branded relationship between you and your partner.
Guys can woo their lady again, tease and call her those beautiful names you used to when you first met her. This will go a long way because ladies love attention more than anything.
You can also hang out and do some silly things together, joke, laugh, and most of all don't be in a hurry while doing this, you can devote the whole day for this if it must yield a positive result and see what happens next.
10. Take A Timeout; Cook Dinner Together
Organize a romantic dinner for you and your partner which the both of you would be cooking together. This would make the dinner more creative and more fun with both of you engaged in all the activities. You both decide on what you want to cook and then take individual responsibilities for each action.
Cooking together has a way of strengthening the emotional bond between lovers. The looks, the corporation, and the feeding each other, that's something that can't be forgotten in a hurry. For the ladies, they would want it to be repeated always.
Feel The Passion
The 10 creative things to do on Valentine's Day should be capped by this. It is the season of love and there is no better time to make passionate love with your partner.
A recent survey carried out shows that men prefer to make love on Valentine's Day than any other day. Love making is good for the health as it reduces the risk of high blood pressure and prostate abnormalities in men.
For women, it creates feelings and grows her attachment to the man, therefore, making it very beneficial to a couple who are in love.