Daisy Fuentes' work ethic puts the phrase 'hard work' to shame. She has established herself as a renowned television host, model, and actress. As the host of House of Style, she gained a wide audience, which gave her a platform to make more money for herself. Fuentes has served as the spokeswoman for several brands, including Revlon, Inc – an American multinational cosmetics, skincare, fragrance, and personal care company.  She is the first woman of Latin American descent to hold that position.
With a net worth of $75 million, Daisy Fuentes has not slowed down, and it does not seem like she would. She is an accomplished businesswoman who has her clothing and natural haircare products line as well. Besides gaining a reputation for being a very successful person, she is also known for being married to singer-songwriter Richard Noel Marx.
Before Her Marriage to Richard Marx, There Was Timothy Adams
Daisy Fuentes is known for being the wife of Richard Marx, but before she got married to the musician, she was the wife of Timothy Adams. Her relationship with Adams goes back to when they were high school sweethearts at Harrison High School.
Like Daisy Fuentes, Timothy Adams works in show business but as an actor and model. The couple got married in 1991, but in 1995 their union ended, without any shared children. Till date, neither party has discussed the terms of their divorce.
She Had A Three Year Relationship With Luis Miguel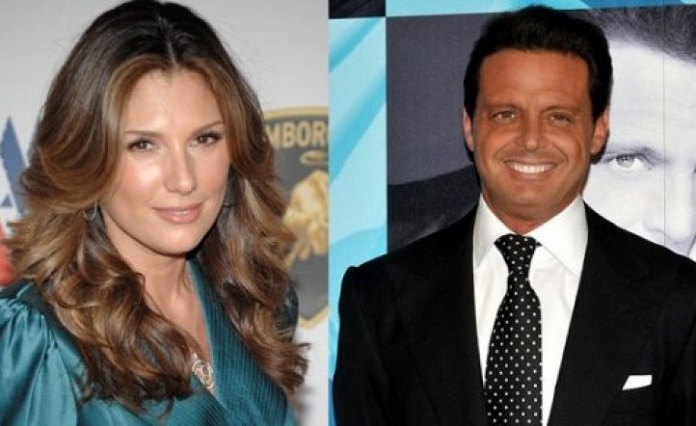 The year she got divorced, Daisy Fuentes met Mexican singer Luis Miguel during an interview; that same year they began to date. The two were together for three years before they called their relationship quits when they broke up in 1998.
She Was Engaged To Matt Goss For Seven Years
Following her time with Miguel, she started a relationship with another singer; this time it was Matt Goss. It is not clear when they began to date but it reportedly began in 2000. Three years later, they got engaged. Their engagement was a long one that lasted for seven years, but eventually, in 2010 they broke up.
Inside Daisy Fuentes And Richard Marx's Married Life
Daisy Fuentes and Richard Marx dated for about a year after they met at the Grammy Museum show, The Drop. The couple decided to keep their relationship under wraps and away from the public eye. The pair then exchanged vows on 23rd of December 2015 at Aspen, Colorado, then had another wedding ceremony at the London Hotel, Los Angeles.
Marx is a singer and record producer who makes adult contemporary and pop-rock music. He is also an award-winning songwriter who has worked with several very successful musicians such as Cher, Lara Fabian, Leona Lewis, and Luther Vandross.
Daisy Fuentes and Richard Marx are known for the life of luxury they lead, with constant trips around the world. They have gone on trips to Maldives, Cabo, Tahiti, and Singapore. Fuentes is also known to accompany Marx on his tours. They are also very philanthropic and often give causes they are passionate about, like, animal rights.
The life of luxury that they have is funded by their careers. Besides Daisy's beauty and TV empire and Marx's music career, it includes their podcast, Tequila Talk.
Her First Source of Wealth Was Television
Daisy Fuentes has a net worth of $75 million, which she built from her long and diverse career. Her first career, which was as a TV host, started while she was still a college student; Daisy attended Bergen Community College where she studied Communications and as such, it is not surprising that she sought a career on television. She was first hired by WNJU-TV to report on the weather. After her time at WNJU, Fuentes got a job with WXTV-TV, working as a weather reporter and evening news anchor.
In 1993, Fuentes started working at MTV as a full-time VJ after she had been hosting MTV Internacional on the Telemundo Network since 1988. When she joined MTV, she was the first Latina VJ in the United States. While at MTV, she also had other roles, like hosting the popular and iconic show, House of Style.
Her career as a TV host also includes hosting Miss Universe Pageants, the Billboard Latin Awards in 1999, Dick Clark's New Year's Rockin' Eve, and The American Latino Media Arts Award, among others. For a year between 1994 and 1995, she hosted Daisy, her own talk show on CNBC. She also hosted America's Funniest Home Videos and was a part of Matthew Berry's Fantasy Focus podcast titled Matty's Dating Advice Corner, where she offered advice on relationships.
She Earned Additional Income From Acting And Modeling 
Daisy Fuentes kicked off her modelling career by working as a spokeswoman for many companies and was featured in many brand commercials. She has also appeared on the cover of many magazines. Revlon, Pantene, M&M's, and American Express are some of brands she has worked with and has done TV and magazine ads for.
The period she became a spokesperson and model also coincided with when she also became an actress. Daisy Fuentes appeared in some television shows such as The Larry Sanders Show, Loving, Cybil, and Dream On. So far, she has appeared in more than 16 movies and TV shows, including her 2019 show, A New Leaf.
Daisy Fuentes Is Also A Mogul In The Beauty Industry
The work that Daisy Fuentes does in fashion goes beyond just being a model and spokesperson for fashion and beauty brands. Fuentes also created her clothing line in 2004, and in 2009, she followed up with Daisy Fuentes Style Pro, an all-natural hair care line. It is not surprising that Daisy Fuentes started a hair care line as she was once an aspiring hairstylist and she even enrolled in cosmetology school, hoping to one day open her own salon. However, this was before she enrolled at Bergen Community College to study Communications.
She also works with Zyloware, an eyewear manufacturer, for prescription glasses. It is estimated that every year, this business mogul sells hair, fragrances, clothes, and fashion accessories worth $300 million. In tandem with the work she does in the beauty industry, Fuentes launched a workout video game in 2009 with Wii known as Daisy Fuentes Pilates.
As a result of her industriousness, Daisy Fuentes has made her $75 million net worth from her diverse ventures which include:
Multiple Modelling Gigs with brands like American Express and Pantene
Credits in more than 16 films and TV shows
Three decades-plus career as a television host
Owner of a skincare, haircare, eyewear, and fashion line with over $300 million in annual revenue
She Is Significantly Wealthier Than Her Husband 
Richard Marx's career started eight years before his wife's, but with a $75 million net worth, Daisy Fuentes has managed to amass more wealth than her husband. Marx has a total net worth of $18 million, which is less than half of his wife's net worth.
The reason for this could be the fact that he has focused solely on his music while Daisy Fuentes diversified her money-making ventures and went beyond just having a career to becoming a business owner. But that is not to say Marx's is no grand success on his own; he has sold more than nine million albums and is the first solo artist to have their first seven singles debut in the Billboard Hot 100 Top 5.