Danny Amendola is arguably one of the biggest names in the NFL, having played for some of the biggest teams in the league. Interestingly, the wide receiver began his NFL career as an undrafted agent with the Dallas Cowboys. He would later play for the St. Louis Rams, New England Patriots, and Miami Dolphins, where he left in 2018 to join the Detroit Lions.
The two-time super bowl champion and model has made an incredible career for himself on and off the field, but his personal and love life has a lot to be desired by his fans. His social media saga with former lover Olivier Culpo, his flings, and affairs goes on to reveal that the wide receiver is struggling to sustain a relationship long enough to lead into a serious commitment.
Danny's 'Long-term' Romance with Talor Reazin
The first notable relationship in Danny Amendola's life was with the model, Talor Reazin. Danny enjoyed a stable love life with Talor Reazin as his career was just taking off to greater heights. She and Amendola kept a pretty low-key relationship.
As there was no official report of their relationship back then, it was news and confirmation of the speculations when in September 2013, Talor Reazin changed her relationship status to "In a relationship'. She added, "Just thought it was time to give my guy (Danny) some credit." They dated for quite a long time since, at least, Danny's time with the St. Louis Rams.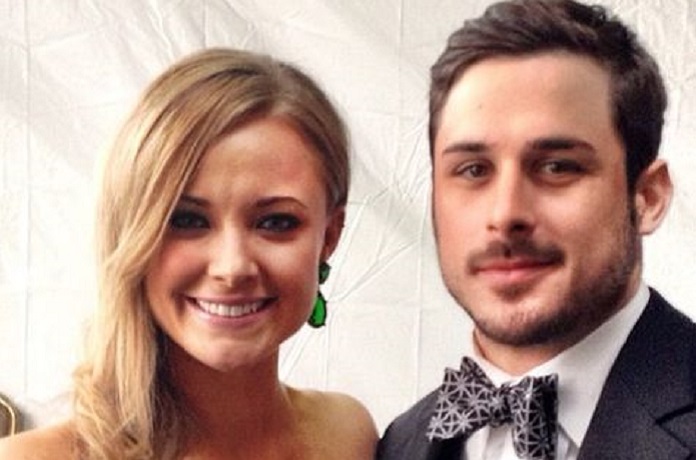 Talor Reazin was well committed to her relationship with Danny. She was there when his season ended because of injury and when Amendola struggled in his first year with the Patriots. Their relationship ended in 2015 for reasons yet to be determined.
Quiet Love Affair with Kay Adams
After Danny Amendola split from Talor Reazin, he reportedly dated anchor of the Good Morning Football show, Kay Adams, between 2015-2016. Kay Adams is an enigmatic sports presenter and screen beauty who has a strong knowledge of football and the NFL.
Kay Adams seemingly ruled out getting into a relationship with any NFL football player when she was quoted as saying 'the word player kind of says it all, right? … Not every sportsperson or athlete, but, yeah, no. No, thanks.' It, therefore, came as a surprise when rumors emerged linking Kay to Danny Amendola. The couple appeared together at the 2015 ESPY Awards. At the red carpet, a public display of affection between Kay and Danny set off rumors of a relationship. Kay Adams further fueled the rumors when she shared an Instagram photo of herself and Danny during the 2015 Super Bowl.
Later, Kay Adams and her alleged boyfriend Danny reportedly broke up after a year of dating. Neither Kay nor Danny confirmed or denied the relationship. All doubts were removed about the authenticity of the break up after Danny showed up with Olivia Culpo at the 2016 Coachella as a couple.
Roller-Coaster Relationship with Olivier Culpo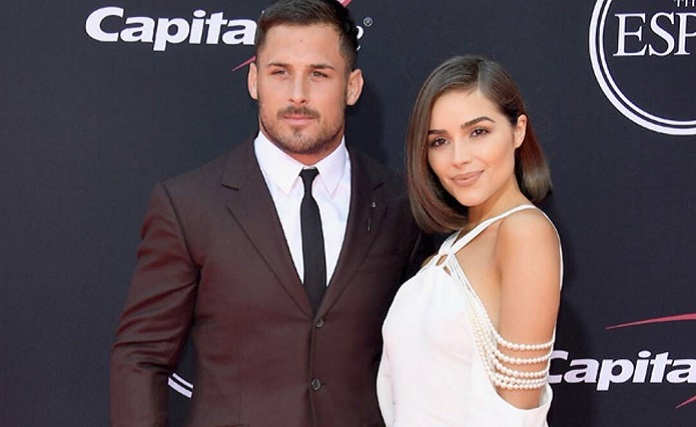 His longest relationship saga was his on-today-and-off-tomorrow affair with the bikini model and ex-beauty queen, Olivier Culpo, which lasted from 2016 to 2019. Their love story was one in which fans had hoped would lead to something beautiful as they looked like the perfect match together on the red carpet.
Also, their commitment to get back together after several setbacks gave hope that both parties were willing to do all it takes to make the relationship work till the end, but apparently to the sadness of their fans, it wasn't to be.
Danny Amendola and Olivia Found Love on the Streets
Danny Amendola and Olivier Culpo first got together in early 2016. Like a typical romantic Hollywood story, Danny bumped into her in the corner of Hollywood and Vine, just walking down the street, shortly after Olivia ended her relationship with Tim Tebow.
Olivier Culpo is the winner of the 2012 Miss Universe beauty pageant. Throughout the remainder of 2016 and 2017, the pair were seemingly happy together.
The Long-Distance Induced Breakup
After almost two years of enjoying their relationship without any speculation of bad blood or media drama, in March 2018, the couple broke up for the first time. Online and inside speculation suggested it was due to the distance between the couple.
Danny got signed to the Miami Dolphins in a mouth-watering and one of the biggest deals of Danny's career. However, Olivier Culpo was not willing to move because her career was established and growing in Los Angeles.
Danny and Culpo were spotted at a friend's wedding in June 2018. By September, they officially confirmed they were getting back together on social media with their relationship claimed to be looking very strong.
Later in October 2018, as Danny was trying to settle in Miami with his new team, the Miami Dolphins, it appeared he was also having an affair with another woman. This led to speculations that Danny and Culpo had gone their separate ways again.
But by December 2018, it appeared to be nothing more than a rumor and the troubled lovers were back together again. Reports then claimed that Olivia Culpo was obsessed with Danny, and Danny is also willing to do everything to make the relationship work as they are both serious about each other.
The Childish Rant that Sealed their Breakup
Four months down the line, in April 2019, Olivia Culpo was spotted getting cozy with Zedd at Coachella Valley Music and Arts Festival, leading many to suspect that they've split for good. It became public knowledge when Danny made a now-deleted messy video clip saying, "Zed's dead, baby. Zed's dead."
The following day, the 5-foot-11 star posted a lengthy Instagram caption, that led many fans to presume they were over for good. He followed the rant with two additional messages, taking responsibility for his previous posts.
His Fling with Bianca Peters in Miami
Danny Amendola reportedly had a fling with Bianca Peters, a local CBS Sports journalist, briefly during his on-and-off relationship with Olivier Culpo. The former Miss Malibu beauty queen was spotted spending time on the beachside with Danny on October 28, 2018, in Miami, during the period when Danny Amendola was in a relationship with Olivier Culpo.
Culpo tweeted 'wow' shortly after the images surfaced of them hanging out. Bianca's camp claimed that they only met a few nights ago before being spotted at the beach at a house party and were part of a group that decided to go to the beach at the weekend. Bianca Peters' camp also claimed Danny was new to Miami, and Bianca didn't know she had a girlfriend. Bianca later distanced herself from Danny.
The Wide Receiver is Moving on with Emily Tanner
After accusations of self-sabotaging his relationship with Olivia Culpo, Danny was spotted with an unknown woman on a Miami beach date in May 2019. Later, we learned that the mystery blonde was Emily Tanner. She was spotted soaking up the sun in a teeny white bikini alongside the shirtless professional football player on a Saturday.
The twosome was seen together again the following day as they strolled to breakfast on their two-day rendezvous getaway. Emily Tanner is a prominent health and lifestyle model and influencer on Instagram from Michigan.