Davante Adams is a professional American football player, a wide receiver who plays for the Green Bay Packers where he dons the No.17 jersey. Since his draft into the National Football league in 2014, Adams has been busy honing his skills and improving from one season to the next, consequently, the San Francisco native is currently regarded as one of the top receivers in the league. His status as a top wide receiver has earned him quite a good number of fans who would love to get to know him better.
Davante Adams was a Multi-sport Athlete in High School
Davante Lavell Adams was born on Christmas Eve (24th December) in 1994 in Redwood City, San Francisco, California. He was a student of Palo Alto High School where the young sportsman was a multi-sport standout in both basketball and football. Adams played four years of high school football and basketball, excelling in both.
Following his outstanding performances, several reputable colleges scouted Davante, offering him athletic scholarships, both in football and basketball. He eventually picked the California State University, Fresno, and decided to focus on his football career.
He had Two record Breaking Seasons in College
Davante Adams was redshirted for his first year (2011) in college but went on to have two record-breaking seasons with the school. In his second season at the school (2012), he caught a total of 102 passes for 1, 312 yards and 14 touchdowns and was named as one of the best wide receivers in the country (freshman All-American). In the 2013 season, Adams caught 131 passes for 1, 719 yards, and 24 touchdowns, the highest stat returned by any college wide receiver in the country.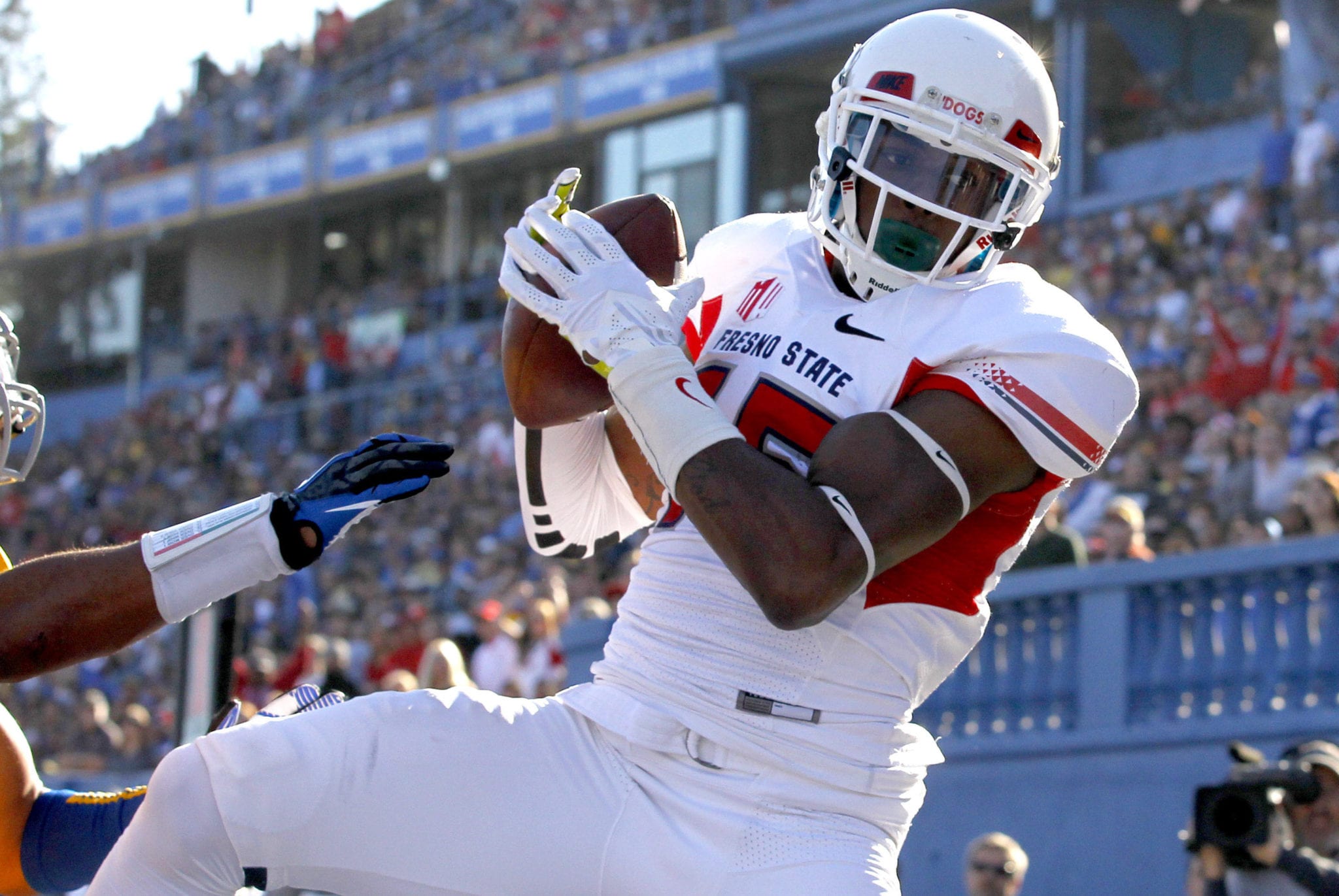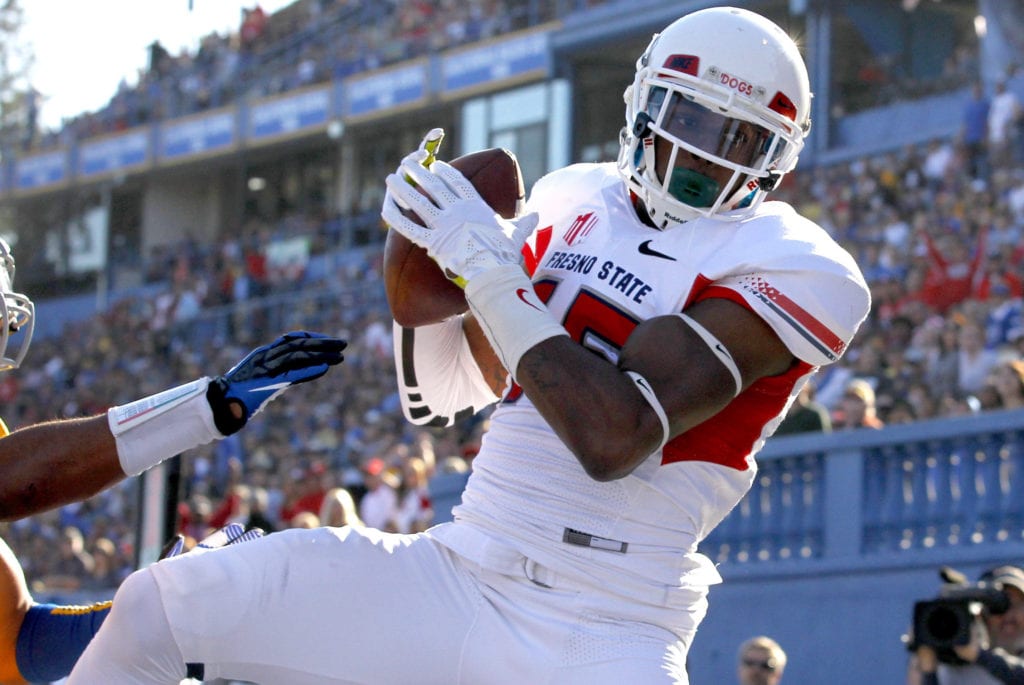 His 24 touchdown receptions were also eight times higher than that of any college wide receiver in the country. In recognition of his exploits, the Touchdown Club of Columbus gave him the Paul Warfield Trophy as the most outstanding wide receiver in college football. Unsurprisingly, Adams' phenomenal performance caught the attention of various NFL teams and he decided to forgo his last two years of college football and go professional.
His Professional Career Started with the Green Bay Packers
Adams was picked by the Green Bay Packers in the 2nd round of the 2014 NFL draft and they signed him on to a four-year contract worth $3,933,402. He showed flashes of brilliance in his debut season with the Packers but had a disappointing second season (2015).
He endured an injury-riddled second season, dropping the ball on too many occasions and recording only one touchdown. The wide receiver was vilified by fans and analysts alike. Adams, however, shrugged off the criticisms and showed tremendous improvement in 2016.
Adams Concluded the 2016 Season as the Second-highest Receiver
He finished the 2016 season as the league's second-highest receiver with 75 receptions for 997 yards and 12 touchdowns. He also continued his impressive performance in the 2017 season.
Despite missing two games in the season as a result of a concussion, he nonetheless caught 74 passes for 885 yards and 10 touchdowns. Adam was the only player in the NFL to reach 70-plus receptions and 10-plus TD catches in both of the last two seasons (2016-17).
As a testament to his heroics, the league rewarded him with a place in the 2018 Pro Bowl. The Packers also rewarded Adams with a four-year contract extension worth $58,000,000 making him one of the highest-paid receivers in the league. As at the end of 2018 season, Adams had taken part in 65 games for the Packers and caught 284 passes for 3368 yards and 32 touchdowns.
The professional footballer continued his exploit into 2019, recording a career-high of 180 yards receiving on 10 receptions in a 21–16 win against the Minnesota Vikings. Davante Adams eventually emerged as the only Packer with two 100+ receiving yard games in one postseason and three 125+ such games in a career.
He has Been Praised Severally for His Excellent Work Principles
Davante Adams' fans, the media, and teammates have been full of praise for the wide receiver and perhaps the most effusive was Packers quarterback Aaron Rogers' commendation where he said Adams has "humongous upside" which he is starting to reach and that he believes the opportunities will come for the guy. Rogers said that his reason for believing that the player has" humongous upside" was his work ethic, athletic ability, and of course his meticulous nature.
Rogers went further to extol Adam's approach and attention to detail describing them as very impressive. He described Adams as being very open and they have got to keep finding ways to get the ball to him. Considering the fact that Rogers is not a man to hand out commendations without good reasons, Davante Adams is obviously doing all things right.
Even the President of Jordan Brand, Craig Williams also praised Adams' work ethics after the wide receiver earner an endorsement deal with Jordan Brand. According to Craig, Adams' style of play, mindset, and work ethic represent what Jordan Brand is all about.
The Footballer is not Considered a Good Wide Receiver For Nothing
After having a solid rookie season in 2014, Davante Adams had to struggle mightily following a season-ending injury to Jordy Nelson in 2015. His struggling efforts during the year led Pro Football Focus to rank him as the #118 receiver out of 119 that played at least 25 percent of their team's snaps.
Fast forward to the current times, Adams has not only succeeded in saving his career, he now has pride of place as one of the top receivers in football – a great feat for someone who was just struggling a few years back. He is expected to maintain his position among the top receivers in football. Even Rogers who is not free with praise has lavished commendations on him saying that they've got to keep finding ways to get Adams the ball.
Meet Davante Adams' Family
Adams' father's name is Douglas Adams while his mum is Pamela Brown. He was raised by his single mom who worked two jobs to support the two of them. His mom had to work hard to keep him off the streets and in sports. As a result, Adams is very close to her and has worked hard to thank her for all the sacrifices she made for him. Another member of his family whom he holds close to his heart is his maternal grandmother, Carolyn Brown.
The famed footballer is not completely disconnected from his dad whom he credits with sparking his passion for the game by introducing him to the greatest player of all time. According to Davante Adams, his dad hung a poster of Michael Jordan in his room when he was young and he grew to love the sports legend as he looked so much like his dad, having the same skin color, tall stature, and being bald. Adams said that he saw a lot of Jordan growing up and he has been a part of him and his whole family since he was young.
He Exchanged Marriage Vows with His Girlfriend in California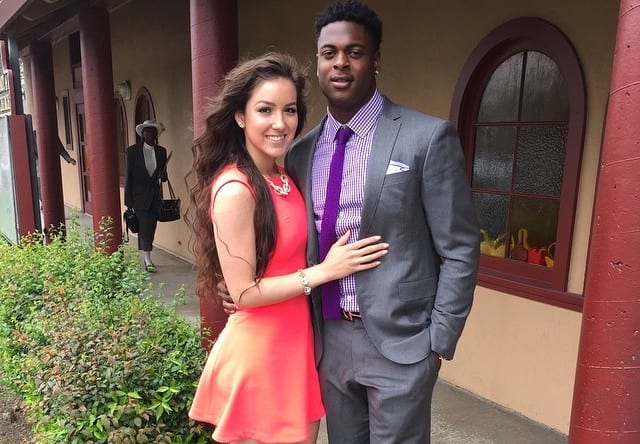 Davante Adams is now married to his long-time girlfriend Devanne Adams (nee Villarreal). The pair reportedly began their relationship while they were both studying at California State University, Fresno. The loved-up couple got engaged in the Bahamas in July 2017 after dating for five years. Adams and Devanne tied the knot on the 2nd of June 2018 in Pebble Beach, California. The beautiful ceremony was graced by many of Adams' teammates.
Just like her man, Devanne is a native of California and a graduate of California State University, Fresno. She now works as an esthetician; an esthetician is a skin care therapist specializing in cosmetic skin treatments such as facials, superficial chemical peels, body treatments, and waxing.
The Next Generation of Devante and Devanne Adams
https://www.instagram.com/p/CBt7yORFw34/
On the fourth of July 2019, Packers wide receiver announced via his Instagram page that his wife was already in the family way and their baby is expected to join the family in September. He posted a video showing him and his wife pop off pink-colored confetti to reveal the gender of their baby.
True to Adam's words, their baby girl Deija Leigh Adams showed up in September, Davante Adams who is thrilled to become a father shared the good news after the Packers' Week 3 victory over the Broncos. According to Ryan Wood of the Green Bay Press-Gazette, the new father had to miss a Packers' practice in order to be by his wife's side for the birth of their baby girl. Photos of Deija has surfaced on the social media posted by her proud papa.