Davante Adams is a professional American football player. He is a wide receiver and plays for the Green Bay Packers where he dons the No.17 jersey. Since joining the NFL in 2014, Adams has improved from one season to the next and is currently regarded as one of the top receivers in the league. Get to know more about him here including his bio, family, wife, body stats etc.
Who is Davante Adams?
Davante Lavell Adams was born on Christmas Eve (24th December) 1994 in Redwood City, San Francisco, California. He had his high school education at Palo Alto High School where he was a multi-sport athlete, lettering in basketball and football. He played four years of high school football and basketball and excelled in both.
As a result of his outstanding performances, Adams was scouted by several colleges who offered him athletic scholarships, both in football and basketball. He picked the California State University, Fresno and decided to focus on his football career.
Adams was redshirted for his first year (2011) in college but went on to have two record-breaking seasons with the school. In his second season at the school (2012), he caught a total of 102 passes for 1, 312 yards and 14 touchdowns and was named as one of the best wide receivers in the country (freshman All-American). In the 2013 season, Adams caught 131 passes for 1, 719 yards and 24 touchdowns, the highest stat returned by any college wide receiver in the country.
His 24 touchdown receptions was also eight higher than that of any college wide receiver in the country. In recognition of his exploits, the Touchdown Club of Columbus gave him the Paul Warfield trophy as the most outstanding wide receiver in college football. Unsurprisingly, Adams' phenomenal performance caught the attention of various NFL teams and he decided to forgo his last two years of college football and go professional.
NFL Career
Adams was picked by the Green Bay Packers in the 2nd round of the 2014 NFL draft and they signed him on to a four-year contract worth $3,933,402. He showed flashes of brilliance in his debut season with the Packers (2014) but had a disappointing second season (2015).
He endured an injury-riddled second season, dropping the ball on one too many occasions and recording only one touchdown. He was vilified by fans and analysts alike. Adams, however, shrugged off the criticisms and showed tremendous improvement in 2016.
He finished the 2016 season as the league's second-highest receiver with 75 receptions for 997 yards and 12 touchdowns. He also continued his impressive performance in the 2017 season.
Despite missing two games in the season as a result of a concussion, he nonetheless caught 74 passes for 885 yards and 10 touchdowns. Adam was the only player in the NFL to reach 70-plus receptions and 10-plus TD catches in both of the last two seasons (2016-17).
As a testament to his heroics, the league rewarded him with a place in the 2018 Pro Bowl. The Packers also rewarded Adams him a four-year contract extension worth $58,000,000 making him one of the highest paid receivers in the league. So far, Adams has taken part in 65 games for the Packers and caught 284 passes for 3368 yards and 32 touchdowns.
Wife or Girlfriend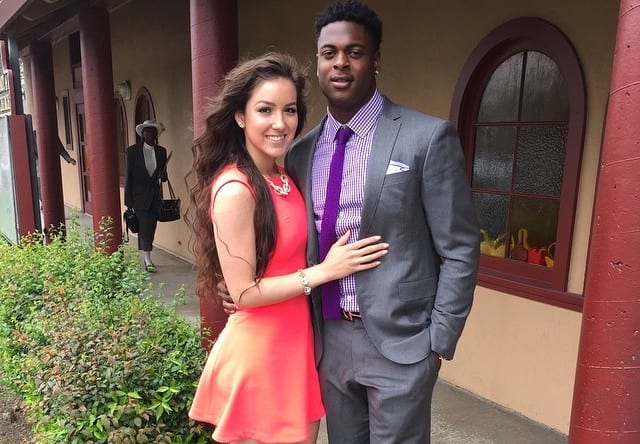 Davante Adams is married to long-time girlfriend Devanne Adams (nee Villarreal). The pair reportedly began a relationship while they were both studying at California State University, Fresno. The loved-up couple got engaged in the Bahamas in July 2017 after dating for five years. Adams and Devanne tied the knot on the 2nd of June 2018 in Pebble Beach, California. The beautiful ceremony was graced by many of Adams' teammates.
See Also: Aaron Rodgers Bio, Wife or Girlfriend, Brother, Net Worth, Is He Gay?
Just like her man, Devanne is a native of California and a graduate of California State University, Fresno. She now works as an esthetician. For those who do not know, an esthetician is a skin care therapist specializing in cosmetic skin treatments such as facials, superficial chemical peels, body treatments, and waxing.
Meet Davante Adams family
Adams' father's name is Douglas Adams while his mother's name is Pamela Brown. Adams was raised by his single mom who worked two jobs to support the two of them. His mom worked hard to keep him off the streets and in sports. As a result, Adams is very close to his mom and has worked hard to thank her for all the sacrifices she made for him. Another member of his family whom he holds close to his heart is his maternal grandmother, Carolyn Brown.
Body Stats (Height and Weight)
Davante Adams is 6 feet 1 inch tall (1.85 m) and weighs 215lbs or 98kg. Adams is a natural hands catcher. Even though he does not have a massive build, he still has a good height and big hands which enable him to catch the ball either with one hand or both hands.