David Spade is an actor who is best known for his unconventional sense of humor. Although he began acting in the late 1980s, he achieved fame by being among the cast members of the American late-night live television variety show, Saturday Night Live, in the 1990s. He has attained a somewhat successful career in the movie industry having featured in more than seventy movies and TV shows.
Following his on-screen performances, Spade has been a recipient of many awards and nominations including clinching the MTV Movie Award for Best On-Screen Duo in Tommy Boy and Razzie Award for Worst Supporting Actress in Jack & Jill. The skilled actor was also bestowed with a star on the Hollywood Walk of Fame for his contributions to the movie industry as a writer, actor, and producer. If you are a fan of this amazing actor, below are the details of his movies and TV shows as well as his best shows you need to watch.
David Spade's Movies and TV Shows
The award-winning actor who also works as a screenwriter picked up his first movie role in 1987 as Kyle in the comedy film, Police Academy 4: Citizens on Patrol. In 1992, David Spade was cast as Theological Cokehead in Light Sleeper and went on to feature in the comic science fiction, Coneheads the following year. Three years later, he starred in the American road comedy film, Tommy Boy as Richard Hayden. Since then, he has featured in numerous movies which include A Very Brady Sequel (1996), Senseless (1998), The Benchwarmers (2006), Grown Ups (2010), Father of the Year (2018).
Spade made his television debut in the 1998 TV series, The Facts of Life as Scott and went on to appear in the American action drama series, Baywatch the following year. Other TV series he has starred in are Monster (1990), Beavis and Butt-Head (1994), Just Shoot Me! (1997 -2003), 8 Simple Rules (2004 -2005), Rules of Engagement (2007 -2013), Hot in Cleveland (2012), Roadies (2016), The Mayor (2017), among several others. He has also lent his voice in The Rugrats Movie (1998), The Emperor's New Groove (2000), Hotel Transylvania Franchise (2012-2018) and others.
Working as a writer, his movie and TV show credits include Saturday Night Live (1990 -1996) Lost & Found (1999), Joe Dirt (2001), Dickie Roberts; Former Child Star (2003), Mad Families (2017), among others. In addition, the skilled writer has been credited with the production of Joe Dirt 2: Beautiful Loser and The Showbiz Show with David Spade (2005 -2007). For an overview of David Spade's best shows you need to watch, scroll further!
His Best Shows You Need To Watch
5. Saturday Night Live (1990 -1996)
The NBC's popular late-night live television variety show that featured David Spade alongside other comedians in the 1990s, accounts for one of his best performance in TV shows. Spade performed various roles as a cast member of the variety show that is being hosted by different celebrity guests who usually deliver the opening monologue and perform comedy sketches with the varying cast members. The TV show earned him a Primetime Emmy Awards for Outstanding Writing for a Comedy series.
4. Just Shoot Me! (1997 – 2003)
In this NBC comedy television sitcom, David Spade excellently portrayed Dennis Finch, the secretary of a fashion magazine, Blush. He featured alongside Laura San Giacomo (Maya), a hot-tempered journalist who got herself fired yet again and was unable to find a job elsewhere. She is then forced to work for her father's fashion magazine, Blush. This absolute delight to watch TV show earned David Spade nominations in Golden Globe Awards, Primetime Emmy Awards and American Comedy Awards.
3. 8 Simple Rules (2004 – 2005)
Even though this may not necessarily be the finest TV show David Spade has been part of, it is certainly one of his fascinating TV shows. He portrays C.J Barnes who was once in the Army and claims to have studied aerial photography during the Gulf War and to have received a Purple Heart in combat, which is in complete contrast with his generally childish attitude. The comedy-drama TV show claimed 9 award wins and 12 award nominations.
See Also: Adam Sandler Movies – How Many Has He Been In? Here Are The Best
4. The Showbiz Show with David Spade (2005 – 2007)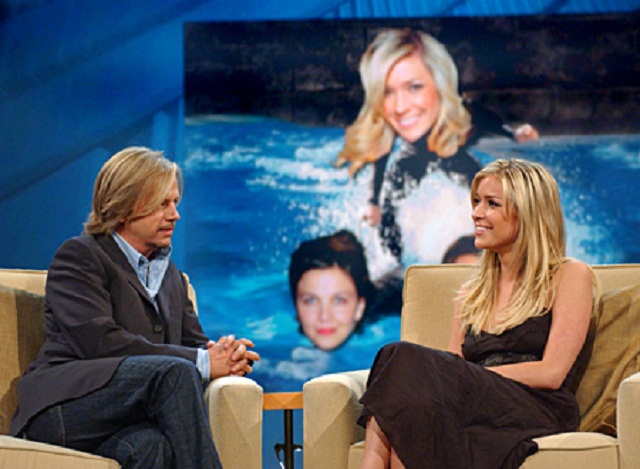 This comedy TV show which is a comedic parody of celebrity news programs; Entertainment Weekly and Access Hollywood starred David Spade as a comedian on Comedy Central. The weekly television show was developed from Spade's Hollywood Minute segment on Saturday Night Live and its no doubt, one of the captivating TV shows you will ever see.
1. Rules of Engagement (2007 – 2013)
Of the many characters that David Spade has enacted over the years, one can boldly say this is one of the most entertaining. He plays the role of Russell Dunbar, an acerbic, womanizing manager of his father's real estate and development business, Dunbar Industries, featuring alongside Patrick Warburton, Megyn Price, Oliver Hudson and others. With an award-winning performance, David Spade went home with a Teen Choice Award nomination for Choice TV Actor: Comedy.