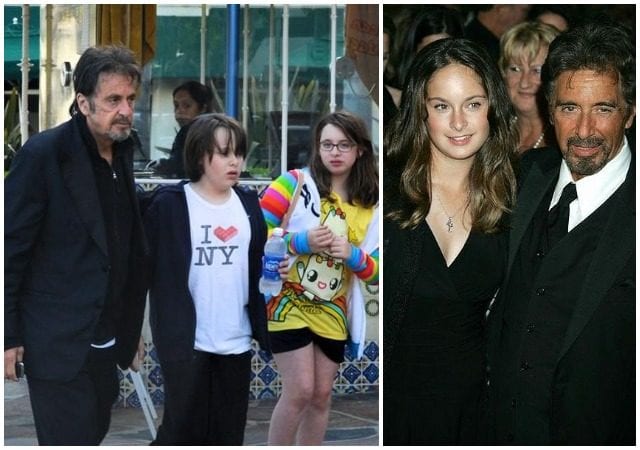 Alfredo James Pacino better known as Al Pacino needs no introduction as he has long left an indelible mark on the entertainment industry not only for his acting skills but his sexual escapes with numerous beauties in the showbiz which has in turn given birth to a number of Al Pacino kids. The American actor, filmmaker, and screenwriter has been in the industry well over fifty years and as such, could be best described as a veteran.
Although the Hall of Famer has never been married his entire life, his large appetite for dating ladies from different races and nationalities has earned him mentions in tabloids and online media sites. Al Pacino romantical affiliations with several beautiful women have produced some kids and here is more about them.
Does Al Pacino Have Kids?
Although Al Pacino is a perpetual bachelor, he is a proud father of three lovely children, two daughters and one son. He begat these children from two women from the pool of the many girlfriends (over 10) that he has been involved with.
Between 1988 and 1989, Al Pacino dated Jan Tarrant. Jan is the mother of his eldest child and daughter, Julie Marie Pacino. Jan Tarrant is an acting coach, who grew up in the city of Louisiana. She attended Tara High School, and upon graduation, proceeded to Louisiana State University. After she graduated in 1976, with a Bachelor's degree in Creative Writing, she started working as an acting coach. She later moved over to New York, where she presumably met Al Pacino. Their daughter, Julie was born on 16th October 1989.
In 1996, Al Pacino became sexually involved with an American actress, Beverly D'Angelo, who birthed his twins, Anton James Pacino and Olivia Rose Pacino. Al and Beverly dated from 1996 till 2003. The mother of two was born on November 15th, 1951 in the town of Columbus, Ohio.
She attended Upper Arlington High School, Upper Arlington, Ohio. Before dating Al Pacino, Beverly has been previously married to Don Lorenzo Salviati in 1981. Don Lorenzo is the only son and heir to Don Forese Salviati, the 5th Duke of Salviati. She has also dated Anton Furst, an award-winning production designer who sadly took his life in 1991.
These two women gave birth to Al Pacino's kids, his first daughter, Julie Marie Pacino, and his twin – Anton James Pacino and Olivia Rose Pacino. That said, here are more details about Al Pacino's kids below.
Who Are Al Pacino's Daughters And Son?
Julie Marie Pacino
Julie Marie Pacino was born on 16th October 1989. She is the oldest of Al Pacino's kids. She grew up to take after her parents, who raised her together in New York. She is a movie producer. Two of her most notable works includes Abracadabra (2009) and Tura and Billy Bates (2013). Additionally, the young damsel directs and writes screenplays.
When she was still very tender, her parents gifted her a camera, which is believed to have influenced her decision to choose her current career. Her mother is very proud of the woman she has become. She could not hide her pride as her Twitter bio reads 'proud mother of Julie Pacino. Acting and writing teacher/coach'.
However, in 2011, she got into the news for driving under the influence. Julie later admitted that she had been drinking and taking marijuana before the arrest.
See Also: Does Alex O' Loughlin Have Kids? Facts About His Sons and Family Members 
Anton James Pacino
Anton James Pacino is one of the fraternal twins and the only son of Al Pacino. He was born on 25th January 2001 along with his twin. Anton has won his father's heart and admiration. This is evident by the many times that he has spent with his daddy in the public glare. Both father and son have been spotted either shopping or strolling around Beverly Hills – their neighbourhood.
Being birthed by two actors, it is yet to be seen whether or not Anton will take after his parents in the showbiz or plot his own path in life.
Olivia Rose Pacino
Olivia Rose Pacino is the second daughter and second half of the fraternal twins. Birthed on 25th January 2001, Olivia seems closer to her mother than Her dad, but regardless, she has a good relationship with her father. Hence, when she's not seen with her mother, be sure enough to find her in her father's company. Both Beverly and Al are responsible for Olivia Rose and her twin's upkeep.
There seems to be no love lost between Al Pacino and his kids as he seemingly showers equal affection on them while doing his best to provide finances for their comfort.