David Spade joins the likes of Rob Schneider and Kevin James as one of the most popular comic actors in Hollywood. The Michigan native first rose to fame as a cast member of SNL in the 90s. Since then, he has featured in several popular movies and has notched up several awards in the process. Spade has also performed stand-up on numerous occasions and has hosted his own comedy specials. Discover more personal details about the actor cum comic.
David Spade Bio
David Wayne Spade was born on the 22nd of July 1964 in Birmingham, Michigan. The comic, however, grew up in Scottsdale, Arizona and attended Saguaro High School. He also attended Scottsdale Community College, as well as Arizona State University, and obtained a business degree. Spade commenced his career by performing stand-up comedy at various clubs, theatres, and colleges across America. He later joined the legendary SNL show in 1990. The Michigan native initially worked as a writer on the show but soon rose to become a regular cast member. He would go on to spend five years on the show during which he portrayed various unforgettable characters including a sarcastic Hollywood reporter as well as an unctuous flight attendant.
Since his breakthrough on SNL, Spade has gone on to feature in several popular comedy movies including Tommy Boy, Joe Dirt, The Benchwarmers, Grown Ups, Hotel Transylvania and Father of the Year. The comic has also enjoyed great success on the small screens, appearing in TV series such as Just Shoot Me!, 8 Simple Rules and Rules of Engagement. Just Shoot Me! is an NBC sitcom about the workers in a fictional fashion magazine office. In the series, Spade played the role of a wise-cracking and power-hungry assistant known as Dennis Finch. His performance earned him a Golden Globe and Emmy nomination for best supporting actor in a TV series.
Does He Have A Wife, Girlfriend and Daughter?
David Spade has never been married but he has had an interesting and active love life. In fact, his love life has been so fascinating that he has been dubbed 'the George Clooney of comedy'. A look at the comic's dating history will reveal that his taste lies in model, actresses, celebrities and the likes. Spade dated actress, Heather Locklear, in 2006. He also dated singer and actress, Naya Rivera, in 2017. The Michigan native dated actresses, Julie Bowen, and Teri Hatcher. Spade was also rumoured to have dated Baywatch star, Pamela Anderson, in 2007 but this was never confirmed. Meanwhile, the comic has a daughter named Harper who was born in August 2008. She is a product of his relationship with Playboy model, Jillian Grace.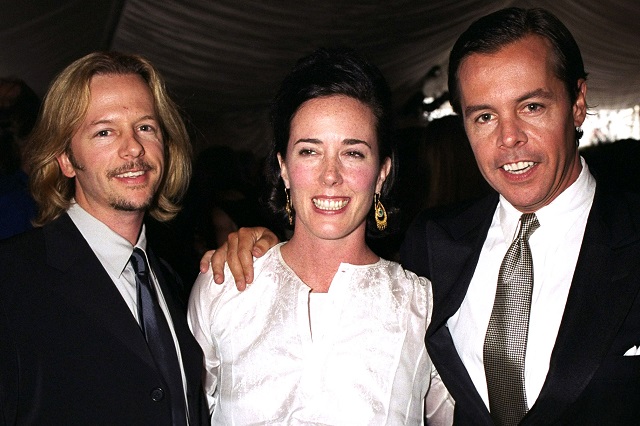 Brother
David Spade hails from a family of five. His father's name is Wayne while his mother's name is Judy Todd. The comic also has two brothers namely Brian and Andy. Spade's younger brother, Andy, is a well-known entrepreneur. He founded the popular handbag line, Kate Spade New York, with his wife, Kate Spade nee Brosnahan. The line later grew to include stationery, address books, personal organizers, shoes, beauty products, perfumes, women and men clothing, perfumes, accessories, and jewellery. The company was later sold to Tapestry Inc. for $2.4 billion in July 2017. With regard to their personal life, Andi and his wife welcomed a daughter, named Frances Beatrix, in 2005. The couple later separated in 2017 and were living apart when Kate committed suicide in June 2018. Her husband later revealed that she had been battling depression and anxiety for several years and was undergoing treatment. Spade, on his own part, stated that his sister-in-law was quite funny but introverted. He also believed that she would not have committed suicide if she had five more minutes.
See Also:  Adam Sandler Net Worth, Wife, Age, Height And Other Facts You Need To Know 
Is David Spade Gay?
We can unequivocally reveal that David Spade is not gay. The actor cum comic has never disclosed himself to be so. Additionally, he has a proven track record with Hollywood beauties. Spade's luck with the ladies has baffled several people as he is not traditionally handsome and his movie roles are limited to supporting parts. Some sources have attributed his enviable dating record to the fact that he is attentive, funny and smart. Many have also pointed out that society places more emphasis on what a man does rather than his physical looks.