David Spade joins the likes of Rob Schneider and Kevin James as one of the most popular comic actors in Hollywood. The Michigan native first rose to fame as a cast member of SNL in the 90s, though he started out as a mere writer. Since then, he has featured in several popular movies, has appeared in a plethora of series, hosted many television shows and game shows, and has notched up several awards in the process. Spade has also performed stand-up on numerous occasions and has hosted his own comedy specials.
Looking at his career history, one would agree that the standup comedian and actor has been tremendously successful. However, the same cannot be said for his personal life as Spade has never exchanged the forever commitment with any woman. The Michigan native has engaged in a plethora of love affairs and from what is obvious, he prefers his women to come from the glittering world of show biz like modeling and the movies.
David Spade's First Major Career Achievement Happened At The SNL
Upon his graduation from college, David Spade commenced his career by performing stand-up comedy at various clubs, theatres, and colleges across America. After he was spotted by a talent agent while performing at The Improv in LA, the comedian was cast to play a role in the 1987 movie Police Academy. He later joined the legendary Saturday Night Live show in 1990, aided by his friend and fellow comedian Dennis Miller.
The Michigan native initially worked as a writer on the show but soon rose to become a regular cast member. Spade would go on to spend five years on the show during which he portrayed various unforgettable characters in a good number of skits which turned out to be hits. His notable roles include a smart Hollywood Minute reporter that specializes in roasting celebs with personal one-liners. David played the role of a receptionist for Dick Clark who, as a matter of policy, indiscriminately asks people, "And you are?" more memorable is his portrayal of a flight attendant for Total Bastard Airlines who bids a flippant "Buh-Bye" to every passenger that disembarks.
Spade was also noted for other characters at the SNL including Karl from Karl's Video sketches and Christy Henderson from the Gap Girls. He equally did impressions of top celebs like Michael J. Fox and Brad Pitt. Interviews with David Spade revealed that most of the earlier materials he wrote at SNL was handed over to Dana Carvey to perform on the show.
He Remained On The Show After A Major cast Overhaul
Following the 1994-1995 seasons, a major cast overhaul was done at SNL but Spade consented to stay back for the ensuing 1995-96 season. This was in a bid to serve as a bridge between the old cast and the incoming ones like Molly Shannon, Will Ferrell, and Cheri Oteri. During the run of the season, the hilarious actor got a weekly segment entitled Spade in America – a spin-off of his Hollywood Minute as well as Weekend Update commentaries.
On the 9th of December 1995, the comic actor received Hollywood Minute in one of his Spade in America segments; he cracked a joke "Look, children, it's a falling star. Make a wish!" next to a photo of Eddie Murphy – former SNL cast member. Spade's one-liner was making reference to Murphy's recent failure at the box office, especially with the bomb Vampire in Brooklyn.
The quip resulted in Murphy turning against Saturday Night Live and Spade but they later reconciled at a chance meeting in 2011. The comedian made reference to the incident in his 2015 memoir that Murphy put an angry phone call through to him a couple of days later at the SNL offices. Spade's exit from SNL happened in 1996, however, he made a couple of returns in 1998 and 2005 to host some episodes.
The Year 1995 Saw The Actor's Breakout Into The Movies
Sharing the screen with fellow Saturday Night Live cast member Chris Farley, David Spade made starring appearances in a couple of buddy comedy movies – Tommy Boy that was released in 1995, followed by Black Sheep the next year. The duo had plans to go for a third movie when tragedy struck; Farley died of a drug overdose at the age of 33 in 1997.
Spade declined to show up at Chris' funeral which sparked speculations of a fallout between the two. According to the Michigan native, their friendship came under tension, partly because of Farley's addiction to hard drugs, though he stressed that it never escalated to ill feelings. Spade said that his reason for not going to pay the last respect to his deceased friend was simply because he could not handle it emotionally.
In A Bid To Return to Television, David Spade Turned Down Offers To Launch His Own Show
With time, the comic actor began to receive offers to start his own television show. However, he declined to accept but decided to play a sarcastic receptionist, Dennis Finch as part of the ensemble cast of Just Shoot Me! – Steven Levitan's office sitcom. The situational comedy which ran for seven seasons from 1997 to 2003 saw him acting opposite Laura San Giacomo and George Segal.
David Spade played a voice role in 2000, lending his voice to Kuzco on the set of Disney's buddy comedy movie, The Emperor's New Groove. The movie's direct-to-video sequel Kronk's New Groove featured him in a reprisal role in 2005. Spade was still making appearances in Just Shoot Me! When he did his debut solo starring role playing the title character in the movie Joe Dirt in 2001. The film which was co-written by Spade and Fred Wolf was a modest box office success.
He Added TV Hosting To His Portfolio
Joe Dirt was not the only movie Spade co-wrote with Wolf, the duo equally worked on the 2003 film Dickie Roberts: Former Child Star with Spade in the starring role. This marked the first of many movies in which the Michigan native has appeared that were produced by another SNL castmate, Adam Sandler. Notable among these crop of productions are the films Grown Ups released in 2010 and its sequel Grown Ups 2 that came to light in 2013. Both movies included Spade and Sandler in the lead roles, and both went on to become major box office hits.
In 2003, Spade hosted SpikeTV's Video Game Awards and the Teen Choice Awards. He did some major voice works which were evident in several episodes of Beavis and Butt-Head where he voiced several characters. Sammy, his own television series became a reality in 2000; he functioned as the producer.
For a period of four years spanning from 2002 to 2006, David Spade made regular appearances in ads for Capital One alongside Nate Torrence. There he was cast to play the role of staff of an imaginary rival company whose policy toward honoring credit card rewards is "always no." His "no" policy applies to just about everything else. In 2004, Spade joined the cast of 8 Simple Rules; this happened after the demise of the sitcom's star, John Ritter. David filled in for the show's third and final season.
From September 2005 to October 2007 the famous comedian hosted the Comedy Central television show entitled The Showbiz Show with David Spade for three seasons. On the show, Spade re-enacted his old Hollywood Minute segment on Saturday Night Live to make fun of top Hollywood actors and celebrities.
He Has Had Roles In Video Games and Animation
The 2006 video game entitled The Legend of Spyro: A New Beginning had the comic actor as the voice behind Spyro's dragonfly companion, Sparx. Rules of Engagement, the ensemble CBS situational comedy cast him in the starring role of Russell Dunbar from 2007 to 2013. In 2010, he started working with TBS on a pilot for an anime series based on Joe Dirt, however, it never saw the light of the day as the series was eventually dropped.
In 2014, David Spade appeared as a guest on a single episode of ABC situational comedy The Goldbergs. In the same episode, Spade's former Just Shoot Me, co-star, George Segal had a major role as "Pops", the protagonist's grandpa. The end credits featured an interaction between Spade's character and Pops.
His Show Lights Out with David Spade Came To Fruition In 2019
In 2019 he began hosting a new late-night show, Lights Out with David Spade on Comedy Central. The TV spot was immediately after The Daily Show in the previous slot that was inhabited by shows such as The Nightly Show with Larry Wilmore and The Colbert Report.
During the COVID-19 pandemic, the production was put on hold, however, an announcement came from Comedy Central that the show would not return to the channel once production resumes, but is rather being shopped around to a third-party presenter.
Following The Cancellation Of Lights Out with David Spade, He Re-surfaced in The Wrong Missy
The veteran comedian has never been one to give up and do nothing, thus, after his show was canceled, he resurfaced again during the spring of 2020 with the big screen comedy show entitled The Wrong Missy. In August 2020 Spade guest hosted a couple of episodes of Jimmy Kimmel Live! This was to enable Jimmy Kimmel to take a summer vacation.
According to the comic artist who loves to poke fun at himself as well as deride the shortcomings of the rich and famous, it baffles him how he has managed to manage to stay employed. David Spade sees himself as someone who has been treading water for 30 years. Spade said that he has basically turned into one of those people (his lampoon targets) he said. "I have to share the wealth and make fun of myself. I'm stupid, they're stupid. I try to call their bluff."
David Spade Has Never been Married But Has A Long List Of Exes
David Spade has never been married but he has had an interesting and active love life. In fact, his love life has been so fascinating that he has been dubbed 'the George Clooney of comedy'. A look at the comic's dating history will reveal that his taste lies in models, actresses, celebrities, and the likes.
1. Lara Flynn Boyle
After she divorced her first husband, Lara Flynn Boyle got together with David Spade in 1999, however, their union came to an end in a dramatic way when he lost her to Jack Nicholson.
2. Krista Allen
In 2011 fans were shocked when it was revealed that the SNL alum was an item with Baywatch beauty Krista Allen. Before long, Allen's eyes went elsewhere after she split from Spade and famously started dating another guy – none other than George Clooney. Allen later sued David for going behind her back to make a reality show they planned to make together.
3. Julie Bowen
Back in 2003, Spade pulled out all the stops to win over Modern Family lead actress, Julie Bowen. But nothing is ever enough for one of David Spade's romances to last, and the pair eventually decided to call it quits.
4. Jillian Grace
Jillian Grace was crowned Playboy's Miss March 2005 and it is not surprising that she also caught the eye of David Spade, but their romance differed from others. After enjoying a brief affair in 2008, Grace welcomed a child with Spade in August that year, a daughter named Harper.
5. Heather Locklear
In 2007, David Spade admitted that he had been romantically involved with actress Heather Locklear in the past. They have remained friends since the breakup and David maintains that he still loves her. Heather later told TMZ that why her ex is so successful with the opposite sex, saying, it is "because he's — ahem — well-endowed."
6. Nicky Whelan
Spade dated Australian actress Nicky Whelan in 2007, their relationship was well-publicized but fizzled out in early 2008.
7. Jasmine Waltz
For his 47th birthday, David Spade celebrated by going on a date with model Jasmine Waltz, In fact, Waltz is one lady who could give Spade a run for his money as she too had dated a long line of men in Hollywood.
8. Brittany Daniel
Brittany Daniel and Spade met on the set of Joe Dirt in 2003, they commenced dating but ended things the following year.
9. Ivy Levan
Spade was spotted kissing singer and model Ivy Levan in August 2017 and they stayed together for the next couple of months before calling it quits
10. Jillian Barberie
Jillian Barberie revealed on The Howard Stern Show that she got a bit more than friendly with David Spade in 2004 but they had moved on to other partners.
11. Caprice Bourret
Lingerie model Caprice Bourret and David Spade had a brief romance before Caprice began dating her next partner Ty Comfort in 2011.
12. Stacey Hayes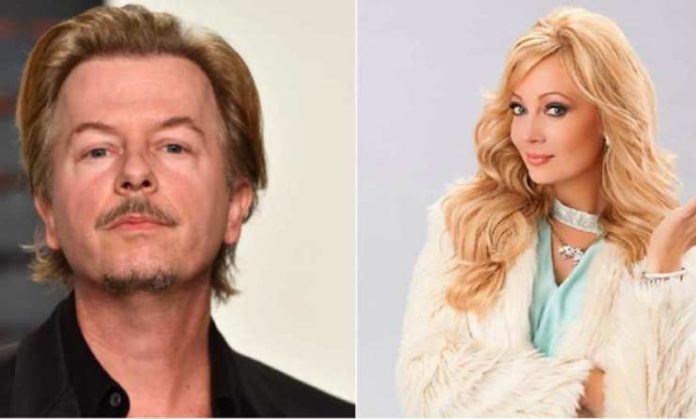 Spade began his relationship with actress Stacey Hayes shortly after dating Tara Reid in the early 2000s, but like the others, it was short-lived.
13. Tara Reid
During the height of both their careers, David Spade won the heart of Saved By The Bell actress Tara Reid. They parted ways after one year of togetherness.
14. Kelli McCarty
David Spade and actress Kelli McCarty fell for one another in 1992, but whatever did happen between the pair did not last long, with their courtship ending pretty much after it started.
15. Jennifer Rubin
Model and actress, Jennifer Rubin, dated Spade briefly in 1993. While his past relationships prove that he likes to go for blondes more often than not, Jennifer differed in that she was brunette.
16. Naya Rivera
Glee star, Naya Rivera is 22 years younger than David Spade, but that did not stop them from getting together in 2017. Their pool pictures from Hawaii seemed to speak a thousand words but the pair soon split.
The list of David Spade's exes does not end with Naya Rivera, his name has been linked to other women but the relationships were never confirmed thus, we cannot categorically say that they ever dated. The list includes Nicollette Sheridan, Carmen Electra, Pamela Anderson, Charlotte McKinney, Padma Lakshmi, Sara Foster, and Kristy Swanson. There was also Teri Hatcher, Kaitlynn Carter, Bobbie Phillips, and Sara Foster.
At over 50, Spade seems committed to the bachelor lifestyle. He appears to be single as of this writing with no official girlfriend. Of course, that doesn't mean he isn't dating. He's frequently spotted hanging out with mystery women around L.A.