Donna Dixon is a former actress whose claim to fame came after her role in the sitcom, Bossom Buddies that aired on ABC in the early 1980s. She is also known for her roles in films like Wayne's World, The Couch Trip and Speed Zone. Her height of fame, however, escalated when she tied the knot with the veteran actor and comedian, Daniel Aykroyd, with whom she co-starred in many movies. Get to learn more amazing facts about the elegant spouse of the filmmaker below.
Brief Bio
Dan Aykroyd's wife came into the world on the 20th of July 1957 in Alexandria, Virginia, United States. She is the daughter of Earl Dixon who served as the owner of Hillbilly Heaven, a night club that is located on U. S. Highway 1. She is a graduate of Groveton High School and also had a brief stint at George Washington University. However, she dropped out of university in order to kick-start her career.
Facts About The American Actress
1. Donna Dixon Retired From Acting in 1997
Donna Dixon took a permanent break from acting professionally in the year 1997, after making an appearance in one episode of the series, Soul Man. Prior to her retirement, she appeared in more than twenty movies and series which includes Margin for Murder, Twilight Zone: The Movie, No Man's Land, Hawaiian Heat, Spies Like Us, Charmed Lives, Beverly Hills Madam, Who's the Boss, Moonlighting, Lucky Stiff, Exit to Eden, among others. Dixon has also appeared as a guest on many TV shows such as The Tonight Show starring Johnny Carson, All-Star Family Feud Special, Battle of the Network Stars XI and others.
2. She is a Former Model
Before Dixon took to acting, she worked as a model and was associated with the notable modeling agency, Wilhelmina, situated in New York. In 1976, she contested in the Miss USA Beauty Pageant, representing the State of Virginia and the next year, she was named Miss District of Columbia which later led her to compete in the 1977 Miss World Pageant. Interestingly, she emerged as the first runner up in the beauty pageant.
3. She Has Been Married For More Than Three Decades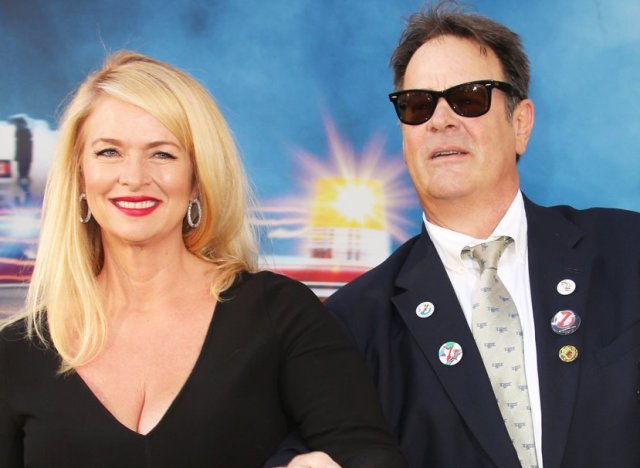 The beautiful wife of Dan Aykroyd has been relishing her marriage with her husband for more than 30 years. The couple who got acquainted on the set the movie, Doctor Detroit, moved on to exchange marital vows a few months later in 1983. The marriage is blessed with three lovely daughters named Danielle Alexandra (born in November 1989), Belle Kingston (born in June 1993) and Stella Irene August Aykroyd (born in April 1998).
Prior to their marriage, Donna Dixon was engaged to one of the lead songsters of the musical band, KISS, Paul Stanley. Her husband, on the other hand, proposed to the actress, Carrie Fisher in 1980, on the set of the musical comedy film, The Blue Brothers. Their engagement, however, was called off when Carrie got back together with her former boyfriend, Paul Simon, an American singer-songwriter and actor.
4. Her Eldest Daughter is a Musician and Actress
Having come from a family background that is well established in the entertainment industry, Dixon's first daughter, Danielle has launched a career in music and she is known by the stage name, Vera Sola. She released her first single 'Small Minds' in August 2018. Three months later, she dropped her first album titled, 'Shades'. Danielle is not only a singer-songwriter, but she is also a multi-instrumentalist who plays the guitar, pump organ and auto-harp. As an actress, she has appeared in a few movies which include the 1991 comedy film, Nothing but Trouble, the sci-fi short movie, Quality Time, Coneheads and others.
See Also: Who Is Min Hyo-rin: Taeyang's Wife And How Long Did They Date?
5. Her Brother-in-law is an Actor
Donna Dixon's brother-in-law, Peter Aykroyd, who is her husband's younger brother is an actor, comedian and writer. He was a cast member and writer of Saturday Night Live from 1979 to 1980. He also featured alongside his elder brother, Dan, in the comedy film, Nothing but Trouble. His other acting works include Second City TV, Kids of the Round Table, Coneheads, Nothing Last Forever, Gas and Psi Factor: Chronicles of the Paranormal – the latter which he worked on as a writer, creator, and executive producer.
6. Donna Dixon's Net Worth
Dixon has been able to boost her financial status through her works as an actress and model. As a result, she is said to be worth around $5 million.