Doug Hitcher was completely obscure to the media until he married Hallie Jackson, a household name as far as White House news is concerned. Currently working as NBC's Chief White House correspondent, Hallie gained widespread prominence after joining NBC News in 2014 and subsequently covering the Ted Cruz 2016 presidential election campaign. In addition to her professional prowess, Hallie Jackson's physical demeanor has also contributed a lot to her popularity. Her contagious smile and alluring physique coupled with the vigor with which she presents actualities have all endeared her to many hearts.
While Hallie Jackson's profession is apparently open to the public eyes, her personal life is somewhat shrouded in secrecy. You may have already known that she is married to a man named Doug Hitchner, but how much do you know about him and his relationship with Hallie Jackson? Here we bring you the biography and all other important facts about Hallie Jackson's husband, Douglas Hitchner.
Who Is Doug Hitchner?
Born in the United States as Douglas Hitchner, Hallie Jackson's husband is an American by nationality. Apart from his identity as Hallie Jackson's husband, very little is known about Doug Hitchner's personality. He leads a very private life and has never shared information on his life with the public. The media is therefore barren of his biographical data, ranging from his date and place of birth to his early years and career.
However, we know that Doug Hitcher attended the Johns Hopkins University in Baltimore, Maryland. During his days at Hopkins, he played in the university's baseball team and later served as a coach at some point.
It was basically Doug Hitchner's marriage to the Hallie Jackson that projected his name to the media. His relationship with the famous TV presenter, however, did not make any difference to his private lifestyle as he has since completely shielded himself from public notice. The media is presently unaware of his profession and what he currently does to make a living.
See Also: Devin Brugman Bio and Everything To Know About The Model
Facts About Hallie Jackson's Husband
1. How he Met and Married Hallie Jackson
Doug and Hallie were in a long-term relationship before finally tying the knot. They supposedly met while they were still undergraduates of the John Hopkins University and held onto their love until it was time to make it official. Hitchner popped the big question to Miss Jackson in May 2010, and they subsequently married in 2011 on an undisclosed date.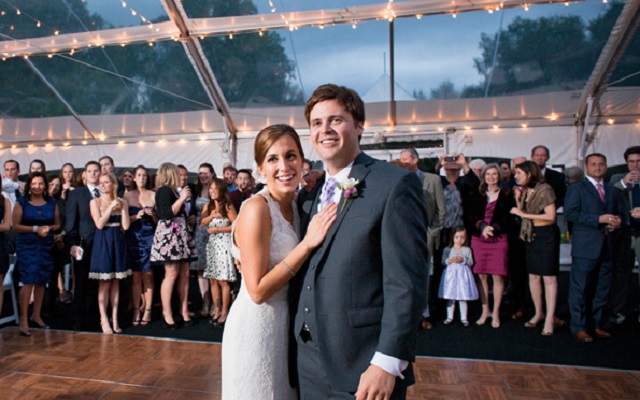 The wedding took place at Perkasie in the Bucks County of Pennsylvania, Philadelphia. It was a colorful occasion with a host of relatives, friends, and well-wishers in attendance.
2. Hitchner's Marital Life with Jackson
Hallie Jackson and Doug Hitchner keep a low key marital life, away from the flashing lights of the cameras and prying eyes of the media. The couple prefers to lead a quiet and private romantic life, scarcely sharing intimate and family photos on social media or making headlines be it for the right or wrong reasons. Moreover, they rarely make public appearances together. The couple presently lives with their kids in New York City.
3. His Children
Hitchner has two lovely daughters with Hallie Jackson. However, owing to their private lifestyle, the individual names and dates of birth of the girls are not available on the media.
4. His Wife Recently Stirred the Media
Hallie Jackson became an object of discussion across media platforms for spotting a drooling nostril while reporting on the Republican presidential race in 2016. The reputable correspondent who was possibly suffering from a cold at the time allowed the booger to drop from her nose while she continued speaking uninterrupted.
5. His Height/Physical Features
Doug stands at 6 feet 1 inch and weighs 72 kilograms. His hair and eye color is dark brown.
7. More about Doug Hitchner's Wife, Hallie Jackson
Hallie Jackson was born on April 29, 1984, in Yardley, Pennsylvania, Philadelphia in the United States. She graduated from Johns Hopkins University with a Bachelor's Degree in Political Science.
Hallie started her journalism career since 2006 first working for WBOC-TV, and subsequently WFSB. In 2012, she joined Hearst Corporation, reporting for 26 stations from Washington D.C. She became the Chief White House Correspondent for NBC in 2017 and also hosts NBC Nightly News, MSNBC Live weekdays program and MSNBC Live with Hallie Jackson on Fridays.
Hallie is quite popular on social media. She currently has almost 30k followers on Facebook, 386k twitter followers and close to 50k on Instagram.