Eddie Jackson is an American footballer who plays as a safety for the Chicago Bears in the National Football League (NFL). He started his football career at Alabama High and was the team's wide receiver and defensive back.
Eddie never had smooth beginnings, he had a troubled childhood and was a regular at the police stations. With so much on his plate as a teen, no one would have thought he would still turn out to be one of the most successful NFL players in history. All kudos to his parents and High school coach who never gave up on him. Here are all the details you need to know about him.
Who is Eddie Jackson and How Old is He?
Eddie Jackson was born in the month of Christmas (December) precisely on the 10th day in the year 1993 in Lauderdale Lakes where he was also raised there. He initially never had an outstanding record while at school but later took a U-turn away from being rebellious after his mom was demoralized in one of his court hearings. De'Marcus Dorsey, his older brother who was no difference, he was also known for his brutality as a teen howbeit he was also said to be excellent in the game of football.
Eddie Jackson reportedly took the path of his older brother, he was a rebel and a known criminal. The youngster was amongst the F-list students and numerous arrest cases on his head. His parents tried everything they could to talk him out of his attitude all to no avail. As a result of this, his dad withdrew him from Northeast High during his junior year and moved him to Boyd H. Anderson High School with intents of having him close to their home.
On getting to Boyd, Eddie Jackson didn't turn a new leaf, he continued with his old habits and was later threatened to be expelled by the school authorities. Contrariwise, his then coach, Wayne Blair who saw a promising light in the young lad took it upon himself to refine him. Eddie for once listened to his coach and decided to turn a new leaf. He started taking extra classes in order to improve his grades and in one year, he became one of the best in his class.
After his transition from bad to good, he took the game of football seriously and played as a defensive back and wide receiver during his days at Boyd H. Anderson High School.
Career Achievements
As a student-athlete, Eddie Jackson started out as a receiver then played as a Cornerback Safety, a kick returner and also as a Punt receiver. Within a short period of time, he became one of the toughest and hottest players in the nation.
News about his excellence had gone around the nation and by the time he was done at Boyd, he received several college offers including offers from the Louisiana State University, the University of Alabama and Florida State University. He finally decided to commit to the University of Alabama.
The Alabamas' had a wonderful record with the safety and he was rated as one of the most prolific players in the school team. Eddie showed so much diligence and was later made the school captain, we won't forget his role as the defensive MVP of the national championship game in 2015. Towards the end of his collegiate career, Eddie Jackson broke his leg, a lot of his fans thought it may be the end of his career but the future NFL player fought so hard and within a short time, he was back on the field.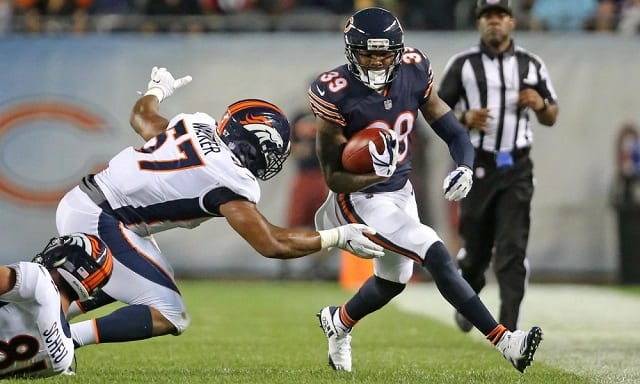 After his collegiate career, the Chicago Bears drafted him as the 112th overall in the fourth round of the 2017 NFL draft and he was also the 13th student-athlete who played as safety drafted that year. With the Bears, he sealed a four-year contract worth $3.06 million with a $665,797 signing bonus on May 15, 2017. Ever since he signed the deal, he has led his team to several wins.
Family Facts (Parents and Wife)
Getting the details of Eddie's parents was quite a tough one as the NFL player has hidden most facts about them. After much digging, we discovered that his dad is Eddie Jackson Jr. and his mom, Angelia Jackson.
The NFL player has other siblings but we can not conclude how many they are. Details about his siblings have been off records. To the best of our knowledge, he has an older brother, Demar Dorsey.
See Also: Prince Amukamara Wife, Siblings, Family, Height, Weight, NFL Career 
There are no indications on if the NFL player is married or not. There are also no pieces of information on whether he is gay or has a straight orientation. From the best of our knowledge, Eddie Jackson is very much a single young man.
Eddie Jackson is a black American and is one of the most handsome black Americans who play football in the National football league. He isn't as tall as most athletes as he stands at 6 feet and also has a perfect body balance weighing 91kg.
How Much Does He Make as a Footballer?
Eddie Jackson is graded as the 41st on the Chicago Bears active roster. Currently, he is said to have a cap hit of $721k, which is about 0.4% of the team's cap total for the season.
His professional career is still young, from all records gathered he is still in the cradle of his career. Details about his total net worth are still under review and we promise to do an update as soon as we get a hold on them.