When she said yes to his proposal for marriage, Emily Vakos made Anthony Rizzo the happiest individual on the globe. Over his new fiancée, Anthony Rizzo can't seem to stop swooning! They were together at the Grammys and also went on a getaway to Thailand and Vietnam, their happiness together is ver apparent. The Chicago Cubs first baseman and three-time All-Star revealed his engagement to the beauty with a photo posted on Twitter on Thursday, June 1st, 2019. Following this, many became curious about who the next Mrs. Rizzo could be and we have some of your burning questions answered below.
Emily Vakos' Relationship with Anthony Rizzo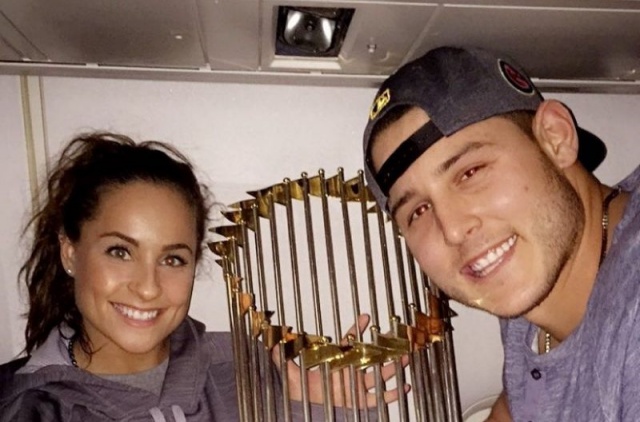 During the Cubs spring training in 2016, Emily Vakos met Anthony when she worked as an intern for the nutrition team. Needless to say, theirs wasn't love at first sight. He asked for her number at first, and she gave him a fake number before blowing him off. However, the first baseman didn't back down until he won her over. Prior to Emily, he was in a relationship with Chelsea Smith.
Anthony Rizzo, Emily's husband, was one of the key players in the Cubs squad that ended the curse of the Billy goat in 2016 by winning their first World Series title since 1908. Rizzo has a batting average of .227 with 12 home runs and 30 RBI as of August 2019. Rizzo who wears the No. 44 jersey is the first baseman who bats and throws left.
Emily's hubby, Anthony, is John Rizzo and Laurie Rizzo's son. He's got an elder brother called John and was the Florida Atlantic University lineman. He attended Douglas High School at Marjory Stoneman in Parkland, beginning his career with Minor Leagues.
Emily's husband has no doubt excelled at his chosen career in sports and that's evident in his net worth estimated at $27 million.
See Also: Jenna Black – Everything About Tyler Joseph's Wife and their Family
6 Facts You Need to Know About Emily Vakos
Early Life and Education
Emily Vakos was born to Stephanie Sudwischer and Mark Vakos in Dallas, Texas on the 9th of January, 1994. She attended Arizona State University. In college, she studied Nutrition and Food Management, and Natural Sciences. She was a Chicago Cubs nutrition intern and that's how she got to meet her would-be husband Rizzo.
She was once into Food Blogging
Emily Vakos is serious about healthy living and eating. While earning her degree in Nutrition and Food Management in ASU, she took courses at the College of Health Solutions located within the University. She attempted blogging while in school, curating The Food-1-1 blog. She hasn't been active on the site for a while though. As well as her thoughts on the latest health studies, it was used to post good recipes and ideas.
Work History
Emily Vakos has also worked at the Scottsdale United School District and even worked at the Mal Malouf Boutique as a sales associate. She is presently working as a broker in a Chicago-based company called @Properties, according to her LinkedIn profile.
How her Hubby Rizzo pulled off a surprise engagement
Emily's engagement came as a huge surprise to her. When Rizzo popped the question on the 1st of June, he had firework displayed over Lake Michigan. That day, his team was off. Emily had almost no idea about it, and she assumed they were going to shoot some photos in the boat. Even when he pulled the ring and proposed, she thought it was a joke.
The Fake Wedding Trick
In December 2017, Rizzo shook the Internet after posting supposed wedding photos of himself and Emily. He and his fiancée had been at a wedding party, and he chose to take advantage of the scenario. He posted a close-up image of himself and Emily Vakos on social media and fans were immediately led to believe that their favorite player had just tied the knot. However, they later realized that he had pulled a fast one on them.
Vakos' Social Media Presence
Emily Vakos is not as extremely active on several social media platforms like her husband. On both her Instagram and Twitter accounts, she set them both to private. On both Instagram and Twitter, Rizzo, her husband has more than 600,000 followers.