The dream of every parent is to watch their child grow into a better person. For photographer Cheryl Rossum, this could not have been better as she has watched her daughter, Emmy Rossum, climb the success ladder as one of the most popular actresses in the movie industry.
Most of her fame comes from her role as Fiona Gallagher in Shameless, but acting is not the only hat in Emmy's professional wardrobe. She is also a singer/songwriter and TV director. Her professional exploits are worth learning about, but first, a closer look at her background and the journey that made her into the Hollywood star she is today.
A Single Mother Raised Emmy Rossum
Emmanuelle Grey Rossum was born on September 12, 1986. Her role in Shameless explores the dynamics and reality of living with an absentee father, and it is one that hits a little close to home for the actress. Emmy's father left her mother while she was pregnant with her. Her mother, Cheryl Rossum, worked as a corporate photographer. Twenty-one years after she was born, she had only met her father twice.
His identity remains undetermined and even though he was absent from Emmy's life, he left her with something – multi-ethnic ancestry. Her father is of English and Dutch descent while her mother is Jewish, specifically Russian-Jewish. She grew up Jewish, and in keeping a close relationship with her roots, her mother named her after her great-grandfather, Emanuel.
Before she caught the acting bug, Emmy Rossum had found music. She joined the Metropolitan Opera Children's Chorus at the age of seven and performed with the chorus over five years. As part of the opera, she sang in six languages and performed twenty operas.
Her academic education involved a short stint at Spence School before dropping out to pursue acting. She later received her GED from Stanford's University Education Program for Gifted Youth and attended Columbia University, where she studied History, French, and philosophy. She graduated in 2008.
However, none of Emmy Rossum's schools was as contributory to the woman we know today as The New Actors Workshop in New York City. Following her growing interest in acting while she performed in opera, she took acting classes at the workshop, learning from Flo Salant Greenberg and Terry Knickerbocker. With the aid of her acting lessons, she made her debut in 1997 and hasn't looked back ever since.
A Breakdown Of Emmy Rossum's Multi-Dimensional Professional Pursuits
Depending on your perspective, acting was Emmy Rossum's first professional pursuit, but it wouldn't be her only one. She has worked as a TV director and has a budding career as a singer and songwriter.
She Has Starred in More Than 30 Movies and TV Shows
Emmy Rossum's first role as an actress was playing the original Abigail Williams in the daytime soap opera, As the World Turns. It was nothing groundbreaking for the actress, but it was her first experience of being on set, as well as the general process of filmmaking.
She followed it up with a role in the 1998 TV movie, Lily, her first feature-length film. Other early projects include Genius, which earned her a Young Artist Award nomination, young Audrey Hepburn in The Audrey Hepburn Story, Grace & Glorie, Songcatcher, and An American Rhapsody. Her role as Deladis Slocumb in Songcatcher earned her an Independent Spirit Award and put her singing skills to test with a duet with the legendary Dolly Parton.
Four years after starring in Songcatcher, Emmy Rossum found her breakthrough role as Laura Chapman in The Day After Tomorrow. In the same year, she starred as Christine in The Phantom of the Opera. Her performance earned her a Golden Globe Award nomination and a Critics' Choice Award.
She made a series of appearances in works like Poseidon, Dare, Dragonball Evolution, before starting her most prominent role as Fiona Gallagher in Shameless. Emmy began her part in Shameless in 2011 and appeared in 110 episodes across eight seasons before leaving the show in 2019.
As Fiona, she received two Gold Derby Awards and Critics Choice Television Award nominations. She also received nominations from Satellite, Prism, and OFTA Television Awards.
So far, Emmy has appeared in more than 30 films and TV shows, receiving twenty award nominations and winning eight of them.
Her Discography Comprises Of Three Albums
In-between developing her acting career, Emmy Rossum has written, recorded, and released three albums. Her music career kicked off following her impressive and award-winning performance in The Phantom of the Opera.
Her first album, Inside Out, was released in October 2007 under Geffen Records. The album peaked at 199 on the US Billboard 200 and was the seventh best-selling New Age album of 2008.
Accompanying the album was the single, Slow Me Down, which peaked at #9 on New Age Digital Songs chart. Under the same label, she released an EP, Carol of the Bells, in November 2007.
Her third project, Sentimental Journey, was released in January 2013, under Warner Bros. Records. The album, a collection of covers of songs from the 1920s and 1960s, peaked at #92 on the US Billboard 200. It also reached #1 on the US Top Jazz Albums chart.
As a musician, Emmy Rossum has sung the national anthem at a NASCAR race and a New Jersey Devils game. She has also performed on the Traveling Circus and Medicine Show Tour and featured on a track, Cruel One, with Alex Band.
TV Director and Film Producer
As a TV director, Emmy made her debut in two episodes of Shameless – I Am A Storm and Frank's Northern Shuttle Express. Additional directorial credits to her name include an episode of Modern Love, and Animal Kingdom – So He Looked Like Dad. It Was Just Dinner, Right? And Broken Boards, respectively.
As a producer, Emmy produced her first film, Comet, in 2014. She is producing her second, Angelyne, a mini-series with a yet to be disclosed release date.
Emmy Rossum Is Married To Ace TV Producer, Sam Esmail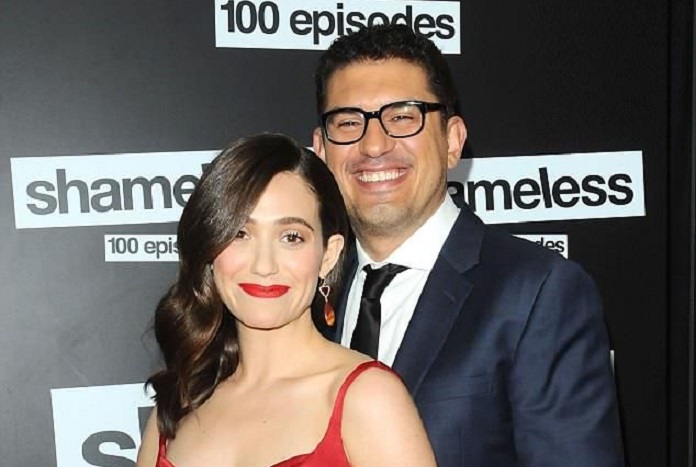 Before her marriage to Sam Esmail, Emmy was married to Justin Siegel, a music executive. Despite being married, the couple had a public persona as a boyfriend and girlfriend. Their marriage did not last, spanning one and a half years between February 17, 2008, and September 25, 2009. They completed their divorce in December 2010.
Although she got into a couple of flings, including one with Adam Duritz, Emmy Rossum did not start a serious relationship until she met Sam Esmail. The two met on the set of the 2014 film, Comet. That meeting turned into a date, and then a full-fledged relationship that lasted two years.
In August 2015, two years into their relationship, they got engaged, and, after another two years, got married. They got married at a New York City synagogue in front of family and friends.
Sam Esmail Created Mr. Robot And Homecoming
Emmy Rossum's husband, Sam Esmail, is renowned for his work behind the camera, particularly on TV shows, Mr. Robot and Homecoming. A relatively new face in Hollywood stardom, he has been in the industry since 2004, after graduating from the AFI Conservatory.
The Egyptian filmmaker studied film and computer science at New York University. His Hollywood career started with a role as an assistant editor before he became a post-production supervisor for behind-the-scenes features and TV specials.
He met his wife on his debut project as a writer and director and went on to create critically acclaimed TV shows like Mr. Robot and Homecoming. Emmy Rossum's husband has been nominated and won multiple awards, including the Primetime Emmy, Golden Globe, and Critics' Choice Television Awards.
Aside from their work on Comet, Emmy Rossum and Sam Esmail will work together on a drama series, Angelyne. It is scheduled for release in a not so distant future. She and her husband announced the upcoming project in 2019. The show will be based on the life of the LA Billboard model, Angelyne, and Rossum will play the titular character.