Eve is an award-winning American rapper, singer, actress, and talk show host. One cannot talk about the best female rappers of our time without mentioning her. Some of her hit songs include Love Is Blind, Who's That Girl, Gangsta Lovin, Let Me Blow Ya Mind, and Gotta Man.
Unlike most rap artistes, Eve boasts of great vocal skills and is a good singer as well. Get to know more about the legendary MC here including her bio, music career, and relationship with Gumball 3000 founder, Maximillion Cooper.
Eve (Rapper) Bio
Eve Jihan Jeffers-Cooper was born on the 10th of November 1978 in Philadelphia, Pennsylvania. Her dad, Jerry Jeffers was a chemical plant supervisor at the time while her mom, Julie Wilcher, was a medical publishing company supervisor. She graduated from the Martin Luther King High School in Philadelphia.
Eve first started out as a singer when she was a child and was part of a group known as Dope Girl Posse. She however switched to her true calling, rap, when she was just 13. She took on the name Eve of Destruction and formed a rap duo with a childhood friend, Jennifer Purdue, known as EDjp (a combination of both of their names and pronounced as Egypt). The duo toured many youth circuits and even managed to have their own album.
After graduating from high school, Eve focused on her music career, trying to land a record deal. Her hard work eventually paid off as Dr. Dre signed her to his Aftermath Label in 1996 when she was just 18. Eve's time at Aftermath was however short-lived as she was dropped just 8 months after joining the label. She moved back home where she met rapper DMX, who introduced her to Ruff Ryders Records. At Ruff Ryders, the Philadelphia native released her first single What Y'all Want which was part of a Ruff Ryders compilation album. The single was successful and she got offers of collaborations from other artists including The Roots and Janet Jackson.
Her collaboration with The Roots, You Got Me, won a Grammy in 2000. Following that success, Eve released her first album, Let There Be Eve…Ruff Ryders' First Lady, in September 1999. The album debuted at number one on Billboard Top 200, making her only the third female rapper to achieve such a feat behind Lauryn Hill and Foxy Brown. Let There Be Eve featured hits such as Love Is Blind and was a commercial and critical success. The Emcee followed it up with her sophomore album, Scorpion, in 2001. It featured hits such as Who's That Girl and Let Me Blow Ya Mind. Let Me Blow Ya Mind, featuring Gwen Stefani, won them the inaugural Grammy for best rap/sung collaboration in 2002. Eve's third album Eve-Olution came out in 2002 and went gold. Since then, she has gone on to release her fourth album, Lip Lock (2003) and has also featured in several hit singles and remixes including Amerie's 1 thing, Ludacris' My Chick Bad, and Kelly Rowland's Like This.
Asides her music, Eve is also a consummate actress and has an enviable acting credit. They include Vin Diesel's 2002 action flick, XXX as well as all three installments of the popular comedy franchise Barbershop. Others are The Woodsman (2004), The Cookout (2004) and Flashbacks of a Fool (2008). She has also appeared in several TV shows and at present, is one of the co-hosts of CBS daytime show, The Talk.
Her Spouse – Maximillion Cooper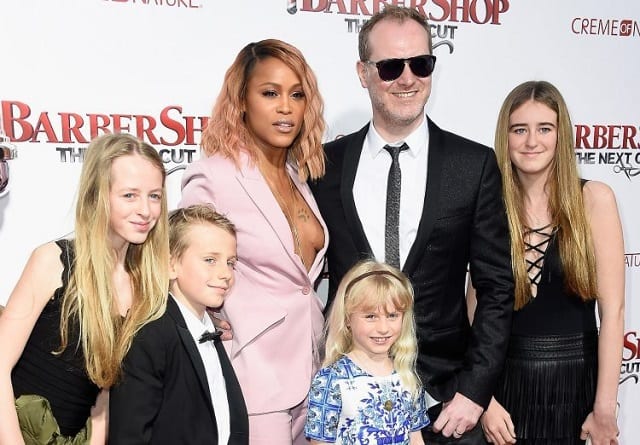 Eve is married to British millionaire and founder of the annual Gumball 3000 motor rally, Maximillion Cooper. The pair met in 2010 while taking part in the annual Gumball 3000 race (the race features famous individuals and benefits charity organizations).
They dated for three years before getting engaged on Christmas day 2013. The cute couple tied the knot on the 14th of June 2014 in a lavish beach ceremony at Blue Marlin, Cala Jondal Beach in Ibiza, Spain. They do not have any kids yet but Eve is a loving stepmom to Cooper's four kids from an earlier marriage.
Other Interesting Facts About Eve
1. She has two dog paws tattooed visibly on either side of her cleavage. She got the tattoo after a friend dared her to do so.
2. Her trademark blonde hair was also another dare from a friend. She had cut her hair short and a friend dared her to bleach it blond. Despite her mother's potential wrath, she did so.
3. She was a stripper for a short while after high school. According to her, at the time, she was confused and dealing with some personal issues.
4. Her dad walked out on the family when she was just 12. She however reconnected with him after 25 years and is working on forgiveness.
5. Her first major purchase after becoming famous was an oversized yellow mink coat.
6. At a low point in her life, she resorted to pills and alcohol in order to escape from her troubles. She had just come out of a bad relationship and her career was stalling. A DUI charge in 2007 was the kick she needed in order to clean up her life.
7. Her drink was once drugged at an industry party and it was Janet Jackson who came to her rescue.
8  Eve tasted success at an early age. By the time she was 22, she already had her house, a retirement plan, and a portfolio of investments.