The name Gal Gadot does ring a bell and will continue to even if not for her other roles, certainly for her supersonic roles as Gisele Yashar in The Fast and The Furious film series and most recently as the Wonder Woman from the DC Extended Universe movies.
Gal Gadot has not just excelled as an actress, but in other fields, she is a combination of beauty and brain. The award-winning actress was the winner of the 2004 Miss Israel beauty pageant, military personnel, and a model. It is a full life that has not only made Gal Gadot famous, but also enriched her, and made her one of the richest working actresses in Hollywood today.
Gal Gadot Served Two Years in the Israeli Army
Gal was born in the Israeli city of Petah Tikva on the last day of April 1985. She is the daughter of Michael and Irit Gadot and grew up in Rosh HaAyin, a town close to her birthplace. Her father is an engineer and her mother a teacher. Her name Gal means "wave," and her surname means "riverbanks."  Gal is not the only child of her parents; she has a younger sister, Dana.
Gal Gadot has a vibrant heritage – German-Jewish, Polish-Jewish, Czech-Jewish, and Austrian-Jewish, summarily referred to as Ashkenazi Jewish. Expectedly, she was raised in her family's traditions, including learning about her family's history. Her maternal grandfather was imprisoned in the Auschwitz concentration camp and survived the Holocaust.
In high school, she majored in biology and made good use of her height playing the school's basketball team. After high school, she enrolled and studied law and international relations at IDC Herzliya college. Soon after she graduated, Gal Gadot served in the Israel Defense Forces, as part of a mandatory two years of service. During her time in the army, she served as a combat instructor. Her knowledge of the military and weapons helped her land her first significant international role – Gisele in Fast & Furious.
Her Beauty and Talent Has Made Her A Lot of Money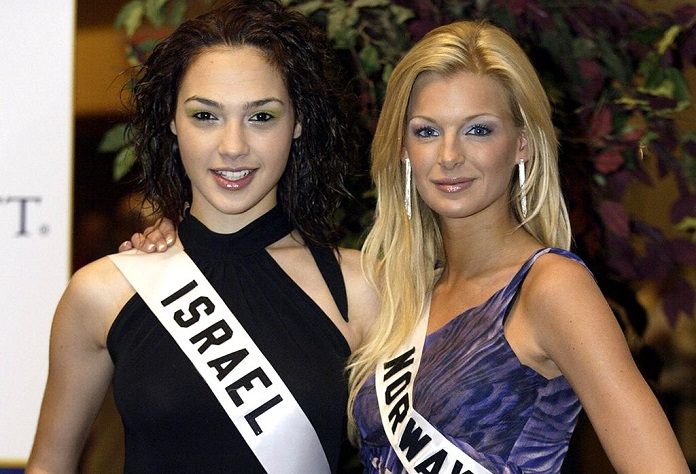 Another fact in Gal Gadot's busy early life is her stint as a beauty queen. At the age of 18, she competed in and won 2004's Miss Israel beauty pageant. The victory made her the country's representative at Miss Universe 2004, in Ecuador, where she finished outside of the Top 15.
Having had a busy start to life, including a stint as a beauty queen, Gal Gadot was destined for even busier adult life. This has manifested as an acting and modeling career and a successful role as a philanthropist. The first two careers have made Gal Gadot a lot of money, giving her a $20 million net worth, according to Celebrity Net Worth.
Acting Career
In a relatively short acting career so far, Gal Gadot has appeared in just over 30 movies and TV shows. Her first role came in 1999, in an episode of Shemesh. The first significant role of her career came in 2009 when she starred as Gisele in Fast & Furious. She was a fan favorite in the film, and she reprised her in the fifth and sixth film of the franchise.
In 2016, Gal Gadot portrayed Wonder Woman in the DC Extended Universe superhero movie Batman vs Superman: Dawn of Justice. In 2017, she reprised the character in two other films in the DC Extended Universe franchise – Wonder Woman and Justice League. Her role in Wonder Woman earned $300,000 as salary. The sequel, due for release in 2020 (coronavirus pending), fetched her $10 million. Her exact earnings in the other films remain unknown.
The secretive nature of Hollywood's pay scale means Gadot's exact earnings per film is out of reach. However, we know her appearances in several blockbusters have helped her negotiate her way into a $20 million net worth. Some of those blockbusters include Triple 9, Keeping Up with the Joneses, and Ralph Breaks the Internet. Her extended running roles in shows like Asfur and Kathmandu have also been notable contributors to her wealth.
Modeling Career
One other primary source of Gal Gadot's wealth is modeling. She has been the face of well-known brands like Captain Morgan Rum, Gucci fragrances, Huawei, Sixty, Jaguar Cars, and Vine Vera skincare ranges. In 2007, Gadot appeared on Maxim, as "Women of the IDF," and then on the cover of New York Post. In 2012, Gadot was ranked #5 on Shalom Life's list of "the 50 most talented, intelligent, funny, and gorgeous Jewish women in the world;" she came behind supermodels like Eva Green and Bar Refaeli.
Gadot has also appeared on covers of top magazines like Entertainment Weekly, Bride Magazine, Cosmopolitan, FHM, Glamour, Fashion, Cleo, Lucire, and UMM. She was the primary model for the Israeli clothing company, Castro, from 2008 to 2016.
Production Company and Entrepreneurship
Gal Gadot and her husband, Yaron Varsano, have a production company, Pilot Wave. The company is yet to be a significant source of income for the actress. Still, she has recorded modest earnings from it thanks to deals with AppleTV+, and Warner Bros. The actress and her company have an agreement to star and produce in a show about the inventor, Hedy Lamarr for AppleTV+. Her deal with Warner Bros will see her produce a film about the humanitarian, Irena Sendler.
Other entrepreneurial efforts include a boutique hotel she and her husband sold to Russian billionaire, Roman Abramovich. The boutique hotel was run by Gadot and her husband and fetched them $26 million after the sale.
Also Read About: Who Is Natalie Portman's Husband, Benjamin Millepied? Kids, Height
Gal Gadot Has Been Married Since 2008
Gadot has been married to an Israeli real estate developer, Yaron Varsano, since 2008. The couple met at a party in 2006, and after the party, they agreed to a first date, which was followed by a second date.
On their second date, Yaron told Gal out of the blue that he wants to marry her. Also, he told her he wouldn't wait for more than two years. Two years later, the couple tied the knot. Today, they are parents to two beautiful daughters – Alma Varsano, born in 2011, and Maya Varsano, born in March 2017.
Aside from sharing two children, the couple also own a few business ventures together. They include a production company and a real estate business, further establishing the depth of the couple's stability.