George Clooney rose from sleeping in a friend's closets to the screens of Hollywood and has hit the heights of success as he pulled through the tides of life. His archive of achievements is limitless, his incredible skills in the Hollywood as a producer and an actor can't be left out. With three Golden Globes and two Academy Awards, here is all to know about him.
George Clooney Bio, Age
The great Hollywood icon had little beginnings. He was born in the city of Lexington, Kentucky on May 6, 1961. He is of a mixed ethnicity – Irish, German and English descent. George Clooney was raised in a strict Catholic home where through his younger days, he served as an altar boy. Ironically, his religious upbringing didn't influence his life because he once said he never believed in God or heaven, either. However, he has not openly denounced the Catholic faith neither has he embraced being either an antagonist or an atheist.
He began his walk through educational lanes at the Blessed Sacrament School in Kentucky. He further went to St Michaels Catholic School Columbus, Ohio, before he left and joined a public school – Western Row Elementary School in Ohio – and then he finally enrolled at St. Susanna School, Mason.
His high school days were fun at Augusta High School as he was a baseball and a basketball player. For college, George attended Northern Kentucky University where he majored in Broadcast Journalism and also attended the University Of Cincinnati.
George Clooney has insights for business and has prospered there also. While in the University, he sold women's shoes, did insurance marketing, stocked shelves, worked in construction and also did cut tobacco to make money.
Currently, the business guru rose up his income and has co-founded a tequila company named Casamigos. The Hollywood star is one of the richest paid actors in Hollywood and topped the number one spot on the World's Highest Paid actors in 2018 with $239 million.
Family (Parents and Sister)
George's mom, Nina Bruce earned a living by working as a city councilwoman and is also noted with her astonishing beauty while his father – Nick Clooney worked in the entertainment industry as an anchorman and television host.
George has links to the house of the former president of the United States of America; Abraham Lincoln. A countdown, five generation backward to his maternal grandmother shows that she was a half-sister to Nancy Lincoln who was the president's mother.
He is one of two siblings and is the younger of the duo. His older sister is Adelia popularly known as Ada. She lives a very private life. Ada has three children and is a widow; she lost her husband sometime in 2004.
George Clooney also has a lot of extended family in the entertainment world including actors Miguel Ferrer, Rafael Ferrer, and Gabriel Ferrer, who are his cousins, and the singer and actress Rosemary Clooney, who is his aunt.
Wife, Children, and Divorce
George Clooney has had a share of love pain and has been married twice. He got married to Talia Balsam in 1989 at Las Vegas but divorced her in 1993. Talia is known for her skills on set as an American television host and an actress. She is currently married to John Slattery.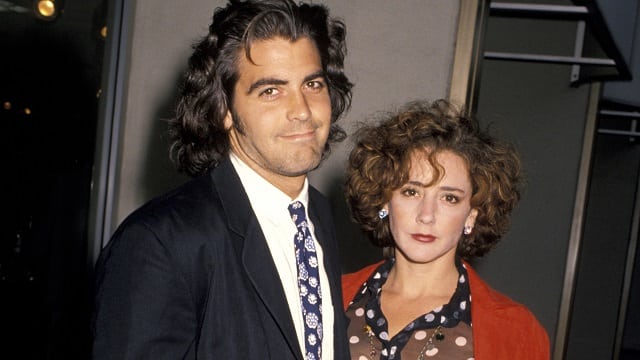 The next woman who has kept the handsome dude in check is Amal Alamuddin who is a Lebanese-British lawyer. Their wedding was a bit of a surprise to the world as they traded in different career paths. Moreso, Amal doesn't just have a feel for Hollywood and is not a fan either.
They were first spotted at a dinner on October 24, 2013, and also at the White House screening of the movie The Monuments Men produced by George Clooney in 2014, as they walked down the carpet holding hands.
See Also: Martina McBride Age, Bio, Husband, Daughters, Family, Net Worth, Height
George proposed to Amal in a very small dinner at his house with a 7-carat emerald cut diamond set in platinum ring cost over $750,000. they became officially married on September 27, 2014, at Ca' Farsetti. Their union is blessed with twins – a boy and a girl named Ella and Alexander born on June 6, 2017.
Is George Clooney Gay?
The actor's commitment and dedication to the LGBT community don't literally imply that he is gay. He feels every human has the right to the choose their marital status and has supported the team with his very best efforts.
Body Stats – Height
Well, we wouldn't place George Clooney as a tall man neither would we say that he is of an average height. To the best of our judgment, he is just as perfect and sweet as any woman would have him. He stands at 5 feet 11 inches and weighs 78 kg. He measures 42-14-35 for his chest, arms, and waist size respectively while he also has a dark brown eye and a short grayish curly hair although he once carried his hair long before cutting it.