A former American drug trafficker and smuggler, George Jung's deeds as a drug lord inspired the 2001 American biographical crime film, Blow. His escapades earned him a reputation that fascinated many as much as it hurt his loved ones. Jung's tale is inherently criminal, yet heroic and inspiring for most people as it illustrates how to live beyond the shadows of one's criminal records.
With his connections and influence, George made a living from drug smuggling and often ended behind bars at various correctional facilities. A very intriguing personality, Jung grew from a high school football player to a small scale marijuana smuggler, and then a cocaine kingpin who worked with one of the biggest and most ruthless drug cartels ever.
Early Life And Genesis Of His Cocaine Enterprise
Prior to making it as a big cocaine smuggler, Jung was just an ordinary marijuana dealer, but a brief stint in prison eventually changed his life and connected him to a notorious drug cartel that became the brain behind almost all of the cocaine sneaked into the US between the '70s and '80s.
Also known as Boston George and El Americano, the former drug smuggler lived most of his life successfully maximizing profit and evading the authorities. But that's not where his story began. George Jacob Jung was born on August 6, 1942, in Boston, to Frederick and Ermine Jung. Raised in Weymouth, Massachusetts, Jung grew up an excited and energetic little boy. He made money as a boy who enjoyed delivering copies of the Patriots Ledger for a few cents. He attended Weymouth High School and was renowned for his unique talent in winning football matches. Though he excelled in sports, especially in his school's football team, Jung, however, had poor academic records.
After graduating from high school in 1960, he began to study advertising at the University of Southern Mississippi, however, his extra enthusiasm for drugs screwed him up in school so he never graduated from the university.
From A College Drop-Out To A Drug Peddler
In the bid to make ends meet, he began his marijuana business on a small scale. By 1967, he started smuggling the cannabis he bought in California back to New England. Driven by the mind-blowing benefits from his first adventure, he moved from transporting these drugs in little quantities enclosed in flight suitcases to flying the drugs using stolen aeroplanes backed up with professional pilots.
His escapades began to come to its initial sad halt in 1974. He was reportedly caught for smuggling over 660 pounds of Marijuana and was detained in prison in 1974.
The Jail Sentence That Changed His Life Forever
After being busted with a large quantity of marijuana, Jung eventually landed in jail but that sentence changed his life forever. While serving his sentence at Danbury Prison in Connecticut, Jung, by chance, got a link which would eventually help start one of the world's most powerful drug cartels. It was there that he met a Colombian and fellow inmate Carlos Lehder, who later introduced him to cocaine. Both men were released around the same time and after joining the Medellin cartel, they devised easier and evasive ways to smuggle drugs from Colombia into the United States.
In a short while, their cartel which was supplying 80 percent of the world's cocaine was booming and the market expanded. Though Jung and Lehder eventually fell out as partners, it opened a bigger window of opportunity for Jung to partner with the famous drug lord and narcoterrorist Pablo Escobar.
After being found with several pounds of cocaine in his possession, Jung was arrested but later skipped bail. As expected, he soon went back to his smuggling business and again was caught and sentenced to 60 years in prison. But after a plea bargain to testify against former accomplice Lehder and incriminate the Medellin cartel, George Jung's sentence was reduced to 20 years. He was released in November 2014 after his two-decade jail term.
However, two years later, he was sent right back to a California jail for violating the terms of his parole. The man was eventually released from prison in July 2017 after completing his sentence.
His Ex-Wife (Mirtha Jung) Was Instrumental To His Drug Crimes
During his heydays as a drug lord, George Jung had a short-lived marriage to a Columbian woman Mirtha. Mirtha was a drug addict and an accomplice to George in perpetuating some of his drug crimes. She equally spent some years in jail at some point. Their union produced a daughter Kristina Sunshine Jung born on August 1, 1978.
They went their separate ways in 1984. She said that her biggest motivation for the separation was to give her daughter a more modest life from the drug trafficking life which her husband refused to give up on, but Mirtha only stopped the lifestyle after she spent a long time in jail over drug possession.
George Jung Had A Long-strained Relationship With His Daughter
One of George Jung's greatest regrets would be how his criminal life jeopardized his daughter's childhood. Kristina never seems to totally forgive him for his conspicuous absence and legacy in her life. Little Kristina grew up with a mother who was madly addicted to drugs and was a strong supporter of her husband who was moving from one drug conspiracy to another. To a large extent, their presence as parents who give solid attention, care, happiness, and model a good life was lacking.
A bit of happiness and light came through in Kristina's childhood after she started living with her grandparents who catered for her needs and happiness. That was the first time she witnessed a bit of stability in her life. A lot of things changed in her childhood experience when her grandfather died. After his demise, she was taken to stay with her Aunt, Maria Jung who ensured her a modest life too. While she sustained a good relationship with her mother, her relationship with her father was better
portrayed in her role in the Oscar-nominated 2001 movie, Blow, which was a highlight of her father's life story. This was also the movie that brought her to the limelight.
Though she had a bitter attitude towards her father for a while, they later reconciled after his last jail sentence. Since his release from jail in 2014, he has tried to make up for his wrongdoings. One of Jung's current life priorities is to smoothen the broken relationship between them and do right by her. The duo who has been seen together at public events and functions has so far made progress in rekindling their relationship.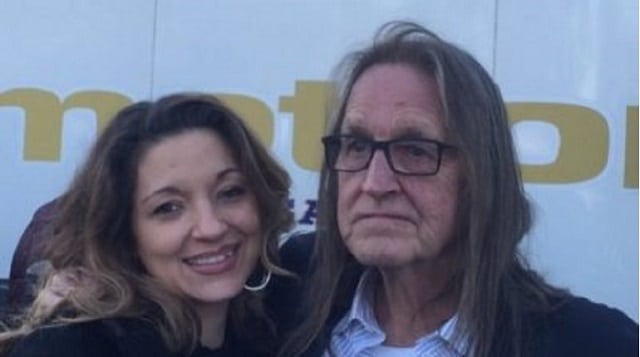 Jung Is Currently Living A Decent Life
There were reports about Jung's death while he was in and out of prison but they were just rumours as the former cocaine smuggler is still hale and hearty. For a man who regards himself as the high priest of cocaine, George appears to have aged well despite consuming large quantities of drugs in his lifetime.
The infamous cocaine smuggler is said to be currently living a decent life away from drugs and crime. He currently runs a clothing business known as BG Apparel & Merchandise together with his first daughter Kristina.
He is also now married to his long time partner, Ronda Clay Spinello Jung and together, they are raising Ronda's daughter named Clara Pearson. While the ex-cocaine kingpin seems to have retired from his former ways, it is only time that will tell if he'll be able to stay clean.
See Also: Who Is Charles Manson, Is He Dead, Who Are The Children, Wife, Family?
He Is No Longer Worth So Much
His net worth has moved from several million a few years back to a few thousand. His net worth is currently estimated at $10,000. This is from the clothing business he runs alongside his daughter and maybe a few sales from his self-published book.
Not only does he have a self-published book, but there is also Ted Demme's biopic Blow, based on his life and crimes. The biopic starring Johnny Depp and Penelope Cruz released in 2001 was also about the drug lord. Though Johnny made frequent prison visits while making the movie in order to portray the former drug trafficker's character properly, Jung only got to see the movie almost 20 years after its release.