Gina Kimmel is best known as the former wife of one of most successful American talk show hosts, Jimmy Kimmel, who is the executive producer and host of ABC's 'Jimmy Kimmel Live!'. But not everyone knows that she is more than just a celebrity spouse who is quite accomplished in her own right as a fashion designer with a couple of television projects to her credit.
Who is Gina Kimmel?
Born Gina Maddy on 13th December 1964, in Hoffman Estates, United States, little or no information is available about her parents, early life, and background. She attended Northern Illinois University and Arizona State University. It was while studying at Arizona that she met her ex-husband, Jimmy Kimmel.
Her Marriage, Divorce and ex-Husband
Gina and Jimmy were college sweethearts and later got married on 25 June 1988. The young couple's union produced two children –  a girl, Katherine Kimmel born in 1991 and a son, Kevin Kimmel born in 1993. Sadly, Gina and Jimmy's marriage didn't thrive as much as their careers. After about 14 years of marriage, the couple separated in 2002 but formally finalized the divorce on June 16, 2003. While the reason for their divorce remains unknown, the ex-lovebirds shared custody of their children and seem to have maintained a cordial relationship for their children's sake.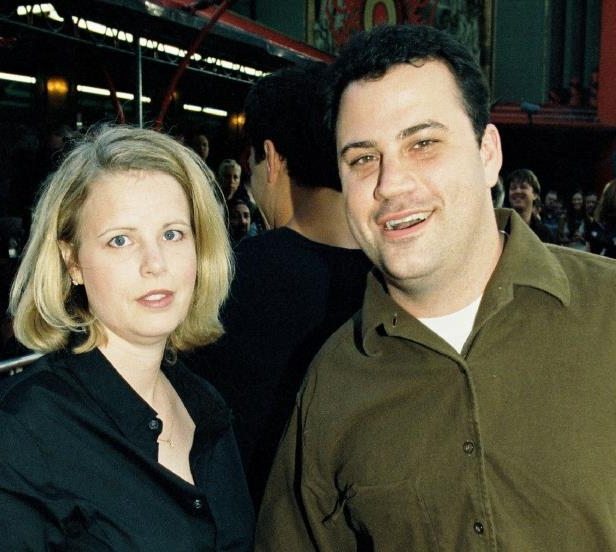 Their kids who are now young adults are also quite active in the entertainment industry. While their daughter Katie is a talented artist with a good sense of humor just like her father, Kevin is an actor and filmmaker who has made television appearances on The Man Show alongside his father and also on Crank Yankers. Kevin has also been spotted at several red carpet events with his father. Sometime in 2017, Jimmy Kimmel was embroiled in a controversy after he accused a clothing brand of stealing design ideas from his young artist daughter. However, the accused brand denied his claims arguing that they have a deep respect for artistic integrity and would never replicate or appropriate the work of any artist without due permission.
Since 2003, her ex-husband Kimmel, the famous American comedian and talk show host has been dominating TV with his late-night talk show and has successfully garnered a huge fan base for himself as one of the kings of late night. It was in that same year that Jimmy Kimmel Live! debuted after Jimmy was selected over several host options to fill the ABC television network show. For his love life after the divorce, Jimmy Kimmel soon moved on and dated fellow comedian Sarah Silverman. The duo, however, never made it to the altar but had a long-term relationship for nearly seven years before splitting in March 2009. Jimmy Kimmel is now married to his second wife, Molly McNearney who is a co-head writer on his famous long-standing late-night talk show, Jimmy Kimmel Live!. The couple has two children together, a daughter, Jane and a son, Billy.
See Also: Heather Clem Wiki and Affair With Hulk Hogan, Is She Still Married To Bubba Love Sponge
On the other hand, Gina has maintained quite a private life,  avoiding the spotlight since after her divorce from Kimmel and not much is known about her personal affairs. While Gina may currently be still single, she appears to be in a new relationship as sources reveal she is dating a man named Chris Jones whose Instagram name is 'Crazy Chicago Catman'. Gina has an active social media life and often shares pictures of herself and Chris together. However, that does not confirm they are actually an item and her current relationship status remains a mystery.
What Is She Doing Now?
Gina kicked off her career in the movie industry working as a fashion designer on various television projects. Her first work in the industry was in 1999 on The Man Show. After her marriage ended, Gina returned to Chicago and seems more focused on her work. She has worked as a costume designer and appeared on projects such as the 2012 movies Party Like the Rich and Famous as well as Party Like the Queen of France.
In 2014, Gina Kimmel who continued working as a freelance designer started her own business, a vintage-inspired loungewear line Maddy James Inc. The merchandise which redesigns classic Hollywood lingerie is doing quite well as an online business. Gina's current net worth is undisclosed but she is apparently living a good life and hopes to record more successes in the future.