Greg Gutfeld is one of America's TV personalities of all times and one of the many hosts of Fox News' political talk show The Five. The blogger, author, editor, and producer has been co-hosting the show since 2011. Greg is also the host of The Greg Gutfeld Show, another talk show which has been airing on the network since 2015.
Before The Greg Gutfeld Show, he hosted Red Eye w/ Greg Gutfeld on the Fox News Channel for almost eight years (2007 to 2015). Gutfeld is the author of two best-sellers Not Cool, and How to Be Right: The Art of Being Persuasively Correct Gutfeld. He also runs his own blog – The Daily Gut.
Greg Gutfeld Bio
Greg's full name is Gregory John Gutfeld and he was born in San Mateo, California 12th September 1964 to Jacqueline Bernice and Alfred Jack Gutfeld. After graduating from Junípero Serra High School, a Catholic High School in San Mateo, California, he headed to the University of California, Berkeley, where he bagged a B.A. in English, in 1987.
Career
He kicked off his career as an intern at The American Spectator, working under conservative writer R. Emmett Tyrrell as an assistant. After his internship, he became a staff writer at Prevention magazine and then worked as an editor with Rodale Press Emmaus, Pennsylvania, editing several of their magazines and books.
In 1995, he took up the position of a staff writer at Men's Health and was promoted to the position of an editor in 1999. In 2000, he was relieved of his duties and David Zinczenko replaced him. Greg would later be hired by British men's magazine, Stuff as its editor in chief.
In 2003 Greg pulled a very expensive stunt which made headlines and at the same time cost him his job at Stuff. He paid dwarfs, several of them, and instructed them to attend a conference of the "Magazine Publishers of America" on the topic of "buzz", and to be as loud and annoying as possible. Greg Gutfeld was fired after it was discovered he was behind the stunt.
Soon he was made the head of "brain development" at Dennis Publishing. Towards the latter end of 2004, he began working at Maxim magazine UK as an editor until 2006. From 2005, he became a post contributor with The Huffington Post until October 2008. Many of his Huffington Post commentaries/blogs are available on the Huffington Post website.
Greg Gutfeld's job at Fox News began in 2007 as the host of Red Eye w/ Greg Gutfeld, a Fox News Channel late-night program which lasted four hours. In 2011, he became a co-host/ panelist The Five.  In 2015,  Gutfeld got his own late-night show on the network called The Greg Gutfeld Show.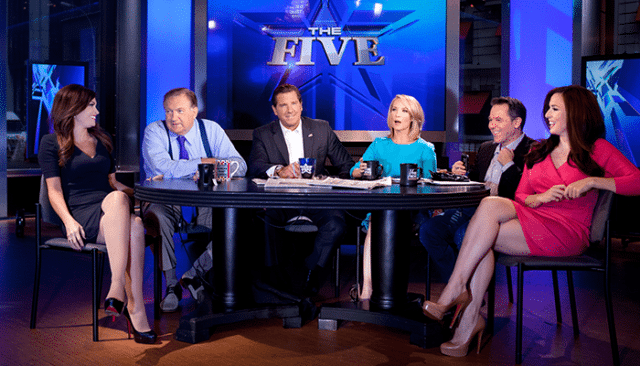 Is Greg Gutfeld Gay?
Greg is neither gay nor is he discriminatory of the LGBT community. He once stated his view on gay marriage during one of his panel appearance on The Five, arguing that conservatives need to use gay marriage "against the left."
In 2010 Greg Gutfeld revealed his plans to build New York City's first Islamic gay bar next to the Park51 Islamic community center, popularly known at that time as the Cordoba House or the "Ground Zero mosque" as the media preferred to call it.
Also Read About: Who Is Todd Chrisley, Is He Gay, What Is His Net Worth, Children, And Family
Is He Married? – Wife
Greg Gutfeld has been married to Elena Moussa, since 2004. The couple reportedly met at Maxim Magazine UK, where they both worked at the time. Despite working at different sections of the company, fate brought them together. After dating for a while, they tied the knot in 2004.
Unlike Greg, very little is known about the Russian born former model who prefers to keep her life out of the media and her husband has also helped her in keeping her private life private as he rarely discusses her in any of his programs. That notwithstanding, we have been able to dig out some details about her from her social media profiles.
She was born on the 4th day of March 1982 in Russia where she was also raised until her family relocated to London. She is a graduate of the Parsons School of Design and  Fashion Institute of Technology and the owner of Moussa Project, a fashion store/showroom which she has been running since May 2011.
The couple currently resides in New York City and don't yet have any children of their own yet.
His Height And Weight
The Fox News anchor stands at a height of 5″5 in, that is 1.85 meters. His weight and other body measurements are not known.