Haloti Ngata is a popular American football player who started his professional career with the Baltimore Ravens of the National Football League (NFL). He entered the big league after the Ravens secured his services in the first round with the 12th overall pick during the 2006 NFL Draft. The defensive tackle who now plays for the Philadelphia Eagles is a five-time Pro Bowler. He played college football for the University of Oregon where he earned a consensus first-team All-American, the school's first in 43 years.
His Early Life
Born January 14, 1984, in Inglewood, California, and of Tongan ancestry, Haloti Ngata grew up in a family of 7 including himself, parents Ofa and Solomone Ngata; two older brothers, Solomone Jr. and Finau; younger brother Vili and a sister Ame.
He attended Highland High School in Salt Lake, Utah, where he actively played football and rugby. During his senior and junior years, he led his team to the state quarterfinals with over 200 tackles; made a 12-2 record and a berth in the State Championship. With his outstanding high school record including the 2001 Utah Gatorade Player of the Year title and as first-team All-USA selection, Ngata graduated a five-star recruit and #2 overall prospect in the nation.
It is also worth mentioning that the Inglewood native played in the 2002 U.S. Army All-American Bowl and helped lead the Highland Rugby Club to the National Rugby Championship -although he was issued a red card during the match.
When the time came to choose a college, Haloti Ngata committed to play for the Oregon Ducks football team of the University of Oregon via a national letter of intent in 2003. His first football season at Oregon was marred by a torn ACL but he made it to the top college player list in the 2004 and 2005 season with a total recorded 6.5 sacks, 17.5 tackles for a loss and 107 tackles. During the aforementioned years, he was a second-team All-Pac-10 selection and a first-team All-Pac-10 selection respectively.
Career Highlights
Baltimore Ravens
Coming out of college football a year earlier with a reputation as a dangerous special teams player, the Baltimore Ravens selected Ngata in the first round with the 12th overall pick in the 2006 NFL Draft. His five-year contract with the franchise was worth $14 million.
Ngata debuted his pro career in all 16 games and finished with one sack, one interception and 31 tackles. He doubled up his performance the following season to record up to 63 tackles and three sacks.
He made his career-high records in the 2008 season, starting in all 16 games to finish with 77 total tackles, two interceptions, one sack and 5 passes. The same year, Ngata became a first time Pro Bowler as well as earned Second-Team All-Pro honors.
Through the rest of the seasons (2009-2014), Ngata was selected to the 2010 All-Fundamentals Team by USA Football and the NFL Players Association; earned the franchise tag on February 15, 2011, and signed a five-year retention contract worth $61 million. He scored his first career regular-season touchdown on September 11, 2011, in the match against the Pittsburgh Steelers, leading the team to a 35-7 victory.
Also, his 10 solo tackles and 3 assisted tackles, helped the Ravens attain victory in Super Bowl XLVII in 2012. Besides his athletic agility, Ngata is known for his fury and has been fined a twice; first, for roughing a passer ($15,000 on October 2, 2011) and then for intentionally kicking a guard ($8,268 on August 29, 2014) from the opponent's side.
Detriot Lions 
After he was suspended for four games on December 4, 2014, for violating the NFL's policy on performance-enhancing substances, Haloti Ngata was traded to the Detroit Lions, on March 10, 2015, to play defensive tackle. In all his nine seasons at Baltimore Ravens, he recorded 25.5 sacks and 445 combined tackles in 135 games.
By the end of his first season with the Lions, Ngata recorded 2.5 sacks and 24 tackles and was re-signed on March 9, 2016, for a two-year, $12 million deal, with $6 million guaranteed. His 2016 seasons with the Lions was hampered by an injury on the shoulder which limited his playing time, thus, he only finished with 1.5 sacks and 22 tackles. He played on to the next season until he suffered a torn biceps in Week 5 against the Carolina Panthers and was placed on injured reserve.
Net Worth
The Philadelphia Eagles (his current team) signed Ngata on March 15, 2018, on a one-year contract of an unknown amount. However, his past contracts were nothing but impressive which earned him an estimated net worth of $10 million.
Body Stats: 
While in college, Ngata had a weight of 495 lb (225 kg) and that ranked him second all-time among Oregon's football players. His NFL body stats, however, recorded his weight at 340 lb with his height coming in at 6 ft 4 in at age 34 as of 2018.
See Also: Marcus Mariota Bio, Career Stats And Injury Update, Girlfriend And Salary
 His Wife (Christina Adams) and Children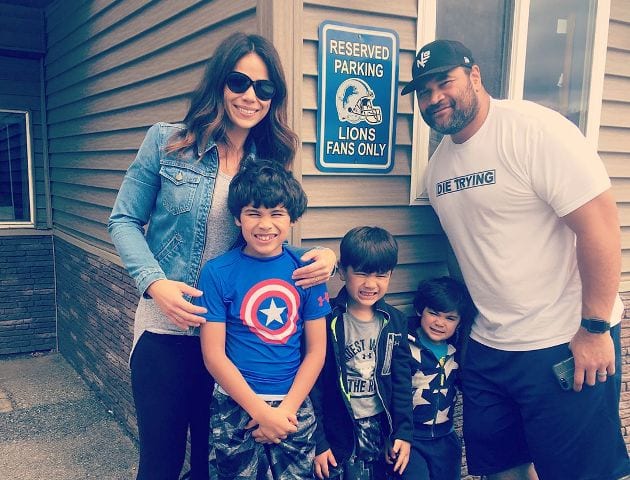 Haloti Ngata is a family man, he's been married to Christina Adams since June 2007. Together, they have three sons: Solomon (born July 2009), Haloti Maximus (born August 2012) and Colt (born January 2014). The entire family resides in Finksburg, Maryland and maintain very close ties with their extended family.
They also run a foundation, Haloti Ngata Family Foundation that raises funds to support charitable causes including helping students have a straight and clear path towards a college education.